It's a little hard to believe, but in less than a week I'll be in the car with two of my favorite people heading south toward Austin, Texas. It's been more than a year since my last big road trip and I'm excited to explore the roadside during our roughly 13-hour drive to Texas.
We'll be taking I-35 South the entire way and will pass through Kansas City, Topeka, Wichita, Oklahoma City, Waco and Fort Worth on our way to Austin. Since we have quite a few things we want to see and do on our way down to Texas, we'll be spending the night at a dreamy Airbnb in Oklahoma City and are excited to explore what seems like an underrated tourist destination.
Along the Roadside
While it's not a complete list by any means, here's a few highlights of places we're looking forward to stopping on our way south:
1. America's Oldest Operating Movie Theater (Ottawa, Kansas)
It was only by accident that we stumbled upon the country's oldest operating movie theater—just outside of Kansas City—and if our timing works out, we'll probably stop to check out their Movie Memorabilia Museum.
2. Brown v. Board of Education Site (Topeka, Kansas)
I always like to combine a little history with my weird, roadside attractions so we'll be making a pitstop at the Brown v. Board of Education historic site, which is now a National Park.
3. State Capitols 
When we drove to San Francisco, we made a point to stop at every state capitol building along the way. This trip, we'll be driving through most of them as well so we'll continue our cheesy photo tradition.
4. The World's First Sonic (Oklahoma City, Oklahoma)
Because obviously we have priorities for this trip. And Sonic is by far one of our favorite road trip foods.
5. Oklahoma City National Memorial & Museum (Oklahoma City, Oklahoma)
While we probably won't have time to tour the museum, I'm looking forward to visiting the beautiful outdoor memorial to the victims of the 1995 Oklahoma City bombing.
6. Round Rock Donuts (Round Rock, Texas)
I don't want to say this is the stop we're most excited for, but it's definitely the one we've talked about the most. I'll defer to the photo below for any additional explanation (note the regular-sized donut for scale).
Things to see, do & eat in Austin, Texas
1. Lots & lots of eating
I'm officially accepting any and all recommendations for the best Austin cuisine out there, but already have the Magnolia Cafe, Figure 8 Coffee Purveyors and more taco trucks than I can remember the names of on our shortlist.
2. Street art, street art, street art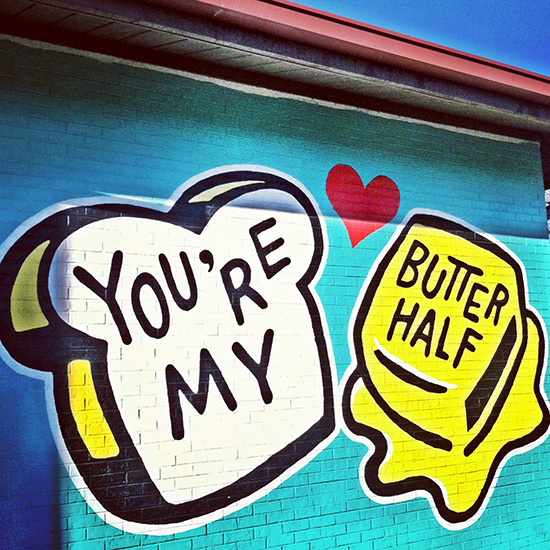 Both of us are pretty big fans of street art so we'll be dedicating some serious time to tracking down some of the favorites we've found online and exploring the city for new additions. Stay tuned for a street art guide to Austin after our trip!
3. Museum of Weird
Random weird things are kind of my jam. So if we have time we'll definitely be swinging by Austin's Museum of Weird. Bonus? It's open until 11:45 pm every night.
4. Cathedral of Junk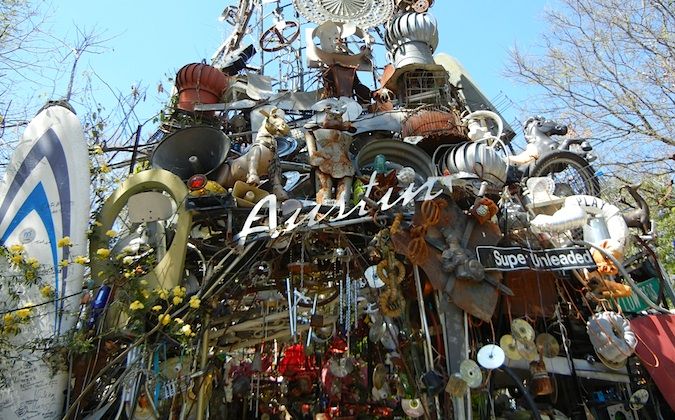 When we first started researching potential stops for our trip, one offbeat attraction kept coming up—the Cathedral of Junk. So last week I made the call and set up an appointment (yes, you need to call ahead) for us to visit right before we head back to Des Moines.
Resources
Have a suggestion? I'd love to hear all of your favorite places to visit in Austin!