It's the most wonderful time of the year—Olio in Iowa's 2021 Holiday Gift Guide! In the coming week I'll be sharing gift ideas for every type of traveler on your holiday list.
Disclosure: This post contains affiliate links, which means I receive a small commission (thank you!) when you shop at no added cost to you.
When we travel, food items are some of my favorite things to pick up for gifts or souvenirs. So it makes sense that when the holiday season rolls around, my gifts for foodies in my life have a similar theme.
Whether they're dreaming of that amazing meal they had on their last trip or trying to make home cooking feel more like a gourmet experience, I've got you covered. Some of these gifts for foodies are delicious while others make at-home cooking more of an adventure. But all of them are sure to brighten their holiday!
I'd heard a lot about Brightland Olive Oil before I finally gave it a try. But after listening to a podcast interview with Brightland's founder, I was intrigued. I had no idea that olive oil in the U.S. has so little consistency or regulation. And since we cook most of our food using it, I decided to give Brightland a try. Their oils are a pricier swap I don't use in absolutely all of my cooking, but they really are delicious.
For a gift, their Mini Essentials pack is a great way to give your favorite foodie a taste of their most popular offerings.
Perfect for: anyone who enjoys the finer things in life
The Mini Essentials, $70
There's a reason why Galena River Wine & Cheese is one of my favorite spots to stop when we're in Galena, Illinois: their truly incredible cheese selection. Now, they've created a way to enjoy their amazing selections at home. Galena River Wine & Cheese's Cheese of the Month Club is the perfect present for your food obsessed friend. This monthly subscription can include between three and five cheeses. Boxes ship to addresses in Iowa, Illinois, Michigan, Minnesota, Missouri and Wisconsin.
Perfect for: anyone who loves cheese
Cheese of the Month Club, Starting at $39
There are few things I can think of that are better than ice cream delivered directly to your door. Not only are eCreamery's pints a delicious, stress-free gift, but they can also be personalized! Now your favorite foodie will never have to worry about someone snacking on their favorite pint again. Make their holiday with a three-month subscription of four monthly pints or opt for one of their special holiday collections.
Perfect for: people with a sweet tooth
3 Month Subscription, $250
Now your favorite foodie can enjoy the Internet's favorite viral cake at home with the Raindrop Cake Kit. Created by Darren Wong and inspired by traditional Asian jelly cakes, these unique cakes are sure to be a conversation starter with kids or at parties.
Perfect for: lovers of trendy cuisine
Raindrop Cake Kit, $45
Sometimes the best gifts are the simple ones. These ornate handheld pepper and spice grinders from Crystalia are the perfect thoughtful kitchen gadget to make everyday cooking feel special. Plus, they come in three different finishes to match their kitchen decor.
Perfect for: the foodie who has everything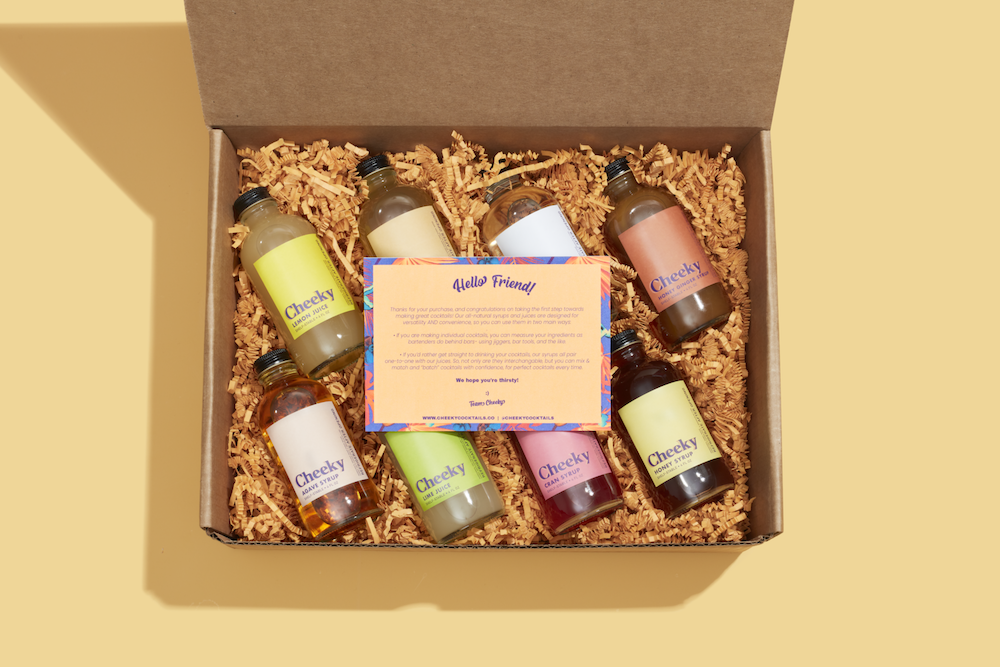 Have a friend who always hosts? Up their at-home cocktail game with Cheeky Cocktail mixers. These cocktail syrups can make more than 50 different types of cocktails.
Perfect for: your friend with a killer at-home bar cart
Cheeky 8 Bottle Kit, $79
It may sound like a silly present, but these skinny silicon spatulas from GIR are a game changer! They have some many uses, but my personal favorite is their ability to scrape the edges of even the smallest container. If you're out of ideas of gifts for foodies, these are a great tool to stock up on.
Perfect for: the cook who wants to savor every last drop
GIR Skinny Spatula, $9.95
Share Your Thoughts
I would love to hear from you! What are your favorite gifts for foodies?