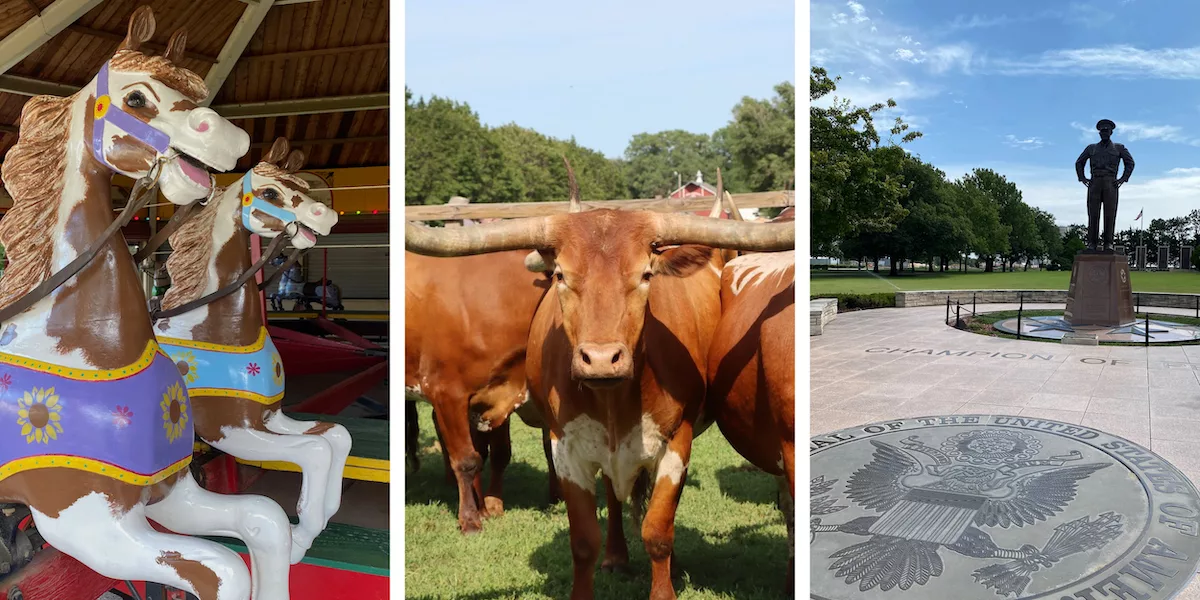 For a town of less than 7,000 people, Abilene, Kansas has some seriously big local history. From a presidential library and museum to more than 40 sites on the National Register of Historic Places, there's a historic site for every sort of traveler in this Kansas community.
Established in 1857, Abilene became an early stagecoach stop on the Kansas frontier. A decade later, the Union Pacific Railroad barreled across the Kansas plains passing through Abilene. Around the same time, large stockyards were established north and east of the city.
Both of these things perfectly positioned Abilene to be the first "cow town" of the west. Abilene's growth was accelerated even further when the Chisholm Trail ended in town from 1867 to 1871. Along with hundreds of thousands of cattle, this brought all sorts of travelers to Abilene. It also made the Kansas community one of the wildest towns in the west.
Today Abilene is a little less wild. But no less worth visiting. This Kansas community is full of interesting stories, passionate locals, and destinations worth the trip. The next time you're in the area, take some time to discover six unique ways to experience the history of Abilene, Kansas.
This post may contain affiliate links, which means I may receive a small commission at no additional cost to you.
Places to Experience the History of Abilene, Kansas
Dickinson County Heritage Center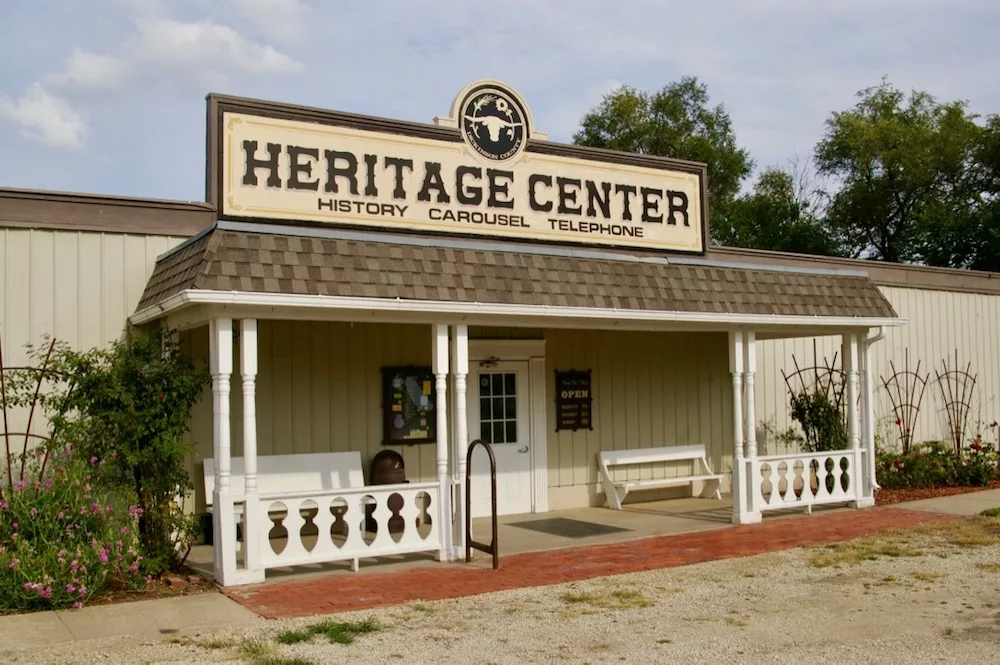 Located just behind the Eisenhower Presidential Library and Museum, the Dickinson County Heritage Center is a great place to get to know the history of Abilene, Kansas. With both indoor and outdoor exhibits, this unique museum is a fantastic place to discover why Abilene was one of the wildest towns in the west in the 1870s.
Start your visit inside the Dickinson County Heritage Center where you'll learn about the early history of Abilene, Kansas. From early settlers to the area's connection to cattle drives and the Chisholm Trail, it was fascinating to see how the cattle industry shaped so much of the community and its surrounding area. Moving through the city's history, I was surprised to learn how many well known companies were founded in Abilene.
In addition to the A.B. Seelye Medical Company, Abilene was also home to C.L. Brown. Brown established the independent Brown Telephone Company in 1899 to challenge the Bell Telephone company. From its roots in Abilene, the company grew to be the telecommunications company that we know today as Sprint. Prior to my visit, I had absolutely no idea about this unique piece of Abilene's history.
Then head outside to experience a number of historic buildings, including an early homestead, barn from the early 1900s, schoolhouse, and more. Peer into a historic homestead. Imagine what it would have been like to live in Abilene during the cattle drives of the 1870s. Or examine the early automobiles that would have taken you around town.
End your visit with a ride on a historic 1901 C.W. Parker Carousel. Again, this recognizable relic has notable ties to Abilene. In fact, Parker moved to Abilene with his family when he was only five years old. Parker began repairing old carousels and eventually started his own company constructing rides. The Parker Amusement Company moved to Fort Leavenworth, Kansas in 1911. But Parker built the carousel at the Dickinson County Heritage Center in Abilene in 1901.
Dickinson County Heritage Center, 412 South Campbell in Abilene, Kansas
Eisenhower Presidential Library & Museum
For all of its local history, Abilene's biggest claim to fame is as the hometown of President Dwight D. Eisenhower. And by all accounts, Ike liked Abilene, too. He's even quoted saying, "The proudest thing I can claim is that I'm from Abilene."
Today visitors can learn about the 34th president's life and legacy at the Eisenhower Presidential Library and Museum. If you like Ike, this is definitely the place to be.
There are a number of buildings located on the grounds of the museum site, including Eisenhower's boyhood home. Guided tours of the home begin every 15 minutes and are included with admission to the historic site. Watch a 23-minute introductory film about his life and legacy. Then head to the Eisenhower home to see where the family lived for almost 50 years.
It's crazy to imagine that at one time nine people lived inside the small six-room home. David and Ida Eisenhower, along with their six sons and their grandfather, Jacob Eisenhower, spent their days in the cozy two-story home. Located on its original site, Ida Eisenhower lived in the home until she passed away in 1946. As a result, much of the decor and furniture is original to the Eisenhower family.
Next, head to the fully renovated museum where you'll learn about all about Eisenhowers and their legacy in Abilene but also globally. Of all the artifacts, I enjoyed seeing Eisenhower's campaign materials most. From comic books to poodle skirts to "I like Ike" buttons in dozens of languages, it was fascinating to see the memorabilia that helped get Eisenhower elected.
Another fun artifact is the piece of Ike and Mamie Eisenhower's wedding cake, preserved in a tiny lace box. Keep an eye out for it in the first part of the museum about the couple's early life.
Eisenhower Presidential Library and Museum, 200 SE 4th Street in Abilene, Kansas
Before stepping foot in the Greyhound Hall of Fame I'll admit that I knew fairly little about greyhound racing. But even for a novice like me, a visit to the Greyhound Hall of Fame was a unique glimpse into the sport.
The museum's two live-in residents—Ginger and Gary—greeted me as soon as I stepped through the doors. Both Ginger and Gary are retired racing greyhounds who now live at the museum. After giving each of them a few friendly scratches behind the ears, I headed into the museum's theater to watch a quick film about the history of greyhound racing.
Afterward I wandered the galleries learning about the history of the sport, which originates as far back as ancient Egypt. I had never heard of or thought about so many elements of greyhound racing. For instance, I learned that the racing dog's muzzles have white tips to make it easier for judges to determine a race's winner.
I was also delighted to learn that each year more than 18,000 retired greyhounds like Ginger and Gary are adopted by families across the country.
Greyhound Hall of Fame, 407 S. Buckeye Avenue in Abilene, Kansas
Legacy Kansas (aka the Brookville Hotel)
You may not expect to find a James Beard Foundation Award-winning restaurant in Abilene, Kansas. But let me be the first to tell you that if you find yourself anywhere in the state of Kansas, you need to set course for Legacy Kansas, formerly the Brookville Hotel. There you'll find one of the best fried chicken dinners you may ever enjoy.
In fact, the food at Brookville Hotel is so good that multiple people told me that it's common for diners to drive more than two hours from Kansas City to enjoy a meal at this historic establishment.
Established in the 1870s as the Cowtown Cafe, the hotel opened in Brookville, Kansas in response to the expected influx of Longhorn cattle traveling the Chisholm Trail. But when the Union Pacific Railroad located its outpost elsewhere, the population of the tiny town began to dwindle. That didn't stop the hotel's business. In 1894, Gus and Mae Magnuson bought the property and made the hotel synonymous with good food. But it wasn't until 1915 that their daughter, Helen, began the hotel's famed family style fried chicken dinners.
The previous owners, Mark and Connie Martin, acquired the Brookville Hotel in 1982, and became the fourth generation to serve incredible chicken dinners there. In 2000, the Martins moved the restaurant roughly 40 miles northeast to Abilene to make it more easily accessible from the state's major interstates.
In October 2020, the restaurant sadly closed. But fans have a new reason to get excited. In early 2022, the property was acquired by Chuck and Deanna Munson. The couple owns an angus farm and has previous experience running a steakhouse. In fact, they've added Munson's Premium Angus Country Fried Steak to the menu.
It's no exaggeration when I say that my meal at the Brookville Hotel was truly one of the best experiences of my entire 2018 Kansas road trip. If you ever want to seriously stick out, I recommend going to a family style restaurant to eat a fried chicken dinner solo. Sure, it was slightly embarrassing to be sitting alone in a formal dining room with the book I was reading. But I wasn't about to miss out on legendary food.
So there I was with about a dozen side dishes and half a fried chicken to myself. And the phenomenal staff at the Brookside Hotel could not have made me feel more at home. Not only was everyone incredibly friendly and welcoming. But my server made sure my meal also included a behind-the-scenes tour of the kitchen. There I learned that on an average Sunday the Brookside Hotel kitchen fries upwards of 200 chickens.
The food itself was just as mouth-watering as I'd heard. Not only was the fried chicken perfectly crispy, but the Brookville Hotel also has its biscuit recipe down pat.
Regardless of how much time you have to spend in Abilene, Legacy Kansas should be at the top of your list.
Legacy Kansas, 105 E. Lafayette in Abilene, Kansas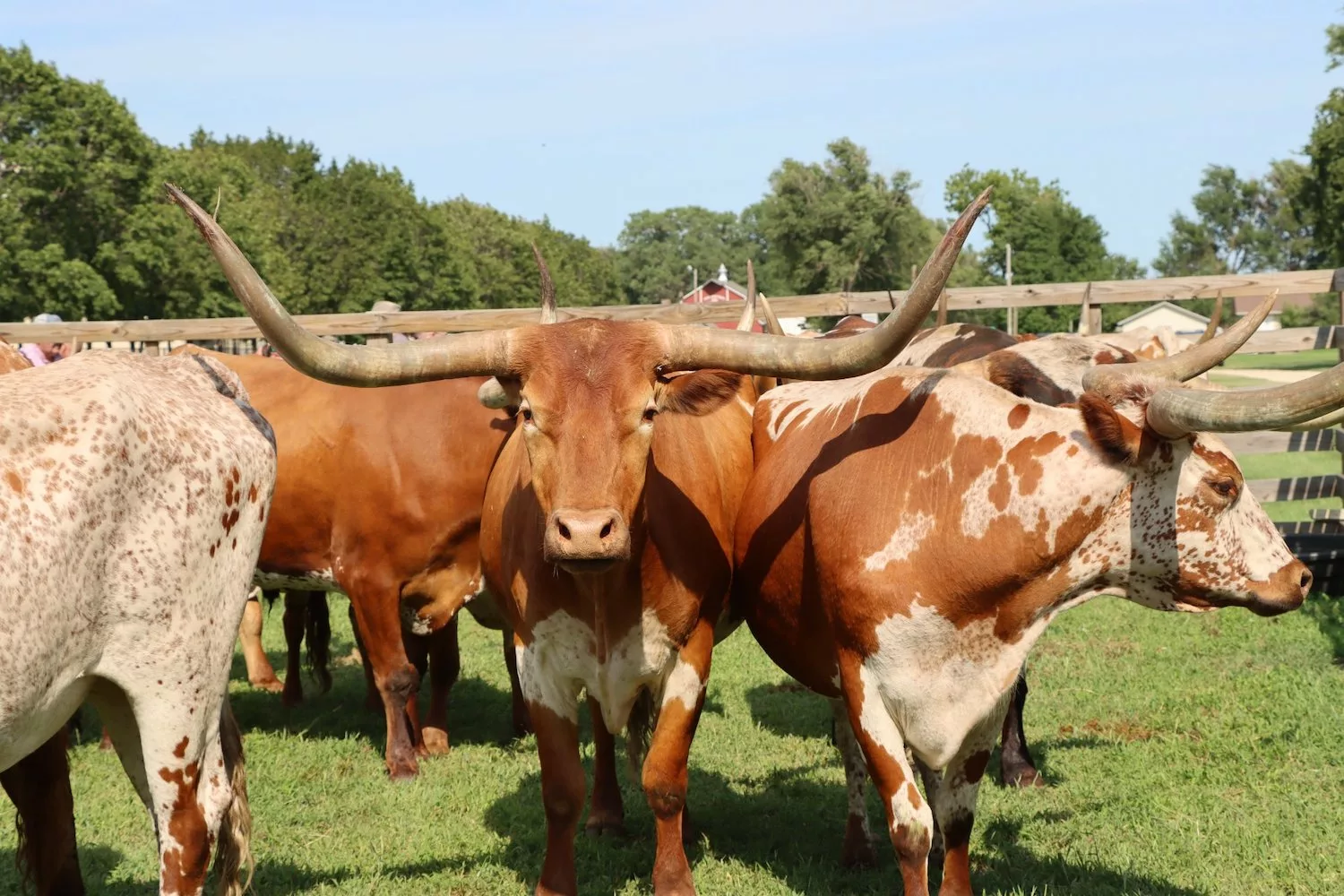 If you're looking for a taste of the Old West, step back in time with a visit to Old Abilene Town. Named one of the best Old Western towns in the country, this attraction is a fun adventure into the history of Abilene, Kansas for travelers of all ages.
On select dates you can even hop aboard the historic steam engine and ride like rails like in days gone by. During my visit, I was also lucky enough to see one of Old Abilene Town's longhorn cattle drives. It was truly a one-of-a-kind experience to see these giant animals amble through the streets and get loaded onto the steam engine, just like they were in Abilene's cattle heyday.
Wander through the historic buildings to learn about Abilene's history as a cattle town. Pop into the saloon for a sarsaparilla and to catch a performance by the Old Abilene Town can-can dancers. You'll also properly spot some cowboys and cowgirls wandering the complex. Check the Old Abilene Town calendar to see when you might find yourself caught up in an Old West shootout.
Old Abilene Town is open seasonally from May through early September with a handful of special events in the off season.
Old Abilene Town, 201 SE 5th Street in Abilene, Kansas
If you love historic homes, you won't want to miss a visit to the Seelye Mansion. Built in 1905, the 11,000-square-foot Georgian style home was once home to Dr. and Mrs. A.B. Seelye and their two daughters. Today the gorgeous home is open for guided tours. The mansion's caretakers also offer special Christmas tours that showcase the home's collection of more than 600 nutcrackers.
Standing on the cavernous front porch, it doesn't take long to realize that the details are what make Seelye Mansion extraordinary. Look up before stepping inside the front doors. You'll notice that the ceiling of the vaulted porch is painted a perfect baby blue. From gold plated mirrors to immaculately kept sets of China, this home is full of hidden treasures.
Many of the homes fine furnishings came from the 1904 St. Louis World's Fair. These items apparently cost more than the $55,000 paid to build the grand home. Dr. Seelye, who made his fortune in patent medicines, sparred no expense when establishing his family's Abilene home. Possibly the most extraordinary part of the home is that so many of its elements, including light fixtures designed by Thomas Edison, are still original. Seelye Mansion is a perfectly preserved time capsule of the Seelye's life through the 1900s.
The mansion itself is as much of an experience as getting to know its current caretaker and tour guide—Terry Tietjens. While Terry is not technically a member of the Seelye family, he might as well be. After befriending the aging Seelye sisters when they were in their 80s and 90s, Terry became the mansion's live-in caretaker. His affection and deep love for the home and its original inhabitants is immediately apparent upon hearing him talk about the Seelyes. Terry is a true expert on the Seelye's and has given tours of the home for more than 25 years.
The Seelye Mansion is full of historic treasures. But one of the most interesting is its five pin wooden bowling alley. Only three or four of these wooden lanes still exist in the world. In fact, not even the Bowling Hall of Fame has one. This unique form of entertainment was another item that the Seelyes purchased at the 1904 World's Fair. The lane is still operational and, if you're lucky, Terry might invite you to throw a few balls. Don't count on beating him though—all his practice with the Seelye sisters has made him a pro.
Seelye Mansion, 1105 N. Buckeye Avenue in Abilene, Kansas
Let's Be Social
Want even more offbeat adventures, roadside attractions and world's largest things? Follow Olio in Iowa on your favorite social media platforms, and tag #OlioOnTheRoad when you have quirky adventures of your own.
Share Your Thoughts
I would love to hear from you! Have you ever been to this Kansas town? What was your favorite way to experience the history of Abilene, Kansas?