Disclosure: The post is written in collaboration with Hotels.com.
New York City has long been a mecca for creatives. So, it's no wonder that there are tons of things to do and see for art-loving visitors as well.
While the city is undoubtedly known for its performing arts scene as well, New York is one of my favorite places to experience modern and contemporary visual art. From world-renowned museums to immersive experiences to unexpected installations in restrooms, there's something for everyone in this art lovers' guide to New York.
That's why I was thrilled that Hotels.com asked me to share an art lovers' guide to New York City. So, the next time you find yourself in New York and are looking for a little inspiration, consider taking time to experience some of these artsy activities.
Traveling Safely
As travel remains uncertain, please keep your safety and the safety of others in mind when visiting a destination. If you are comfortable traveling, please do so responsibly and be respectful of local restrictions.
If you do decide to travel right now, you can do so more safely by:
Wearing a face mask.
Bringing hand sanitizer and washing your hands regularly.
Checking official websites before your trip for the latest updates on policies, closures and the status of local businesses.
Booking a hotel or accommodation with free cancellation in case you need to change your plans at the last minute.
Where to Stay
There's no shortage of amazing places to stay in New York City. But if artsy accommodations are what you have in mind, you won't be disappointed. On my last trip to New York in 2018, I stayed on the Upper East Side just around the corner from The Metropolitan Museum of Art. Being so close to so much art was a blast and I know you won't regret seeking out an art-adjacent hotel.
As part of this art lovers' guide to New York City, I wanted to recommend lodging that will leave you inspired. Check out the historic High Line Hotel in Chelsea, just a minute's walk from the High Line. Or opt for vintage charm at the Arthouse Hotel New York City just across Central Park from The Met on the Upper West Side.
Places in New York City for Art Lovers
Take a Tour with Museum Hack
If guided tours aren't typically your jam, Museum Hack will make you reconsider. These fun and funky tours reimagine what museum experiences can and should look like. Whether you're an art lover or exploring New York with teenagers, they offer a variety of tours and themes that are sure to spark your interest.
During my last visit to New York, I took Museum Hack's Badass Bitches tour of the Metropolitan Museum of Art. We learned about some of the lesser-known female artists in the museum's collection. But we also dug into the lack of representation for both women and minority artists in the Met's collections. This fast-paced tour was a great way to see a lot in a short amount of time. But it also sparked conversations that I absolutely wouldn't have had otherwise. Plus, it was a ton of fun!
It's no secret that New York is home to world-class art museums, especially if you're a fan of modern and contemporary art. While there are dozens of museums and art galleries across the city, these are a couple of my favorites.
Of the city's art museums, The Metropolitan Museum of Art is quite possibly the most iconic. With more than 36,000 objects spanning 5,000 years in their permanent collections, you could truly spend weeks exploring the Met's galleries. If it's your first time visiting the Met, I recommend doing a bit of planning in advance to decide what you would like to see most. Because with so much great art, you could easily spend days there.
Another great New York museum is the Whitney Museum of American Art. With an impressive collection of contemporary American art and a calendar of engaging temporary exhibitions, this is a stop you won't want to miss. Housed in a modern, angular building designed by architect Renzo Piano, the Whitney is conveniently located just off the High Line.
If you still haven't gotten enough art museums, head to the Guggenheim Museum. With a focus on modern and contemporary art, the space at the Guggenheim is as much a work of art as the pieces on its walls. Built in 1959, the Guggenheim's New York location has a unique spiral design that was created by famed architect Frank Lloyd Wright.
The Metropolitan Museum of Art, 1000 5th Avenue in New York, NY
Whitney Museum of American Art, 99 Gansevoort Street in New York, NY
The Guggenheim Museum, 1071 5th Avenue in New York, NY
Experience the Color Factory
The Color Factory in SoHo isn't your average art installation. This unique, immersive experience brings together artists, illustrators, designers, and makers to create an art experience you can truly interact with.
In fact, the Color Factory's large warehouse space offers more than 20,000 square feet of participatory art—all inspired by color. I was lucky enough to snag tickets to the Color Factory on my last visit to New York in 2018 and absolutely loved the experience.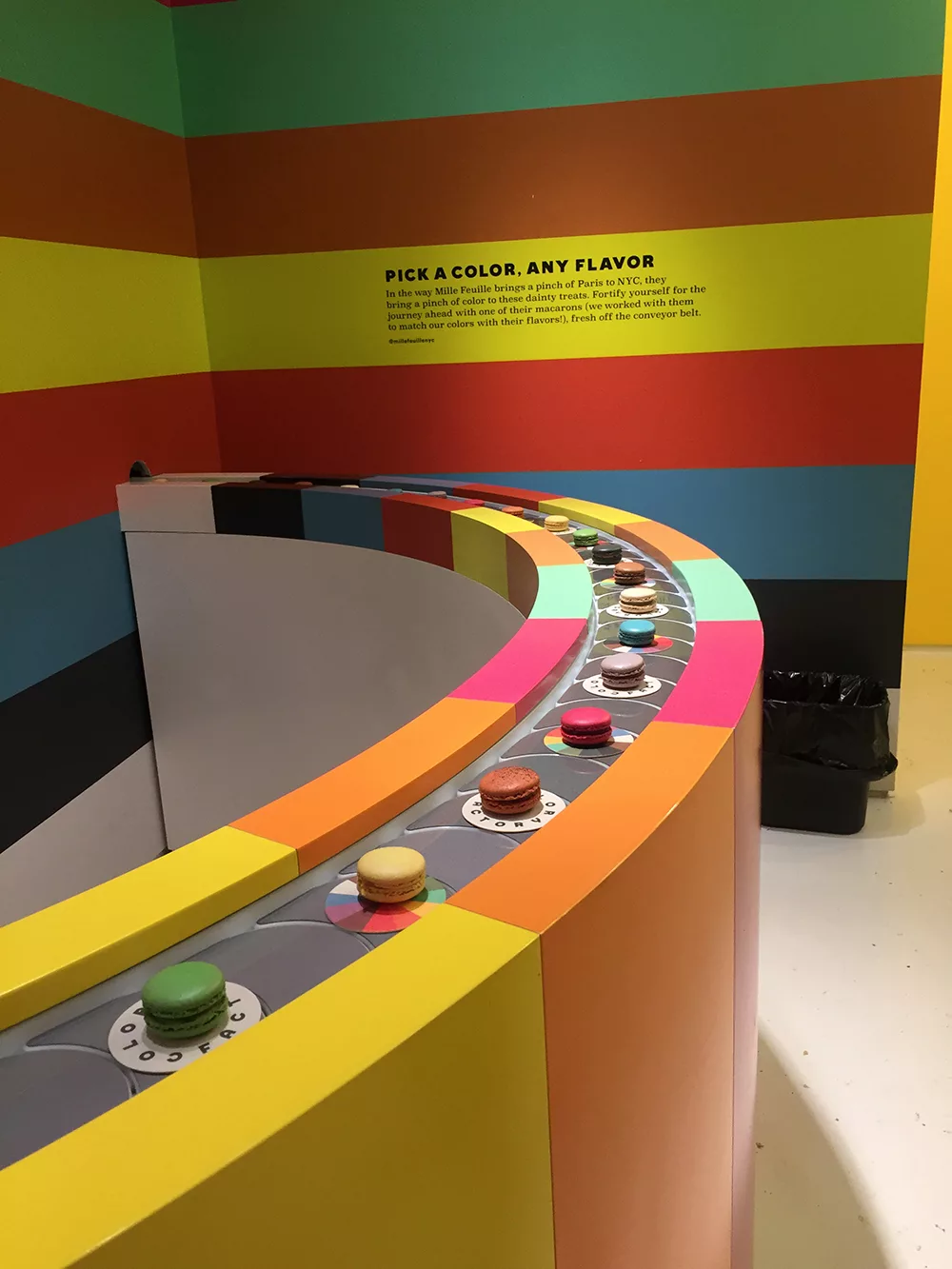 As you explore the Color Factory, the installations change from room to room. Some installations focus on how we perceive color while others engage your sense of taste through locally made sweets. Not only does this experience include a lot of cool photo ops. But the sense of fun and whimsy the Color Factory creates is something you don't typically find in a traditional museum.
The Color Factory, 251 Spring Street in New York, NY
Built on a formerly abandoned elevated rail line, The High Line is a public park like no other. This 1.45-mile greenway on Manhattan's West Side brings together art, design, and nature in an unexpected way. Along the High Line you'll find an incredible collection of sculptures and murals adorning neighboring buildings. But the space is also a refreshing strip of greenery in the heart of the city and features more than 500 species of plants and trees.
The High Line, Entrances at Gansevoort Street, 23rd Street or 30th Street only
Stop by the Borges Bathroom
Independent bookstores are some of my favorite places to visit when I travel. But there are more reasons to visit McNally Jackson Books' Nolita location than just finding a new read. In the basement of this incredible bookshop, you'll find a unique amenity: a Jorge Louis Borges inspired bathroom.
With an 18-hour Borges audio loop, florescent pink lighting and quotes from the Argentine writer adorning the mirrors, this is not your average restroom. Even if you're not a big Borges buff, this unique installation is worth popping into McNally Jackson (where you can also most definitely find an art book or five to continue your artistic exploration).
McNally Jackson Books Nolita, 52 Prince Street in New York, NY
Keep an Eye Out for Public Art
One of my favorite things about exploring New York is how many opportunities there are to discover something unexpected. As you explore the city in search of other art-related attractions, keep an eye out for street art, murals, and public sculptures. In New York every alley, doorway or even pothole can be an opportunity to experience the arts.
Share Your Thoughts
I would love to hear from you! Have you been to New York City? What would you add to your personal art lovers' guide to New York?