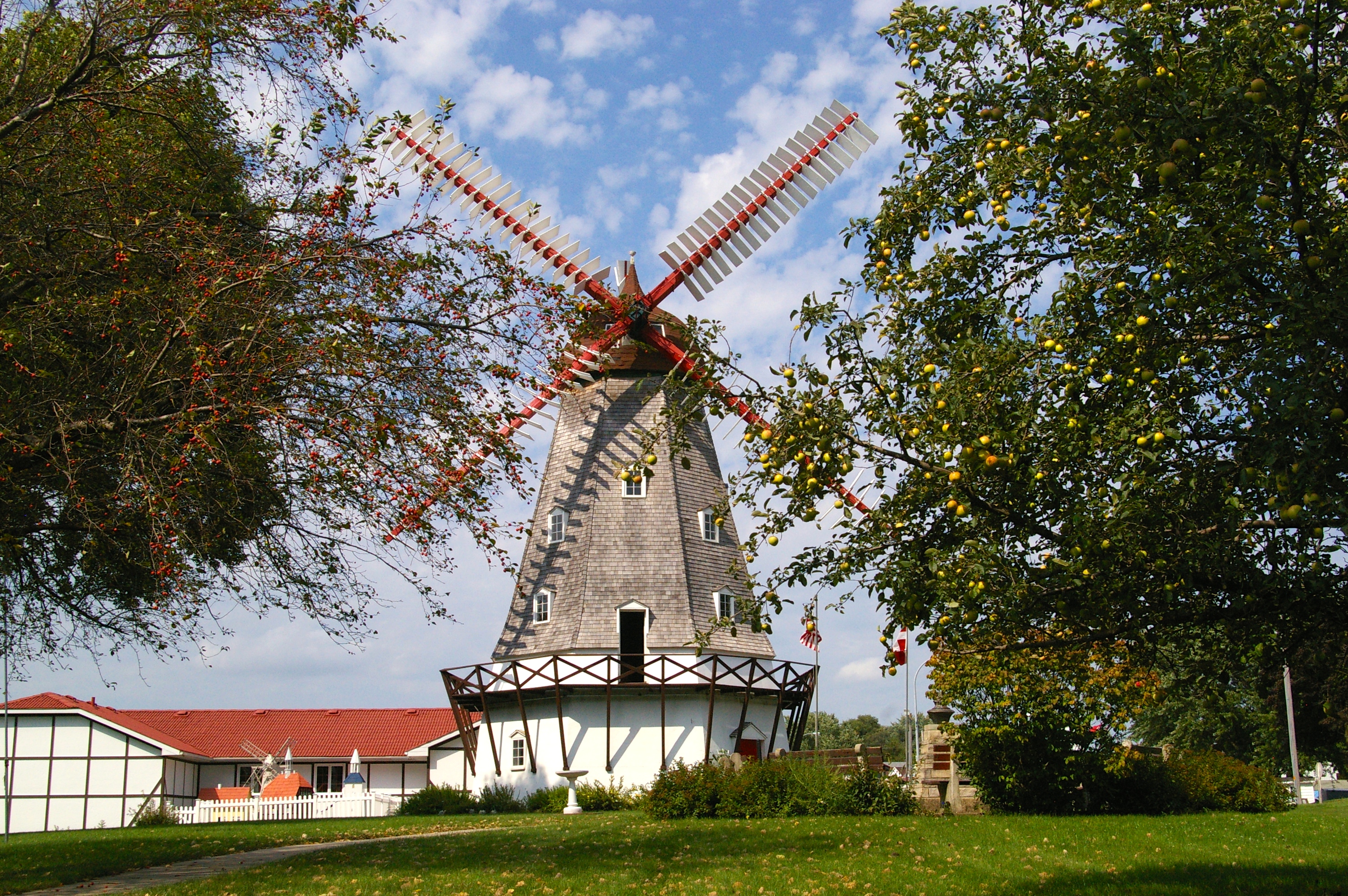 Together with neighboring Kimballton—home of the Little Mermaid—Elk Horn, Iowa is the largest rural Danish settlement in the United States. So it's no surprise that the small town is also home to the country's only working Danish windmill.
During my many drives to Omaha, I'd always seen the signs for Elk Horn's Danish Windmill, but until a few weekends ago, I'd never veered off of I-80 for a visit. But after being charmed by the Swedish Heritage Museum earlier this spring, I was intrigued and hopeful for another Scandinavian surprise. And I wasn't disappointed.
A bit of history about Elk Horn's Danish windmill
Built in 1848 in Norre Snede, Denmark, Elk Horn's Danish windmill is still operational and is used to grind grain into flour. More than a decade later, in honor of the 1976 U.S. Bicentennial, Harvey Sornson had the idea to bring a Danish windmill to Iowa—specifically Elk Horn, as it had one of the largest concentrations of Danes in the United States.
In a matter of days, the people of Elk Horn raised $30,000 to help cover the dismantling and transportation cost of the mill, and on February 4, 1976, the pieces of the mill arrived from Denmark. No professional help was hired to reassemble the mill in Elk Horn. Instead, more than 300 local volunteers donated their time and expertise to get the mill rebuilt.
Shortly after Elk Horn received its windmill, a Danish law was passed stating that no more mills were allowed out of the country and helping ensure that Iowa retain's it's exclusive title.
Morning Star Chapel
Located on the grounds of Elk Horn's Danish Windmill, you'll find the most adorable, tiny Danish chapel you can probably imagine. At six-feet by eight-feet and only four rows of pews, this tiny church is the perfect place for a (very) intimate wedding ceremony.
Built in 1951 by Charles Johann Walensky, "an 83-year-old Danish immigrant who lived across the state in Waterloo, Iowa," according to Roadside America. When he died eight years later, the tiny church moved to his daughter and then remained in the homes of various family members until 1995 when it was donated to the Museum of Danish America. It was later moved to the grounds of the Danish Windmill where you can visit it today.
If you visit Elk Horn's Danish Windmill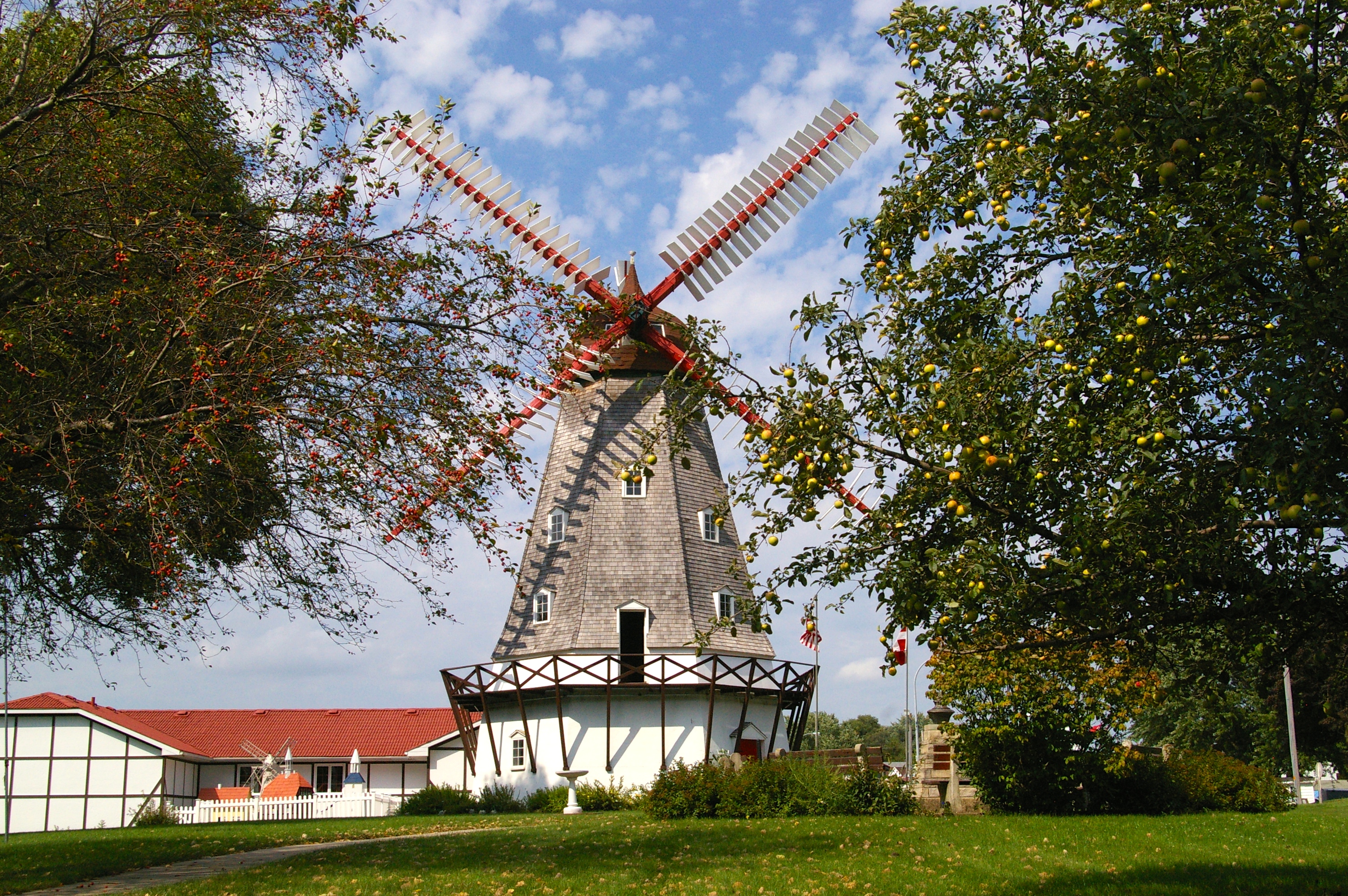 Elk Horn's 60-foot-tall Danish Windmill is located on the edge of the city and is a great afternoon stop if you happen to be passing through.
The tour price is reasonable and includes an informational video as well as the ability to climb higher than I felt comfortable up into the windmill. That being said, it was fun to be able to explore on our own and enjoy the view from the mill's balcony.
Hours:
Monday – Saturday: 9 am – 5 pm
Sunday: Noon – 5 pm
Cost: $3 per person for a self-guided tour of the windmill
$1 for children 12 and under
Elk Horn's Danish Windmill, 4038 Main Street in Elk Horn, Iowa