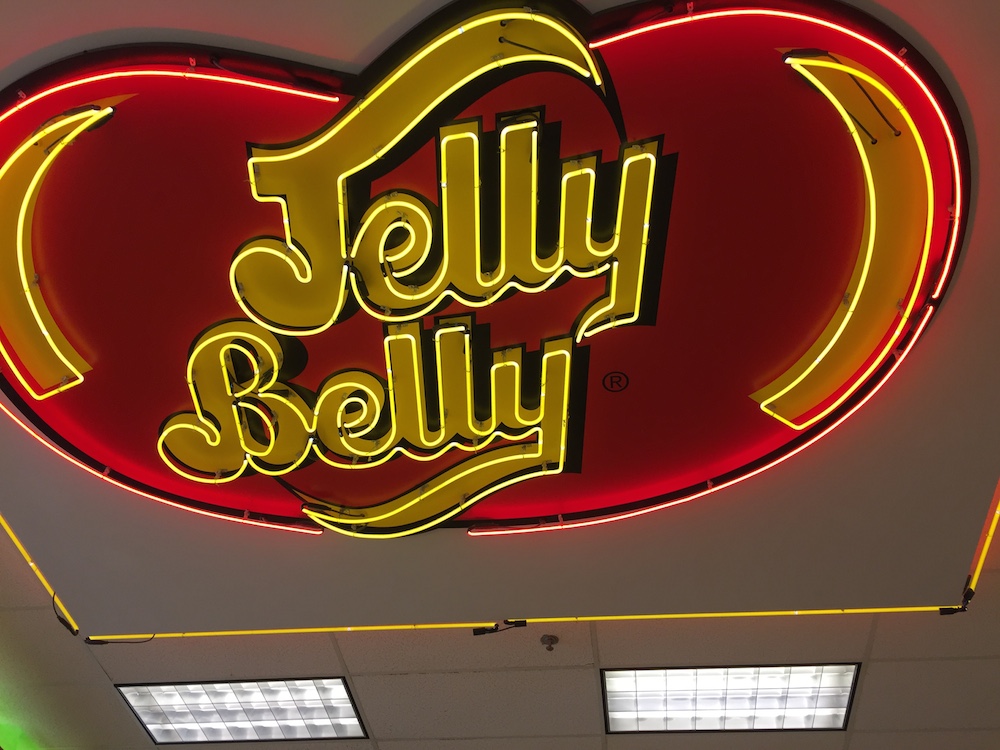 I have vague memories of visiting the Jelly Belly Warehouse with my Girl Scout troop as a seven year old. But for the most part, the experience is a sugar-filled haze. So when I made plans to spend some time in Kenosha, Wisconsin, I knew a return trip to the nearby warehouse would be a must.
Candy-loving travelers are sure to love the tour of the warehouse. Visitors will explore the history of Jelly Belly and get a behind-the-scenes look at the company's candy-making processes. Upon entering the warehouse, hop aboard one of Jelly Belly's brightly hued trams and get ready to learn about this family business' sweet history. While the warehouse isn't technically a production facility, everyone is still required to wear a paper hat during the tour.
In 1869, Gustav Goelitz opened his candy business in Belleville, Illinois. His descendants continued his candy-making traditions and in 1965 began producing mini jelly beans. In 1976, the eight original flavors of Jelly Belly beans became root beer, green apple, licorice, cream soda, lemon, tangerine, very cherry, and grape. Today Jelly Belly produces beans in hundreds of flavors of specialty jelly beans in addition to their signature 50.
Fun fact: For the last 25 years, artist Peter Rocha has been large-scale mosaics made entirely of jelly beans. Today the collection is comprised of dozens of pieces including portraits of Elvis Presley, Abraham Lincoln, Ronald Reagan as well as Van Gogh's "The Starry Night," to name a few.
The tour has a delicious end in the warehouse store where you can purchase hundreds of different Jelly Belly candies. The retail section of the warehouse also includes a tasting counter where shoppers can sample different flavors before committing to a whole bag. I also enjoyed the "Belly Flops," which are imperfect beans that Jelly Belly sells at a discount. We opted for a game of BeanBoozled, a Jelly Belly medley bag, and some chocolate covered cherry beans.
If you visit the Jelly Belly Warehouse
Whether you're spending the day exploring nearby Kenosha or making a trip from the Chicago suburbs, a visit to the Jelly Belly Warehouse is a great way to spend an hour or two. Plus, it's a great place to pick up souvenirs or treats for friends back home!
The Jelly Belly Warehouse offers free tours daily from 9 am until 4 pm. We toured the warehouse first thing in the morning and waited less than 10 minutes for our tour. However, if you're visiting with a larger group I definitely recommend calling ahead to schedule a free private tour. You can find all the tour information you'll need here.
Jelly Belly Warehouse, 10100 Jelly Belly Lane in Pleasant Prairie, Wisconsin
Have you visited the Jelly Belly Warehouse? What was your favorite part of the experience?