While you'll discover rich history and wacky roadside attractions in the Hawkeye State, you'll also find quite a few haunted places in Iowa.
From ominous grave markers and sites of grisly crimes to local institutions, there's no shortage of spooky spots to explore across the state. Whether you choose to visit during the Halloween season or prefer to read about hot spots from haunting from the comfort of your home, these are stories worth diving into.
The next time you're looking for an otherworldly experience, set course for one of these five haunted places in Iowa.
Most Haunted Places in Iowa
Black Angel of Oakland Cemetery
Ever since it was erected in 1918, the eight-and-a-half-foot tall Black Angel of Oakland Cemetery has been a source of mystery and Iowa City lore. Legend has it that anyone kissed in front of the black angel at midnight on Halloween will die within seven years. It's also rumored that anyone who attempts to kiss the angel will be killed instantly.
Oakland Cemetery, 1000 Brown Street in Iowa City, Iowa
Find More Secret Iowa Places
Drake Municipal Observatory
During my time as an undergrad student, I once visited the Drake Municipal Observatory for an introductory astronomy class. While I don't remember anything particularly paranormal happening, I do remember the small brick building being a bit eerie.
As legend goes, the ghost of Dr. Robert Morehouse, the first Chairman of the Astronomy and Physics Department at the university, haunts the observatory. It doesn't seem like much of a stretch since his remains, as well as his wife's, are interred in the entryway's wall. Students (thankfully not me) have reported feeling like they were being watched while in the basement and noticed ghostly corrections on their observation logs. I love the idea that Dr. Morehouse can't help grading papers — even in the afterlife.
Drake Municipal Observatory, Waveland Golf Course grounds, 4908 University Avenue in Des Moines, Iowa
Built in 1910, the Edinburgh Manor was an asylum for the poor, elderly, and mentally ill. Located in Scotch Grove, the Manor operated for a century and closed in 2010. During that time it earned the reputation of being one of the most haunted places in the Midwest.
The building was opened to paranormal investigators for overnight visits in 2012. Less adventurous visitors can also take bi-monthly day tours of the Manor.
Edinburgh Manor, 13241 E23 County Home Road in Scotch Grove, Iowa
It may seem silly to include a bridge on a list of haunted destinations. But locals near Viola may disagree with you.
Local legend says that if you drive onto the Matsell Bridge at night and shift your car into neutral an unknown force will push you to the other side. Some have also reported mysterious hand prints appearing on car bumpers and back windows. But beware! Locals say the ghosts are easily angered and may try to break windows or push cars off the bridge.
Matsell Bridge (across the Wapsipinicon River), Matsell Park Road, North of Viola, Iowa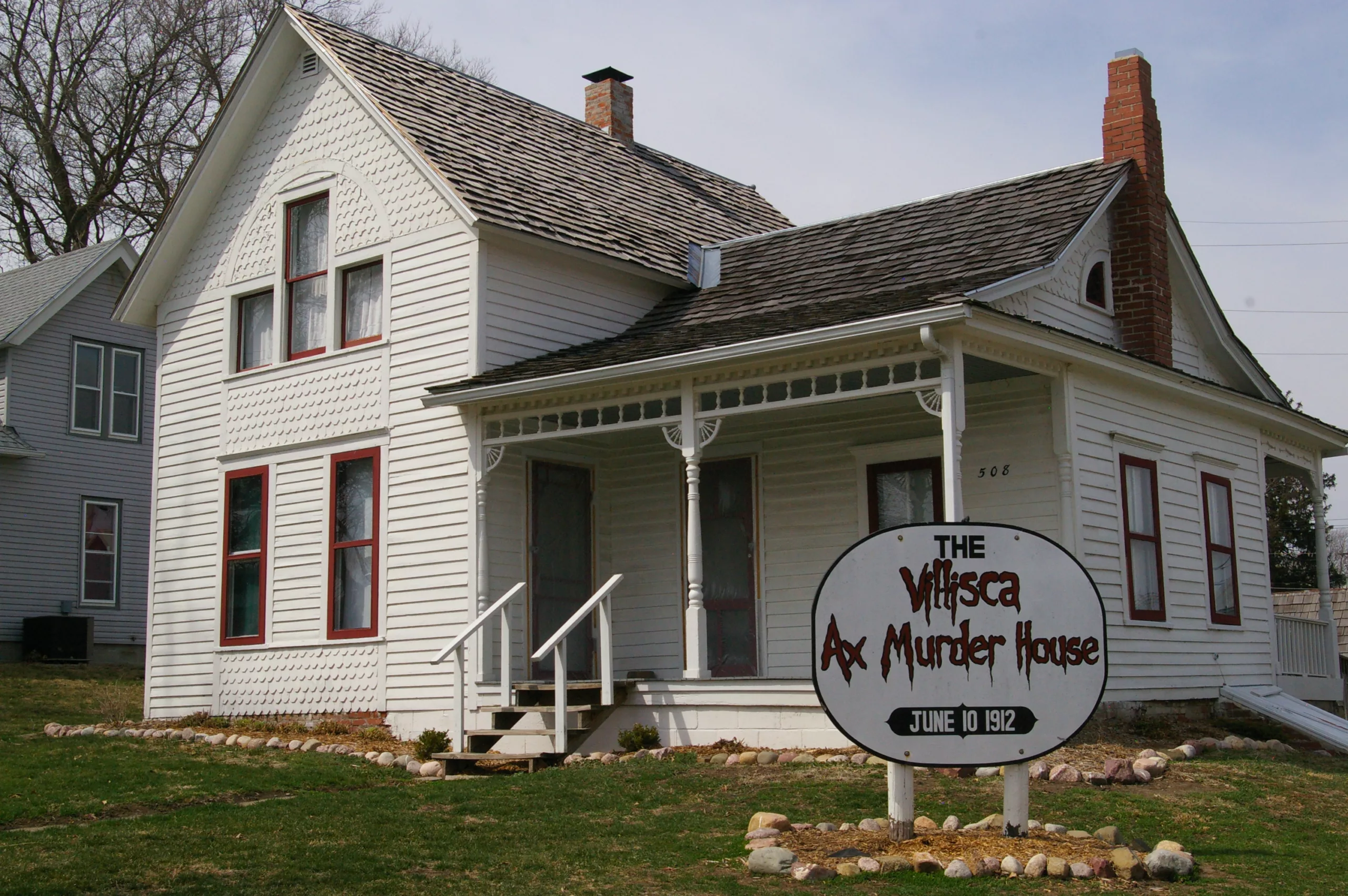 Located in the small town of Villisca — population 1,250 — this white farmhouse could easily be the clone of its neighbors. That is, except for the plywood sign in its front yard. On June 10, 1912, eight people, including six children under the age of 12, were murdered while they slept. An eerily staged crime scene and utter lack of suspects rocked the small town, leaving many questions unanswered for decades.
Today the Villisca Ax Murder House is open to visitors and overnight guests. Paranormal investigators of all sorts, including the hosts of the reality TV show Ghost Adventures, have visited the house to see what they can learn about this horrific piece of the town's history.
Let's Be Social
Want even more offbeat adventures, roadside attractions and world's largest things? Follow Olio in Iowa on your favorite social media platforms, and tag #OlioOnTheRoad when you have quirky adventures of your own.
Share Your Thoughts
I would love to hear from you! Do you enjoy spooky spots? Which haunted places in Iowa have you visited?