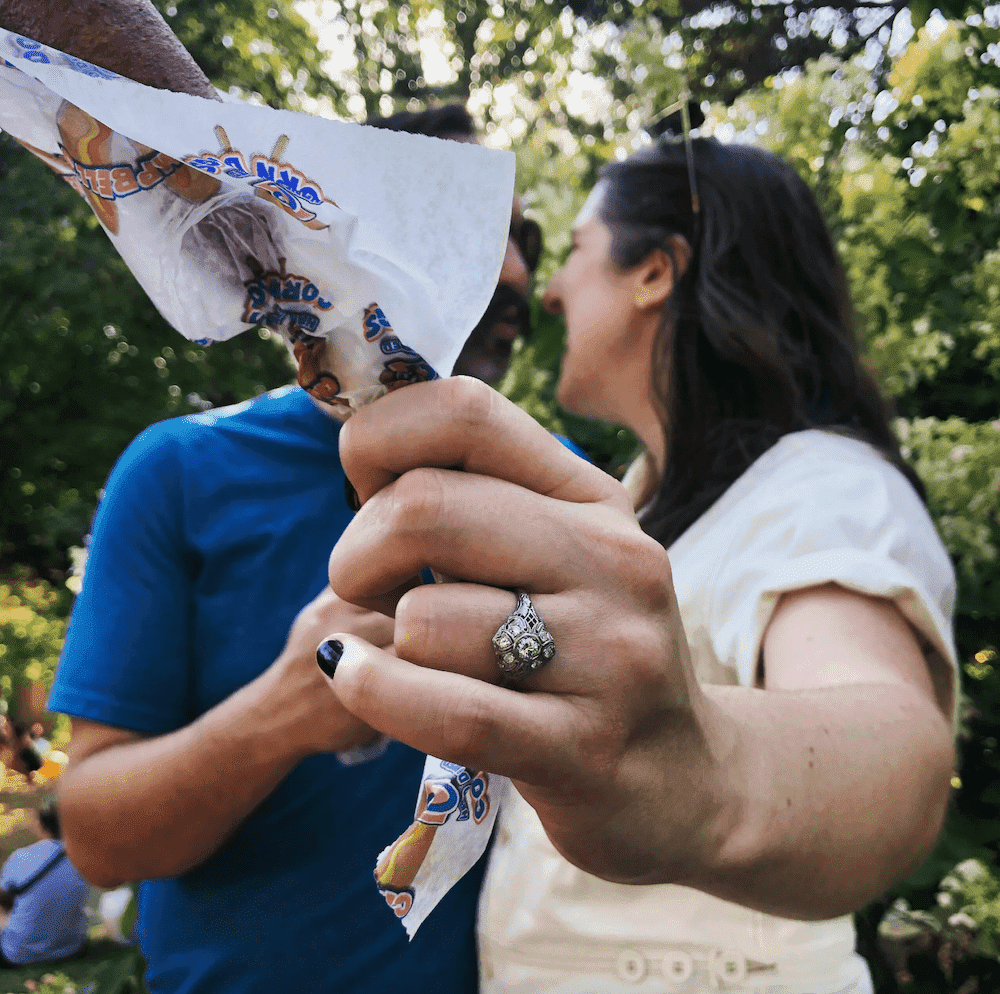 Seven years ago my husband, Josh, and I had our first date at the Iowa State Fair. He is a native Iowan who grew up going to the fair from dawn until well past dusk. I am not. In fact, I didn't go to my first real fair until college after I'd already moved to Iowa.
While the State Fair may seem like a strange first date to some, it was actually the perfect choice. There was lots to see and do, ample opportunities for people watching and plenty of time to get to know each other. And yes, we rode Ye Old Mill. Though I didn't realize it was such a fast ride (I was expecting a more leisurely tunnel of love situation). Needless to say, I haven't been on since.
Every year (with the exception of our second anniversary when I had an unfortunate ankle spraining incident), we've returned to the Iowa State Fair to celebrate our anniversary. And like any true fairgoers, we've developed traditions and favorite spots. I enjoy the only corn dog that I'll eat all year. Josh gets a pork chop on a stick. And we always vote for the best miniature display in the Cultural Center.
Over the years, another one of our traditions has become sitting in the rocking chairs on the wraparound porch of the Ralph H. Deets Historical Museum and listening as bluegrass music drifts over from the stage in Pioneer Hall. It's a peaceful spot that feels worlds away from the wall-to-wall people of the Midway.
So when we decided to get married, it only seemed fitting that we dot our i's and cross our t's — legally speaking — at the Iowa State Fair. While we eloped along Route 66 and said our vows at the End of the Trail sign on the Santa Monica Pier, technically we signed our marriage license where it all started: at the Iowa State Fair.
There were lots of practical reasons we decided to file our marriage license in Iowa (ask me about the related rental car debacle another time). But there were some sentimental reasons as well.
So on the sixth anniversary of our first date, we once again headed to the Iowa State Fair. We were joined by three friends — one who had been ordained and all who had sworn not to draw extra attention to the fact that we were signing legally binding paperwork during the state's biggest annual event.
We made a beeline for the fair museum and sat in rocking chairs as bluegrass played. Then on the steps of the museum, we signed our names and said our "I do's". And that was it! We snapped a few photos together before our group dispersed.
And afterward, we celebrated with a corn dog and a lemonade shakeup. Because what else do you do at the Iowa State Fair?
Let's Be Social
Want even more offbeat adventures, roadside attractions and world's largest things? Follow Olio in Iowa on your favorite social media platforms, and tag #OlioOnTheRoad when you have quirky adventures of your own.