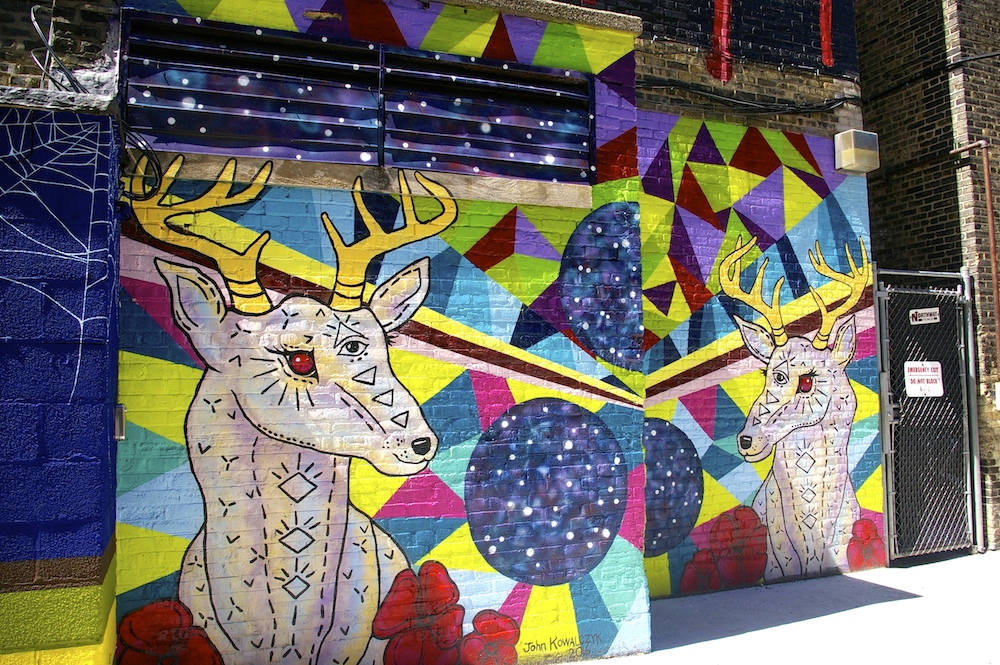 Working in a contemporary art museum means I spend a lot of time surrounded by art. So it shouldn't be too much of a surprise that when I travel I often seek out arts and cultural attractions. Earlier this year I spent some time in Wisconsin and was surprised to discover that Milwaukee is home to a vibrant public art scene. Wandering the streets of Milwaukee, it seemed like every corner or unassuming alleyway burst with color and unexpected inspiration.
If you're headed to the city anytime soon, I highly recommend you explore Milwaukee public art from one of its newer epicenters in Black Cat Alley and beyond. There are tons of incredible murals I didn't have time to see, but a few of my favorite places to experience the city's public art are below.
As I explored Milwaukee I found murals everywhere. Towering stories above the streets or tucked into alleyways adjacent to popular coffee shops. I especially enjoyed this vibrant scene outside the Third Ward location of Colectivo Coffee, 223 E. St. Paul Avenue.
If you're feeling extra ambitious with your public art exploration, check out the Milwaukee Mural Map, an incredible resource that maps out the city's copious public art.
But Milwaukee has more to offer than murals. Nearly 20 years ago, the Milwaukee Building's owner and property manager John J. Burke wanted to start a conversation about public art in downtown Milwaukee. So he designed and installed three fiber glass ladybugs on the exterior of his building. Passing them, it's impossible not to smile at these larger-than-life beetles.
You can read more about the giant ladybugs on the exterior of the Milwaukee Building, 622 North Water Street, via Milwaukee Public Radio.
Black Cat Alley
When I was planning my trip to Milwaukee, one of the recommendations I received was to visit Black Cat Alley. An incredible outdoor mural gallery located on the East Side of Milwaukee, Black Cat Alley opened in 2016. This two-block public art installation is tucked discreetly into the rest of the busy neighborhood. Stumbling upon its colorful murals felt like discovering a secret alley of inspiration.
While it's hard to choose a favorite, my favorite pieces were Bunnie Reiss' Scandinavian looking scene and John Kowalczyk vibrant reindeer. I also loved the work of Milwaukee artist Jeremy Novy, whose stenciled koi appear all over the city.
Location: Black Cat Alley is located in the alleyway between the Oriental Theatre on Farwell Avenue and Colectivo Coffee on Prospect Avenue. You can enter the alleyway from East Kenilworth Place or East Ivanhoe Place. The outdoor gallery also conveniently shows up on Google Maps if you need some help navigating the area.
Where's your favorite place to experience Milwaukee public art?