Even in bigger cities, I'm always on the lookout for weird and wacky places. Thankfully, there's no shortage of offbeat attractions in St. Louis, Missouri.
From whimsical, labyrinth-like museums and giant attractions to architectural anomalies and unique local history, this Midwest city is teeming with quirky places to visit. Whether you have time for a quick photo op or an afternoon to fill exploring, these unusual spots across the city are sure to add a bit of kitsch and whimsy to your visit.
The next time you're in St. Louis, be sure to check out these eight unusual attractions and experience some of this Missouri city's most offbeat places.
Offbeat & Unusual Things to Do in St. Louis, Missouri
There are few places more unusual than St. Louis' City Museum. This multi-story attraction is an artist-built playground sure to delight the senses of visitors of all ages. Housed in a former shoe factory and warehouse, you'll find all sorts of installations, collections and interactive elements throughout City Museum.
From two 10-story slides and miles of tunnels to the World's Largest Underwear, this wacky attraction is full of opportunities to be surprised and delighted. Whether you have a few hours or an entire day to explore, the City Museum has no shortage of unusual spaces to discover.
Tips for Visiting City Museum
While there are lots of offbeat attractions in St. Louis, City Museum is certainly one of the most well-known. That means that — especially if you're visiting on a weekend — you can expect a crowd at this popular spot. Whether you're a first-timer or a seasoned visitor, these tips will help ensure you make the most of your visit:
Wear comfortable clothing: There's lots of bending, crouching and scooting involved when it comes to visiting City Museum. Be sure you're able to move freely while you explore. Also, be mindful it can get quite warm inside the building.
Go with the flow: Sure, there are maps of City Museum. But you'll have more fun if you go with the flow and allow the museum's many rooms to unfold before you instead of trying to methodically visit every space.
Know yourself: If you're afraid of heights or wary or small spaces, some of the City Museum's installations aren't going to be for you. Enjoy your experience, but make sure you're also aware of your own limitations so you don't find yourself stuck in a wire tunnel five stories above the ground.
City Museum, 750 N. 16th Street in St. Louis, Missouri
Play with the World's Largest Chess Piece
Checkmate! You're sure to have a winning streak after visiting the World's Largest Chess Piece. Standing at 20 feet tall and weighing more than 10,000 pounds, this formidable piece pays tribute to the city's chess-loving history.
World's Largest Chess Piece, 4652 Maryland Avenue in St. Louis, Missouri
Meet Lord Stanley the Blue Lobster
The St. Louis Aquarium at Union Station is home to an impressive 13,000 animals across 44 exhibits. But possibly its most interesting resident can be found in one of its smaller tanks.
In June of 2019, the St. Louis Blues had beat the Boston Bruins to win the 2019 Stanley Cup. To commemorate the team's first Stanley Cup victory, Arnolds Lobster & Clam Bar (based in Bruins territory in Eastham, Massachusetts) donated a blue lobster to the aquarium to inspire future generations of conservationists.
Fittingly named Lord Stanley the Lobster, this colorful crustacean has become a bit of a celebrity in his own right. Today you'll find him on the second floor of the aquarium in a blue-hued tank with his very own hockey stick.
Pro Tip: Be sure to snap your photo with the Lord Stanley lobster claws and giant Stanley Cup ring.
St. Louis Aquarium at Union Station, 201 S. 18th Street in St. Louis, Missouri
Get a Hole in One at Puttshack St. Louis
This isn't your typical putt putt experience. Think of Puttshack St. Louis as the Top Golf of miniature golf. Each player's high-tech ball not only tracks their strokes, but also automatically keeps score throughout the game.
With a number of different nine-hole courses, there's the potential for endless entertainment at this unique venue. From trivia-based challenges to moving in-game hazards, there are all sorts of unique elements that make a round at Puttshack a great way to spend an afternoon.
Puttshack St. Louis, 3730 Foundry Way, Suite 100 in St. Louis, Missouri
Tell a Secret to the Whispering Arch at Union Station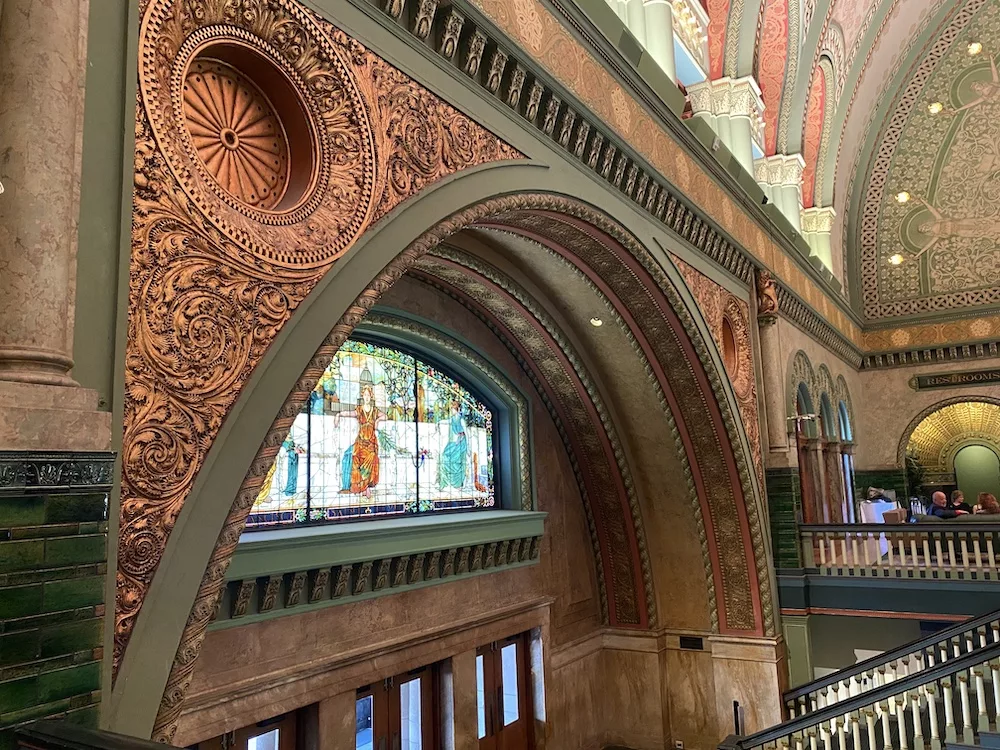 Over the decades, what started as an architectural anomaly has become one of Union Station's best-kept secrets, or rather, it's best secret keeper. The Whispering Arch is a unique phenomenon that you need to hear to believe.
A pair of workmen first discovered the arch's unique properties shortly after it was built in the 1890s. According to local lore, after one of the men dropped a hammer on one side of the arch, a painter working working on the other side heard the sound clearly from 40 feet away. Over the years, the arch has heard everything from marriage proposals to more nefarious declarations, including some alleged conversations between mob bosses.
Pro Tip: The Whispering Arch is located under the gold Art Deco archway on the north side of the Grand Hall. To share your own secret with the Whispering Arch, face toward the wall and whisper. Your companion on the other side of the archway should be able to hear you perfectly, even in the noisy room.
The Whispering Arch at Union Station, 1820 Market Street in St. Louis, Missouri
Marvel at the World's Largest Underwear
City Museum is arguably one of the most offbeat attractions in St. Louis. But inside this mecca of the weird and wacky you'll find another unusual oddity: the World's Largest Underwear.
World's Largest Underwear, City Museum, 750 N. 16th Street in St. Louis, Missouri
Say Hi to the Italian Spaghetti Lady
If you're headed to The Hill to experience St. Louis' own Little Italy, don't forget to stop by the unique sculpture known, inexplicably, as the Italian Spaghetti Lady. There isn't much out there about this unique piece of public art, but a small marker on the fence reads "Damsel in Distress" by Mitchellini.
Pro Tip: This sculpture is located on private property so remember to be respectful if you decide to visit.
Italian Spaghetti Lady, 5043 Daggett Avenue in St. Louis, Missouri
Fuel up at the World's Largest Amoco Sign
When it comes to roadside advertising, the gas station mentality seems to be that bigger is better. At least that's true for the station attached to the World's Largest Amoco Sign. Spanning 40 feet tall and 60 feet wide, this giant sign has a century-long legacy worth celebrating.
Stevenson's Hi-Pointe Amoco, 981 S. Skinker Boulevard in St. Louis, Missouri
Let's Be Social
Want even more offbeat adventures, roadside attractions and world's largest things? Follow Olio in Iowa on your favorite social media platforms, and tag #OlioOnTheRoad when you have quirky adventures of your own.
Share Your Thoughts
I would love to hear from you! Have you visited St. Louis? What is your favorite offbeat attraction in this Midwest city?