A Midwestern college town might not immediately seem like a culinary mecca. But on a recent visit to central Illinois, we were blown away by the number of incredible restaurants in Champaign-Urbana.
While the community is most-notably the home of the University of Illinois Urbana-Champaign, there are lots of other things to do here, including visiting some favorite foodie spots. Whether you're in the mood for something sweet or need a hearty meal, this Illinois community is full of eateries that deliver delicious flavors and varied menu options. From innovative Asian cuisine to traditional Italian fare, you're sure to find something to tickle your taste buds in this college town.
After eating my way through both cities, I promise you won't want to miss these must-try restaurants in Champaign-Urbana. And after you've had your fill, the area is full of unique bars worth visiting and other spots I know foodies will love.
Disclosure: My visit to Champaign-Urbana was hosted by Visit Champaign County. However, all opinions are my own.
This post may contain affiliate links, which means I may receive a small commission at no additional cost to you. 
Best Places to Stay in Champaign-Urbana, Illinois
Best Game Day Option: I Hotel and Illinois Conference Center – Champaign is located next to the State Farm Center and Memorial Stadium on the University of Illinois campus. If you're here to cheer on the Fighting Illini, this is the place to stay.
Best Location: Hyatt Place Champaign/Urbana is located in the heart of downtown Champaign, making it walking distance from many of my favorite things to do in Champaign-Urbana.
On-Campus Accommodation: TownePlace Suites by Marriott Champaign has all the right amenities for visitors looking to stay within walking distance to the University of Illinois campus.
Must-Try Bars, Foodie Spots & Restaurants in Champaign-Urbana
Baldarotta's Porketta & Sicilian Sandwiches
If there's one recommendation I have for dining in Champaign-Urbana, it's to put Baldarotta's Porketta & Sicilian Sandwiches at the top of your to-visit list. Located inside the Lincoln Square Mall, this Sicilian spot is unassuming at first glance. But don't let that hold you back.
Baldarotta's serves up some of the best Italian sandwiches I've ever eaten alongside hand-cut French fries, antipasti and gelato. Seriously, what's not to love? Be warned though: Baldarotta's doesn't offer any substitutions or modifications. No exceptions!
Still, it's no exaggeration to say that everything we ordered from Baldarotta's was absolutely mouth-watering. I opted for the classic porketta sandwich, bursting with pork roast, salsa verde, provolone, arugula and banana peppers on homemade focaccia. Josh ordered the Sicilian sausage sandwich, and we split some fries and broccoli salad.
I was skeptical (I'm usually a cannoli purist), but followed the recommendation of the Baldarotta's staff when it came to desert. In the end, the key lime cannoli was the perfect end to this supremely savory meal. Of all the places we ate, this was truly one of my favorite restaurants in Champaign-Urbana.
Baldarotta's Porketta & Sicilian Sandwiches, Lincoln Square Mall, 300 S. Broadway Avenue in Urbana, Illinois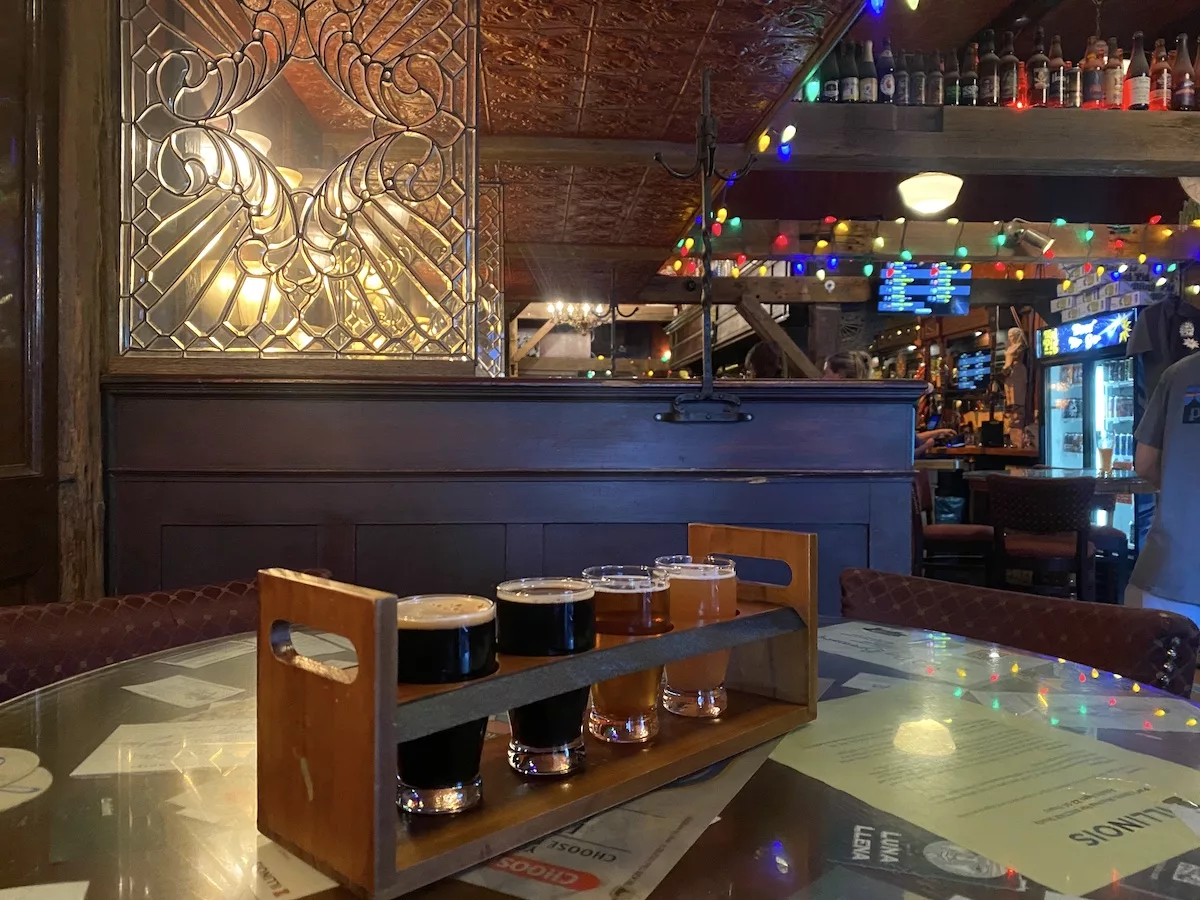 Every college town needs a brewery or two, and The Blind Pig Brewery is the perfect place to pony up to the bar after a day of exploring. Located in the heart of downtown Champaign, this wood-paneled taproom feels like a homey British pub. The Bling Pig offers dozens of craft beers on tap along with ample indoor and outdoor seating for groups both big and small to unwind and imbibe.
The Blind Pig Brewery, 120 N. Neil Street in Champaign, Illinois
I'm a sucker for a hearty sandwich and a cup of soup. And in Urbana, there's no place better than The Bread Co.  With generous portions and quality ingredients, The Bread Co. serves authentic Swiss and European cuisine in a student-friendly environment.
With a name like The Bread Co., it's not surprising that this eatery's homemade loaves are delectable. Grab a loaf to take home or order one of the restaurant's sandwiches, all of which come on fresh-baked bread.
For lunch, I opted for the pear sandwich with a side of French onion soup while Josh ordered the Hawaiian sandwich with a strawberry salad. After dining here, it's easy to see why this popular spot often has a sizable line. Our lunches were fresh and filling, and arrived at our table at an incredible speed given how bustling the eatery was during our visit.
The Bread Co., 706 S. Goodwin Avenue in Urbana, Illinois
Greenhouse Café at Allerton
Every once and awhile, I stumble upon a place that's so charming that it's like stepping into the pages of a favorite children's book. Near Champaign-Urbana, that place is the Greenhouse Café at Allerton. Located in the estate's former greenhouse, this cozy café is as quaint as its food is delicious.
The café is open early April through early November, and serves a variety of sandwiches, baked goods, salads and more. Grab a coffee or a light bite before exploring the sprawling gardens and grounds at this unique retreat.
Greenhouse Café, 515 Old Timber Road in Monticello, Illinois
If you're looking for incredible Asian restaurants in Champaign-Urbana, look no further than Ko Fusion. With locations in downtown Champaign and near the University of Illinois Urbana campus, this popular eatery serves up sushi alongside traditional Asian favorites with a contemporary twist.
A sleek, modern interior gives Ko Fusion an upscale feel that, much like its food, is elevated while still being accessible. We opted for the edamame and pork dumplings to start, followed by the Dol Sot Bi Bim Bob for me and the Panang Curry for Josh. Everything we tried was absolutely delicious and left us wanting to return to sample Ko Fusion's sushi menu.
Ko Fusion, 30 E. Main Street in Champaign, Illinois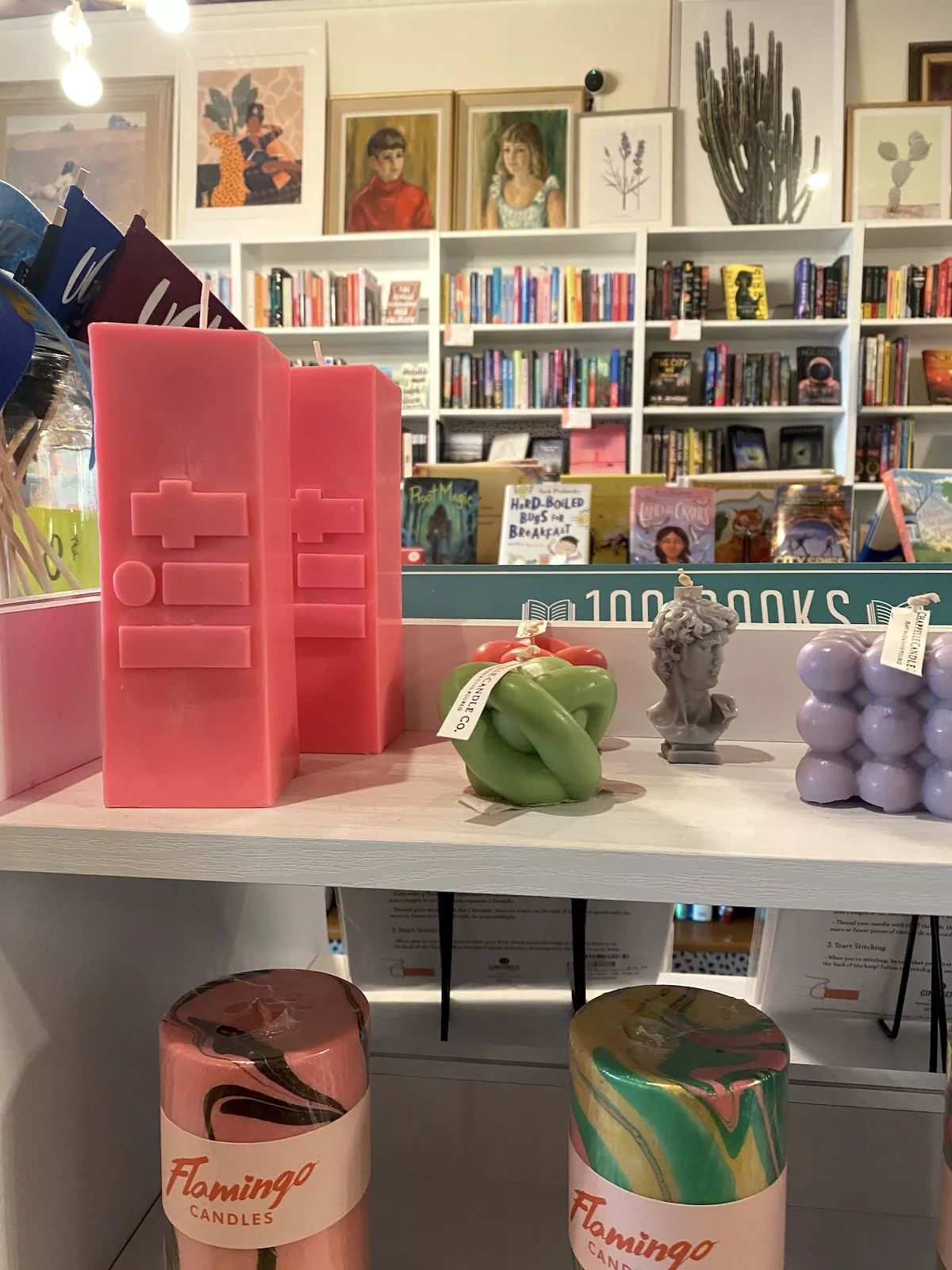 If you're like me, a combination bar and indie bookstore sounds like an absolute dream. So when I stumbled upon The Literary, I was in heaven. This Champaign indie bookstore is part café and bar, part retail space with plenty of cozy seating to curl up and enjoy your new read.
After some browsing (and adding to my ever-growing TBR pile), we decided to grab some cocktails and enjoy the evening on The Literary's patio. I couldn't resist one of shop's aptly-themed literary cocktails and opted for the Gin Eyre, Empress 1908 Gin over sparkling lavender lemonade.
The Literary, 122 N. Neil Street in Champaign, Illinois
Prairie Fruits Farm & Creamery
It's no secret that I love cheese. But when I found out that Prairie Fruits Farm & Creamery is also home to some seriously adorable goats, I couldn't pass up the chance for a visit.
Not only is this local gem a fun place to visit, but it's also Illinois' first farmstead cheesemaker. Along with lots of great snacks and products like soaps and lotions made from goats' milk, the farm store sells an amazing selection of cheeses. We left with a sampling of the farm's creamy chevres as well as a beautiful fleur de la prairie cheese decorated with dried flowers and garden herbs.
But the real reason behind our stop was Prairie Fruits Farm's goat milk gelato. I couldn't resist the fresh nectarine flavor and absolutely fell in love with the flavor. Whether you're an ice cream aficionado or not, you need to make time for a stop at this incredible local farm.
Don't forget to say hi to the farm's herd of goats while you're there!
Prairie Fruits Farm & Creamery, 4410 N. Lincoln Avenue in Champaign, Illinois
If you're looking for a spot to enjoy live music in Champaign-Urbana, head to the Rose Bowl Tavern. While this local haunt doesn't technically serve food, it's a great spot to go with your favorite take-out.
During the warmer months, the Rose Bowl also sets up an outdoor stage and seating in its parking lot. We grabbed dinner from Baldarotta's Porketta & Sicilian Sandwiches and had a great time enjoying a pint or two while people watching and listening to live music.
Rose Bowl Tavern, 106 N. Race Street #1 in Urbana, Illinois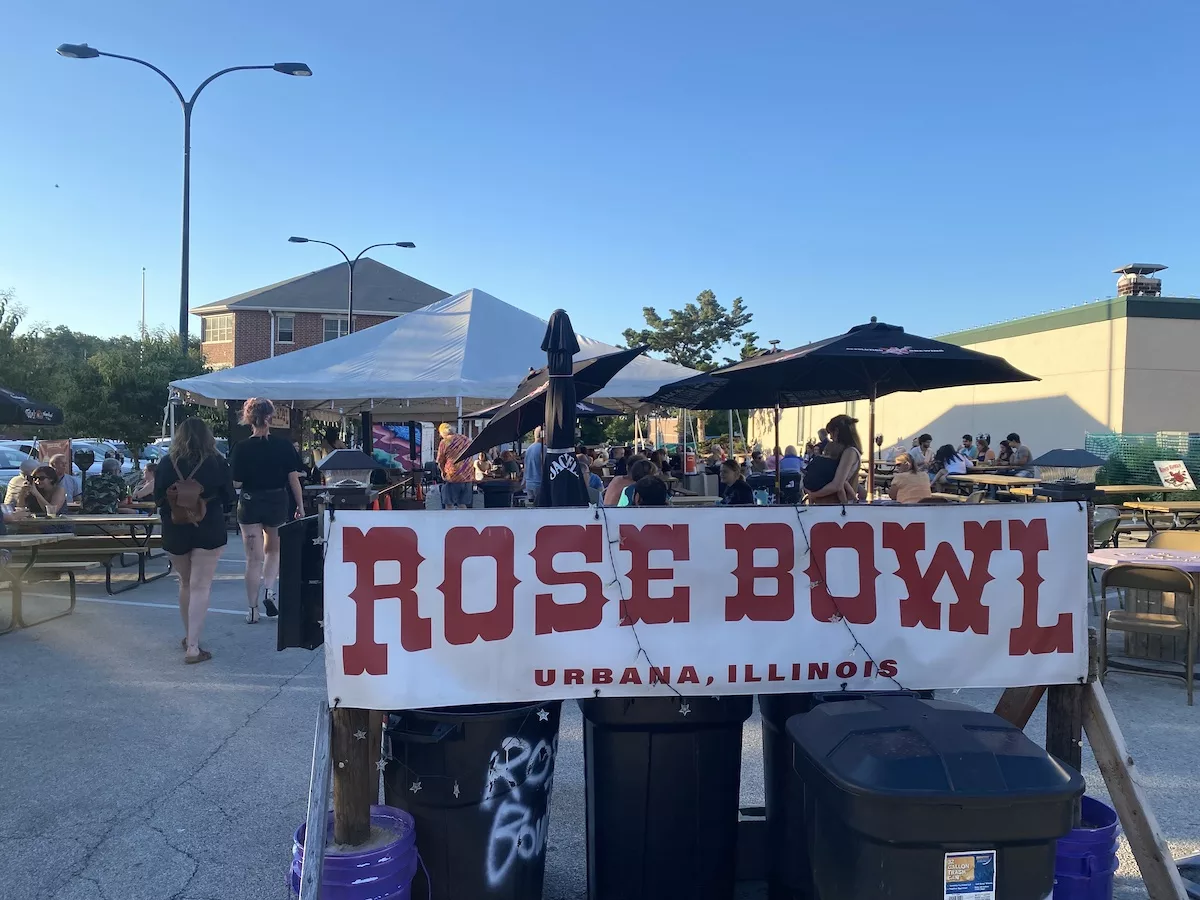 I have a huge sweet tooth so I couldn't resist popping into Suzu's when we were exploring Champaign. This adorable bakery combines traditional Japanese confections with western-style pastry making.
While everything looked absolutely delicious, we eventually opted for a chocolate chip mochi cookie and a miso brownie. Both were absolutely delightful and left us wishing we had ordered even more sweets.
Suzu's, 114 N. Walnut Street in Champaign, Illinois
Urbana's Market at the Square
I'm always up for a farmer's market and Urbana's Market at the Square is a lovely way to spend a Saturday morning. This local market is held weekly from May through October and has a wide variety of vendors selling different produce, prepared foods, flowers and more.
We wandered the booths and picked up some breakfast — pastries for me and a burrito for Josh. Since we were headed back to Iowa, we also couldn't resist some late-season peaches and focaccia for the road.
Urbana's Market at the Square, Lincoln Square Mall Parking Lot, 201 Lincoln Square in Urbana, Illinois
Let's Be Social
Want even more offbeat adventures, roadside attractions and world's largest things? Follow Olio in Iowa on your favorite social media platforms, and tag #OlioOnTheRoad when you have quirky adventures of your own.
Share Your Thoughts
I would love to hear from you! Where are your favorite foodie spots in the area? Share your favorite restaurants in Champaign-Urbana!