On a number of trips from Des Moines to Wisconsin and back again, I've noticed highway signs encouraging me to "take the Trollway through Mount Horeb." It wasn't until recently that I heeded their urging and turned off to explore the Mount Horeb Trollway.
Located about half an hour from Madison, the charming community of Mount Horeb, Wisconsin, is a hidden gem. Pulling into downtown, I was greeted by friendly trolls of all sizes. I visited before many of the businesses opened, but was able to stop by some of the more than 20 trolls located around Mount Horeb.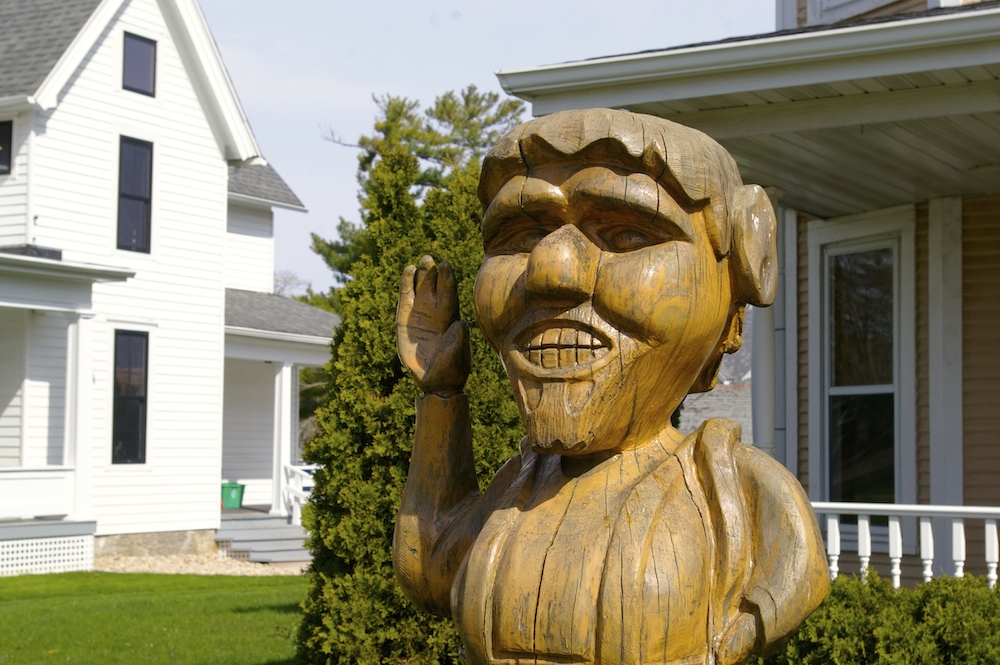 One of my favorite parts of this unique roadside attraction is the interesting stories behind the different trolls. While some are business specific (like the troll outside the local Culver's), others like "Wavin' Walton" have other interesting origins. According to a nearby sign, Walton was "born" on May 22, 2009 when lightening struck a 100-year-old white pine.
A Bit of History About the Trollway
In the late 1800s, settlers from all over Europe made their home in the Wisconsin community. However, the vast majority were of Norwegian descent. While trolls originated as part of Scandinavian folklore, their arrival in Mount Horeb came much later.
In the mid-1970s, the owners of the local Scandinavian gift shop, Open House Imports, began placing trolls in their front lawn to entice would-be shoppers. About a decade later the state's Department of Transportation made plans to create a bypass around Mount Horeb. At the time, the main thoroughfare from Dubuque, Iowa to Madison, Wisconsin passed directly through town.
The community's business owners were worried about the loss of business the new highway could cause. Thus the idea for the Trollway was born. The town enlisted the talents of local woodworker Michael Feeney to bring the project to life. Shortly after, trolls began popping up all over Mount Horeb.
If you Visit the Mount Horeb Trollway
The Mount Horeb Trollway is a fun attraction whether you're just passing through or planning a weekend in Wisconsin. I can imagine that the whimsical statues are especially fun if you're traveling with kids.
The town has fully embraced its troll obsession with other businesses like the Grumpy Troll Brew Pub welcoming locals and visitors alike. If you're planning to visit all of the unique roadside statues, you can find a full map of trolls around Mount Horeb on the city's website. You can also tune in 24/7 for a live view of the town's trolls—just in case they might be up to some of their signature antics.
Share Your Thoughts
I would love to hear from you! Have you ever visited Mount Horeb, Wisconsin? What was your experience on the Trollway?