There are few springtime events that I love more than Tulip Time in Pella, Iowa. In my opinion, there's truly no better way to welcome warmer weather back to the Midwest than with thousands of colorful blooms.
Each year during the first weekend in May, Pella welcomes thousands of visitors looking for colorful tulips, Dutch attire, live music, traditional dancing and delicious food. This year, Tulip Time in Pella, Iowa will be May 4 – 6, 2023. This annual festival celebrates the southern Iowa community's Dutch heritage and the vibrant beauty of springtime.
I've celebrated Christmastime in Pella, but there's lots to see and do during Tulip Time as well. This annual event offers a unique and unforgettable experience for anyone who loves history, culture and nature.
If Tulip Time in Pella, Iowa is on your bucket list, keep reading for everything you need to know about attending this annual event, from local history and traditions to insider tips and must-see attractions.
This post may contain affiliate links, which means I may receive a small commission at no additional cost to you.
The History of Tulip Time in Pella, Iowa
Tulip Time has been a Pella tradition since 1935. After the local high school's popular performance of an operetta called "Tulip Time in Pella," locals decided they might be on to something. The first celebration was planned in only two weeks and, as a result, didn't feature any blooming tulips. So, local cabinet maker George Heeren crafted 125 four-foot-tall wooden tulips and placed them around the town square to mark the occasion.
A committee was formed that fall to ensure that 85,000 tulips were planted for the festival the following spring, and a tradition was born. Over the years, the festival's activities have changed slightly and the celebration has grown in size. But the spirit of honoring the community's Dutch heritage has remained the same. Today, Tulip Time regularly attracts more than 200,000 visitors to the small town of Pella.
Things to Do During Tulip Time in Pella, Iowa
Pella's iconic Vermeer Mill is an essential piece of the community's history. Not only is this local attraction a symbol of the area's heritage, but it is also the tallest working Dutch windmill in North America.
Each year, Pella hosts two Tulip Time parades per day, featuring floats, marching bands, traditional Dutch costumes and more. The first parade is held in the afternoon, and the second is a lighted parade in the evening.
Both Tulip Time parades move down Main Street, loop around Central Park and continue past the Pella Historical Village on Franklin Street. If you plan to view either parade, be sure to stake out your spot early because the streets tend to fill up quickly.
Listen to the Klokkenspel
As you explore Pella, listen for the chiming bells of the Klokkenspel. This musical clock in the heart of downtown was a dream of a local businessman. Today, it fills the streets with a charmingly melodic tune throughout the day.
Listen for the Klokkenspel's chimes daily 11 am, 1 pm, 3 pm, 5 pm and 9 pm. You'll also find a treasure trove of colorful tulips in the gardens behind the Klokkenspel.
Klokkenspel, 625 Franklin Street in Pella, Iowa
Snap a Photo with the Tulips
Tulip Time is full of fun photo ops for visitors of all ages. Commemorate the colorful festival with a photo (or five) surrounded by Pella's colorful blooms.
Pro Tip: Don't forget to have your photo taken in the oversized wooden clogs located outside the miniature windmill in Pella's Central Park.
There's no shortage of delicious food options in Pella. plus, you'll find lots of Dutch food vendors participating in the Tulip Time festivities.
If you don't know where to start, head to Jaarsma Bakery. This Dutch bakery is a local institution that's been family owned and operated since 1898. You'll find all sorts of authentic Dutch pastries — made from scratch daily — here as well as a great assortment of other Dutch gifts and products. A Dutch Letter is a classic pick here. But I also love the Almond Crispies and Raspberry Strudels.
Jaarsma Bakery, 727 Franklin Street in Pella, Iowa
Where to Stay During Tulip Time in Pella, Iowa
If you're looking for a convenient place to stay during Tulip Time, look no further than The Amsterdam Hotel. This boutique hotel has all of the Dutch charm you could ask for paired with spacious rooms, plush places to unwind and underground on-site parking.
Plus, if you're hungry, you don't even have to leave the building. The hotel's on-site restaurant, Liberty Street Kitchen, serves contemporary comfort food for lunch and dinner. At this Dutch-inspired hotel, you can kick back, relax and recharge after a day of adventures in Pella.
The Amsterdam Hotel, 705 E. 1st Street in Pella, Iowa
Additional Accommodations in Pella, Iowa
In addition to traditional hotels, this community also has a number of vacation rentals and short-term accommodations that would be great places to stay during Tulip Time in Pella, Iowa.
Tips for Attending Tulip Time in Pella, Iowa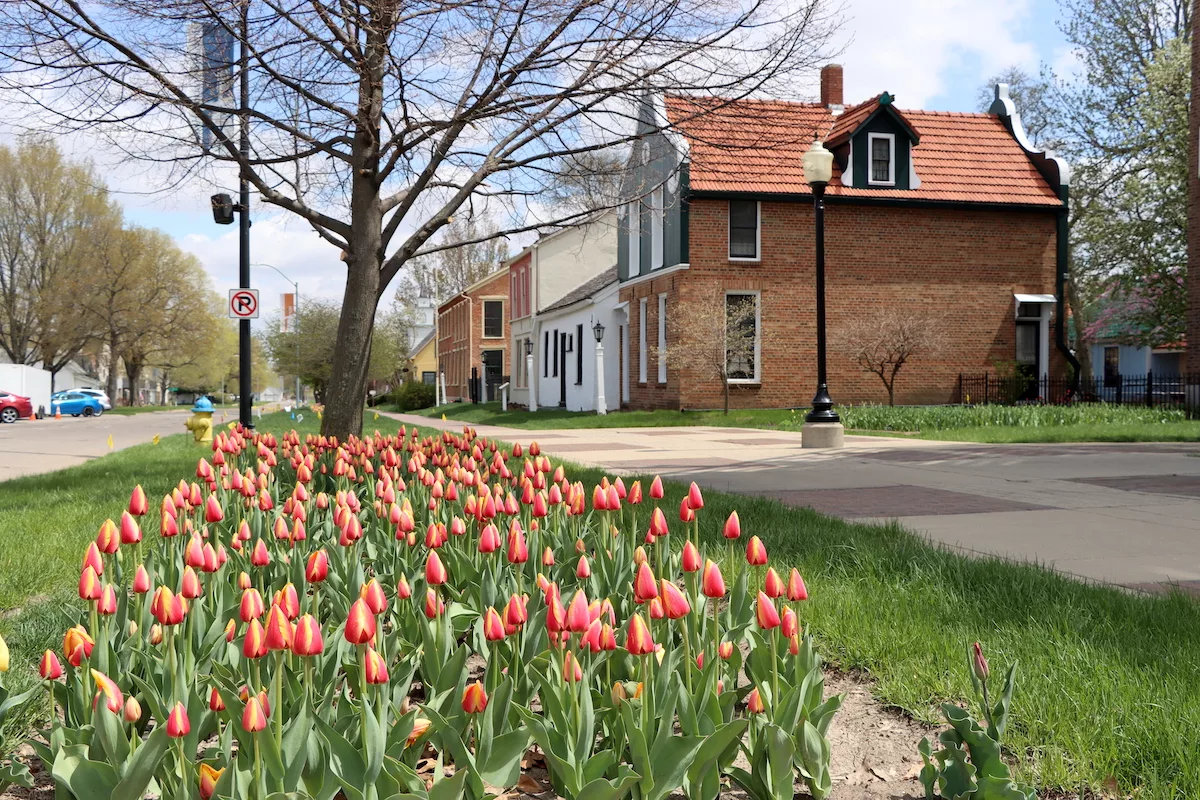 Arrive early in the day
Unless there's a specific performance you want to see or you're sticking around for one of the festival's parades, plan to visit Pella's tulips in the morning or early afternoon. The streets definitely fill up as the afternoon goes on. Skip the crowds (and long lines at food vendors) by arriving early.
Wear your walking shoes
Pella isn't a huge town, but parking can be a little bit tricky to find if you arrive later in the day. Wear comfortable walking shoes so you won't mind spending the day on your feet.
Come hungry
One of the best parts of Tulip Time is the food! Come hungry and plan on bringing home a Dutch letter or two. I would recommend bringing a water bottle or two with you though so you don't have to wait in vendor lines unnecessarily.
How to Know When Pella's Tulips Are in Bloom
The tulips in Pella are planted intentionally so they bloom in time for the local festivities. But sometimes Mother Nature has other plans. So, it's not uncommon for visitors to wonder how they'll know when Pella's tulips are in bloom.
To help keep an eye on the spring blossoms, the city has a bloom status map that is updated weekly leading up to the festival. This detailed report includes information about what blooms look like in each of the city's more than 250 flowerbeds.
In recent years, the city has also introduced a Live Tulip Cam to help give visitors an idea of how the blooms are looking from afar.
Frequently Asked Questions About Tulip Time in Pella, Iowa
When is Pella's Tulip Time?
Pella's Tulip Time is always held on the first Thursday, Friday and Saturday in May. This year, Tulip Time will be May 4 – 6, 2023.
How long do the tulips bloom in Pella?
Pella's tulips are intentionally planted so that they look their best during Tulip Time each year. That said, spring weather in the Midwest can sometimes be a wild card so it's important to keep an eye on the weather. Typically, it's pretty safe to say you can see tulips blooming in Pella starting the week before Tulip Time and lingering for a week or two after.
How many tulips are planted for Pella's Tulip Time?
This year, more than 300,000 tulip bulbs will bloom in Pella, Iowa.
How much does it cost to attend Pella's Tulip Time?
There are no tickets required for Tulip Time and many of the activities associated with the festival are free. Parking is also free around Pella's downtown. However, a number of the location museums and attractions like the Vermeer Mill do charge admission.
Where can you see tulips in Pella, Iowa?
There is no shortage of places to find tulips in Pella! As you drive into town from the interstate, the town's streets are lined with blooming bulbs. You'll also find large plantings at both Tulip Avenue in Central Park and Sunken Gardens Park. Scholte House Gardens, Fair Haven Memorial Garden and the Central College campus will also be covered in tulips this time of year.
Let's Be Social
Want even more offbeat adventures, roadside attractions and world's largest things? Follow Olio in Iowa on your favorite social media platforms, and tag #OlioOnTheRoad when you have quirky adventures of your own.
Share Your Thoughts
I would love to hear from you! Have you visited Pella, Iowa during Tulip Time?