While I love spending time in big cities, smaller towns have always tugged at my heartstrings. Discovering the mixture of local classics and new small businesses, exploring the historic architecture given new life, and experiencing the enthusiasm locals have for their hometown all keep me energized to continue taking the backroads. Recently, my boyfriend Josh and I spent the weekend in Sioux Falls, South Dakota, and were delighted to find a community full of reasons to return again soon.
The Midwest is full of mid-sized cities just waiting to be explored, and Sioux Falls is one of the best! We've visited twice now, and each time have been delighted with the beautiful outdoor spaces, delicious restaurants, and priority placed on public art.
In just a few short visits, I realized that Sioux Falls has quickly becoming one of my favorite small Midwestern cities. Located in the southeast corner of the state, South Dakota's largest city has something for every type of visitor. From its surprising walkability and gorgeous outdoor spaces to its burgeoning arts scene and vibrant local history, there's a lot to love about Sioux Falls.
Still not convinced? Discover my top five reasons you need to plan a weekend in Sioux Falls, South Dakota.
Epic Eateries
For a smaller city, Sioux Falls has some seriously impressive culinary options. Whether you're looking for a fancier dinner reservation or a casual meal out, one of downtown Sioux Falls' many eateries are sure to satisfy.
While there are dozens of places we didn't have time to visit, I still wanted to share a few of our favorites from recent trips below. When you're planning your own weekend in Sioux Falls, make sure it includes a visit to one of these epic eateries!
Breadico
If pizza is your passion, look no further than Breadico. This cozy Italian restaurant is the perfect place for lunch or a quiet, romantic dinner. We stopped in for a late lunch and were delighted to find a mouth-watering menu of options so plentiful that we had an incredibly hard time deciding what to order.
After much debate, we decided on an Apple Pancetta pizza topped with onion, brie, pine nuts, arugula, and maple syrup. While we waited for our order we enjoyed peering over the balcony to watch the bakers assemble pizzas in the open concept kitchen below. Our pizza ended up being the perfect combination of sweet and savory. It also came out of the brick oven just the right amount of crispy. The moral of the story? If your weekend in Sioux Falls involves pizza, it better be from Breadico.
Not only does this Sioux Falls staple have amazing wood-fired pizzas, but they also bake a bevy of breads you can take home with you. In fact, when Breadico first opened its owner focused solely on sourdough breads. Since we were on the road, we didn't take any of the deliciously displayed loaves home with us. But I'd be lying if I didn't say I had some regrets about our decision once we were back in the car.
Bro's Brasserie
Were it not for a great recommendation from our Airbnb host, we may have overlooked Bros Brasserie entirely. Located in the heart of downtown Sioux Falls, Bros brings cultural fusion to traditional brasserie favorites. With vibrant local art, a spacious dining area, and peaceful patio, there's no better place to spend a relaxing evening. If you're spending the weekend in Sioux Falls, Bros is the perfect place to unwind after a busy day of exploring.
As we sat on the patio, sipping summer sangria, we enjoyed the warm August breeze and the melodies of the restaurant's live music for the night. We started our meal off with the Tuscan Brussels sprouts and one piece of the Korean fried chicken—because Josh can't pass up a good chicken wing. For the main course, I opted for the pork belly cooked in a Dr. Pepper demi glaze and served with a Creole maque choux, and sweet potato gnocchi. Josh ordered one of Bros many savory nightly specials and enjoyed the seared salmon over garlic risotto.
Joshiah's Coffeehouse
When I travel, I love to seek out local coffeeshops. These cozy cafes are always such an interesting look into the culture of a community, and it's fun to find new favorites around the Midwest. During our weekend in Sioux Falls, we discovered the true gem that is Josiah's Coffeehouse.
Named after Josiah Phillips, one of the first English settlers of the Dakota territories, the cafe is a cavernous gathering space complete with exposed beams, a large fireplace, deep booths, and a private event space. In addition to some seriously strong coffee—something that's always a must for me—Josiah's offers a wide variety of pastries and light fare. Let's be honest though—I'm going to be a big fan of any place for the sole reason that they serve such delicious homemade hand pies.
While we didn't have time to dine at all of the places our friends and followers recommended, we also heard great things about: Bread & Circus, Sanaa's, Ode to Food and Drinks, Phillips Avenue Diner, and Queen City Bakery.
Incredible Outdoor Spaces
The first time we visited Sioux Falls, we were planning on just passing through. We'd heard good things about Falls Park and figured we would just get out to stretch our legs. Oh, how wrong we were. I think it's safe to say that this 123-acre park absolutely blew me away.
Located just north of downtown, Falls Park is an outdoor oasis you have to see to believe. The Falls of the Big Sioux River that give the city its name are seriously impressive. On average, 7,400 gallons of water travels the 100 feet through the course of the falls every second. Visitors can experience the falls firsthand from a series of bridges and overlooks that span the picturesque landscape. You can also climb down the rocky terrain to experience the falls up close.
Maybe it's just me, but I could easily spend more than half of my weekend in Sioux Falls exploring Falls Park. Not only is the park a great way to get outdoors, but it is also home to some of the first buildings in Sioux Falls. If you're visiting with history nerds like me, you may want to plan a little extra time for your visit.
Overlooking modern Falls Park you'll find the remnants of the seven-story Queen Bee Mill. When the mill opened on October 25, 1881 it was the most advanced mill in America. At the time the state-of-the-art mill processed 1,500 bushels each day. Its success was fairly short lived though. The mill was closed in 1883 due to insufficient water pressure and a shortage of wheat.
If you get hungry while exploring the park, be sure to stop at the Falls Overlook Cafe for a quick snack. Housed in the historic Sioux Falls Light and Power Company building, the cafe provides delicious dining options alongside a rich history. The quartzite building was constructed in 1908 to house hydraulic generators that created converted power from the river's dam. In the 1970s the plant closed and the building was abandoned. It was eventually donated to the city and today has been transformed into a place the public can enjoy.
Plentiful Public Art
Did you know that Sioux Falls is home to the largest annual exhibit of public sculptures in the world? The city's annual SculptureWalk began in 2004 and features sculptures of all kinds. Located along downtown Sioux Falls' bustling Phillips Avenue, the sculptures add an incredible artistic element to the burgeoning district. Each year, visitors are invited to vote on their favorite sculpture from May through September. Each fall, the most popular wins piece the People's Choice Award. That sculpture is then purchased by the city to be put on permanent display.
While the winning sculptures are typically more traditional pieces, I always enjoy experiencing the variety of the entries. During our recent weekend in Sioux Falls, my favorite pieces have been a neon glass and steel tree by Webster City, Iowa artist Tim Adams. When we visited in 2017 a sculpture made of bicycle parts by California artist Patricia Vader was among my favorites.
Delectable Desserts
It's no secret that I have a major sweet tooth, and Sioux Falls has some incredible opportunities to indulge. Once again, we were impressed by the quality and selection we found in Sioux Falls. Not only are these sweet shops delicious but they also offered inventive menu items I haven't seen in many other places.
CH Patisserie
Located in the heart of downtown Sioux Falls, CH Patisserie brings a little piece of Paris to South Dakota. This charming sweet shop offers a wide variety of pastries and macarons alongside the most elaborate desserts you can imagine. Run by world champion pastry chef Chris Hanmer, CH Patisserie takes desserts to a whole new level.
As soon as we stepped through the front doors, I was instantly struck with sugar sensory overload. After deciding it might be impractical to order one of everything, we opted for two macarons—chocolate covered strawberry and coffee caramel—as well as a chocolate dream petit gateau. Even later in the evening, the shop was still bustling with hungry customers. We opted to take our sweets to go, and enjoyed the decadent miniature cake from the comfort of our Airbnb.
Parlour Ice Cream House
I've said it before and I'm sure I'll say it again—it's not really vacation if I haven't eaten ice cream. During our weekend in Sioux Falls, we stopped at Parlour Ice Cream House for an early afternoon treat.
This isn't your traditional ice cream shop or soda fountain. Parlour Ice Cream House is a small batch creamery that elevates traditional flavors by adding an unexpected twist. What does that mean? When we visited I opted for the Opening Day, a brown butter ice cream with pound cake and blueberry jam. Josh was brave enough to order a s'mores ice cream that came topped with edible active charcoal. And it was surprisingly tasty! While you will find some traditional flavors of gelato and sorbet, we both agreed it was more fun to explore the unique combinations Parlour Ice Cream House has to offer.
Stellar Shops
When it comes to shopping while we're on the road, I would always rather shop small than visit a chain. Luckily downtown Sioux Falls is full of fantastic options for a little retail therapy. If you're trying to plan a girls' shopping trip, a weekend in Sioux Falls is the perfect way to unwind and support some fantastic small businesses at the same time.
Lot 2029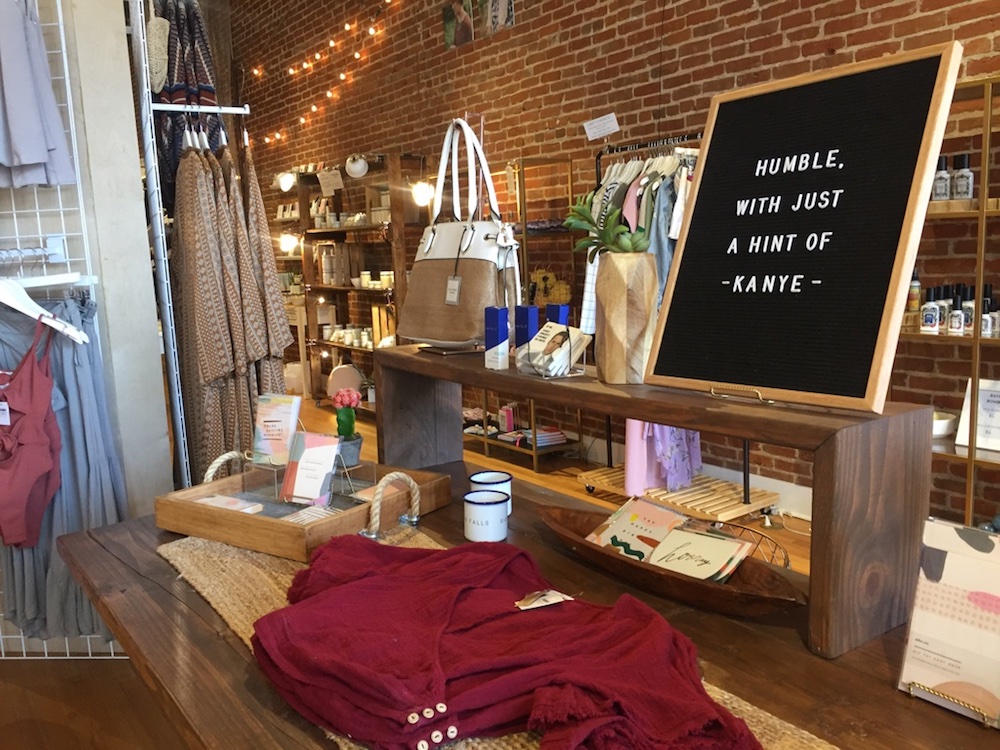 The sister store of Mint + Basil and Onyx + Pearl in Fargo, North Dakota, Lot 2029 is an adorable boutique with clothing, accessories, and a wonderful selection of home goods and gifts. I found more than a few things I wanted to take home while we browsed this fantastic shop. If you need the perfect hostess gift or a cute new outfit, look no further than Lot 2029!
Oh My Word!
I'm a sucker for a stationary store, and Sioux Fall's Oh My Word! is like a little slice of heaven. This "luxury paperie" stocks all sorts of greeting cards, notebooks, planners, writing utensils, art prints, and more. During our visit I resisted the temptation to take one of everything home with me. Finally, I settled on a cute greeting card and a small print featuring Sioux Falls icons to remember our trip. Fun fact: One of the owners of this sweet shop also owns the local bakeshop, Oh My Cupcakes!
Urban Archaeology
I can never resist an antique store. No matter the location, there is always something inspiring and unexpected to discover! In downtown Sioux Falls, Urban Archaeology is as much of a treasure as the wares on its shelves. From flawless furniture pieces to all sorts of eclectic home goods, this well-curated shop has a unique style and aesthetic that I really enjoyed.
Share Your Thoughts
I would love to hear from you! Have you spent a weekend in Sioux Falls? What are your favorite things to do?