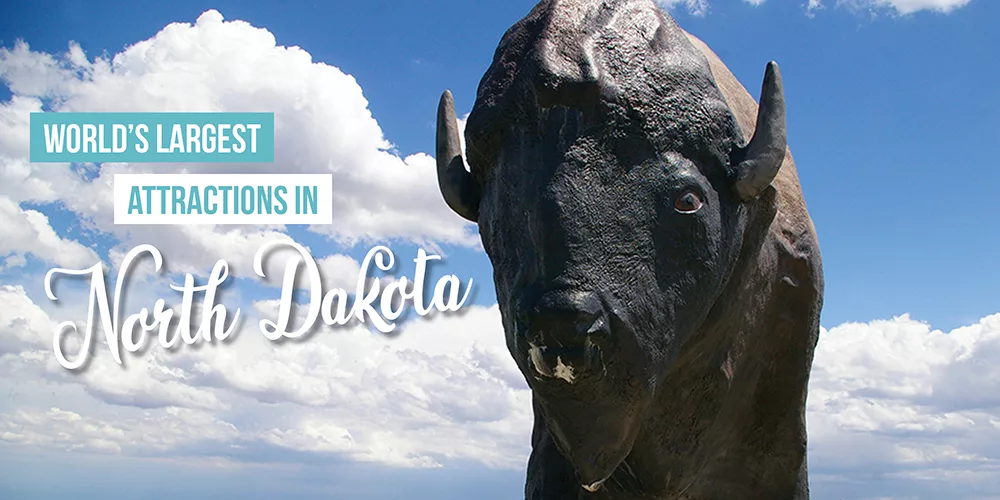 It's no secret that I love world's largest things. So it should come as no surprise that North Dakota quickly stole my heart with all of its quirky attractions. I had visited this northern Midwest state a number of times, but it wasn't until recently that I discovered the large number of world's largest things in North Dakota.
From massive mammals to enormous avians, there are all sorts of world's largest things in North Dakota. I love the giddy excitement and sense of wonder that these large-scale attractions inspire. But behind each of them is an interesting story — stories that I'm excited to be able to share with you. Plus, if you're looking for reasons to visit Canada, North Dakota is a logical stop on your journey northward.
Looking for something to liven up your drive across the Roughrider state? You won't want to miss experiencing the unique attractions that make up the world's largest things in North Dakota.
World's Largest Things in North Dakota
Dakota Thunder – The World's Largest Buffalo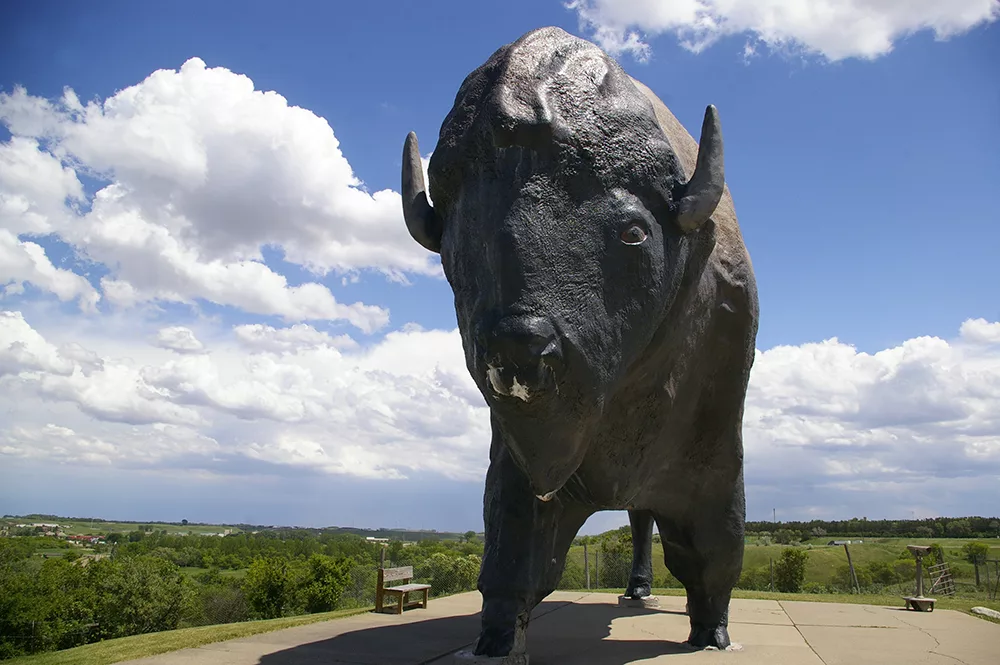 It seems fitting that one of North Dakota's most well-known world's largest attractions is a bison. Standing at 26 feet tall and 46 feet long, Dakota Thunder, the world's largest buffalo, towers over the great plains. Located along I-94 overlooking the James River Valley, Dakota Thunder is a lifelike (albeit much, much bigger) version of an American bison.
He's become kind of a big deal — literally. So much so that Dakota Thunder's hometown of Jamestown has even garnered the nickname, the Buffalo City. Built in 1959, the bison sculpture is made from stucco and cement covering a steel and wire mesh frame. Local businessman Harold Newman commissioned the sculpture, which was built by Jamestown College art professor Elmer Petersen. While the big buffalo has been renovated and repainted over the years, it wasn't until 2010 that he received the name "Dakota Thunder."
You can find Dakota Thunder just off I-94 across from the National Buffalo Museum. I was pleasantly surprised by the Frontier Village that has sprung up around the world's largest buffalo. Whether you have a few minutes for a quick photo op, or an hour or two to spend exploring, Dakota Thunder is worth a visit.
Dakota Thunder, 404 Louis Lamour Lane in Jamestown, North Dakota
Geese in Flight on the Enchanted Highway – The World's Largest Scrap Metal Sculpture
No road trip through North Dakota is complete without a drive along the Enchanted Highway. Luckily for you, this unique roadside attraction also features another world's largest thing.
Named the world's largest scrap metal sculpture by the Guinness Book of World Records in 2002, the sculpture Geese in Flight is truly a sight to behold. More than 300 lengths of pipe were used to create this massive piece of art. Unsurprisingly, the completed sculpture weighs in at 78.8 tons (or approximately 157,660 pounds).
Located conveniently off of I-94, Geese in Flight is easily accessible to visitors. It's also the perfect place for a quick photo op if you don't have time to drive the full length of the highway. If you do decide to check out the full length of the Enchanted Highway, you can download your own handy map here.
Geese in Flight, 100 1/2 Avenue in Gladstone, North Dakota
Salem Sue – The World's Largest Holstein Cow
I'm not going to lie: I love a giant cow. You might know that Iowa is home to Albert the Bull, the world's largest bull and exact Hereford replica. But North Dakota has a big bovine of its own. Meet the World's Largest Holstein Cow, Salem Sue.
Built in 1974, the New Salem Lions Club footed the $40,000 bill to create and transport the statue to the top of the hill that would become its final resting place. Sue stands at 38 feet high and 50 feet long. In fact, it's said that she can be seen on her hilltop perch from as far as five miles away. While Salem Sue weighs roughly 12,000 pounds, she is entirely made from fiberglass, meaning the towering sculpture has a hollow middle.
The huge heifer was constructed as a way to honor the area's prominent dairy industry, specifically its history with Holstein cows which dates back to the late 1800s. While times may have changed a bit since then, the world's largest Holstein provides a strong reminder of the men and women who dedicated their lives to dairy cows like Sue.
Salem Sue, Exit 127 south of I-94 in New Salem, North Dakota
Sandy – The World's Largest Sandhill Crane
If you've spent time in Nebraska or the Dakotas, chances are you've seen (or at least heard of) sandhill cranes. As you make your way across North Dakota, you can also meet Sandy the World's Largest Sandhill Crane.
Located halfway between Jamestown and Bismarck as you head west on I-94, Sandy stoically surveys the surrounding plains. While real sandhill cranes are between three and four feet tall, Sandy is a 40-foot beacon rising above the cornfields.
This impressive metal sculpture was made by self-taught ironworker James Miller in the late 1990s. Miller created the crane's body from rolled sheet metal before attracting the head and neck and adding metal pipes for Sandy's legs.
Sandy – The World's Largest Sandhill Crane, 255, 299 5th Street NE in Steele, North Dakota
Wahpeton Wahpper – The World's Largest Catfish
While some may not believe this colossal catch, the Wahpeton Wahpper is no fish tale. At 40 feet long, 12 feet high and weighing roughly 5,000 pounds, there's a reason this fabulous fish is the world's largest catfish. While it's not likely you'll hook a fish this hulking, the Wahpper does take an occasional dip in the water. Because of its waterfront placement, locals say that when the Red River floods, it looks like the Wahpeton Wahpper is swimming in the current.
Fun fact: The Wahpeton Wahpper was built by Dave Oswald, the same Wisconsin artist who created Salem Sue and other well-known roadside attractions.
The aptly named Wahpper calls the town of Wahpeton in southeastern North Dakota home. Located just across the river from the Minnesota border, the easiest way to access the Wahpeton Wahpper is through Wahpeton's Kidder Recreation Area.
Wahpeton Wahpper, 86 Dabill Drive in Wahpeton, North Dakota
Share Your Thoughts
I would love to hear from you! What are your favorite world's largest things in North Dakota?