Sadly, Thistle's Summit permanently closed in 2021. However, I've decided to leave this post up in memory of one of my favorite places to stay ever.
If bed and breakfasts conjure images of lace doilies and dusty antiques, I'm going to urge you to think again. Because the experience at Thistle's Summit in Mount Vernon, Iowa is anything but stuffy.
When my friend Marti moved from Des Moines to pursue her dreams of opening a queer bed and breakfast in the artsy community of Mount Vernon, I was thrilled. She and her partner, Ash, are incredible community leaders with lots of talent to share. After months of home renovation and working through logistics, Marti and Ash are finally ready to welcome guests to Thistle's Summit.
I've been lucky enough to visit them at their historic Victorian home twice now and can't wait to get back to Mount Vernon again soon. Not only is the home they've built together a thing of beauty but the sense of community there has an almost magnetic pull.
Plus, at the bottom of this post, I'm excited to be collaborating with Thistle's Summit on a fun giveaway! Enter below for the chance to win a tea time gift pack and discounted stay at this charming Iowa bed and breakfast.
Whether you're looking for a weekend getaway in Mount Vernon or simply passing through eastern Iowa, you won't want to miss the top 10 reasons you need to book a stay at Thistle's Summit ASAP.
1. Thistle the Dog
I'd be lying if I didn't say that one of my favorite parts of Thistle's Summit is the home's namesake—Thistle the dog. Thistle is a sweet black lab mix who would love nothing more than to be your new best friend. Not only will she welcome you at the door (with minimal happy woofs) but she'll also make sure you never feel lonely while in Mount Vernon.
2. The Incredible Hosts
Thistle's Summit owners Marti and Ash are the true embodiment of gracious hosts. Their focus on community and desire to bring people together over food, sustainable agriculture and social justice is truly inspiring, and I'm honored to call them friends. I know you'll enjoy getting to know both of them during your stay, and I can't wait to see where this adventure takes them.
3. Thistle's Summit's Mission
Thistle's Summit was founded as an inclusive space for all. The warm and welcoming home they've created is truly a haven for all, no matter your identity. Just like their website reads:
"[Marti and Ash] decided to take a leap of faith and leave their lives in Des Moines to start Iowa's queerest bed & breakfast and homostead. They know that traveling as a queer couple can be stressful, awkward and sometimes dangerous. They built Thistle's Summit to be a safe haven for the queer community and people of all walks of life to find respite, relaxation and midwestern hospitality, in a community that is warm and accepting of all folx."
4. Charming Mount Vernon
In my opinion, Mount Vernon is one of Iowa's coolest communities. This charming small town is a creative and artistic haven in the eastern part of the state. Not only do they have an endless calendar of town festivals (I visited this year during Chalk the Walk) but their downtown is also home to incredible eateries like the Lincoln Wine Bar and unique shops like Iron Leaf Press.
I first discovered Mount Vernon last year when I explored the state's hidden shopping gems for Travel Iowa. But there's so much more to see—stay tuned for a complete guide of my favorite places around Mount Vernon!
5. Sensational Food
If you love to eat, Thistle's Summit is going to be your personal paradise. Marti is an insanely creative cook and the dishes that come from the Thistle's Summit kitchen truly capture her shine. From salads filled with morel mushrooms and fiddlehead ferns to breakfast sandwiches on homemade sourdough, I was in awe over the delicious delicacies this bed and breakfast serves.
6. Thistle's Summit Signature Cookies
Yes, the point above this is all about the bed and breakfast's incredible food. But these smoked sea salt chocolate chip cookies are so good that they deserve their own section. These delicious cookies are a Thistle's Summit signature and rightfully so. Not only are they the perfect combination of sweet and salty, they also have the perfect chewy yet crunchy texture. In fact, guests can look forward to a bag with these incredible cookies in their room when they check in.
7. Cozy Atmosphere & Amenities
Stepping inside Thistle's Summit feels like taking a huge breath of relaxing, creative air. Inside this beautiful Victorian home with more than 115 years of history, guests can find a cozy retreat where they can rest, recharge and indulge.
During both of my stays I've spent the night in Martha's Room and marveled over the incredibly comfortable bed, plentiful plants and incredible view of Cornell College's campus, specifically the acclaimed Garner President's House.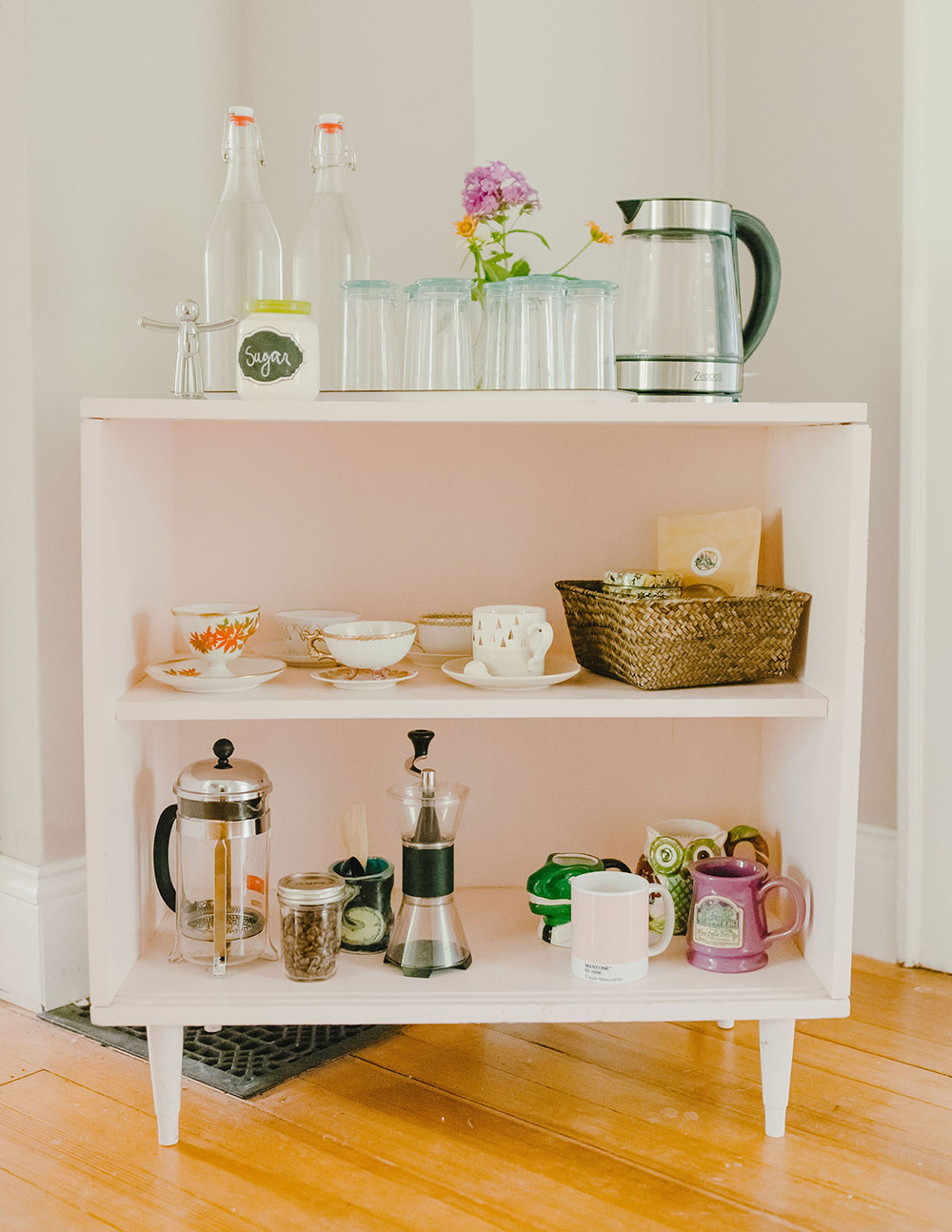 8. Personal Touches
Both Marti and Ash are incredibly creative people. So it's no surprise that their beautiful home is full of personal touches and nods to the things that are important to them. I especially love this Virginia Woolf quote in the single occupancy A Room of One's Own. Nothing could be more true at this Iowa gem!
9. Embrace the "Homostead"
Thistle's Summit has an admirable goal of being as self-sufficient as possible. That means growing lots of backyard vegetables, forging in nearby areas for other seasonal delicacies, and sourcing as much locally as possible. When I visited we had a blast hunting for morel mushrooms in the woods behind the home.
10. Unbeatable Location
The location of Thistle's Summit truly cannot be beat! The bed and breakfast is located about a 10 minute walk from the center of Mount Vernon and just seconds from the Cornell College campus. Incredible eateries like Big Grove Brewery and Rapid Creek Cidery are only a short drive south, and delicious ice cream at Dan and Debbie's Creamy is just outside of town. Plus, Mount Vernon is about half an hour from both Iowa City and Cedar Rapids, making it the perfect detour for a weekend or quick overnight.
In the future, I'm excited to collaborate with Thistle's Summit on custom guides of the area to highlight some of the region's must-visit attractions.
Plan Your Own Stay at Thistle's Summit
If you're looking for a Midwestern weekend getaway or simply passing through eastern Iowa, you need to book a stay at Thistle's Summit!
The bed and breakfast offers a variety of accommodation options from single occupancy rooms to the option to rent out the full house.
Giveaway: Win a Thistle's Summit Tea Time Package
To celebrate the opening of this incredible bed and breakfast, I'm thrilled to be able to gift a special Tea Time package to one lucky reader. This fantastic collection of goodies will help bring the feeling of zen you get from staying at Thistle's Summit home to you. Not only will you get some of my favorite smoked sea salt chocolate chip cookies but you'll also receive custom tea blends from an incredible Mount Vernon shop.
Enter below for the chance to win this relaxing Tea Time package which includes:
3 tea packages from Kae Apothecary
1 mug
1 infuser
6 signature Thistle's Summit cookies
$25 off your stay at Thistle's Summit
Share Your Thoughts
I would love to hear from you! Have you visited Mount Vernon, Iowa? What questions do you have about staying at Thistle's Summit?