Typically, the more out-there a roadside attraction is, the more I love it. And the Abita Mystery House in Abita Springs, Louisiana is no exception.
From New Orleans, we headed north across the Lake Pontchartrain Causeway to the town of Abita Springs. We ate a hearty breakfast at the Abita Springs Cafe — order the Abita Star and signature Abita Roasters Coffee. Then we walked around the corner to discover the wonders of the Abita Mystery House. Before you even step inside the museum's doors, you're greeted by a half dozen hand-painted, sassy signs that perfectly set the tone for what you're about to experience.
History of the Abita Mystery House
Inspired by Ross Ward's Tinkertown Museum near Albuquerque, New Mexico, artist John Preble created the Abita Mystery House inside a renovated Standard Oil gas station in 1997. Preble's son suggested the name the "You-See-Em Museum?" Condensing the concept to just its initials, the UCM Museum was born. In 2007, the UCM Museum grew into the Abita Mystery House.
According to a souvenir booklet printed by the Abita Mystery House in 2011: "The museum is decorated by tens of thousands of bottles, bottle caps, license plates, springs, motors, old radios, wacky postcards, vintage bikes, Southern memorabilia, folk art, pocket combs, barbed wire, garden hoses, and old arcade machines."
What to Expect When You Visit the Abita Mystery House
Walking into the Abita Mystery House's Main Exhibition Hall is how I imagine Alice must have felt when she tumbled through the looking glass. With fanciful, carnivalesque music playing softly in the background, the thin winding hall is the blissful definition of sensory overload. As one of the museum's small signs reads: "This is place to push buttons."
Featuring everything from New Orleans during Mardi Gras to a tornado blowing the tops off of nearby homes, a 30-foot series of dioramas titled "River Road" springs to life at the push of a dozen or so buttons. Though possibly my favorite part of the exhibition hall was the antique Metal Typer machine. This machine is perfect for making a one-of-a-kind souvenir, plus it has an exposed back so you can watch all the action).
If I was charmed by the exhibition hall's quirks, I was completely in awe when we rounded the corner and came upon the House of Shards. Built from a 1920s barn and collected barge wood, the House of Shards includes more than 15,000 pieces of ceramic plates, tile, colored glass, and mirrors.
Along with its immense structural beauty, the House of Shards also includes a seriously cool infinity mirror. Pose for the perfect photo (we only half succeeded) here to wow all of your friends back home.
The World's Largest "Bassigator"
In case you were wondering, the World's Largest "Bassigator" is named Buford. Originally built as a Mardi Gras parade float by Preble and Abita artists Dave Kelsey, this 22-foot fictional creature won the float design content. He also become the Abita Mystery House's version of the "jack-a-lope."
Fun fact: Buford's eyeballs are actually plastic beach balls painted black.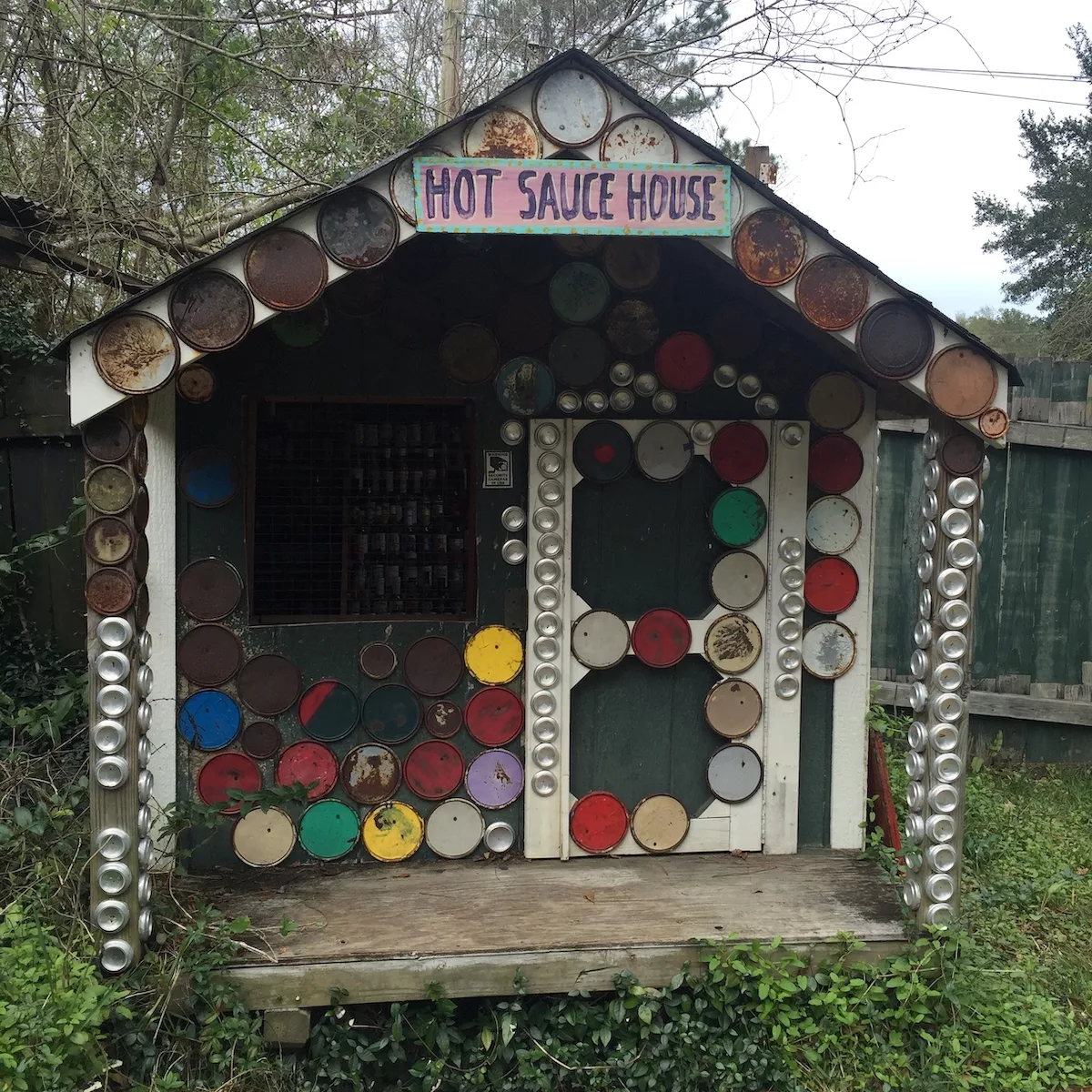 True to its name, the museum's Hot Sauce House is literally a small house filled with hundreds of bottles of different hot sauce. Regardless of your feelings about this spicy condiment, it's miniature shrine is sure to make you crack a smile.
Plan Your Visit to the Abita Mystery House
If you're in the area (or even if it would require a detour), I highly recommend a visit to the Abita Mystery House. Less than an hour north of New Orleans, the museum is a great afternoon trip if you're in the market for something a little quirkier. For the $5 price of admission, you're definitely getting your money's worth.
Tip: Be sure to bring lots of quarters with you so Claire Veaux can tell your fortune, or you can create a Metal Typer souvenir coin of your own.
Once you finish touring the museum, stop in the gift shop, which you conveniently enter and exit through. Stock up on postcards featuring your favorite Abita Mystery House attraction. Or purchase a woodcut print designed by the museum's creator.
Abita Mystery House, 22275 Highway 36 in Abita Springs, Louisiana
Let's Be Social
Want even more offbeat adventures, roadside attractions and world's largest things? Follow Olio in Iowa on your favorite social media platforms, and tag #OlioOnTheRoad when you have quirky adventures of your own.
Share Your Thoughts
I would love to hear from you! Have you visited the Abita Mystery House? What did you think of this unique attraction?