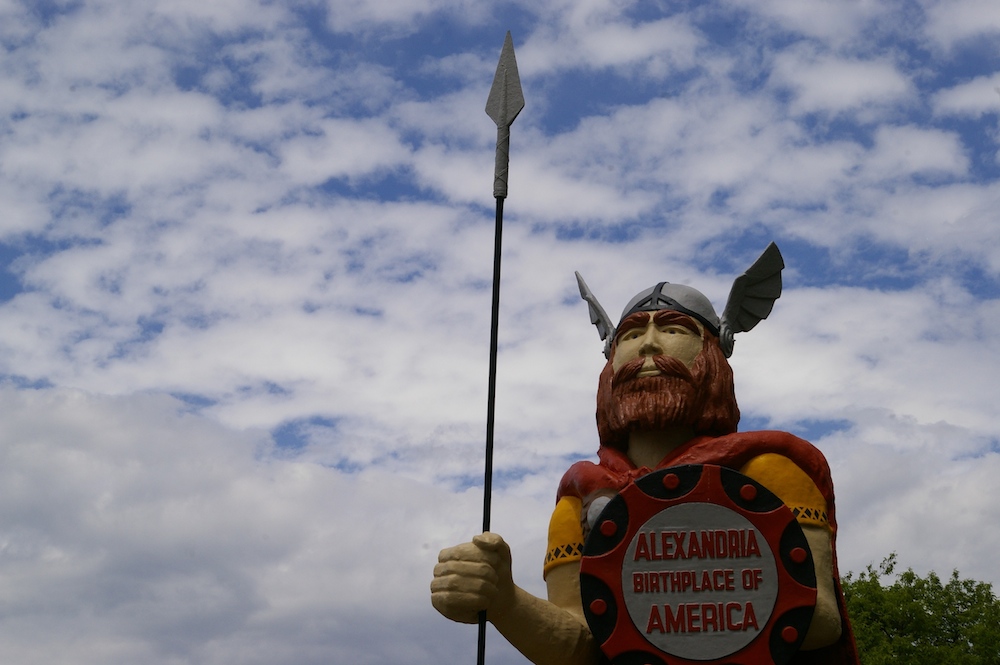 I've visited a lot of large roadside attractions, but Big Ole definitely has one of the strangest backstories. Located in Alexandria, Minnesota, America's Biggest Viking is much more than a random landmark.
You might have noticed that Big Ole's shield reads "Alexandria: Birthplace of America." Local lore claims that Norsemen visited the central Minnesota town in 1362. In 1898, a Swedish immigrant named Olof Ohman claimed to have discovered a runestone in a nearby township.
According to Ohman, 12th century Scandinavian explorers left behind the Kensington Runestone. While the stone was ultimately declared a fake, the town hasn't given up on its Viking past.
Big Ole became a part of Alexandria's history in 1965 when artist Gordon Shumaker created the fiberglass sculpture for the New York World's Fair. After the fair, the statue was moved to Minnesota where it found a home in the center of town. At 28 feet tall and nearly 8,000 pounds, Big Ole towered over the surrounding buildings.
While the sculpture was a popular addition to the community, its also had a hard history. Since arriving in Alexandria more than 50 years ago, Big Ole has been set on fire by flaming arrows, robbed of his spear by vandals, and knocked over during a strong storm. Each time, the city of Alexandria has footed the bill for the statue's repairs. Most recently, the community raised $26,000 for major restoration of the statue, which included structural repair and a fresh coat of paint.
Plan Your Visit to Big Ole, America's Largest Viking
If you're exploring central Minnesota, Big Ole is a unique place to visit. Located on the shore of Lake Agnes along the Central Lakes Trail, the area is buzzing with joggers, bicyclists, and other outdoor enthusiasts.
Fun fact: Originally, Big Ole had grey hair. In 1991 he went blonde, and today his hair is a fiery red.
Alexandria is also home to the adjacent Runestone Museum. The museum houses a variety of artifacts including the Kensington Runestone that inspired the city's Viking lore.
Big Ole, Broadway Street at Central Lakes Trail in Alexandria, Minnesota
Share Your Thoughts
I would love to hear from you! Have you heard of Big Ole and Alexandria, Minnesota's Viking past?