Nestled in the heart of the Ozark Mountains, Branson, Missouri is a popular destination for outdoor recreation and family adventures alike. While the Ozarks are a bustling vacation destination, you'll still find hidden gems galore in this part of Missouri.
From offbeat attractions like the World's Largest Toy Museum to unexpected artisans at the iconic amusement park Silver Dollar City, there are lots of ways to get off the beaten path in Branson. Whether you're a seasoned visitor and want to find somewhere new to explore or headed to the Ozarks for the first time, this area has countless places to discover.
When you're planning your Ozark adventure, be sure to check out these 10 unique things to do in Branson, Missouri.
Disclosure: Explore Branson hosted my trip to the Ozarks. However, all opinions are my own.
This post may contain affiliate links, which means I may receive a small commission at no additional cost to you.
Unique Things to Do in Branson, Missouri
Ride the Copperhead Mountain Coaster
If you're looking for a unique and memorable experience, look no further than the Copperhead Mountain Coaster. This fun attraction is Branson's longest downhill alpine coaster, taking you on a winding, wonderful ride through the Ozark Mountains.
The best part? You're fully in control of your own speed as you zip through the wooded, mountain landscape.
At first, I was a little apprehensive about this experience. I'm not a huge rollercoaster fan and wasn't sure what to expect. But the guides and signage clearly explained how the coaster cars and brakes work before you climb aboard.
In all, the ride along the 3,350-ft-long coaster took under 10 minutes from start to finish, and was a highlight of our time in Branson.
The Copperhead Mountain Coaster is open year-round, and offers both daytime and evening rides. The coaster is a part of the larger Shepherd of the Hills entertainment complex, and can be found at the base of Inspiration Tower.
Copperhead Mountain Coaster, Shepherd of the Hill, 5586 W. 76 Country Boulevard in Branson, Missouri
Explore Branson on a Pink Jeep Tour
Looking for a unique way to see a lot of Branson in a short amount of time? Book an experience with Pink Jeep Tours!
This adventure tour company has become known across the country for their iconic pink jeeps. While riding in style is a definite perk, these experiences are the perfect way to see the city in a new way.
We hopped aboard their Best of Branson Sunset Tour for a few hours of sightseeing and beautiful scenic views. Our tour guide was incredibly knowledgeable about Branson's many attractions and shared some great tips for the rest of our trip.
Pro Tip: Book your Pink Jeep Tour early in your trip to Branson to help give you a lay of the land. That way, you'll have a better idea of where you want to come back to explore later in the trip.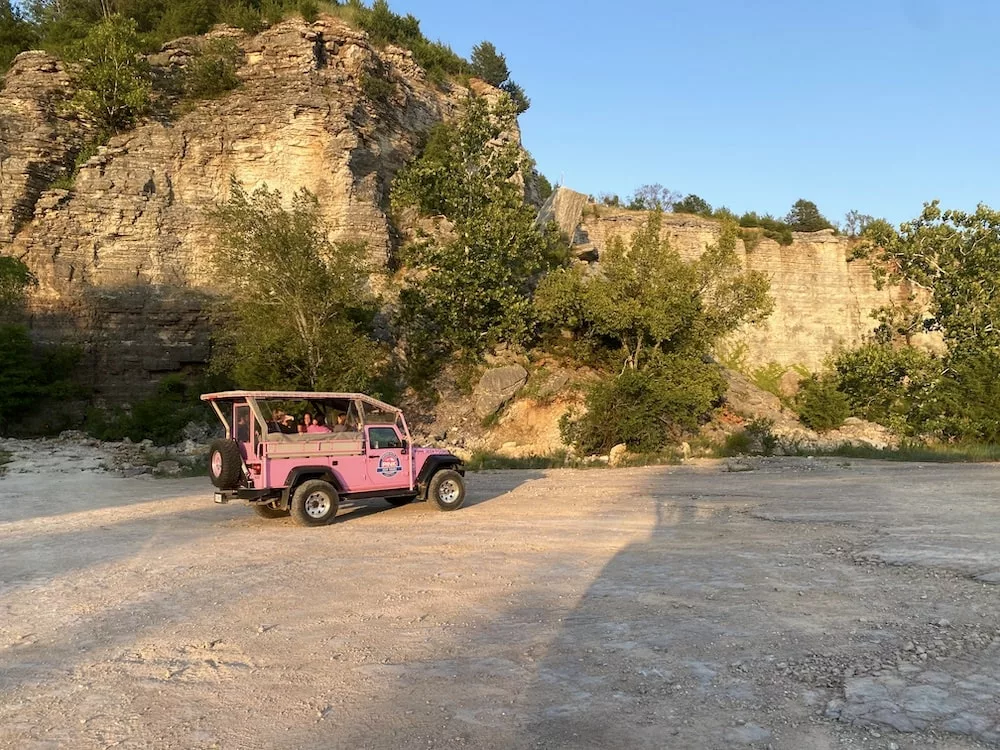 Get a New Perspective at Beyond the Lens! Techno-Tainment
If you're looking for a fun, interactive experience for all ages, head to Branson's Beyond the Lens! Techno-Tainment.
Experience all sorts of virtual reality installations inspired by pop culture icons and phenomenon. From an entire room dedicated to Bigfoot to an alien-themed ball pit, you'll find all sorts of offbeat fun at this attraction.
This is a great stop for travelers of all ages with tons of games like Skee-Ball as well as retro gaming consoles and more. One of my favorite parts of this unique spot was the plethora of offbeat photo ops.
Beyond the Lens! Techno-Tainment, 3115 W. 76 Country Boulevard in Branson, Missouri
Wander the World's Largest Toy Museum
With more than 1 million toys displayed across a six-building complex, this whimsical museum is an entertaining trip down memory lane. Despite having so many items on view, the museum is incredibly organized.
As you wander, you'll discover toys organized by type, brand and theme. From Disney and Barbie to antique dolls and hundreds of stuffed teddy bears, there's something delightful to discover around every corner of this labyrinth of toys.
While the collection itself is impressive, one of my favorite rooms featured installations of model trains with beautiful colorful murals painted all around.
Especially if you love classic toys or a retro candy, be sure to stop by the World's Largest Toy Museum gift shop to pick up a fun souvenir or two.
World's Largest Toy Museum, 3609 W. 76 Country Boulevard in Branson, Missouri
Snap Your Photo with a Roadside Attraction
It's no secret that I love a wacky roadside attraction. Luckily for me (and you), Branson is full of offbeat spots! Not only can you find the World's Largest Rooster outside a restaurant along Branson's main strip. But you'll also discover a number of other giant oddities inside other attractions.
At Ripley's Odditorium you'll find the World's Largest Roll of Toilet Paper as well as the World's Largest Ball of String.
There are lots of things to do in Branson. But one of the area's biggest draws is the amount of live music and dazzling theater you'll find here. Whether you're looking for a music review full of talented performers or a full-blown Western dinner theater, there's sure to be something in Branson for you.
One of Branson's most popular musical shows is The Haygoods. This musical family has been performing in Branson for more than 25 years now, but their show is still as captivating as ever. With arrangements spanning from the 1960s to today, these talented siblings perform playing 20 different musical instruments.
If dinner and a show is more your speed, there's no better place than Dolly Parton's Stampede. You'll be dazzled by the world-class riding and showmanship of the Stampede performers, all while digging into a four-course feast. This experience definitely makes for a memorable evening, and would be an especially fun one while traveling with kids.
Be Awed by Ripley's Odditorium
At Ripley's Odditorium the enigmatic and eccentric converge to create one of Branson's most eccentric attractions. Not only will you find oversized oddities (like the World's Largest Roll of Toilet Paper) at this fanciful museum. But you'll also discover an astonishing collection of strange artifacts, perplexing illusions, and engaging exhibits.
One of my favorite collections on display when we visited was the work of an artist who carves microscopic sculptures out of pencil graphite.
From optical illusions to historical oddities, there are no shortage of unusual things to see at this Ripley's Believe It Or Not! property. Whether you're a seasoned explorer of the eccentric or just someone looking to add a little quirk to your Ozark adventure, Ripley's Odditorium is a must-visit destination that will remind you that the world is a much stranger place than you ever imagined.
Ripley's Odditorium, 3326 76 Country Boulevard in Branson, Missouri
Get Your Thrills at Silver Dollar City
While I'm normally not an amusement park person, Silver Dollar City truly delighted me. In addition to record-breaking roller coasters, this 1880s theme park is also known as the "Home of the American Craftsman." In fact, in addition to the park's 40 exciting rides, Silver Dollar City is home to 100 resident craftsmen.
Similar to the rest of Branson, Silver Dollar City has no shortage of theatrical shows and live entertainment.
We started our morning off with a Frontier Follies show at the Silver Dollar Saloon. Not only is this the longest-running show at the park, but it's also a family favorite.
Unfortunately, we visited on a pretty rainy day so the park's rides were closed and tours of Marvel Cave had been postponed. But even so there was plenty to explore at this Midwest amusement park.
We sampled a variety of snacks, got some steps in and appreciated the beautiful work of some of the park's resident artisans.
Silver Dollar City, 399 Silver Dollar City Parkway in Branson, Missouri
Pick up a Souvenir at Dick's 5 & 10
If you only have time to visit one shop in Branson, make it Dick's 5 & 10. This retro retailer combines all the best parts of a classic general store with any modern gift you could need.
From classic candy and unique soda flavors to home decor and Branson-themed souvenirs, there's something for everyone at this unique Main Street shop. Even if you're just interested in browsing, a wander through Dick's 5 & 10 is an experience onto itself.
Dick's 5 & 10, 103 W. Main Street in Branson, Missouri
While there are plenty of new things to do in Branson, some of my favorite pieces of our Ozark adventure were exploring the area's history. And what better way to dive into some fun history than with a little antique shopping?
Thankfully, Branson has no shortage of cute boutiques and bustling flea markets where you can indulge in a little retail therapy. A few favorites included:
417 Vintage Market (114 N. Commercial Street in Branson): If you're looking for a thoughtfully curated collection of vintage and home decor, this is the place for you. Don't miss Commercial Street Coffee located in the back of this historic three-story building!
Apple Tree Antique Mall (1830 W. 76 Country Boulevard in Branson): With more than 400 vendor booths, this antique mall sells a treasure trove of items.
CreekSide Antiques (125 St. James Street in Hollister): Lovers of vintage glasses and barware will be delighted by the treasures to be found at CreekSide Antiques. With rooms of beautiful glass organized by color and type, this shop is a delight to explore.
Discover Even More Popular Things to Do in Branson, Missouri
Where to Stay in Branson, Missouri
Hilton Branson Convention Center
If you're looking for a great place to stay within walking distance to some of the downtown Branson's most popular spots, look no further than the Hilton Branson Convention Center. Not only is this property conveniently located, but it also has top-notch amenities and plenty of space to spread out during your stay.
Additional Accommodations in Branson, Missouri
In addition to traditional hotels, this community also has a plethora of vacation rentals and short-term accommodations that would be great places to stay during your adventure in the Ozarks.
Let's Be Social
Want even more offbeat adventures, roadside attractions and world's largest things? Follow Olio in Iowa on your favorite social media platforms, and tag #OlioOnTheRoad when you have quirky adventures of your own.
Share Your Thoughts
I would love to hear from you! What are your favorite things to do in Branson, Missouri? Have you spent time in the Ozarks region before?