There's no place like Liberal, Kansas! In this small southwestern Kansas town you'll find delicious tacos, rich local history and, most notably, the home of Dorothy Gale.
If there's one thing most people (especially those from outside of the Midwest) think of when they think of Kansas, it's the Wizard of Oz. So, the people of Liberal decided they might as well embrace it. But just like Kansas has more to offer than its connection to Oz, there is so much more to Liberal than Dorothy. Here you'll find delicious, authentic dining options, unique local traditions, spaces that embrace creativity and so much more.
While you're on your Wizard of Oz-themed adventure, check out these eight things to do in Liberal, Kansas.
Disclosure: This post is sponsored by Visit Liberal. However, all opinions are my own.
This post may contain affiliate links, which means I may receive a small commission at no additional cost to you.
Best Places to Stay in Liberal, Kansas
Best Budget Pick: Best Western Plus Liberal Hotel & Suites is a comfortable and budget friendly place to stay while exploring Liberal. Located across the street from the popular Light Park, this hotel offers great location and amenities.
Closest to the Land of Oz: Fairfield Inn & Suites by Marriott Liberal offers travelers a slightly elevated experience within walking distance of Dorothy's House & Land of Oz.
Things to Do in Liberal, Kansas
Follow the Yellow Brick Road to Dorothy's House & Land of Oz
Follow the Yellow Brick Road to one of Liberal's most popular attractions: Dorothy's House and Land of Oz. While L. Frank Baum didn't specify which Kansas community Dorothy calls home, there's no reason she couldn't be from Liberal. At least, that's what locals Max and Katie Zimmerman decided.
But it wasn't until the 1980s that the dream of giving Dorothy a true Kansas hometown started to become a reality. Another local, Oliver Brown, knew of a house that resembled Dorothy's home from the 1939 film. Volunteers helped relocate the home to its current site and renovate it to look like Dorothy's house in the movie. After the fanfare got going, then-governor John Carlin named Liberal the official hometown of Dorothy Gale.
Outside the house you'll wander the Yellow Brick Road and keep an eye out for Dorothy's friends. You might even spot notable names like Ronald Reagan and Liza Minnelli etched into the stone if you look closely. Be sure to press the button next to the bronze statue of Dorothy to hear the film's iconic themes drift across the lawn.
Inside the house, you'll find a home typical of the time period the Gales would have lived in. While the house is staged for the Gales, I enjoyed this continuation of the Coronado Museum's collection when it came to see how typical Kansans lived.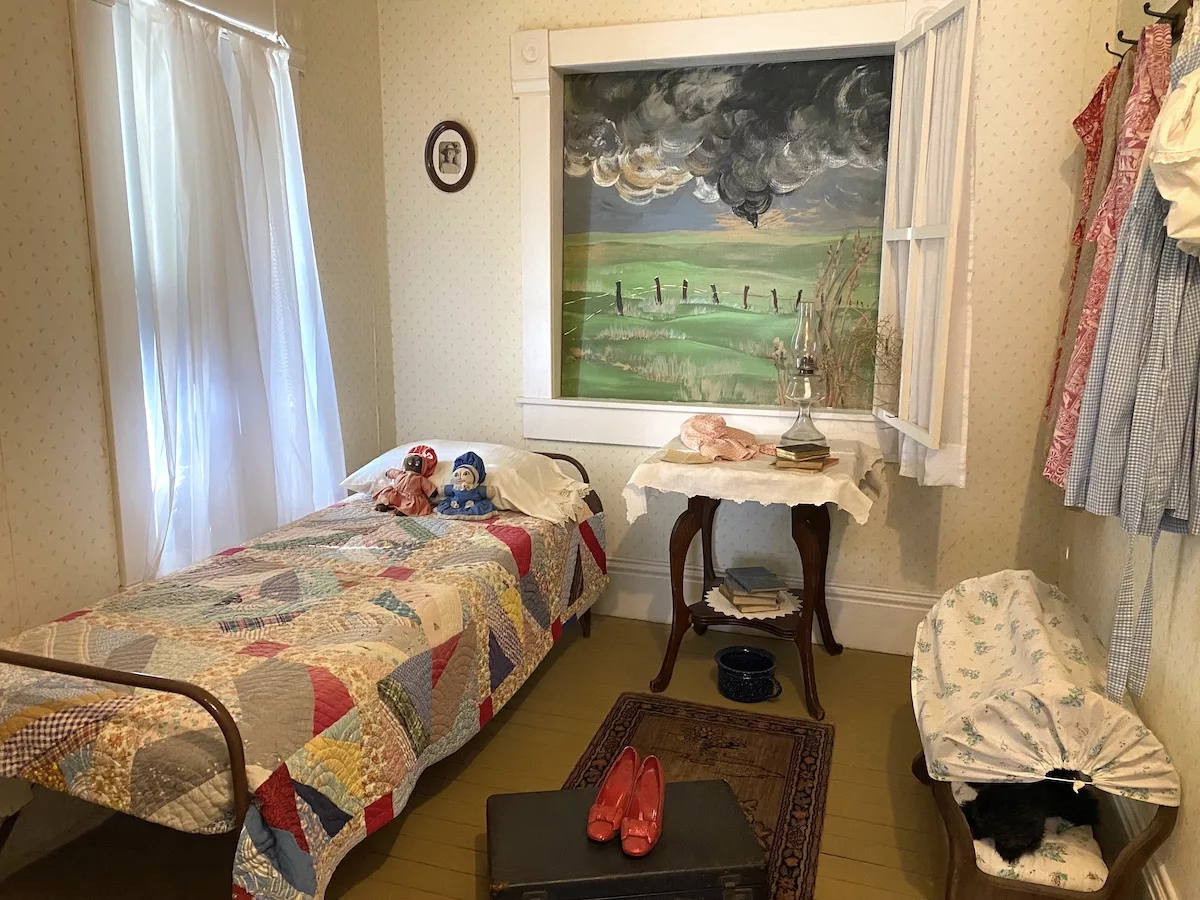 After you tour Dorothy's house, you'll step into the Land of Oz. This 5,000-square-foot immersive exhibit and animatronic experience was designed and built in Topeka by artist Linda Windler before it was moved to Liberal.
Your guide — dressed in gingham with ruby red slippers just like Dorothy Gale — will keep you safe during the tornado and shepherd you through Oz. I don't want to spoil too many of the surprises, but this part of the tour is definitely an experience.
This attraction is a little on the wacky side. But for any Wizard of Oz fanatic or lover of roadside Americana, this is a must-visit spot.
Dorothy's House and the Land of Oz, 567 E. Cedar Street in Liberal, Kansas
Discover Local History at the Coronado Museum
Located on the same site as Dorothy's House and Land of Oz, the Coronado Museum offers a unique glimpse into what life was like in early Seward County, Kansas. I learned a lot about the community's early settlers as well as the industries that helped it prosper while I waited for my time slot to tour Dorothy's House. I also particularly enjoyed some of the unique artifacts this museum has like a twine ball, Associated Press teletype machine and more.
The museum is housed in a historic home that was built in 1918 for the Lee Larrabee family, which offers just as much to look at as the artifacts themselves. The winding oak staircase, original floors and historic details of this home are truly beautiful.
Coronado Museum, 567 E. Cedar Street in Liberal, Kansas
Experience the International Pancake Day Hall of Fame
One of my favorite things about my trip to Liberal was learning about this Kansas community's dedication to pancakes. In fact, Liberal is the home of International Pancake Day and, subsequently, the International Pancake Day Hall of Fame.
This particular tradition dates back to Old England when it was customary for housewives to drop whatever they were doing and rush to church when the bell tolled to mark the impending start of the Lenten season. It's said that in 1445, a housewife in Olney, England wasn't quite done cooking when the bell rang and instead of letting her pancakes burn, took the frying pan and cake with her as she rushed to church.
The tradition began in Liberal in 1950 when a local member of the Jaycees, R. J. Leete, challenged Reverend Ronald Collins of Olney to a friendly competition between the two towns. So, each year on Shrove Tuesday (the day before Christians celebrate Ash Wednesday) both communities race at 11:55 a.m. to see who can run the 415-yard course the fastest.
Originally, the race was only open to women who perform "housewifely" duties. But as the tradition has continued, youth and men's races have been added as well.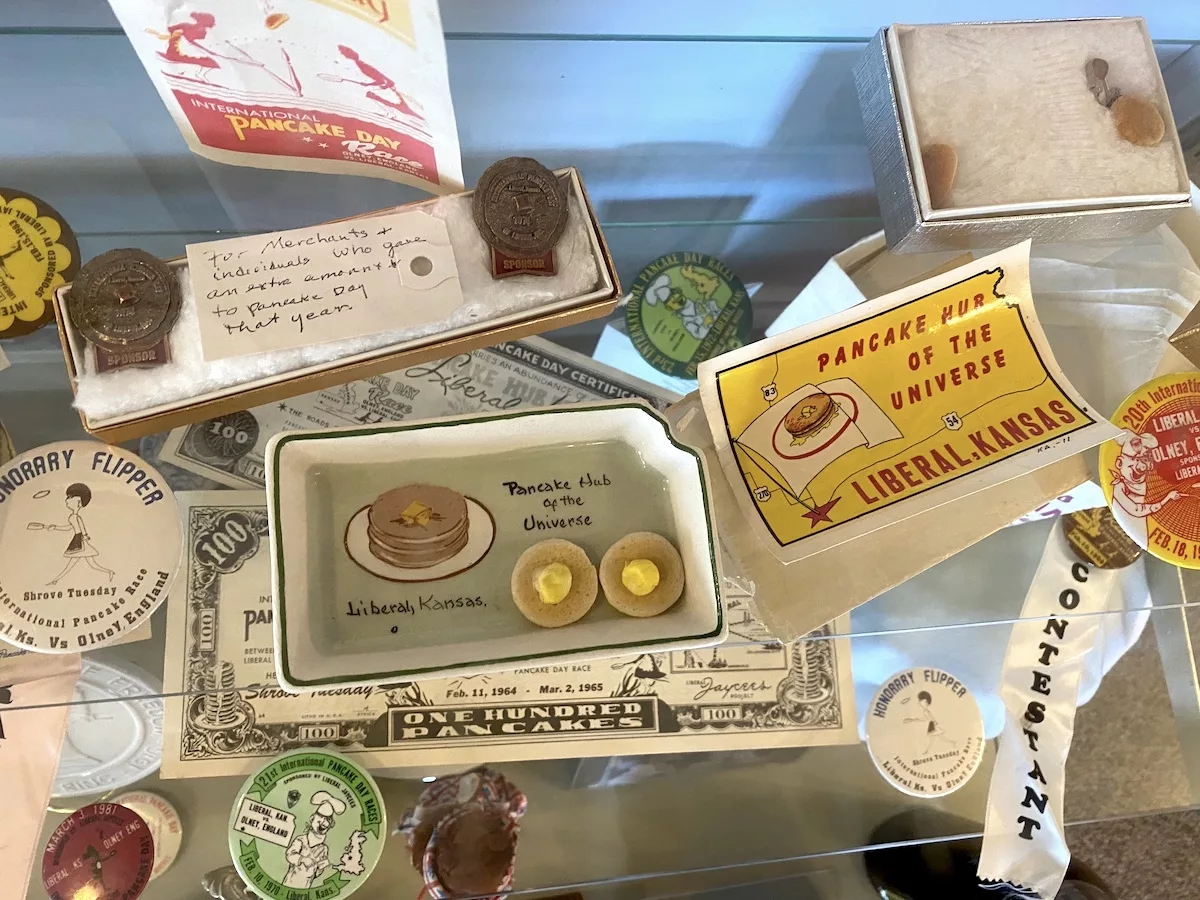 If you don't happen to be visiting in February, you can still learn all about the wacky festivities with a visit to the International Pancake Day Hall of Fame. This small museum has a lot to offer when it comes to this unusual local tradition, including some truly iconic memorabilia. Think jewelry made out of actual (now very stale) pancakes, scrapbooks dating back to the event's inception and lots of amazing photos of races past.
International Pancake Day Hall of Fame, 318 N. Lincoln Avenue in Liberal, Kansas
Find Inspiration at the Baker Arts Center
Spark some creativity with a visit to the Baker Arts Center. This local museum and community center is a great place to view some incredible art in the historic home of artist Irene Dillon Baker. But it also offers ample opportunity for hands-on activities with classes and community events for all ages.
The second-floor children's room is also a popular draw for younger visitors. There you'll find tons of art supplies and other materials to fuel their imagination.
Baker Arts Center, 624 N. Pershing Avenue in Liberal, Kansas
If you're a fan of eating on the go, you'll be delighted by the variety of taco trucks and other mobile dining options available in Liberal. Many of these mobile eateries have regular spots they park in and have amassed passionate followings.
After a few recommendations from locals, I stopped by El Pastorcito for lunch and loved the pastor "Gringa" I got. If you're planning a taco tour of your own, the Visit Liberal website has a handy listing of the area's mobile eateries.
During my time in Liberal, there was one thing in particular that I noticed that was unique to the community's food trucks. Many of the trucks have someone who acts as a car hop and comes to your car to take your order. Simply pull in near the truck and get ready to enjoy!
It's no secret that I love a big roadside attraction. So I couldn't resist a stop at this Big Book located outside of the Liberal Memorial Library. Designed by the building's architect, George L. Pitcher, this giant book is made from concrete. It was completed in April of 1955 to celebrate the library's 40th anniversary.
This big book is a fun photo op, especially if you're traveling with an avid reader!
Liberal Memorial Library, 519 N. Kansas Avenue in Liberal, Kansas
Look for Dorothy Around Town
As her hometown, it should come as no surprise that you might spot a Dorothy or two around Liberal. Each of these uniquely painted statues has a different theme. But all of them resemble the town's most famous fictional resident. Keep an eye out and see how many of them you can spot!
Visit the Mid-America Air Museum
Even if you aren't an aviation buff, a visit to the Mid-America Air Museum is still an interesting activity while you're in Liberal. Not only is this one of the largest air museums in the country, but it also located in the hangar that formerly housed Beech Aircraft.
As you wander through this expansive museum, you'll discover hundreds of both civilian and military airplanes. During World War II, Liberal was home to the B-24 Liberator pilot training base.  So you'll also learn a lot about what life was like for men training there and how Kansas as a whole contributed to the war effort.
Mid-America Air Museum, 2000 W. 2nd Street in Liberal, Kansas
Frequently Asked Questions About Liberal, Kansas
What is Liberal, Kansas known for?
The southwestern town of Liberal, Kansas is known as the hometown of the fictional character Dorothy Gale from the Wizard of Oz.
Where in Kansas does the Wizard of Oz take place?
While a specific Kansas community isn't specified in the Wizard of Oz, the town of Liberal, Kansas has claimed the title of Dorothy's hometown for its own. Wamego, Kansas also leans into Kansas' Wizard of Oz connection with an Oz Museum.
Let's Be Social
Want even more offbeat adventures, roadside attractions and world's largest things? Follow Olio in Iowa on your favorite social media platforms, and tag #OlioOnTheRoad when you have quirky adventures of your own.
Share Your Thoughts
I would love to hear from you! Have you visited southwest Kansas? What are your favorite things to do in Liberal, Kansas?