Make your holiday season bright with a visit to southern Iowa. There are lots of things to do in Oskaloosa, Iowa year round. But the holiday season is an especially jolly time to visit this community.
Wandering around City Square Park at night, it's easy to see why. Every year more than 250,000 LED Christmas lights illuminate the buildings along the square, turning the area into a glimmering wonderland. In Oskaloosa, you'll find plenty of small town charm to get you in the holiday spirit. From unique seasonal events and an appreciation for the arts to plentiful boutiques and rich local history, there are lots of reasons to plan a visit to this southern Iowa community.
The next time you're in the area, don't miss these eight things to do in Oskaloosa, Iowa during the holidays.
This post may contain affiliate links, which means I may receive a small commission at no additional cost to you.
Things to Do in Oskaloosa, Iowa
Attend the Lighted Christmas Parade
If you're looking to get into the holiday spirit, Oskaloosa's Lighted Christmas Parade is the perfect place for festive fun. We were truly blown away by the amazing light display that blankets Oskaloosa's town square during the holiday season. With lights covering the facade of every building, the twinkling, colorful lights create the perfect backdrop for the festivities that are to come.
After all, there's a reason that this holiday tradition has become one of Oskaloosa's most popular events. With more than 60 lighted floats and dozens of participants, the spectacle of this festive parade is truly like no other. From Santa riding atop the local fire truck to sparkling displays timed to music and so much more, the participants of the Lighted Christmas Parade create seasonal spectacles that are sure to dazzle visitors of all ages.
Add this annual event to your calendar now so you don't miss out on the cheer. The Lighted Christmas Parade is held annually on the first Saturday of December in Oskaloosa's downtown.
Enjoy Oskaloosa's Public Art
Another charming detail of Oskaloosa's downtown is its vibrant public art. Wandering around the square you'll notice murals peeking out of alleyways and sculptures around the sidewalks.
Start your art adventure at The Alley, an outdoor community art space with ample seating, public art and plaques about notable locals. Then, take a lap around the square to take in its colorful murals.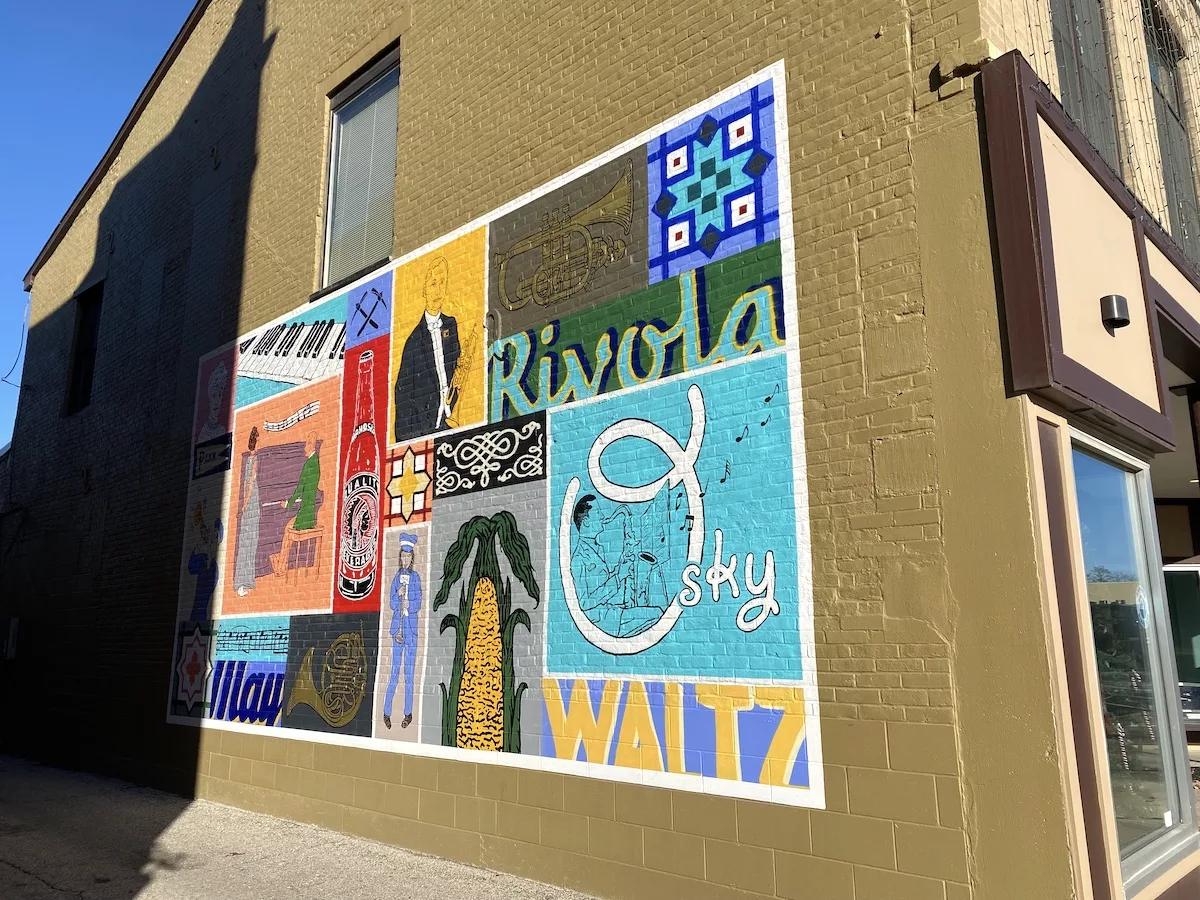 We really enjoyed the amount of outdoor public seating that Oskaloosa has installed around its cafes and local eateries. One especially fun installation features a replica trolley car with covered seating and information about the trolley system that once ferried passengers around Oskaloosa.
After ambling around the square, pop in a shop or two to get a taste of Oskaloosa's small businesses. There are lots of local retailers to explore here, but a few of our favorites included:
Betsy's Boutique (105 High Avenue W in Oskaloosa): If you're looking to update your wardrobe for the season, Betsy's Boutique has some seriously cute options. This local shop carries a wide variety of women's clothes and accessories, making it a great spot to shop for yourself or anyone on your holiday.
Book Vault (105 S. Market Street in Oskaloosa): I always seek out independent bookstores when we travel and the Book Vault is a truly delightful gem. Housed in a historic bank building, this space has been beautifully restored and updated for its new life as a bookstore. You'll even find some of their selection housed in the former bank's vaults.
Timeless Treasures Corner (121 High Avenue W in Oskaloosa): Wandering antique stores is another of my favorite activities and there's lots to see in Timeless Treasures Corner. Whether you're in the market for some home decor or just curious about rare coins, this sprawling shop has got you covered.
Before our visit to Oskaloosa, quite a few people told me that we needed to visit Mahaska Drug. At first, I didn't understand why a local drugstore should be at the top of my to-visit list. But after stopping in, it's safe to say that I can see why. This local institution is truly like no other.
Part traditional pharmacy, part gift shop and part Christmas explosion straight out of Santa's workshop, Mahaska Drug is a fun spot to visit, especially during the holiday season. With special shopping events and appearances from Santa (and maybe even a reindeer or two), this is the shop to get you feeling jolly. You'll find no shortage of unique gifts and decor items at this Oskaloosa spot. Plus, they've also got plenty of snacks, personal care items and other everyday necessities in case you forgot anything at home.
Mahaska Drug, 205 N. E Street in Oskaloosa, Iowa
If you're headed to Oskaloosa by way of Pella, Iowa, be sure to make a stop at North Creek Antiques. This rustic shop sells all sorts of vintage and farmhouse-style home decor for both indoors and out. There are so many gems to be discovered wandering the different sections of this unique, rural shop.
North Creek Antiques is only open select dates so be sure to check their social media before you stop by.
North Creek Antiques, 1245 IA-163 in Pella, Iowa
Fuel Up at Smokey Row Coffee
You'll need your energy to explore Oskaloosa and Smokey Row Coffee is the perfect spot for a caffeine fix. Located right on the square, this locally owned cafe is a convenient stop for a cup of coffee or a quick bite to eat. With ample seating and lots of quirky touches, this is a great spot to start your morning or take a midday break. Smokey Row also hosts regular live music and other events that make use of their great space so keep an eye out.
Smokey Row, 109 S. Market Street in Oskaloosa, Iowa
Learn About Local History
Oskaloosa is a community that knows how to embrace its local history. While wandering the square, keep an eye out for the 10 historical building markers that share information about the community's early days. Get your steps in while you learn about some of the community's founders and important historical events through historic photos and memorabilia.
Find More Secret Iowa Places
Cozy Up in a Vacation Rental
Enjoy all of the comforts of home by booking a short-term rental for your adventure in Oskaloosa. We stayed in a beautiful rental called The Nest, conveniently located just a block off of the square. The space had a full kitchen, two bedrooms and two bathrooms as well as a cozy living room that was festively decorated for the holidays.
This was the perfect spot for us to relax (and warm up) after a day of December exploring. Plus, this delightful accommodation is located next door to the Oskaloosa outpost of Jaarsma's Bakery, which is a definite bonus.
Mark Your Calendar for Christmas Events in Oskaloosa, Iowa
Want to be sure you make plans to celebrate Christmas in Oskaloosa, Iowa next year? Be sure to mark your calendar for the following seasonal celebrations and events:
Painting with Lights Downtown Display: Holiday lights turn on for the season on November 18, 2023
Lighted Christmas Parade: Saturday, December 2, 2023
Typically the Lighted Christmas Parade is held the first Saturday in December.
Let's Be Social
Want even more offbeat adventures, roadside attractions and world's largest things? Follow Olio in Iowa on your favorite social media platforms, and tag #OlioOnTheRoad when you have quirky adventures of your own.
Share Your Thoughts
I would love to hear from you! Have you visited Oskaloosa, Iowa during the holiday season? What are your favorite things to do?