Roadside attractions and "world's largest" things are my true travel loves. Both are at the heart of why I started Olio in Iowa in the first place. So when I first learned about the Enchanted Highway a few years ago, it's safe to say that my heart skipped a beat.
Located in western North Dakota, these larger-than-life roadside attractions span a 32-mile stretch of highway and are truly a sight to behold. Built over the past 20 years by local artist Gary Greff, this collection of scrap metal sculptures draws thousands of visitors to rural North Dakota each year.
Whether you're road tripping through North Dakota or making this whimsical stretch of road your final destination, the Enchanted Highway is well worth a drive. But when I started to plan my own trip, I couldn't find much information online. So I've turned my experience into a helpful guide so you can learn everything you need to know before hitting the road.
The History of the Enchanted Highway
It's no secret that many small towns across the Midwest are in danger of disappearing as younger residents move away. North Dakota is no different. In the late '80s, former school principal and local artist Gary Greff  had an inventive idea to save his small town of Regent, North Dakota. And so the Enchanted Highway was born.
The first sculpture went up less than two miles from Regent in 1991 and the rest is history. Over the years, Greff has added more sculptures along the route with the newest addition, The Fisherman's Dream, installed in 2006. Each of the sculptures are positioned facing north to greet visitors heading south from one of the state's busiest interstates. Originally Greff said his goal was to create 10 sculptures spanning between the interstate and the town of Regent. So far seven have been completed.
Planning Your Drive Along the Enchanted Highway
Directions
To access the Enchanted Highway, head south from I-94 in western North Dakota at exit 72 in Gladstone. While the highway is unmarked, the northern part of the road is labeled as 100 1/2 Avenue SW.
When I was driving this route solo, I wished I had a more complete map of the highway. So I created one for you!
Not only does this map show where to find each sculpture, but it also includes the distance between each stop along the way.
Gas & Amenities
One of my cardinal rules of road tripping is to always have a full tank of gas and a stash of snacks. While there is a gas station and a number of food options in Regent, other amenities along the highway are virtually nonexistent. Be sure to fill up your tank and pack a picnic before embarking along the Enchanted Highway. Bonus: A number of the stops have nice picnic areas perfect for your on-the-road dining.
Road Conditions
If you're wary of getting off the highway because you're concerned about unpaved roads, fear not! The entirety of the road connecting the Enchanted Highway is paved. While the pull-offs for each sculpture are not, they are well maintained and easy to navigate.
Talking Tour
One of the things that surprised me most about the Enchanted Highway was its delightful audio tour. Keep an eye out for the signs at each sculpture along the way and dial in to learn a little bit more about these larger-than-life pieces of art.
Stops Along the Enchanted Highway
Geese in Flight
If you're traveling the Enchanted Highway from I-94, Geese in Flight is the first sculpture you will encounter. Perched at the top of a rolling hill, this towering sculpture is visible from five miles away.
Named the world's largest scrap metal sculpture by the Guinness Book of World Records in 2002, Geese in Flight is truly a sight to behold. More than 300 lengths of pipe were used to create this massive piece of art. Unsurprisingly, the completed sculpture weighs in at 78.8 tons (or approximately 157,660 pounds).
Standing at 110 feet tall, this massive sculpture honestly took my breath away. This was my first stop along the Enchanted Highway and I was almost giddy with anticipation as I drove down the long, winding drive to the sculpture. As I approached the sculpture, I was especially delighted by the individual flapping geese that line the narrow road.
Deer Crossing
Many of Greff's sculptures along the Enchanted Highway are inspired by nature and Deer Crossing is no exception. This 75-foot-tall buck and 50-foot-tall doe made from old oil well tanks are poised at attention along the highway. The male is suspended in air, jumping over a towering fence and out into the rolling North Dakota hills.
Grasshoppers in the Field
Wheat stalks and grasshoppers are staples of Midwestern summers, which makes both right at home along the Enchanted Highway. Grasshoppers in the Field was installed in 1999 and features a number of insects amongst stalks of wheat. The sculpture's biggest grasshopper measures 40 feet tall and almost 50 feet long.
I especially enjoyed the added detail in the stalks of wheat surrounding the grasshoppers and serving as a small fence along the sculpture site. As I drove I began to notice that it truly is these details that elevate the Enchanted Highway experience to the next level of roadside attraction.
Fisherman's Dream
Completed in 2007, Fisherman's Dream is the newest and arguably most complex sculpture along the Enchanted Highway. It was also my absolute favorite. With dozens of colorful elements, there are surprises to discover around every corner when visiting this sculpture.
I wandered between the towering fish, wavering reeds and even a shipwrecked tugboat with my mouth hanging slightly open. Of all the sculptures along the Enchanted Highway, Greff's attention to detail here is incredible. Each of the fish scales have been cut individually and their coloring painted to give even more depth.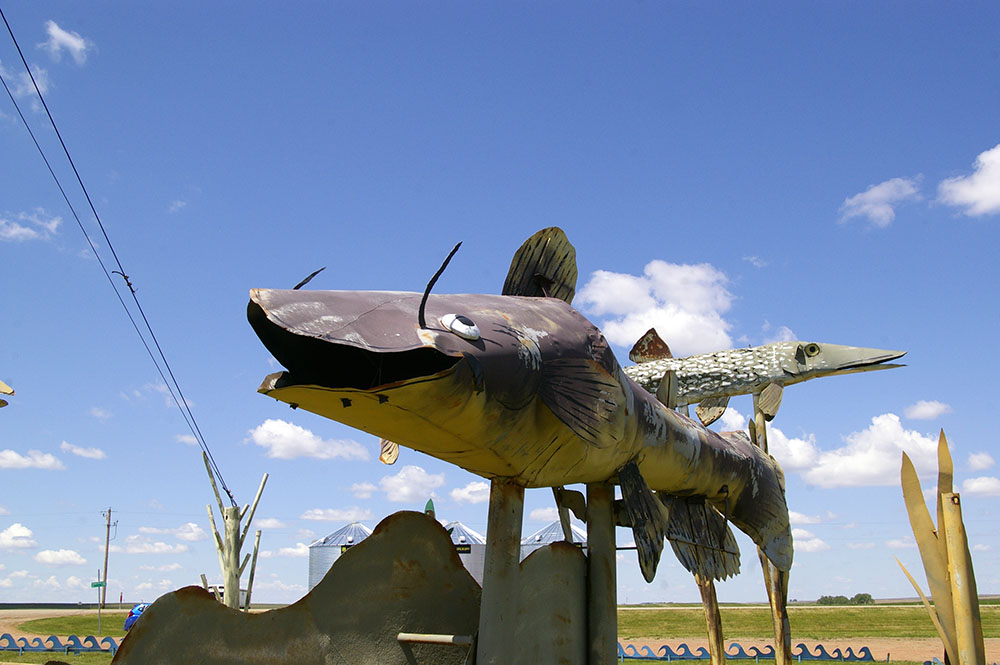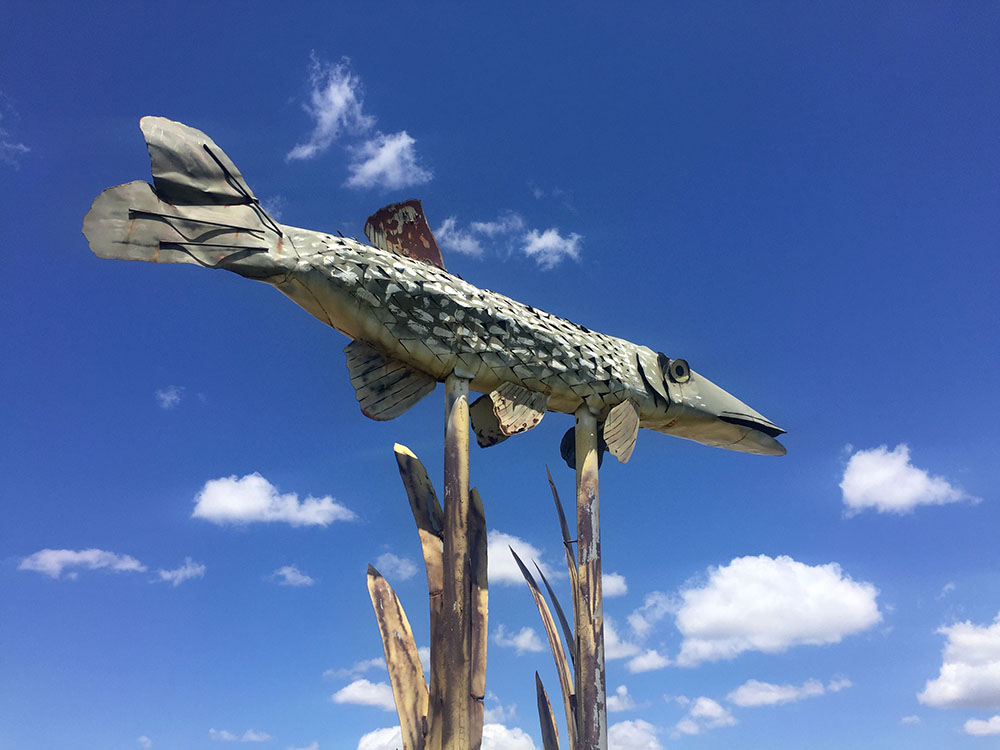 Pheasants on the Prairie
Fun fact: Regent is a popular area for pheasant hunting and this sculpture pays homage to that long history. Pheasants on the Prairie was built in 1996 and is largely constructed using pipe and wire mesh. But this family of fowl is no joke. The rooster and hen weigh in at 13,000 and 12,000 pounds respectively with each of their three chicks measuring 5,000 pounds each.
Teddy Roosevelt Rides Again
It's no secret that North Dakota, especially the western part of the state, loves Theodore Roosevelt. Naturally, your drive along the Enchanted Highway wouldn't be complete without a sighting of him.
Installed in 1993, Teddy Roosevelt Rides Again features the 26th president on horseback behind a wooden horse-drawn carriage. Standing at 51 feet tall and weighing in at 9,000 pounds, Teddy is a force to be reckoned with even today.
Tin Family
Tin Family was the first of Greff's creations and was erected in 1991. The jovial family is made from telephone poles, old oil tanks and a variety of other scrap metal. Anchored by 16 telephone poles, the family's father stands at 45 feet tall alongside his 44-foot-tall wife (notice her barbed wire hair). Beside them is their son—only 23 feet tall—who is happily licking the world's largest lollipop.
It's fascinating to observe how Greff's style and technique have evolved over the years, and I enjoyed the family's quirky characteristics.
Regent, North Dakota
At the end of the Enchanted Highway is the town of Regent itself. Not only is the small town home to the Enchanted Highway Gift Shop but you'll also find the Enchanted Castle Motel here. I had a laugh watching the motorized whirligigs move out front before heading inside the gift shop for a souvenir.
While Greff wasn't around when I stopped in, I've heard from other travelers that he's frequently in the shop greeting and chatting with visitors.
If you're looking for someplace to stay in western North Dakota, consider an extension of the Enchanted Highway. Opened in 2012, the Enchanted Castle Motel is quite possibly one of the most unique accommodations in North Dakota. To continue his mission of attracting visitors to Regent, Greff transformed the town's former elementary school into a 19-room motel.
Share Your Thoughts
I would love to hear from you! Have you driven the Enchanted Highway? What was your favorite sculpture?
---
Looking for more things to do in North Dakota? Stay tuned for more places I visited during my North Dakota road trip!