Rural Iowa may not immediately come to mind when conjuring images of communities that embrace the arts. But Mason City, Iowa is out to prove that assumption wrong.
During my recent road trip north, I discovered that not only does this community have iconic architecture and delicious places to eat, but there is an incredible amount of art in Mason City. From formal museums to quirky folk art installations and everything in between, this city is full of unexpected creative outlets. Over and over again, I encountered the arts everywhere I went in Mason City.
So the next time you're looking for a creative retreat, consider heading to north-central Iowa. There you'll discover all of the unique ways Mason City embraces the arts.
Disclosure: Visit Mason City graciously hosted my time in Mason City, Iowa. However, all of my opinions are my own.
Ways to Experience Art in Mason City, Iowa
Visit the Charles H. MacNider Art Museum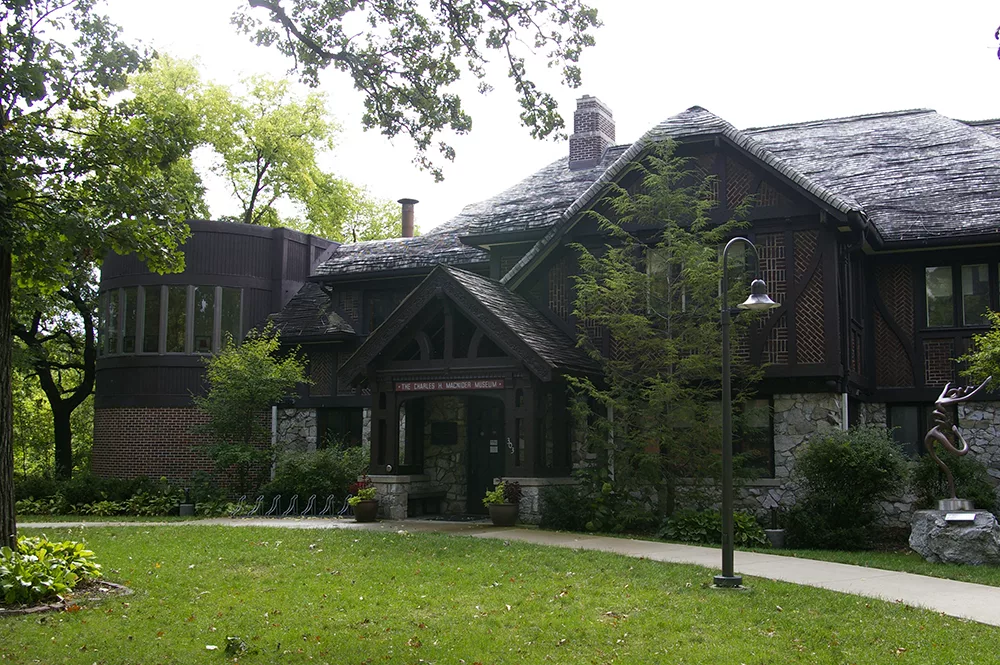 Whether I happen to stumble upon it or specifically plan my visit around taking in some art, I make a point to visit local art museums when I travel. So when I heard about the incredible collection at the Charles H. MacNider Art Museum I knew I needed to fit in a visit.
The MacNider is home to a wonderful collection of American art by acclaimed artists like Andy Warhol and Roy Lichtenstein as well as up-and-coming contemporary artists. Not only does this lovely museum offer free admission to view its collection (though you can support their work through a donation), but the building itself is absolutely stunning. In fact, the second-story atrium  offers an amazing view of the river bluffs below. During my visit I enjoyed a quiet break from exploring near the atrium's bubbling koi pond while admiring the flowing river.
In addition to the museum's impressive art collection, the MacNider is also home to a collection of marionettes handmade by Bil Baird. If they look familiar it's because Baird's puppets were featured in the 1965 classic "The Sound of Music" staring Julie Andrews. Baird grew up in Mason City and today the MacNider holds the largest collection of his puppets anywhere in the world.
Whimsical, beautiful and wildly nostalgic, experiencing his fanciful creations was one of the highlights of my visit. If you visit, I dare you not to hum "The Lonely Goatherd" to yourself as you admire his work.
Charles H. MacNider Art Museum, 303 2nd Street SE in Mason City, Iowa
Take in the Frank Lloyd Wright-Inspired Public Art
Frank Lloyd Wright is everywhere in Mason City — even on buildings around town as public art. These colorful, geometrics murals are the perfect pieces of art to set the tone for a town so filled with Prairie School architecture.
Even the crosswalks and sidewalks are art in Mason City! I strode across some Frank Lloyd Wright-inspired art while making my way around town and hopped along the street thanks to these fun painted hopscotch squares.
If you're planning a visit of your own, you can find some architecture-inspired murals around town at:
1st Street NE between N. Federal Avenue and S. Commercial Alley
E. State Street on the back side of the Mason City Chamber of Commerce
The crosswalk at S. Pennsylvania Avenue and 2nd Street SE
I love an offbeat attraction and Rancho Deluxe does not disappoint! This half-acre garden filled with folk art is located just a few blocks east of downtown Mason City. Made from discarded signs, bicycles, concrete blocks and more, Rancho Deluxe is truly a sight to behold.
Built by Mason City local Max Weaver, Rancho Deluxe is the result of more than 30 years of collecting historic artifacts from around the community. Wandering this creative garden feels like a treasure hunt with no map, one where you're never quite sure what might be around the next bend. Stepping along the stone path into this quirky installation, I loved seeing how the various materials came together to make something new and unexpected.
Rancho Deluxe, 500 2nd Street NE in Mason City, Iowa
Wander the River City Sculptures on Parade
It's always exciting to see how communities infuse the arts into daily life, and the River City Sculptures on Parade are no exception. With more than 50 sculptures scattered in a 1.7-mile loop around downtown Mason City, these unique pieces of public art offer an opportunity for a great stroll around the city.
Similar to the SculptureWalk in Sioux Falls, South Dakota, visitors can vote on their favorite sculpture to become a part of the city's permanent collection. I especially enjoyed keeping an eye out for them as I experienced all of the other attractions Mason City has to offer, and look forward to returning to see the new sculptures that are added next year.
Let's Be Social
Want even more offbeat adventures, roadside attractions and world's largest things? Follow Olio in Iowa on your favorite social media platforms, and tag #OlioOnTheRoad when you have quirky adventures of your own.
Share Your Thoughts
I would love to hear from you! Have you been to Mason City, Iowa? Where are your favorite places to experience the arts?
There's so much to see and do in Mason City, Iowa! Looking for additional attractions? Check out other things to do in Mason City.