I love seeing old spaces transformed into something new. In Iowa City, The Highlander Hotel is the perfect example of a classic space turned into a modern gem. Originally opened in the 1960s as a supper club, this vintage hotel was recently renovated to fully embrace a glamorous retro aesthetic.
Josh and I recently took a little Iowa staycation to The Highlander Hotel and absolutely loved the change of scenery. We did what we enjoy doing at home—ate take out, made a puzzle and did some binge watching—but in a groovier setting.
In addition to cozy rooms and an on-site bar, the hotel is full of amazing amenities like in-room record players and an epic indoor pool. Whether you're looking for a safe staycation or just passing through Iowa City, I can't recommend a stay at The Highlander Hotel highly enough.
This post may contain affiliate links, which means I may receive a small commission at no additional cost to you.
The History of the Highlander Supper Club
One of the reasons I was so excited to stay at The Highlander Hotel is because of its history as a former supper club. The classic eatery opened in 1967, and was the place to see and be seen in Iowa City. Over the years, the supper club expanded to include a ballroom and 90-room hotel.
With three dining rooms, a bar with a dance floor and frequent live music, the supper club was a popular Saturday night destination during its heyday. Diners enjoyed the supper club's signature beef tenderloin, crispy onion rings and sensational dinner rolls. Truly, I found so many fond memories of these amazing rolls while researching Iowa Supper Clubs.
The supper club changed owners over the years and eventually became the Clarion Highlander Hotel and Conference Center. But it recently got a new lease on life. New owners purchased the property and turned it into the groovy hotel you can stay in today.
Want to know more about The Highlander Hotel's supper club history? Check out my book, Iowa Supper Clubs!
Reasons to Stay at The Highlander Hotel
When it comes to unique amenities, The Highlander Hotel is unmatched.
For starters, the hotel has a spacious bar with a painted ceiling I could stare at for hours. The bar has a great selection of beer and wine as well as an extensive custom cocktail menu. While there's plenty of space to lounge, we opted to bring our drinks back to the room. We tried both the Your Old Man and Wild Child and they were absolutely delicious!
Quite possibly the hotel's coolest amenity though is its indoor pool. The area was completely renovated during the hotel's remodel and includes a vibrant mural, large pool, hot tub, plenty of space for lounging and garage doors that open up onto the courtyard outside.
The hotel also offers great in-room amenities including portable record players. With a great selection of records to choose from in the lobby, it's easy to pick the perfect soundtrack for your stay. We had a blast listening to The Zombies, Fleetwood Mac and The Beach Boys during our stay.
Just off of I-80 on the east side of Iowa City, The Highlander Hotel has an incredibly convenient location. Not only is the hotel easily accessible for travelers, but it's also only a short drive from downtown Iowa City. Whether you're planning to spend your time relaxing or use the hotel as your home base to explore the area, its location can't be beat.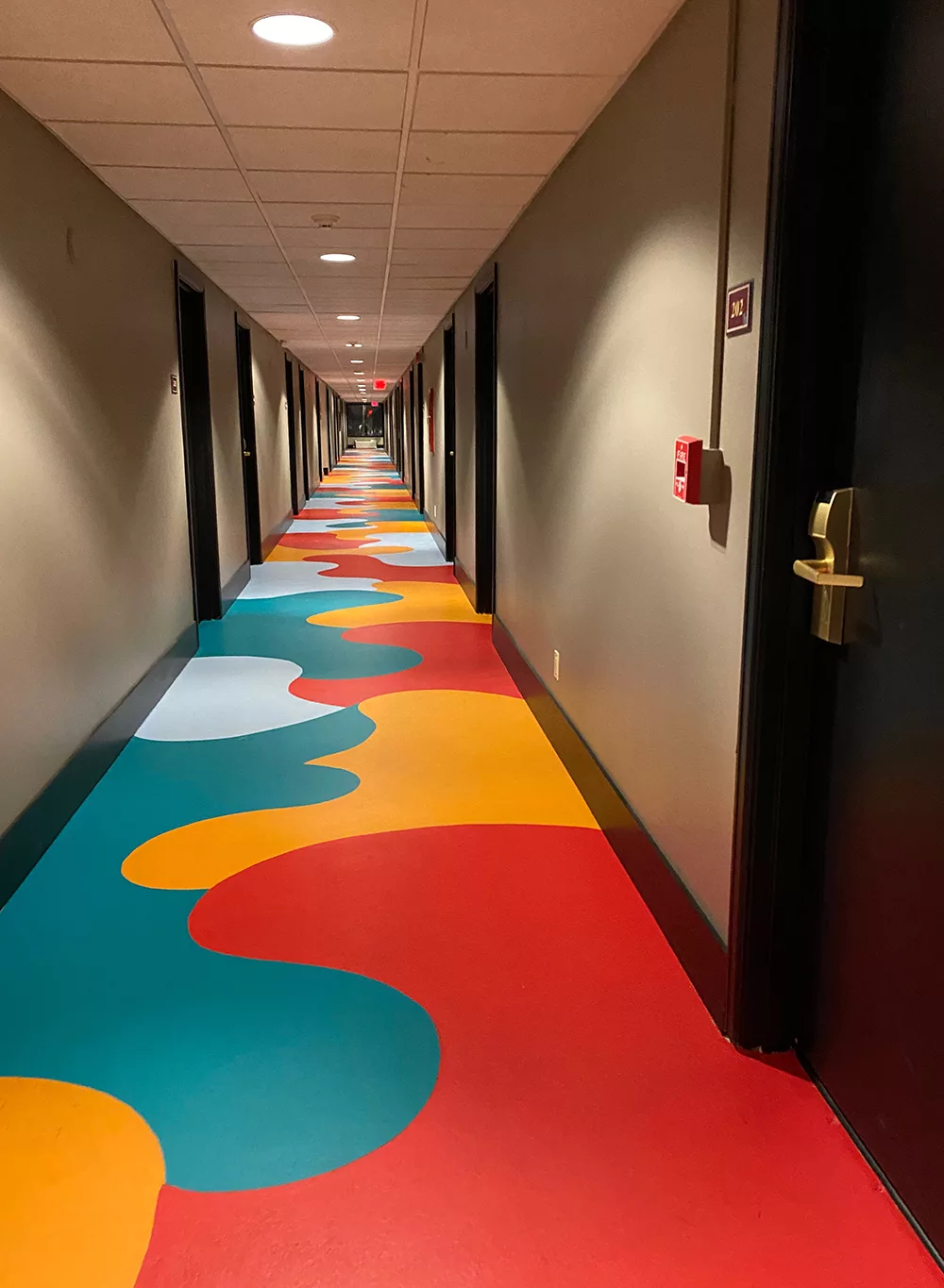 The hospitality team at The Highlander Hotel was absolutely incredible. Everyone we encountered was so helpful and went above and beyond to ensure our stay was a comfortable one. Additionally, the hotel is full of thoughtful touches and little details like the peace sign "Do Not Disturb" signs that really tie the space together.
Plan Your Stay at the Highlander Hotel
Whether you're looking for the perfect staycation or just passing through Iowa City, The Highlander Hotel is the perfect place to stay. With a great location and amazing amenities, this eastern Iowa hotel can't be beat!
If you've got kids or plan on spending a lot of time in your bathing suit, I definitely recommend a poolside or balcony room. Or, if you're looking for a quieter night, consider booking one of the rooms overlooking the courtyard. In addition to great guest amenities, The Highlander Hotel is also pet friendly. So you can bring a furry friend along for your stay!
The Highlander Hotel, 2525 Highlander Place in Iowa City, Iowa
Let's Be Social
Want even more offbeat adventures, roadside attractions and world's largest things? Follow Olio in Iowa on your favorite social media platforms, and tag #OlioOnTheRoad when you have quirky adventures of your own.
Share Your Thoughts
I would love to hear from you! Have you stayed at The Highlander Hotel? What do you look for when booking a hotel?