Back in the days of the Wild West, the cowtowns of southwest Kansas were infamous. Hardworking cowboys and rowdy outlaws converged to help foster towns full of saloons, dance halls, gambling parlors and more. Though times have changed, there are still lots of exciting and offbeat things to do in Dodge City, Kansas.
Known as the Queen of Cowtowns, Dodge City was officially incorporated in 1872. Like any true Old West legend, Dodge City's history begins with booze (literally). After Colonel Richard Dodge banned the sale of alcohol at the nearby Fort, George Hoover tied a rag to his wagon wheel and measured exactly five miles outside the fort. On that spot, he opened the saloon that gave Dodge City its start.
In the 1950s, the popularity of Dodge City's Wild West lore had a resurgence with the airing of the radio serial "Gunsmoke." This popular series ran for more than 20 years and eventually became a TV of the same name. Even if they'd never been to Kansas, thousands of viewers were now captivated by the story of the community's early days.
Today, Dodge City remains true to its western roots. Here you'll find plentiful historic sites, innovative alcohol purveyors, engaging museums and so much more. Step back in time with a visit to the new Old West, and discover 10 exciting things to do in Dodge City, Kansas.
Things to Do in Dodge City, Kansas
Explore the Boot Hill Museum
The best way to immerse yourself in the history of Dodge City is with a visit to the Boot Hill Museum. Located on the original site of Boot Hill Cemetery, this interactive museum highlights the glory days of the Queen of the Cowtowns. Starting in the main museum building you'll learn about the indigenous peoples who lived in this area. From there, you'll meet the early explorers and Wild West icons who made Dodge City infamous.
Afterwards, you'll wander outside to a replica of Front Street to see what Dodge City looked like in its earliest days firsthand. Wander a recreation of Boot Hill Cemetery, sip a cold sarsaparilla in the saloon and even witness a gunfight between outlaws.
One of my favorite parts of the Boot Hill Museum was how interactive it makes Dodge City's history. In addition to the live reenactors you'll encounter throughout the museum complex, the Boot Hill Museum has done a great job incorporating technology into its exhibits.
Pick up a shot glass from the bar to learn about founding of Dodge City from George Hoover himself. Or wander into the Historic Santa Fe Depot to learn about Harvey Houses from one of the famed Harvey Girls just as a train of passengers arrives.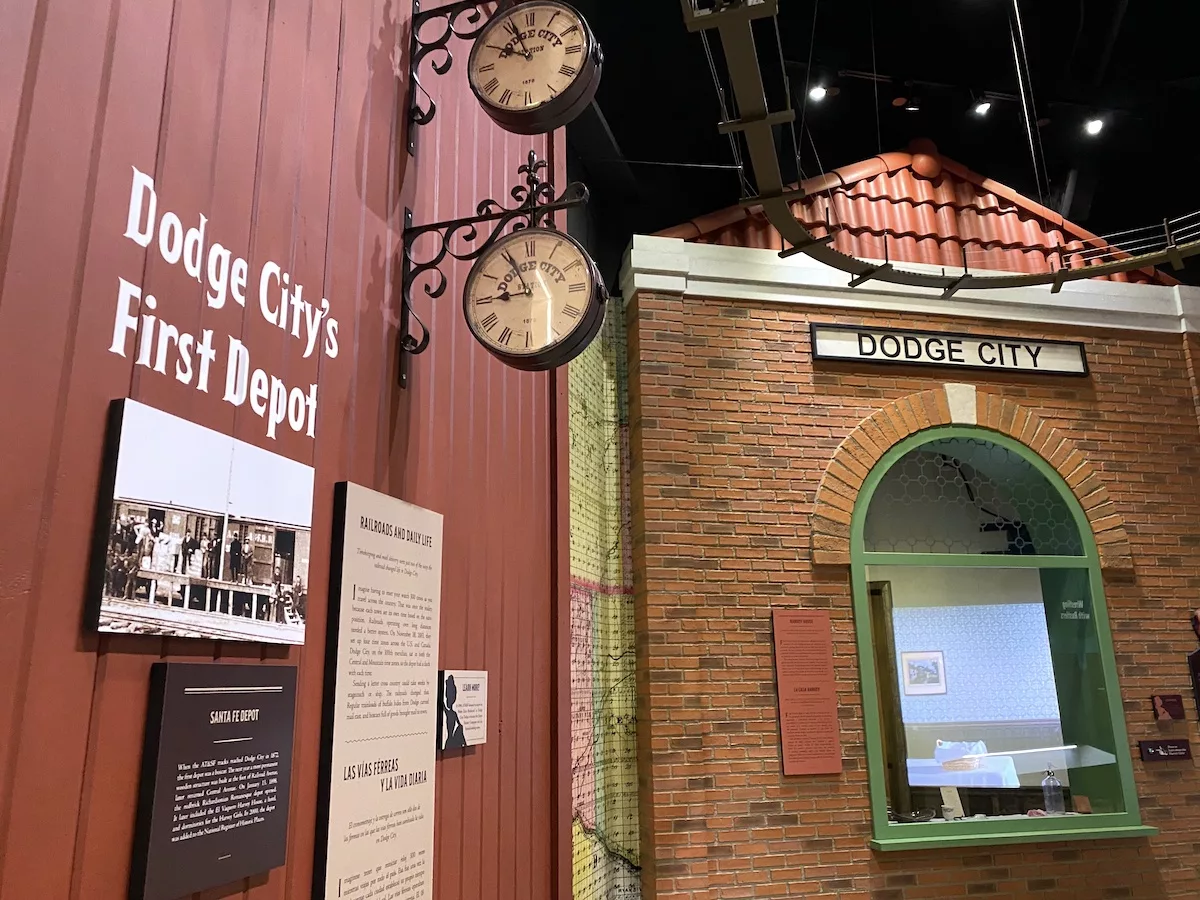 Why is it called Boot Hill?
In 1872, two cowboys camping on the Dodge City hillside had a gunfight. One of them died, but his identity was unknown. So, he was wrapped in a blanket and buried where he fell with his boots still on. And so Boot Hill was born.
For six years of its early history, Dodge City had no official cemetery. People who died and had family to help pay for their plot were buried at the cemetery at Fort Dodge. But those who didn't were buried where it was most convenient. Quickly, Boot Hill became the most famous burial ground in the Wild West, despite the fact that it was only used until 1878. While the remains of gunfighters and outlaws laid to rest here have since been moved, the legend of Boot Hill lives on.
Boot Hill Museum, 500 W. Wyatt Earp Boulevard in Dodge City, KS
Tour the Mueller-Schmidt House (aka the Home of Stone)
If you're interested in historic homes, you won't want to miss the Mueller-Schmidt House, also known as the Home of Stone. John Mueller built this stately limestone home between 1879 and 1881.
Mueller was a boot maker and cattle rancher who was a prominent figure in Dodge City's early history. But misfortune fell upon the family after a series of fires that razed Mueller's shop and a blizzard that wiped out his ranch. So in 1890 Mueller was forced to sell his prized home.
Local blacksmith Adam Schmidt purchased the Home of Stone and moved in with his family that same year. His two children, Heinrich and Elma, never married and continued to live in the home until the 1960s. At that time, Elma sold the home to the county and it became a museum in 1965.
Because only two families lived in the Home of Stone, the house remains largely as it would have been when it was originally built. In fact, many of the home's original furnishings are still on display including walnut chairs and a loveseat as well as a horsehair tapestry.
Today, the home is the only remaining native limestone house in Dodge City. It's also the oldest building in Dodge City still located on its original site. The home is open for tours from Memorial Day through Labor Day, or by special appointment. If you're visiting Dodge City, this is a great way to learn about the families who helped build the community and see how they lived.
Mueller-Schmidt House Home of Stone, 112 E. Vine Street in Dodge City, Kansas
Say Hello to La Salsa Muffler Man
Stop by the La Salsa Man to snap a photo and learn about this unique tribute to one of Dodge City's famous native sons. Did you know that Actor Dennis Hopper of "Easy Rider" fame grew up in Dodge City?
Hopper was also a big fan of kitschy roadside giants. So he had two of his own Muffler Men created, a Mobile man and the La Salsa Man that toured the country with Hopper's art show.
Artist Bob "Daddy O" Wade created the La Salsa Man for Hopper using an adapted soda jerk Muffler Man. Does that name sounds familiar? It's probably because Wade was also responsible for the La Salsa Man located along the Pacific Coast Highway in Malibu, California.
After he passed away in 2010, the Dodge City Area Arts Council received both of Hopper's Muffler Men. In 2013, the legendary giants arrived in Dodge City, and today, you can find the La Salsa Man just up the street from Dodge City Brewing.
La Salsa Man, 3rd Avenue & W. Vine Street in Dodge City, Kansas
Dine at Delicious Restaurants
You'll definitely work up an appetite exploring the Old West in Dodge City. Thankfully, there are plentiful places to enjoy a delicious meal in this community. From craft breweries and coffee shops to classic steakhouses and fusion fare, you're sure to find a place to satisfy what you're craving at one of the restaurants in Dodge City, Kansas.
Hunt for Antique Treasures
Take a piece of local history home with a visit to one of Dodge City's local antique shops. If you're exploring downtown, Boot Hill Antiques is a must-stop shop for anyone who loves the thrill of antique hunting. This sprawling shop spans multiple floors and is brimming with potential treasures. Next, head north of town to Dodge City Antique Mall. This shop is on the smaller side. But it has some truly unique booths filled with decor, home goods, apparel and more.
Boot Hill Antiques, 510 N. 2nd Avenue in Dodge City, Kansas
Dodge City Antique Mall, 1701 N. 14th Avenue in Dodge City, Kansas
Snap a Photo with El Capitan
Pay tribute to Dodge City as the Queen of Cowtowns with a visit to El Capitan. You'll find this life-size longhorn statue in the heart of historic downtown. The bronze sculpture by artist Jasper D'Ambrosi commemorates the decade of Texas cattle drives that passed through Dodge City between 1875 and 1885.
Fun fact: Oftentimes, the steer leading the drive would make multiple trips back and forth. Those steers were appropriately called El Capitan.
El Capitan Longhorn Statue, 510 N. 2nd Avenue in Dodge City, Kansas
Sample Spirits at Boot Hill Distillery
Even if you're not typically a sampler of spirits, your visit to Dodge City should absolutely include a stop at Boot Hill Distillery. Built on the site of Dodge City's original Boot Hill, this small-batch distillery has an incredible tasting room and connection to the area's rich local history that you won't want to miss.
Boot Hill Distillery, 501 W. Spruce Street in Dodge City, Kansas
Visit the Historic Santa Fe Depot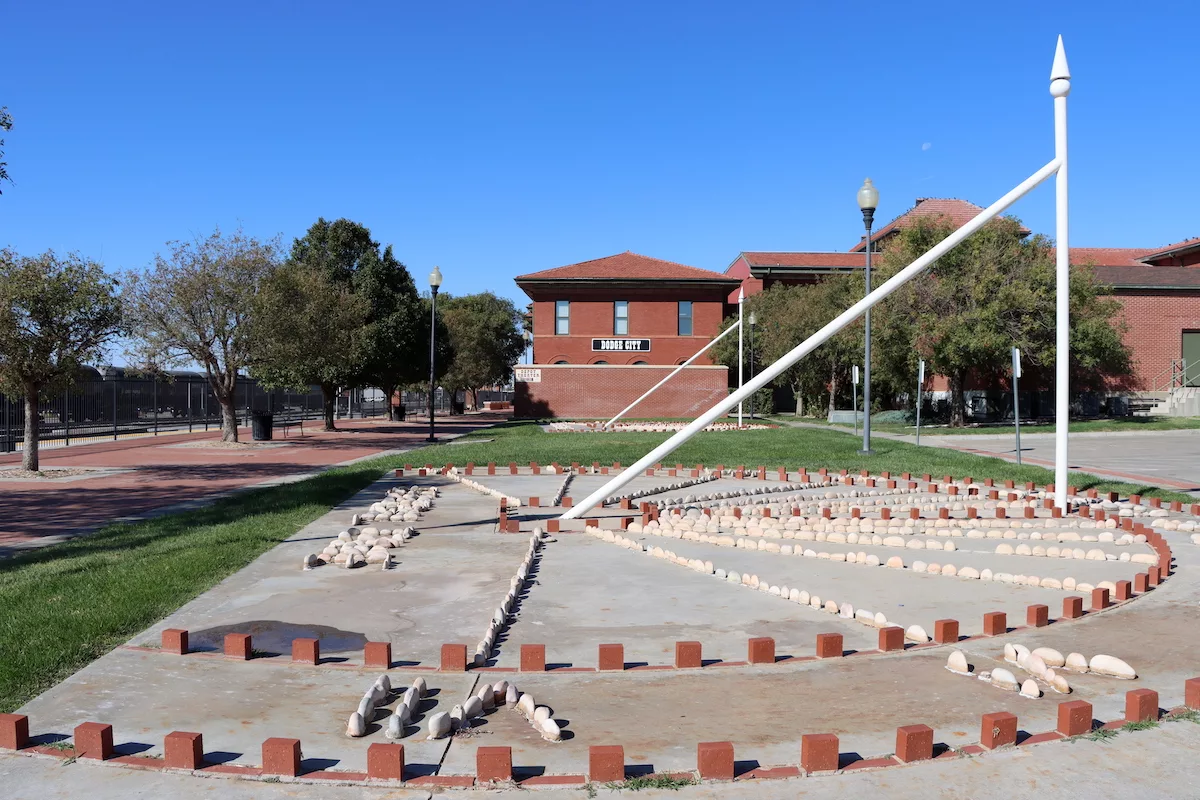 Opened in 1898, Dodge City's Historic Santa Fe Depot was the largest rail depot ever built in Kansas. While the community played a vital role in cattle production and transportation, it was also one of the last significant stops before the more undeveloped west.
The Historic Santa Fe Depot was also home to one of the many Harvey House Hotels that doted the West at the time. These railroad hotels provided quality accommodations for those riding the rails, whether they needed a place to stay overnight or simply a warm meal.
Today, the station has been renovated to resemble how it would have looked in the 1920s. Much of the space now houses offices and the Depot Theater. But the depot still serves Amtrak passengers traveling cross country. Even if you aren't catching a train, it's absolutely worth peeking into this historic space.
Historic Santa Fe Depot, 201 E. Wyatt Earp Boulevard in Dodge City, Kansas
Take a Historic Walking Tour
This western town has had its fair share of famous residents and visitors. So what better way to get to know some of them than by taking a walking tour to experience the Dodge City Trail of Fame among other notable sights. Keep an eye out for medallions and handprints of Hollywood icons like Burt Reynolds, Dennis Weaver and more. I also enjoyed the custom pole art banners you'll find around downtown. Each of these metal cutouts depict a different historical event or figure in Dodge City's history.
Pick up a copy of the Dodge City Historic Walking Tour brochure for yourself at the Dodge City Visitor Information Center.
See the View at the Cattle & Feedlot Overlook
While Dodge City's Wild West heyday has passed, this Kansas community is still a huge beef producer. And you don't have to go far to see it firsthand. Just off of Dodge City's main drag, you'll find a scenic overlook. From that vista, there are cattle yards and feed lots as far as they eye can see. This is a great spot to get a feel for how Dodge City's Cowtown past connects to its agricultural present.
Cattle & Feedlot Overlook, 11347 E. Wyatt Earp Boulevard in Dodge City, Kansas
Share Your Thoughts
I would love to hear from you! Have you visited a Midwestern cowtown? What are your favorite things to do in Dodge City, Kansas?