As the Queen of Cowtowns, founded because of the local demand for booze, it's no surprise that you'll find delicious restaurants in Dodge City, Kansas. Plus, this community is home to some seriously talented brewers and distillers.
From craft breweries and locally-owned coffee shops to classic steakhouses and fusion fare, this southwestern Kansas town has no shortage of dining options. Whether you're looking for something light to snack on or a full-course dinner, you're sure to find something delicious here.
The next time you find yourself hungry in southwest Kansas, check out one of these six restaurants in Dodge City, Kansas.
Places to Eat & Drink in Dodge City, Kansas
Even if you're not typically a sampler of spirits, your visit to Dodge City needs to include a stop at Boot Hill Distillery. Visiting this local gem was an easy highlight of my trip to Dodge City and, even months later, I'm still enjoying some of the spirits I brought home with me.
Built on the site of Dodge City's original Boot Hill Cemetery, this small-batch distillery hasn't taken its rich history lightly. As part of its transformation into a distillery, the former 1929 City Hall building was saved from demolition and brought back to its former glory. But the distillery's commitment to history goes even further than its location. Boot Hill Distillery even resurrected the recipe for a now-defunct "miracle cure" of the 1910s to make their own Prickly Ash Bitters.
Today, the area is jokingly referred to as "Booze Hill" because of the distillery's proximity to Dodge City Brewing. At the distillery's tasting room you'll find a menu of seasonally changing cocktails as well as a variety of charcuterie snacks.
This comfortably Western-themed bar is a great place to unwind after a day of exploring while sipping on a signature cocktail. Plus, the distillery stocks plenty of bottles (and branded merch) in case you find a new favorite for at-home sipping.
If you have the opportunity, I highly recommend taking a tour (offered on Friday and Saturday evenings) for a behind-the-scenes look at the distillery's operations. Not only will you learn a lot about the distilling process, but you'll also get a great Dodge City history lesson. And, of course, you'll also have the opportunity to sample the Boot Hill Distillery's award-winning spirits for yourself.
Boot Hill Distillery, 501 W. Spruce Street in Dodge City, Kansas
It's no secret that I can't resist a classic steakhouse. Bonus points if it's full of quirky character. And Dodge City's Casey's Cowtown Club fit the bill perfectly.
In a cowtown like Dodge City, it's not surprising to find a steakhouse or two. Casey's Cowtown Club is a local institution that's been serving up hearty portions and sizable steaks for decades. The interior of this bustling restaurant is appropriately western-themed with memorabilia and art everywhere you look.
No matter which cut of beef you choose, all meals come with a salad, your choice of potato, vegetable and dinner rolls. There's definitely a vintage charm to Casey's Cowtown Club, but that doesn't mean this eatery is past its prime. I thoroughly enjoyed my meal here during my visit to Dodge City and would definitely recommend a meal here, especially if you're looking for an ambiance similar to what you might find on Route 66.
Casey's Cowtown Club, 503 E. Trail Street in Dodge City, Kansas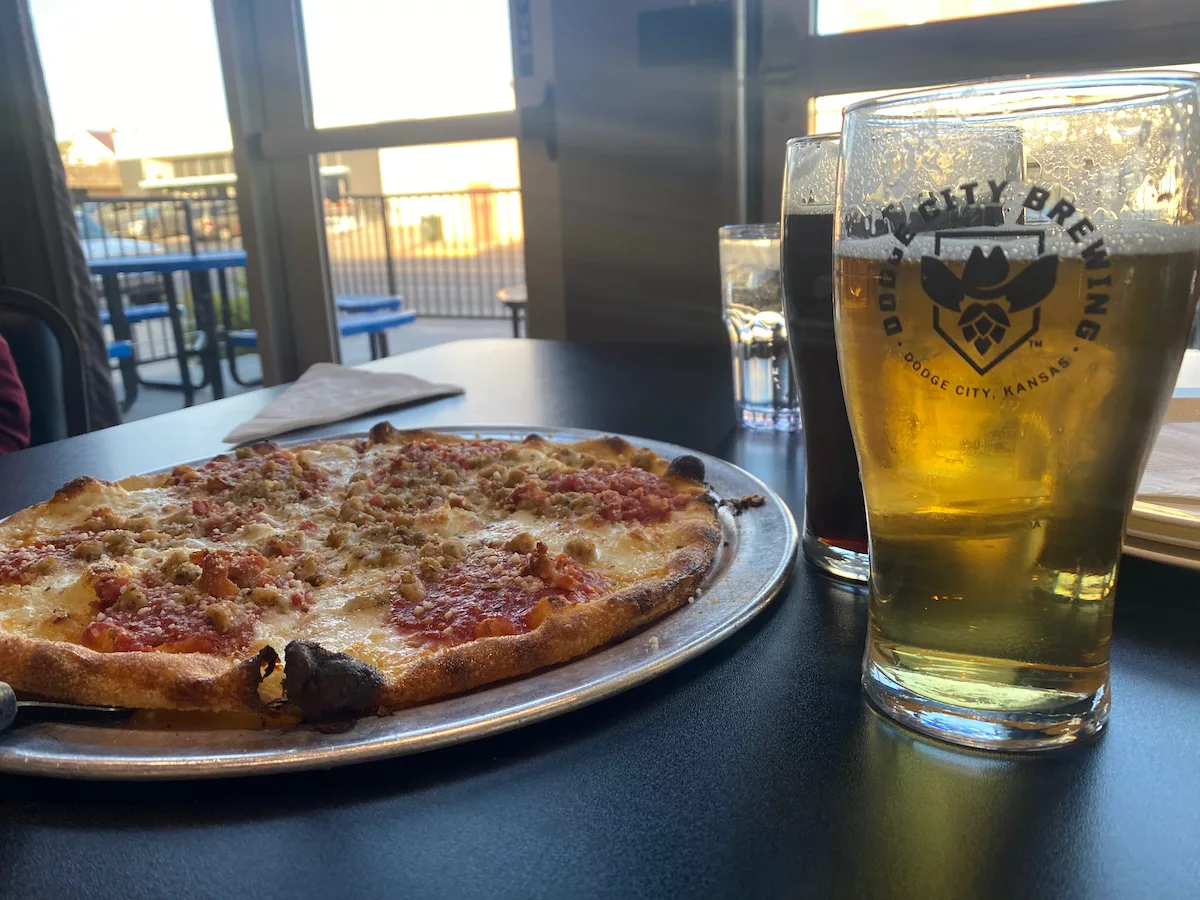 As far as I'm concerned, every small town should have a brewery. And Dodge City Brewing is an excellent addition to the other local spots you'll find in this southwestern Kansas town.
Located at the base of "Booze Hill, just down the street from Boot Hill Distillery, this craft brewery serves 11 of its signature beers in a variety of styles. It's a popular local spot where everyone gets treated like a regular, even if you're an out-of-towner.
Even if craft beer doesn't interest you, Dodge City Brewing is worth a visit for its brick-oven pizza alone. These pies are seriously delicious and are perfect for sharing with a group. Plus, on Thursdays Dodge City Brewing has a one-night-only pizza special that I've heard draws quite a crowd.
Dodge City Brewing, 701 3rd Avenue in Dodge City, Kansas
If you're looking for a restaurant with a hearty menu but inventive dishes, look no further than Eclectic Bistro. Located on the north side of Dodge City, this popular eatery brings a modern twist to classic bistro fare.
During my time in Dodge City, I visited Eclectic Bistro mid-day and it was a popular spot for business lunches and casual alike. I opted for the Eclectic Burger, which is served with bacon onion jam, Boursin and arugula alongside the eatery's garlic French fries. Sadly, I was too stuffed after my burger to sample them for myself, but I heard great things about this spot's desserts from other diners.
Eclectic Bistro, 208 W. Frontview Street in Dodge City, Kansas
La Hacienda Tacos y Salsa
Just like Liberal, Kansas, there are plentiful options for delicious Mexican food in Dodge City. I took a strong recommendation from a local and ended up at La Hacienda Tacos y Salsa. And it's safe to say I wasn't disappointed!
True to its name, La Hacienda has a large variety of salsa options and all of them are delicious. I opted for a burrito desayuno (or breakfast burrito, in English) with beans, cheese and ham. And, of course, I couldn't resist choosing a few to-go salsas to enjoy with my order.
La Hacienda Tacos y Salsa, 504 Avenue J in Dodge City, Kansas
Coffee is an essential part of any trip for me, and I love seeking out locally owned coffee shops when I travel. So, I was delighted to discover Red Beard Coffee. This gem of a coffee shop is located in the heart of historic downtown Dodge City, and is the perfect place to caffeinate before a day of exploring.
Opened in 2017 by Dodge City native Clinton Conant, Red Beard Coffee is bustling with locals and visitors alike no matter the time of day. In addition to a variety of caffeinated beverages, the cafe also serves smoothies and light breakfast fare. If you're looking for something slightly sweet, I recommend the Honeycomb, one of Red Beard Coffee's signature lattes.
Red Beard Coffee, 319 Gunsmoke Street in Dodge City, Kansas
Let's Be Social
Want even more offbeat adventures, roadside attractions and world's largest things? Follow Olio in Iowa on your favorite social media platforms, and tag #OlioOnTheRoad when you have quirky adventures of your own.
Share Your Thoughts
I would love to hear from you! What are your favorite restaurants in Dodge City, Kansas?