I've spent my fair share of time in Wisconsin. I'd even explored southern Wisconsin before. But a lot can change in a few years, especially in a community that's passionate about supporting its downtown. I thoroughly enjoyed myself when I visited this community a few years ago, but now there are even more amazing things to do in Janesville, Wisconsin now.
This southern Wisconsin town is thrumming with creativity, from innovative restaurants and unique eateries to a growing public art scene and bustling local events. There's a lot to see, do and eat here, whether you're visiting from down the road or across the state line. In Janesville you'll find delicious food, rich local history and even a quirky attraction or two.
Whether you're a local history buff, an avid foodie or an appreciator of the arts, there are lots of great things to do in Janesville, Wisconsin.
Things to Do in Janesville, Wisconsin
Janesville is a community full of fun, seasonal events. And one of the city's most colorful annual festivals is Art Infusion, a weekend-long mural and chalk festival.
Since 2011, Art Infusion has brought chalk artists of all skill levels to the streets of Janesville to create beautiful, temporary works of art. But in recent years, its impact has become a bit more permanent. In 2020, the festival added a wall mural component bringing even more murals to the city in the past few years.
It was so much fun to see the muralists from across the Midwest, around the country and even internationally work on their pieces in the days leading up to the festival and throughout the weekend. This year, five new murals were added to Janesville's downtown as part of the festival.
Celebrate the Seasons at Skelly's Farm Market
Lean into local produce with a visit to Skelly's Farm Market. This local spot is open June through October and is the perfect spot to score some seasonal treats, especially during the fall. During the summer you'll find strawberries, summer produce and even sunflowers here but once autumn comes, Skelly's goes all in on pumpkins, a corn maze and more.
We had a blast exploring the amazing autumnal market and grabbing some cider and apple cider donuts to snack on. If you're looking for pumpkins, mums or any sort of interior fall decor, you won't want to miss a trip to Skelly's.
Skelly's Farm Market, 2713 S. Hayner Road in Janesville, Wisconsin
Dig into Some Delicious Food
From true Wisconsin staples like cheese curds and supper clubs to innovative restaurants with seasonal selections, there are lots of delicious places to discover here. I was delighted to find some inspiring local eateries here, and I think you will be, too. The next time you're exploring the southern part of the state and find your stomach growling, stop into one of these eight incredible places to eat in Janesville, Wisconsin.
Explore the Public Art Scene
Thanks to Art Infusion, Janesville is quickly becoming a destination for incredible, large-scale public art. Not only will you find lots of murals adorning the sides of buildings downtown, but the city's riverwalk is also dotted with sculptures and other installations.
Wander around downtown to see some of the city's incredible public art. Be sure not to miss the riverfront Town Square that includes a beautiful, sculptural pedestrian bridge.
To make your public art adventure even easier, bookmark this handy interactive map that the Janesville Area Convention & Visitors Bureau created.
Keep Time at the Human Sundial
Turn yourself into a time-telling device with a visit to the Joan and John Evans Legacy Sundial. Located in Lions Park right next to the Rotary Botanical Gardens, this interactive installation is a fun experience for all ages. Find the correct month and watch the shadow you cast show you what time it is.
Fun fact: This is one of only three human sundials in Wisconsin.
Evans Legacy Interactive Sundial, Lions Park, 1401 Palmer Drive in Janesville, Wisconsin
The city of Janesville was founded in 1835 along the banks of the Rock River. Even though time has passed, much of its early history remains intact today. In fact, the community has more than 2,400 buildings listed on the National Register of Historic Places. That's nearly 20 percent of all the historic buildings in the entire state of Wisconsin. So, if you like historic architecture and local lore, Janesville absolutely needs to be on your Midwest bucket list.
Stay at the Guardian Angel Bed & Breakfast
If you're looking for a place to stay with a little extra character, the Guardian Angel Bed & Breakfast is the spot for you. Located in a historic 1871 home in Janesville's Prospect Hill neighborhood, this bed and breakfast has no shortage of character and is teeming with antique touches. The bed and breakfast's owner Carol has decorated every inch of this Italian-style home so you'll have plenty to take in during your stay. Her decor even changes with the seasons and when we visited everything was fully autumnal.
In true bed and breakfast fashion, Carol serves a delightful four-course breakfast every morning, which was definitely a highlight of our stay. Even on the morning we had to get an earlier start, Carol packed us a lovely snack bag so we could enjoy our breakfast while we explored.
Guardian Angel Bed & Breakfast, 429 Prospect Avenue in Janesville, Wisconsin
Visit the Janesville Farmers Market
Get a taste for local flavors with a trip to the Janesville Farmers Market. This weekly market is held Saturday mornings in May through October in Janesville's Town Square. Here you'll find local produce alongside homemade baked goods, cheese curds and so much more. We had so much fun exploring the vendors and listening to the musicians that perform during the event.
Janesville Farmers Market, Town Square in downtown Janesville, Wisconsin
Wander the Rotary Botanical Gardens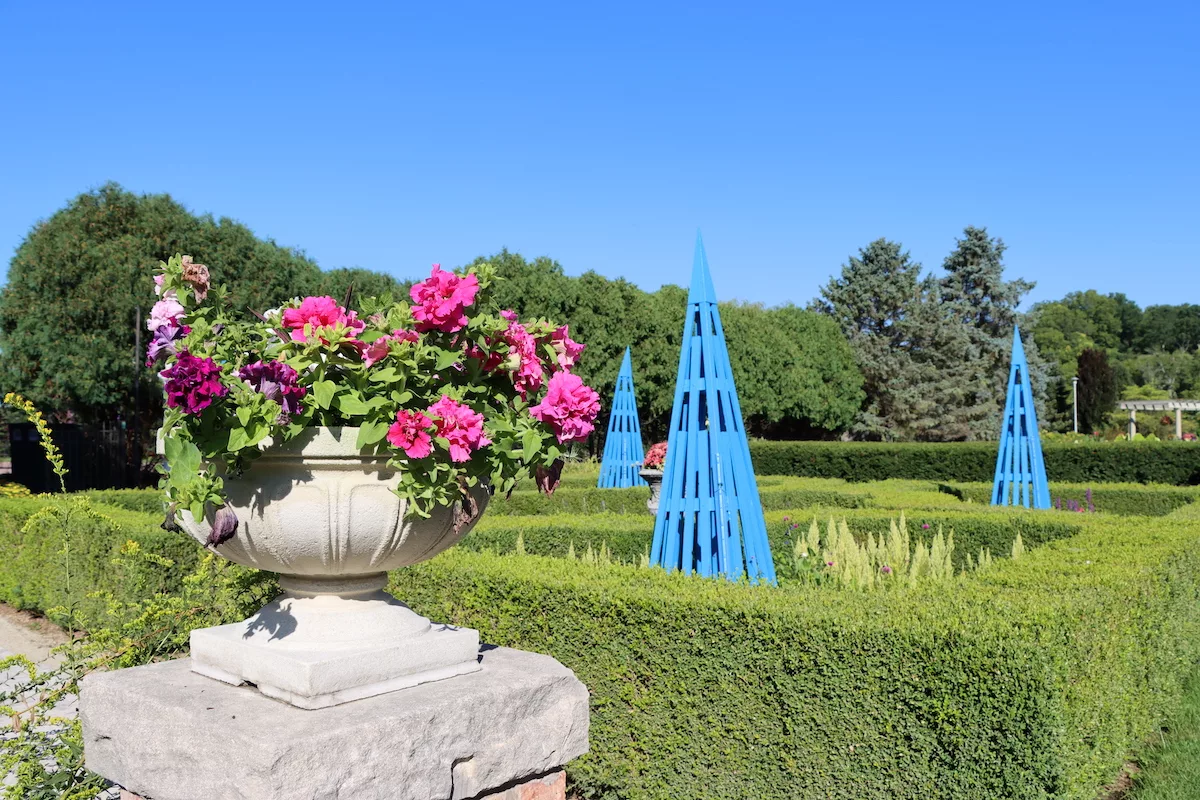 If you're in the market for a beautiful outdoor spot to recharge, look no further than Janesville's Rotary Botanical Gardens. This 20-acre botanic garden is open year-round and has 24 themed gardens and more than 4,000 varieties of plants. No matter the season, this outdoor space is a beautiful place to explore and experience one of Janesville's hidden gems. 
Rotary Botanical Gardens, 1455 Palmer Drive in Janesville, Wisconsin
Witness the World Record-Winning Rock Aqua Jays
If you haven't spent time in Wisconsin, you might not know about the state's passion for water skiing. But this isn't just your typical summer recreational activity. These water skiing shows incorporate dozens of skiers creating impressive pyramids, performing synchronized routines and so much more. When you visit Janesville, be sure to check the Rock Aqua Jays Water Ski Show schedule to see if you can fit in a show.
The last time we visited Janesville, the Rock Aqua Jays were attempting a new Guinness World Record to create the Largest Human Water Skiing Pyramid Formation in celebration of the 100th anniversary of water skiing. We spent a few hours camped out down river with lots of other spectators hoping to catch an attempt or two. While we didn't see the one that made the record books, the team ultimately did beat their own record with 93 skiers in pyramid formation at one time.
If you're visiting Janesville between Memorial Day and Labor Day, the Rock Aqua Jays perform twice weekly.
Share Your Thoughts
I would love to hear from you! Have you been to this part of southern Wisconsin? What are some of your favorite things to do in Janesville, Wisconsin?