Why settle for one Midwest city when you could spend the weekend exploring four? Straddle the border of Iowa and Illinois and discover all of the exciting things to do in the Quad Cities.
After a quick couple days exploring the area, I knew we would need to come back. There's so much more to see and do (and eat). But my inaugural visit was filled with great ways to spend a weekend exploring the Quad Cities. From amazing outdoor spaces to delicious dining options to artistic accommodations, these communities are teeming with hidden gems.
Whether you're a lover of the arts or a die-hard foodie, the Quad Cities has lots of unique places to discover. Make plans to crisscross the Iowa and Illinois border and keep reading to discover creative places to stay, delicious dining experiences and exciting things to do in the Quad Cities.
Disclosure: Visit Quad Cities hosted my trip to the Quad Cities. However, all opinions are my own.
This post may contain affiliate links, which means I may receive a small commission at no additional cost to you.
Things to Do in the Quad Cities
Explore Black Hawk State Historic Site
Opt outside and learn about the area's indigenous peoples with a visit to Black Hawk State Historic Site. Named for the famous Sauk warrior Black Hawk, this area overlooking the bluffs is full of local history and a great example of the area's flora and fauna. If you're in the mood for a hike, this 208-acre park has some beautiful, maintained trails that wind along the Rock River.
After you explore the outdoors, step inside the Watch Tower Lodge, which was built by the Civilian Conservation Corps in the 1930s and 1940s. Today, the building is home to the John Hauberg Museum, which focuses on the history of Black Hawk and the Sauk and Meskwaki peoples. This small museum has some great exhibits, including beautiful beadwork and examples of early indigenous dwellings.
On the opposite end of the building, you'll find an exhibit about the Civilian Conservation Corps and its impact on the early Quad Cities area. The lodge itself is a unique piece of local history and worth wandering during your visit. Be sure to check out the intricate murals in the lodge's main room.
Black Hawk State Historic Site, 1510 46th Avenue in Rock Island, Illinois
Visit Quad City Botanical Center
Whether you're a plant lover or just looking for a way to enjoy the outdoors, you need to visit the Quad City Botanical Center. This beautiful riverside attraction features an indoor Sun Garden, sprawling outdoor space, train garden, interactive children's garden and so much more.
Start your botanical adventure indoors admiring the tropical plants and friendly koi in the Sun Garden. Then head outside to see the garden's stately trees and beautiful seasonal blooms.
In addition to a whimsical children's garden—complete with a fanciful fairy dwellings—the Quad City Botanical Center has an amazing scale model of the Mississippi River.
Wander the locks and dams to see how the mighty Mississippi looks from an aerial view. But this scale replica isn't just for show. During the warmer months, it's an interactive splash pad that's popular with the garden's younger visitors.
See what's growing the greenhouse before admiring the garden's murals and large-scale sculptures.
If it's open during your visit, don't miss the Train Garden. This miniature model is a partnership with the Heartland Model Railway Club and features up to four independent trains running on almost 800 feet of track.
Quad City Botanical Center, 2525 4th Avenue in Rock Island, Illinois
Sip Along the Quad Cities Coffee Trail
If you've been a reader for awhile, you know that coffee is an essential part of all of my trips. Thankfully, finding a local coffee shop in the Quad Cities is especially easy with the QC Coffee Trail. Not only will this free digital passport help you discover new local shops, but it's also a great way to score discounts and win prizes.
As you explore and check in at different shops, you'll be eligible to receive rewards like a car coaster, blanket and more. What better way to get caffeinated and show your love of the Quad Cities than by supporting local cafes and coffeehouses!
Follow the Quad Cities Public Art Trail
I love visiting communities that have prioritized public art. In the Quad Cities, there's so much outdoor art that they've created the QC Public Art Trail. This free mobile passport makes it easy to find outdoor art around the area and learn more about the pieces you may stumble upon as you explore.
It was so much fun to mural hunt as we explored downtown Davenport and beyond. Though one of my favorite public art spots was at Lindsay Park along the Mississippi River. There you'll find a series of sculptures inspired by impressionist Georges Seurat's painting Sunday in the Park. Had it not been for the QC Public Art Trail, I never would have discovered this beautiful spot.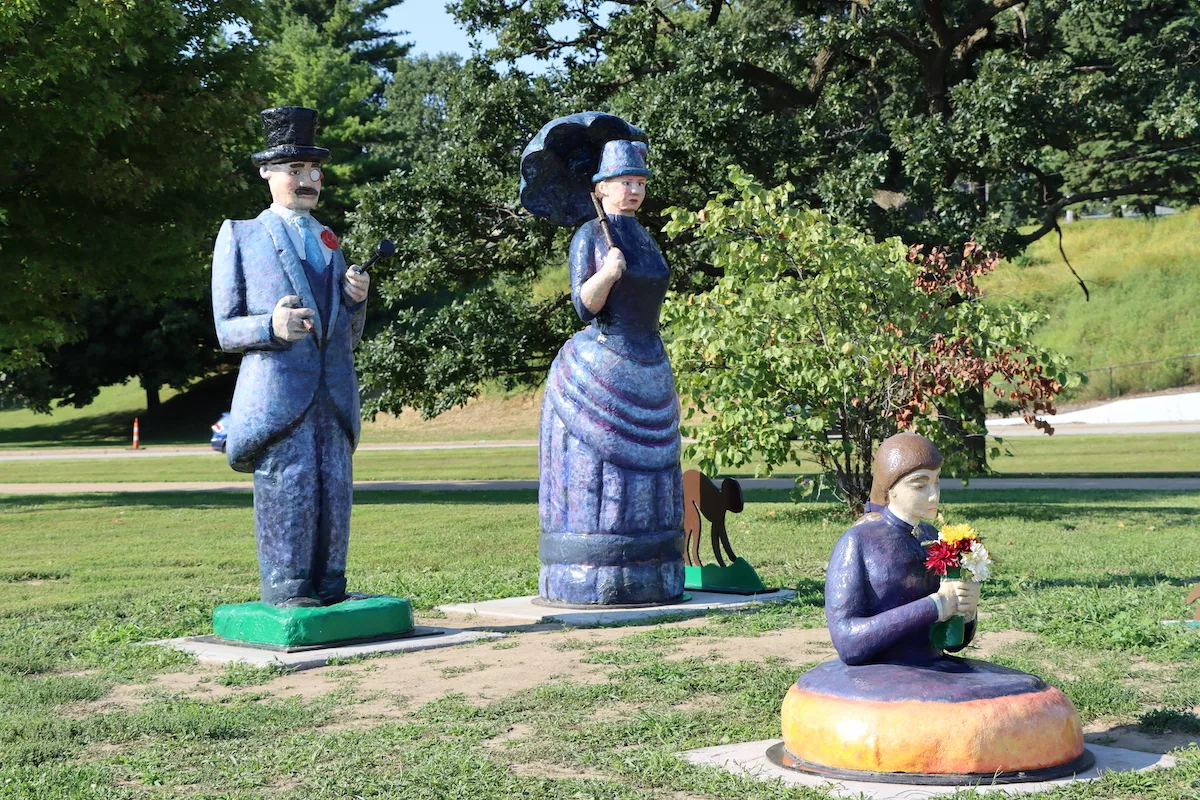 Must-Try Restaurants in the Quad Cities
Start your day exploring at the Quad Cities at 392 Caffe. This vibrant coffee shop serves all sorts of drinks along with a filling menu of sandwiches, bowls and toasts.
This local favorite has a number of locations around the Quad Cities, including in Clinton and Utica Ridge. Be sure to check in using the QC Coffee Trail passport when you visit!
392 Caffe Davenport, 502 W. 3rd Street in Davenport, Iowa
Embrace your preppier side with a visit to Armored Gardens. This Davenport eatery has a cool, modern country club feel with some seriously mouth-watering burgers and craft brews.
We stuck to the basics with a classic burger basket and nibbled on waffle fries while soaking up some sun on the patio. During warmer months, the outdoor space at Armored Gardens is the real star of the show with ample seating, colorful murals and yard games.
Armored Gardens, 315 Pershing Avenue in Davenport, Iowa
Experience a tropical getaway without leaving the Midwest at Cavort. This lush eatery combines delectable bites with Tiki-themed cocktails for an unexpectedly delightful experience.
All of the menu items we sampled during our visit were delicious, but Cavort's presentation is what puts this restaurant over the top. Its Instagram-worthy drinks and dishes make this a must-visit spot while you're in the Quad Cities. If you're looking for dinner in addition to drinks, I recommend ordering Rhea's Pot Stickers and the Yucatan Pork Nachos.
Cavort, 229 N. Brady Street in Davenport, Iowa
The slogan of Ruby's is beer, brats and bikes. And honestly, I can't think of anything better.
During our short stay in the Quad Cities, we stumbled upon Ruby's and couldn't resist taking advantage of the patio to enjoy the nice weather. We grabbed a few pints and ordered the signature Ruby's brat, a dog on a pretzel bun topped with cheese, caramelized onions and more. The salt and pepper French fries were the perfect companion (and would be an amazing bar snack on their own).
With ample indoor and outdoor seating, lots of bicycle parking, sand volleyball courts and yard games, this is a great spot to have fun and grab a bite to eat.
Ruby's, 429 E. 3rd Street in Davenport, Iowa
Unique Hotels in the Quad Cities
If you need a cozy and convenient home base for your adventure in the Quad Cities, look no further than The Current. Built on the site of the city's first hotel, this stylish spot combines historic architecture with modern touches to create a truly memorable overnight experience.
This Autograph Collection Hotel is as comfortable as it is convenient. Located in the heart of downtown Davenport, The Current is an easy walk from many of the city's eateries and top amenities.
The Current focuses on the arts and you'll find one-of-a-kind contemporary art pieces in its guest rooms but also throughout the hotel. I loved this additional touch and really enjoyed wandering the property to see all of its artistic touches.
End your day by heading to The Current's rooftop bar and lounge, UP Skybar. Not only does this picturesque rooftop offer stunning views of the Mississippi River and beyond, but it also has plenty of comfortable seating and table-side fireplaces to keep things cozy even after the sun goes down.
The Current, 215 N. Main Street in Davenport, Iowa
Discover Even More with 100 Things to Do in the Quad Cities Before You Die
Still haven't gotten enough of the Quad Cities? Now you can delve into more than 100 things to do in these Iowa and Illinois communities with the book 100 Things to Do in the Quad Cities Before You Die. This awesome almanac touches on some of my favorite spots in the area — like Armored Gardens, the QC Ale Trail and the QC Botanical Center — and has helped me discover so many more.
From incredible local events like Bix Beiderbecke Memorial Jazz Festival to iconic attractions like the Buffalo Bill Museum and World's Largest Truckstop, author Jonathan Turner shares so many fun things to discover in the Quad Cities.
Let's Be Social
Want even more offbeat adventures, roadside attractions and world's largest things? Follow Olio in Iowa on your favorite social media platforms, and tag #OlioOnTheRoad when you have quirky adventures of your own.
Share Your Thoughts
I would love to hear from you! Have you spent time in the area? What are your favorite things to do in the Quad Cities?