I'm a frequent visitor of the World's Largest Truckstop. Maybe you are too. For our household, this stop is a convenient halfway point when we travel along Interstate 80 from Des Moines to Chicago to visit my family. Typically, our truck stop ritual includes a bathroom break, gas tank fill-up, and maybe an order of Wendy's chicken nuggets or cold brew from Caribou Coffee.
But recently I had the opportunity to spend a bit more time at this Iowa icon. And let me tell you, the World's Largest Truckstop has the attractions and amenities to back up its namesake.
For one, this truck stop welcomes an estimated 5,000 visitors every day. And it offers so much more than a quick snack or a bathroom break. From expansive shopping options to in-demand amenities for truck drivers to a unique way to experience trucking history, this is not your typical pit stop.
Whether you have five minutes or five hours, the World's Largest Truckstop is full of unique things to do and unexpected ways to pass the time that are sure to make your next road trip more fun.
Disclosure: This post was sponsored by the Iowa 80 Truckstop. However, all opinions are my own.
This post may contain affiliate links, which means I may receive a small commission at no additional cost to you.
Best Places to Stay Near the World's Largest Truckstop
If you're traveling along I-80 or visiting for the Truckers Jamboree, there are lots of affordable places to stay near the Iowa 80 World's Largest Truckstop.
Closest to the Iowa 80 Truckstop: Comfort Inn Walcott is your closest accommodation near the World's Largest Truckstop. This budget hotel is simple but well reviewed.
Best Boutique Option: The Current Iowa, Autograph Collection is located about 25 minutes southeast of the Iowa 80 Truckstop in downtown Davenport. There are lots of things to do in the Quad Cities, making it a great place to stay in the area.
Great for Concerts & Casino: Rhythm City Casino & Resort in nearby Davenport is located just off I-80. If you're in the area to see a concert, this property is attached to the venue and is a logical option for travelers and attendees alike.
Things to Do at the Iowa 80 World's Largest Truckstop
Stock up on Snacks
When it comes to preparing for a road trip, snacks are one of my top priorities, whether I'm headed to the next county or traveling Route 66. If you feel similarly, the selection at the World's Largest Truckstop will not disappoint. In addition to its 300-seat, full-service restaurant the Iowa 80 Kitchen, the truck stop has lots of other dining options. From fast food like Wendy's, Taco Bell and Dairy Queen to a plethora of grab and go snacks, there are options here to satisfy every craving.
Some of my favorite easy truck stop snacks include Dot's Pretzels, HARIBO gummy bears, and cheese curds. The truck stop also has a great selection of Iowa-made treats like Almost Famous popcorn and Thelma's ice cream sandwiches.
It should come as no surprise that the World's Largest Truckstop has become a destination unto itself. And what better way to mark a visit to such a spot than with a selfie or two.
In recent years, the truck stop has added a number of photo ops, including a Greetings from I-80 mural located on the north side of the building. Be sure to check out the painted I-80 semi-truck trailer indoors in the Super Truck Showroom too!
This one may seem hilariously obvious. But there's a reason that the World's Largest Truckstop is a popular stop for so many travelers. Not only is the truck stop open 24 hours a day. But it's clean and plentiful restrooms place it leaps and bounds above some of the other places we've stopped while on the road.
Fun Fact: Each month the World's Largest Truckstop goes through about 775 rolls (or more than 55 miles) of toilet paper.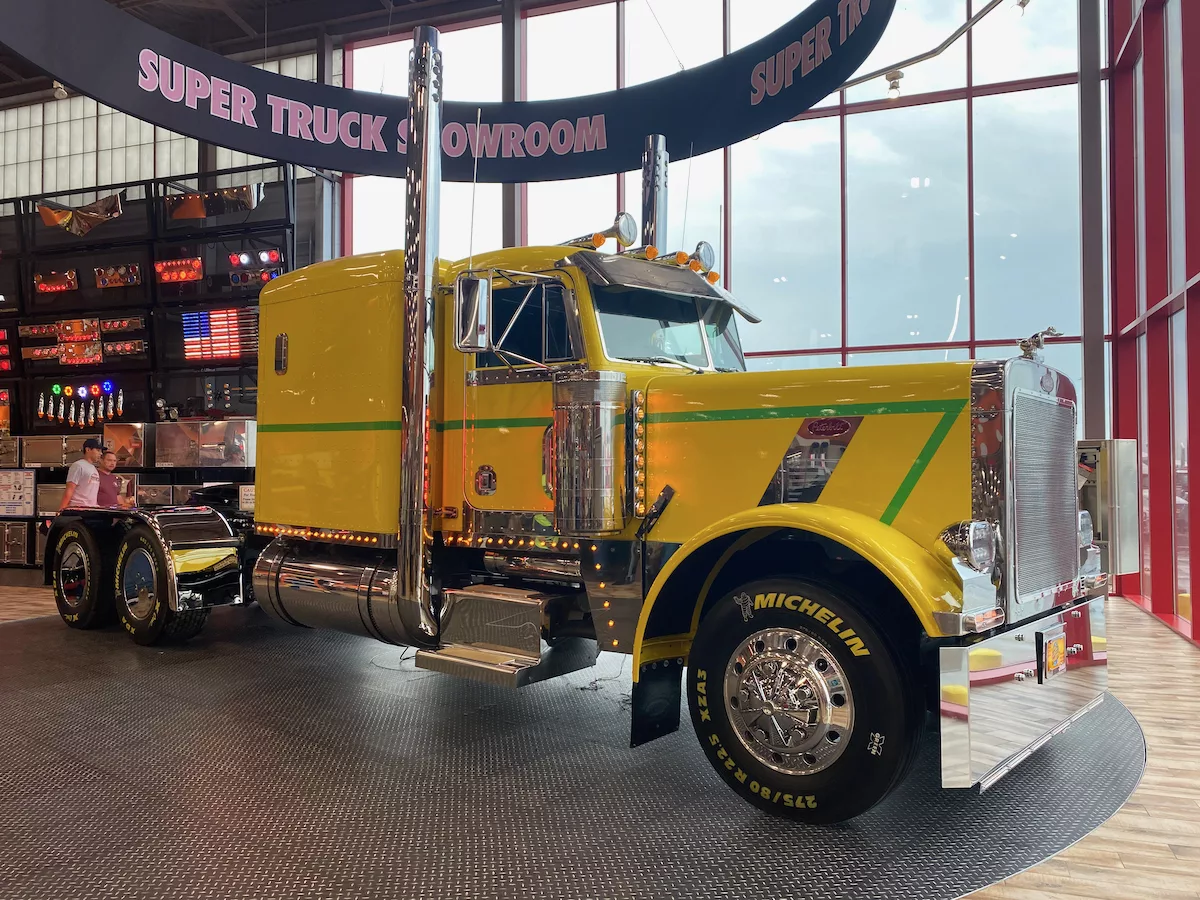 Even if you aren't operating a big rig, the Super Truck Showroom is worth a visit during your truck stop adventure. This section of the truck stop has more than 50,000 items to help truckers stay safe and comfortable while on the roads. From lights and flashers to hood ornaments and electronics, there's no shortage of supplies here.
The World's Largest Truckstop also has a custom shop that offers embroidery on jackets, sweatshirts, hats and more as well as custom lettering and business cards while you wait.
In addition to the more traditional amenities you'd expect at a highway waypoint, this truck stop has some notable additions. If you're in need of a little self care, the truck stop has a workout room, laundry facilities and private showers. There is also a small library where you can take advantage of the free wifi and get some work done.
The World's Largest Truckstop is also home to a chiropractor, dentist and barber who all accept walk-in appointments. There's even a movie theater where drivers can relax and watch a movie from the truck stop's library of popular titles.
On the truck stop grounds, you can now also find electric vehicle charging stations as well as the Truckomat washing bay and Dogomat pet wash.
Break up your trip with a video game or two in the truck stop's arcade! Located just off the food court, this is a great place to pop in if you have a few minutes to kill.
Did I mention the arcade is also home to the World's Largest Pacman game? In fact, there are all kinds of world's largest things across Iowa. It doesn't get much better than two giant attractions in one place!
Visit the Iowa 80 Trucking Museum
Even if classic cars don't usually get your engine revving, you'll want to make time to pay a visit to the Iowa 80 Trucking Museum. Located just north of the World's Largest Truckstop, this museum celebrates the history of trucking through rare, one-of-a-kind vehicles.
The Iowa 80 Truckstop's founder, Bill Moon, was also a collector of antique trucks and other memorabilia. And it was his dream to one day have a museum where his collection could be displayed. In 2005, the existing Iowa 80 Trucking Museum opened and offered a glimpse back in time at the history of the trucking industry.
The museum features almost 100 historic trucks with some produced as early as 1910. Wandering the rows of antique vehicles gave me a whole new appreciation for trucking and the wide variety of machines needed to move things from one place to another. Plus, if you're lucky, the museum might be celebrating a milestone birthday for one of its vehicles when you visit.
Admission is free and the museum is open to visitors year round.
Iowa 80 Trucking Museum, 505 Sterling Drive in Walcott, IA
Attend the Annual Truckers Jamboree
Since 1979, the Iowa 80 Truckstop has hosted an annual Truckers Jamboree. This weekend-long event is an opportunity for drivers and community members alike to come together to celebrate their love of the open road. Plus, it's a great way to immerse yourself in all of the things to see and do at the World's Largest Truckstop!
During this annual event, you can spectate events like the Trucker Olympics, which includes competitions like tire flipping, strap rolling and even a water balloon toss. And be sure you don't miss the Best Friend Pet Contest, which gives awards to drivers' cutest furry companions.
The jamboree also includes an antique truck display and super truck beauty contest, which are lots of fun to wander on the truck stop grounds. After you've worked up an appetite, head to the Iowa Pork Chop Cookout for a bite to eat before you enjoy a slate of rockin' live music and nightly fireworks.
If you're interested in attending, mark your calendar for July 13 – 15, 2023!
Plan Your Visit to the Iowa 80 World's Largest Truckstop
Whether you're making a quick pit stop or choosing it as your final destination, the World's Largest Truckstop is a great addition to any road trip. Even if you don't have a lot of time to spend, I recommend grabbing a bite to eat and stretching your legs at the Iowa 80 Trucking Museum.
The truck stop is conveniently located just off of Interstate 80, and is open 24 hours a day, seven days a week.
Iowa 80 World's Largest Truckstop, 755 W Iowa 80 Road in Walcott, IA
Frequently Asked Questions About the World's Largest Truckstop
What is the biggest truck stop in the world?
The biggest truck stop in the world is the Iowa 80 Truckstop, located near Walcott, Iowa on Interstate 80. This popular spot is also known as the World's Largest Truckstop.
How many acres is the Iowa 80 truck stop?
The Iowa 80 Truckstop sits on 225 acres, 75 of which are currently developed.
How many pumps does Iowa 80 truck stop have?
There are 34 fuel pumps at the World's Largest Truckstop.
How many trucks can park at the World's Largest Truck Stop?
The Iowa 80 Truckstop has parking for 900 trucks.
Why is Iowa 80 the largest truck stop?
The Iowa 80 Truckstop is considered to be the largest in the world for a number of reasons, including its acreage, interior square footage and number of daily customers. The site for the truck stop is 225 acres with 100,000 square feet of retail space, serving 5,000 customers per day.
Let's Be Social
Want even more offbeat adventures, roadside attractions and world's largest things? Follow Olio in Iowa on your favorite social media platforms, and tag #OlioOnTheRoad when you have quirky adventures of your own.
Share Your Thoughts
I would love to hear from you! Have you been to the World's Largest Truckstop before? What are your must-do activities at this unique truck stop?