One of the things I love most about the Midwest is its number of offbeat attractions. You'll find wacky stops in North Dakota and big things across Kansas. And the Hawkeye State is no different. In fact, there are all sorts of world's largest things in Iowa!
From the Missouri River on the west and the Mississippi River on the east—and everywhere in between—Iowa is full of quirky attractions. Whether you're looking for a giant statue or a funky food item, there's a world's largest thing for you. The next time you plan a road trip, make sure you visit every world's largest thing in Iowa along the way.
World's Largest Things in Iowa
Albert the World's Largest Bull
Audubon, Iowa
One of my favorite offbeat attractions in Iowa is Albert the Bull. Not only is this 30-foot tall Hereford a fun road trip stop, but he's also the World's Largest Bull.
ALBERT THE BULL PARK, 115 CIRCLE DRIVE IN AUDUBON, IOWA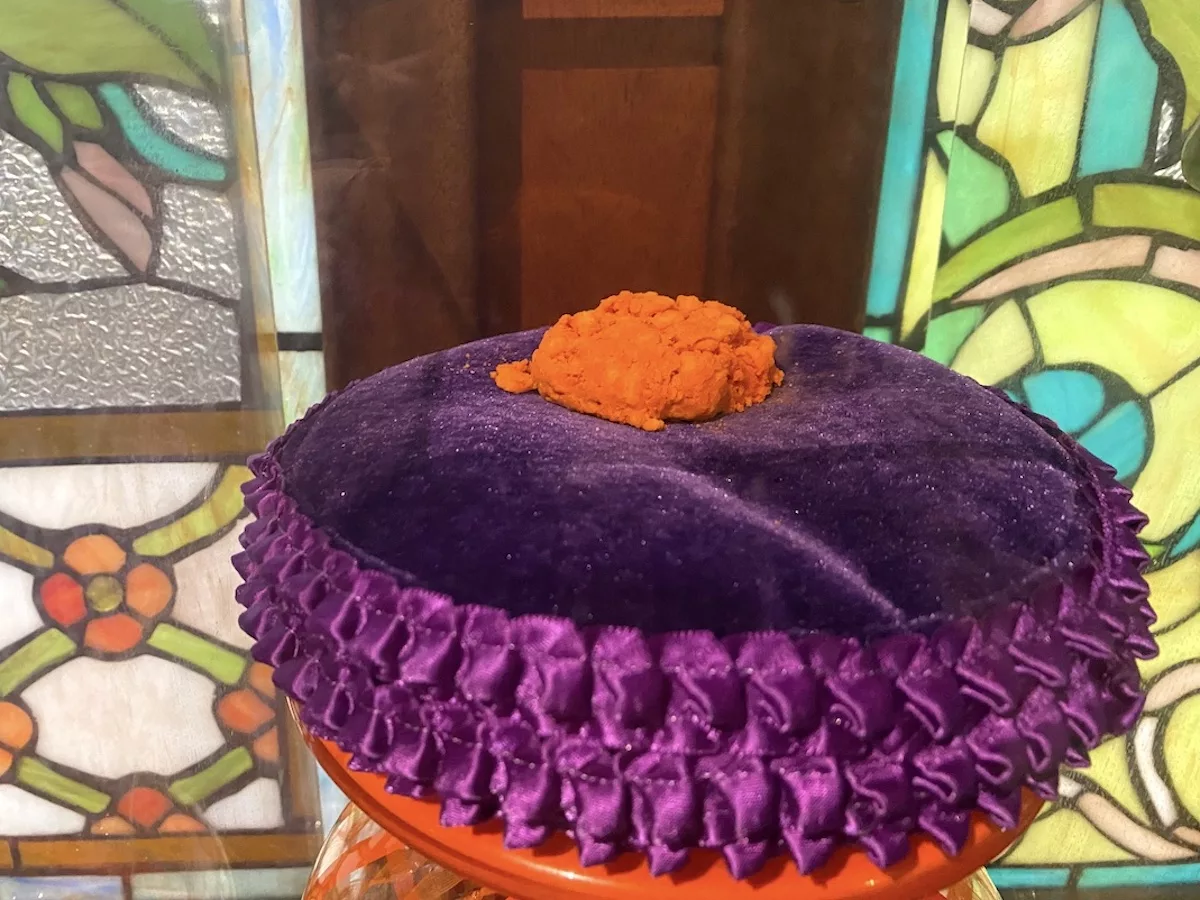 Algona, Iowa
Would you believe that Iowa is home to the World's Largest Cheeto? The sizable snack was originally found in a bag of Cheetos in Hawaii by Navy officer Mike Evans in 2003. The Cheeto is a chunky 3/5 of an ounce and is slightly larger than a silver dollar. For reference, the typical bag of about 40 Cheetos weighs 2 1/8 ounces.
Evans put the Cheeto on eBay and bidding reached over $1 million before the auction was shut down. Ultimately, Evans decided to give the World's Largest Cheeto to the small town of Algona after local radio DJ Bryce Wilson started a campaign to bring the Cheeto to Iowa. It now calls a local restaurant, Emerald's, home and sits atop a purple velvet pillow inside a display case. Though the Cheeto is no longer as in tact as it once was. In fact, the staff at Emerald's jokingly refers to it as the "crumb of Carl."
Emerald's, 1515 N. MCCOY STREET in Algona, Iowa
World's Largest Concrete Garden Gnome
Reiman Gardens, 1407 University Boulevard in Ames, Iowa
World's Largest Golden Spike
Council Bluffs, Iowa
What better way to pay homage to Council Bluffs' railroad history than with the World's Largest Golden Spike? Also known as the Golden Spike Monument, this 56-foot-tall golden railroad spike was installed in 1939 to celebrate the premiere of the film "Union Pacific" in neighboring Omaha.
In fact, Council Bluffs serves as the eastern terminus of the nation's first transcontinental railroad, which was completed on May 10, 1869.
Golden Spike Monument, S. 21st Street & 9th Avenue in Council Bluffs, Iowa
World's Largest Manmade Grotto
West Bend, Iowa
If you've never been to the Grotto of the Redemption, you are seriously missing out. Listed on the National Register of Historic Places, the Grotto attracts more than 100,000 visitors every year, and was constructed using an estimated $4.3 million of stones and precious gems.
300 N. BROADWAY IN WEST BEND, IOWA
World's Largest Pocahontas
Pocahontas, Iowa
Located in Pocahontas County, this unique attraction was built in 1956. While the actual Pocahontas likely never visited Iowa, Senator John Howell, formerly from Virginia, proposed the name for the county in 1850.
However, the idea to build the World's Largest Pocahontas came about 100 years later. In the 1950s, Senator Albert J. Shaw and his son, Frank, had the idea to construct the statue. The World's Largest Pocahontas was designed by W.C. Ballard of Nevis, Minnesota and was constructed by Pocahontas local Marcell Moritz. The cement statue stands at 25 feet tall and is seven feet wide at the base of her skirt and tops of her shoulders.
Hwy 3 and NE 6th Street in Pocahontas, Iowa
World's Largest Popcorn Ball
Sac City, Iowa
Iowa's attempt at the World's Largest Popcorn Ball has been upstaged a number of times now. But Sac City currently holds the record for this particular world's largest thing. In 2016, the community came together to create the current World's Largest Ball of Popcorn. Using a plastic form created by Lundell Plastics as a cradle to support the popcorn during its construction, the completed ball weighs 9,370 pounds and stands at more than eight feet tall.
13TH AND MAIN STREETS IN SAC CITY, IOWA
World's Largest Strawberry
Strawberry Point, Iowa
While there are buildings and water towers painted to look like strawberries, Iowa is home to what is technically the World's Largest Strawberry. This 15-foot tall strawberry sculpture was designed and built by Harold Lange of East Dubuque, Illinois while he was working for the ad agency Frank Hardie in Dubuque in the 1960s. Today you can find it on display in front of the Strawberry Point City Hall.
If you're curious — because I was — the world's largest edible strawberry was grown in Japan. The fruit grew to be palm-sized and weighed 250 grams with an approximate circumference of more than 10 inches.
111 Commercial Street in Strawberry Point, Iowa
World's Largest Swedish Coffee Pot & Coffee Cup
Stanton, Iowa
While Stanton's World's Largest Swedish Coffee Pot no longer towers above the small town, the iconic water towers still call the southwest Iowa community home. A symbol of Swedish hospitality, the giant coffee pot is still on display outside the Swedish Heritage and Cultural Center. The matching World's Largest Swedish Coffee Cup, complete with saucer, still serves the town as a water tower.
SWEDISH HERITAGE & CULTURAL CENTER, 410 HILLTOP AVENUE IN STANTON, IOWA
World's Largest Truck Stop
Walcott, Iowa
If you've driven on I-80 through Iowa, you've probably seen the World's Largest Truck Stop. You also probably won't be surprised to hear that it's one of my favorite places to stop when crossing the state. In addition to a whole lot of snack options, the World's Largest Truck Stop really does have everything.
From a barber shop and dental office to dog groomer and movie theater, there are all sorts of unusual amenities at this truck stop. You can also stretch your legs while visiting the Iowa 80 Trucking Museum.
W. Iowa 80 Road in Walcott, Iowa
World's Largest Wooden Nickel
Iowa City, Iowa
Erected in 2006 as a protest against raised speed limits in the area, the World's Largest Wooden Nickel is a unique piece of protest art. The roadside attraction took six months to create and weighs in around 4,000 pounds. Today you can see it along the roadside in Iowa City.
3246-3248 Iowa River Corridor Trail In Iowa City, Iowa
Let's Be Social
Want even more offbeat adventures, roadside attractions and world's largest things? Follow Olio in Iowa on your favorite social media platforms, and tag #OlioOnTheRoad when you have quirky adventures of your own.
Share Your Thoughts
I would love to hear from you! Have you visited any of Iowa's world's largest things? What are your favorite quirky attractions in Iowa?