If you've heard of Madison County, Iowa, chances are it's because of its covered bridges or the blockbuster film starring Clint Eastwood and Meryl Streep. Sure, maybe you're a big fan of John Wayne and know that this part of Iowa is also his birthplace and boyhood home.
But there's so much more to do in Madison County than experience the iconic covered bridges. Don't get me wrong—if you haven't experienced the bridges before, they're definitely worth a visit. In fact, you can check out my comprehensive guide to planning your personal tour of the Bridges of Madison County by clicking the link below.
There are so many other wonderful things to do in Winterset, Iowa though. Recently I spent a few days getting to know the community during the annual Women's Weekend. Not only did I meet some wonderful locals, but I also discovered that Winterset is a community full of creatives.
Whether you consider yourself artistic or not, Winterset is the perfect place to nurture that spirit. The next time you're in the area or looking for a weekend away, consider some of these unique things to do in Winterset, Iowa.
Things to Do in Winterset, Iowa
Take in the County Courthouse
Did you know that Iowa has 99 counties, each with its own distinct county courthouse? Winterset is the seat of Madison County and home to an impressive limestone courthouse on the square. Completed in 1878, the current Madison County Courthouse was built after the first burned down. This charmingly ornate building serves as a beacon in the center of the town square, and is listed on the National Register of Historic Places.
Madison County Courthouse, 112 John Wayne Drive in Winterset, Iowa
See a Movie at the Historic Iowa Theater
Lately any time Josh and I visit a small town we make it a point to see a movie at the local theater. We typically don't have a lot of time to see movies at home and doing it while we're exploring somewhere new adds an extra layer of fun.
The Iowa Theater is no exception. While I didn't have time to see a movie during my visit to Winterset, I can't wait to go back to this beautifully restored gem for a show. Not only does the Iowa Theater show new releases, but they also screen a wide variety of classics as well.
Iowa Theater, 121 John Wayne Drive in Winterset, Iowa
Find Creative Inspiration
One of the things that surprised me most about Winterset was the town's creative spirit. Everywhere I went I found people passionate about making and creating. Not only that but they were also all generously enthusiastic about sharing their craft.
I'm mildly crafty, but if I'm being honest, didn't have high hopes for what I might create. Not only did I successfully use a blowtorch without injuring myself or catching anything on fire, but I also made a hammered silver bracelet that I'm proud to wear.
Local spaces like Madhaus Gallery give artists and curious creatives alike space to create with a little guidance. Whether you're excited about metalworking and glassblowing or if fiber arts and ceramics are more your speed, you're sure to find something that will spark inspiration.
Get Your Floral Fix at PepperHarrow Farm
Nestled in the beautiful rolling hills of Madison County, you'll find PepperHarrow Farm. This floral oasis is located on the family's 20-acre farm and is home to vibrantly colored dahlia blooms straight out of a late summer daydream.
While PepperHarrow Farm sells bouquets at the Downtown Des Moines' Farmers Market, you can also stop by their adorable flower cottage on the weekends to pick up flowers. In addition to big, beautiful blooms, PepperHarrow Farm also offers events on arranging, floral watercolor and more.
PepperHarrow Farm, 1809 S. 4th Avenue in Winterset, Iowa
Get Your Caffeine Fix with Pammel Park Coffee Company
Coffee is a travel essential for me, whether I'm 20 or 2,000 miles from home. I've followed Pammel Park Coffee Company on Instagram for awhile now, but during my time in Winterset I was finally able to sample their Iowa-roasted beans at the local farmers' market. Not only was their coffee delicious but I also left with a to-die-for fudgy oat bar.
Catch them at the Madison County Farmers' Market on Saturday mornings or visit their roastery just west of town to pick up a bag or two for yourself. My current favorite is their special RAGBRAI blend, the Pedal Pusher.
Pammel Park Coffee Company, 1968 Pammel Park Road in Winterset, Iowa
Madison County is also home to wineries and breweries, but you won't want to miss Winterset Cidery. Located on the top of a rolling hill, the cidery is housed in a woodsy lodge of a building that feels naturally homey. With a sprawling patio and space for food trucks and live music, the cidery is the perfect place to spend a lazy summer afternoon.
During my visit I tried a flight of some of Winterset Cidery's fruity concoctions and fell in love with their raspberry cider. Whether you're stopping by on your way around town or making the cidery your final destination, this picturesque tasting room is definitely worth the trip.
Winterset Cidery, 1638 US-169 in Winterset, Iowa
Iowa is full of charming town squares and Winterset has one of the loveliest. Not only does the square bring some beautiful green space to Winterset, but it's also home to some lovely local shops. I had a blast popping into Heartland Fiber Co. to scope out yarn for my next project and picked up some adorable vintage dishes at White Cottage Market. Don't forget to stop into Brick Road Books to support one of Iowa's many independent bookstores.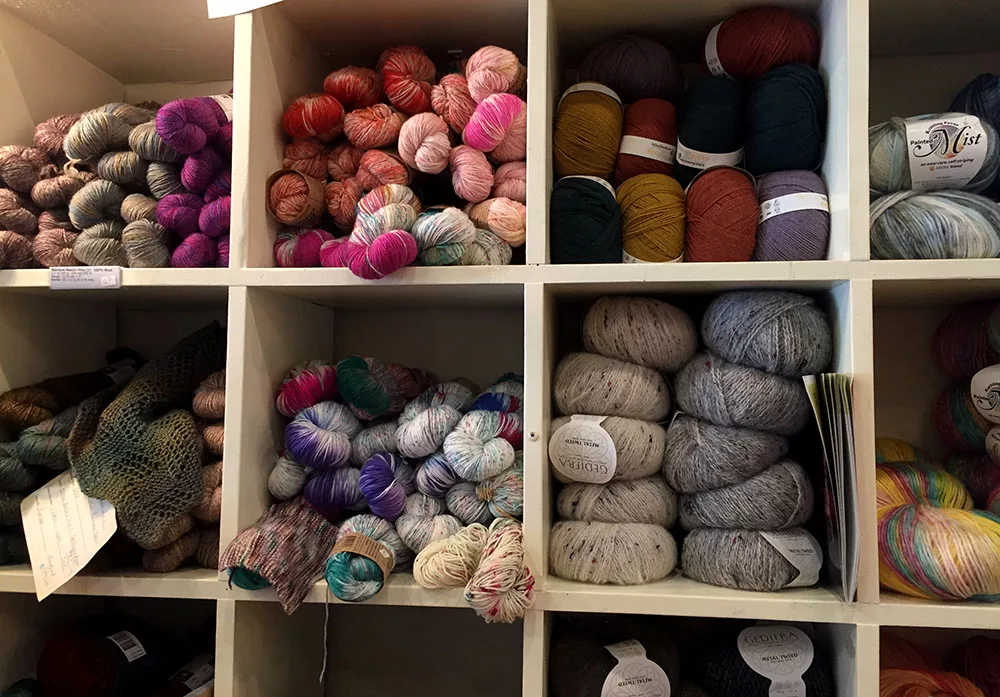 Visit the Iowa Quilt Museum
Once again I was surprised by the inspiration I found in Winterset. This time at the Iowa Quilt Museum. While I don't have the talent or patience for quilting I can appreciate the tremendous amount of love and effort that goes into this labor-intensive art form.
When I visited the temporary exhibition featured a number of the Quilts of Valor, a patriotic quilting project started in the 1990s that donates handmade quilts to veterans. Not only were these quilts absolutely beautiful but a number of them very made from vintage materials that had been repurposed.
It was truly amazing how the more you look, the more intricate details you notice. Each time I glanced back I saw something new and inspiring within the quilts' stitching. The museum's exhibition rotates every couple of months, meaning that there's always something new to be the source of inspiration.
Iowa Quilt Museum, 68 E. Court Ave. in Winterset, Iowa
Share Your Thoughts
I would love to hear from you! Have you spent time in Madison County? What are your favorite things to do in Winterset, Iowa?