As a kid, I loved going to the botanic gardens in Chicago. Wandering the different gardens and learning about all the exotic plant varieties was always a favorite activity. So a few weeks ago when we made plans to visit Reiman Gardens in Ames, I knew I would be in for a treat. Plus, the gardens are also home to the the World's Largest Concrete Garden Gnome—what's not to love?
Located just behind Iowa State University's Jack Trice Stadium, Reiman Gardens has been a horticulture garden since 1914. The 17-acre gardens include a beautiful butterfly area, rose garden, interactive children's area, and more. While it was particularly hot the day we visited, there are lots of shaded areas and hidden groves to duck into when the summer sun becomes a little too much to handle.
Be sure not to miss the butterfly wing, located just to the left of the main entrance, to experience the up to 800 butterflies from all over the world that now call Reiman Gardens home.
Nature Connects: Art with LEGO Bricks by Sean Kenney
In 2016, all of Reiman Gardens' exhibitions are inspired by the theme of color. To celebrate the garden has revived one of its more popular exhibits, Nature Connects®: Art with LEGO® bricks by artist Sean Kenney, to bring 13 colorful LEGO sculptures to its grounds.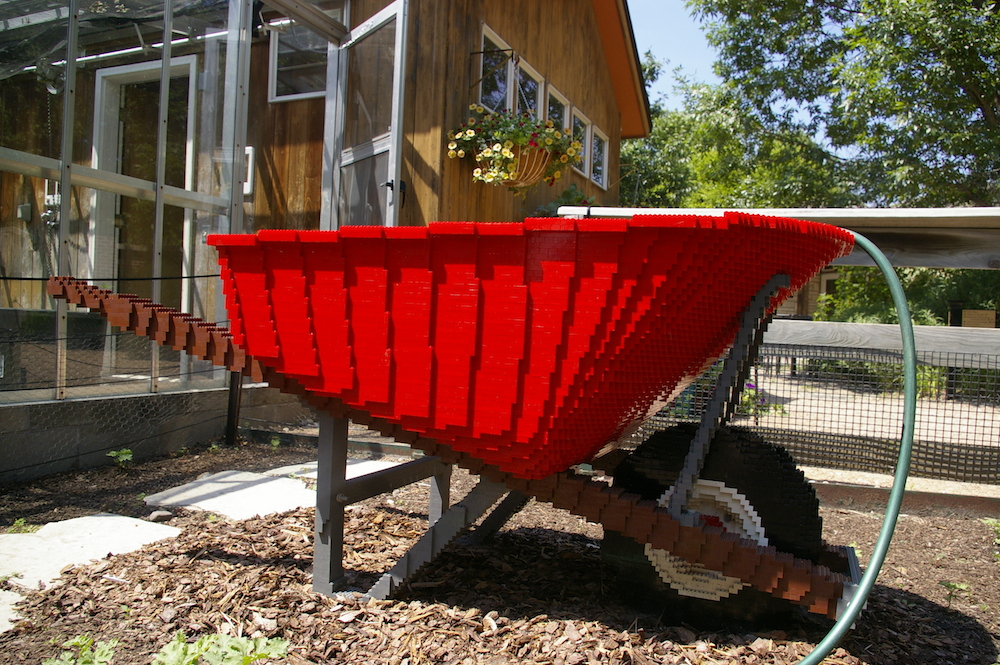 If you visit Reiman Gardens
If you're itching to get outdoors, there's no better place to visit than Reiman Gardens. Wear comfortable clothes and shoes and be prepared to do some walking around the garden's 17 acres. Bring your camera and snap photos in the sunny spring or let the kids get out some extra energy by playing in the Children's Garden.
Admission: $8 Adults (ages 18 to 64)
$7 Seniors (ages 65 and up)
$4 Kids (ages 4 to 17)
Free for kids ages 3 and under
Reiman Gardens, 1407 University Boulevard in Ames, Iowa