Summer is the perfect time to hit the open road. And in Iowa, there's always somewhere unique to explore. From man made marvels and haunted historic sites to record-breaking roadside attractions and more, the state is full of wonderfully offbeat adventures.
Whether you're hopping in the car for a quick day trip or packing your bags for a weeklong adventure, this list of quirky spots is sure to spark some wanderlust. The next time you're looking for an offbeat attraction to visit, think outside of the box and explore one of these eight hidden gems across Iowa.
Disclosure: This post has been sponsored by Iowa Lottery. All opinions are entirely my own.
Hidden Gems in Iowa: Attractions to Visit Across the State
Fenelon Place Elevator
Experience the world's shortest and steepest railroad with a ride on the Fenelon Place Elevator in Dubuque. This short ride — with only 296 feet of track — carries passengers 189 feet above Fourth Street to Fenelon Place where you'll enjoy a beautiful view of downtown Dubuque and the Mississippi River beyond.
The elevator is a seasonal attraction and runs from April 1 through November 30. The Fenelon Place Elevator operates daily from 8 am until 10 pm, and both one-way and round trip rides are available. Tickets for adults cost $2 one-way and $4 round trip, and tickets for children ages 5 – 12 cost $1 one-way and $2 round trip. Kids under five ride the elevator for free.
Fenelon Place Elevator, 512 Fenelon Place in Dubuque, Iowa
The Shrine of the Grotto of the Redemption
Did you know that Iowa is home to the largest man-made grotto in the world? Located in West Bend, the Shrine of the Grotto of the Redemption is truly a sight to behold. Construction on this iconic attraction began in 1912 by Father Paul Dobberstein. However, the grotto was considered complete until 1959, years after Dobberstein's death.
This site is a treasure not only because of the care and craftsmanship that went into building it, but also due to the number of precious stones, gems, petrified wood and more that make up its walls. In fact, some sources estimate that there is more than $4 million worth of stones and precious gems in the grotto. In 2001, the grotto was added to the National Register of Historic Places and today it's considered the largest man-made grotto in the world.
This Iowa attraction is open year-round, 24 hours a day, and seven days a week. However, guided tours of the grotto are seasonal and only offered from April through October.
The Shrine of the Grotto of the Redemption, 208 1st Avenue NW in West Bend, Iowa
In the small town of Gladbrook, Iowa artist Patrick Acton has created a roadside attraction unlike any other. At Matchstick Marvels everything from historical sites to fictional characters comes to life through a unique medium — matchsticks.
This is a unique spot you'll need to see to believe. Marvel at the U.S. Capitol, Hogwarts castle, a moving two-headed dragon and more all made out of individual matchsticks. Over the course of his more than 40-year career, Acton has glued together more than 8.6 million matchsticks to bring his creations to life.
Matchstick Marvels is open seven days a week from April through November. Admission is $5 for adults, $3 from children ages five to 12 and free for kids under five. This attraction does not accept credit cards so be sure you have cash to cover your admission cost.
Matchstick Marvels, 319 2nd Street in Gladbrook, Iowa
Find More Secret Iowa Places
Step into a piece of unique Iowa history with a visit to the historic Pottawattamie County Squirrel Cage Jail in Council Bluffs. Built in 1885, the jail was in use through the late 1960s. This unique building is one of only 18 revolving, rotary-style jails ever built and is one of only three remaining in the country.
The Squirrel Cage Jail is also rumored to be haunted and is even available to book overnight paranormal investigations, if you're brave enough. Today, the building also serves as the official museum for theIowa State Sheriffs' and Deputies' Association.
The museum is open weekends April through October. Admission is $10 for adults, $5 for children ages five to 18 and free for kids under five.
Squirrel Cage Jail, 226 Pearl Street in Council Bluffs, Iowa
The Future Birthplace of Captain James T. Kirk
Beam me up, Scotty! It's time to visit one of Iowa's nerdiest attractions — erected in honor of an event that technically hasn't even happened yet. If you're a Star Trek fan, then you may already know that on March 22, 2228, Captain James T. Kirk will be born in Riverside, Iowa. And to commemorate the future occasion, the people of Riverside have installed a historic marker to honor his future birthplace.
Every year the town celebrates with the annual Trek Fest. And the local Voyage Home Museum houses all sorts of Star Trek memorabilia. Especially if you're a Star Trek fan, this tiny town is worth the drive.
Future Birthplace of Captain James T. Kirk, 60 Greene Street in Riverside, Iowa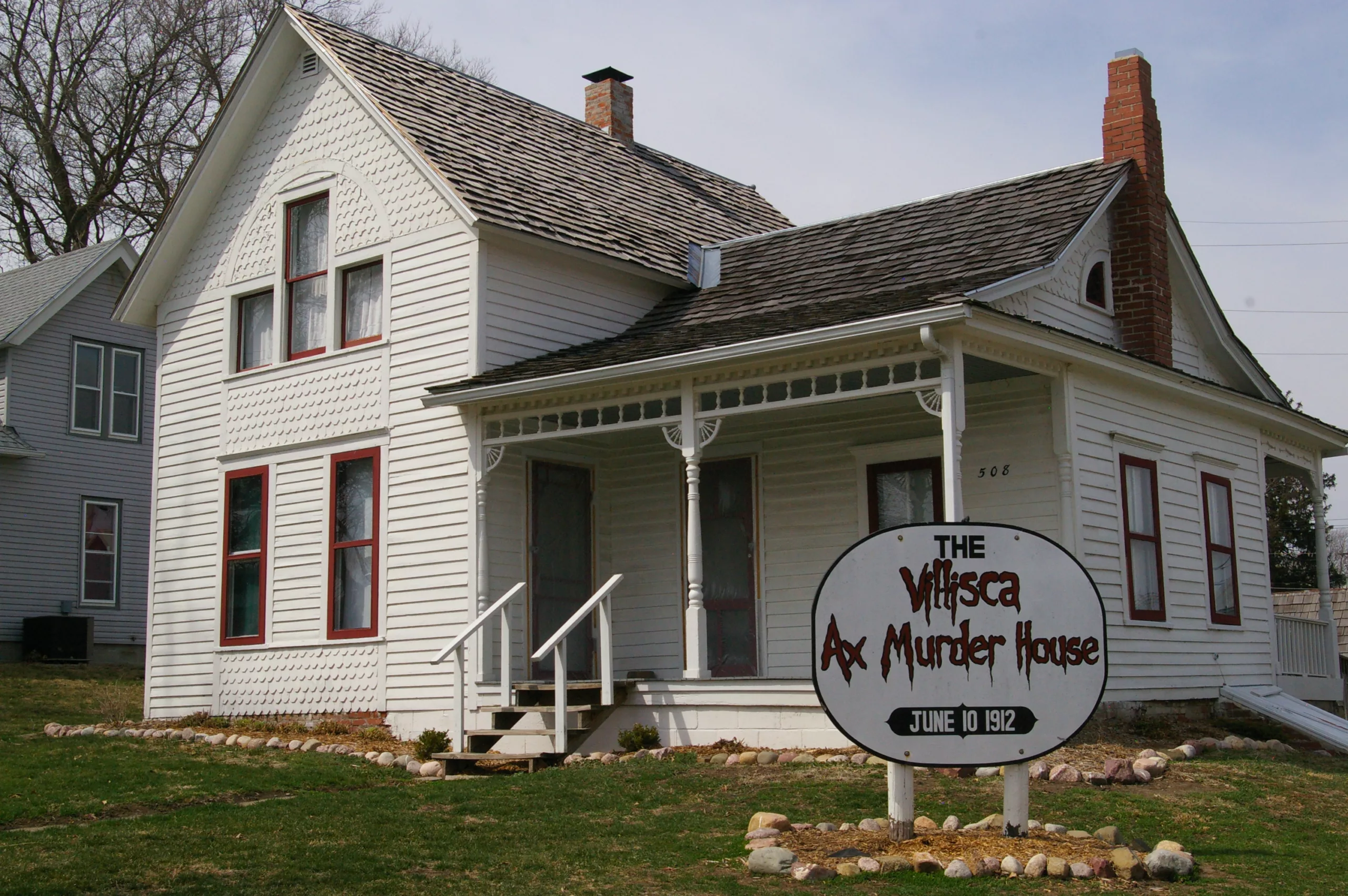 True crime enthusiasts won't want to pass up a visit to the site of one of the Midwest's most infamous cold cases. Located in the quiet southwest Iowa town of Villisca, this unassuming home is the site of a grisly series of murders that have still never been solved.
On June 10, 1912, eight people, including six children under the age of 12, were murdered while they slept. While the case remains unsolved, the uneasy energy that's settled in the home remains. Today it has been restored to its 1912 state and is open to visitors brave enough to tour the Villisca Ax Murder House.
The home is open seasonally from Tuesday through Sunday. Daytime tours cost $10 per person and admission is cash only. If you're visiting as a family, keep in mind that no children under the age of seven will be permitted to enter the house. And if you're really into paranormal investigating, you can even make a reservation to spend the night in the home.
Villisca Ax Murder House, 508 E. 2nd Street in Villisca, Iowa
Located just 13 southwest of Decorah, the Bily Clocks Museum houses a collection of dozens of handmade clocks crafted by two local brothers, Frank and Joseph Bily. Even if antique clocks aren't typically your cup of tea, this small museum is worth a visit.
These ornately carved clocks are truly works of art and northeast Iowa is the only place in the world you can find them. That's partially because the Bily brothers never sold any of their clocks and, in 1946, donated their collection to the town of Spillville.
One of the brothers' most jaw dropping works is the American Pioneer History Clock. This particular clock took the brothers more than four years to build and, once complete, stands at nine feet tall and weighs more than 500 pounds.
Bily Clocks Museum, 323 S. Main Street in Spillville, Iowa
World's Largest Popcorn Ball
Looking for a wacky road trip destination? Pop over to the World's Largest Popcorn Ball in Sac City. On June 18, 2016, the community of Sac City came together to reclaim their record. Once again, they created the largest popcorn ball the world had ever seen. The finished ball weighed in at 9,370 pounds, spanned 12 feet in diameter and used more than 2,300 pounds of popcorn kernels.
Today, you can still catch a glimpse of the popcorn ball along Main Street just next door to the Sac City Museum.
World's Largest Popcorn Ball, 1300 W. Main Street in Sac City, Iowa
Explore Iowa This Summer with Iowa Lottery
This summer, Iowa Lottery is partnering with Polaris on $5 Explore Iowa scratch tickets. To capture the seasonal spirit of exploration, this promotion highlights all of the amazing things to see across the state and gives players the chance to win Polaris' state-of-the-art recreational vehicles.
Explore Iowa is a pulsed game with three different Polaris recreational vehicles — the RZR, Slingshot and Snowmobile — and an Iowa landscape with different seasons. The best part? Even if your ticket isn't a winner, you can still be entered to win one of 26 additional prizes as part of the promotion through September 13, 2022. Even if you're not an immediate winner, you still have the chance to get outside the box this summer because:
Nine winners will receive $25,000 Polaris gift certificates
15 winners will receive a $5,000 cash prize
Two Grand Prize drawings where one lucky winner will receive a $50,000 Polaris gift certificate and another will be awarded a $50,000 cash prize
Remember, you must be 21 years of age or older to play. Learn more about this promotion and how you can play on the Iowa Lottery website.
Let's Be Social
Want even more offbeat adventures, roadside attractions and world's largest things? Follow Olio in Iowa on your favorite social media platforms, and tag #OlioOnTheRoad when you have quirky adventures of your own.
Share Your Thoughts
I would love to hear from you! What are your favorite hidden gems in Iowa? Where are you planning to explore this summer?