It's the most wonderful time of the year—Olio in Iowa's 2021 Holiday Gift Guide! In the coming week I'll be sharing gift ideas for every type of traveler on your holiday list.
Disclosure: This post contains affiliate links, which means I receive a small commission (thank you!) when you shop at no added cost to you.
It's no secret that shopping small is important to me. So when it comes to supporting artists and local businesses, I love to seek out gifts from Midwest makers.
Whether you're looking for an activity to enjoy together, a handmade beauty product or just a little dash of holiday magic, these Midwest makers are sure to deliver.
I'm not exaggerating when I say that I've never tried a Locust Grove Farm product that I didn't fall in love with immediately. Her shampoo bars have singlehandedly changed my life and her lotion bars have quickly become a family favorite. So when it comes to gifting, the options are literally endless! Plus, during the holiday season you can snag a limited edition holiday gift set that includes lots of favorites in seasonal, winter scents.
Perfect for: anyone looking to make the switch to more natural products
Shampoo Bars, $12.50
Lotion Bars, $8
There are lots of reasons that I love Onion Grove Mercantile in Clarence, Iowa. But one of the more recent additions is their monthly Onion Crate. This collection of items from Midwest makers is a fun surprise whether you're giving it as a gift or treating yourself. Each month's crate is different and includes a variety of items from the shop's makers.
Perfect for: gifting a little bit of the Midwest
The Onion Crate, $59.99
Giving experiences is another of my favorite ways to switch things up during the holiday season. Consider making an adventure of it with a trip to Three Pines Farm in Cedar Falls, Iowa. This fifth generation farm offers a variety of public and private workshops ranging from arts and cooking to goat yoga. They truly offer something for everyone with incredible ways to connect with nature in their location in the Cedar Valley.
Perfect for: anyone wanting to try something new
Workshop prices vary
Over the past year, some of my favorite T-shirts have been from Homage. And their amazingly soft, beautifully designed retro and vintage inspired tees are perfect when it comes to holiday giving! Not only is Homage an Ohio-based company but they also have something for literally everyone. From sports fans to retro TV shows and more, Homage's limited edition collections making shopping even more fun.
Perfect for: the T-shirt collector
NASA Rainbow T-shirt, $32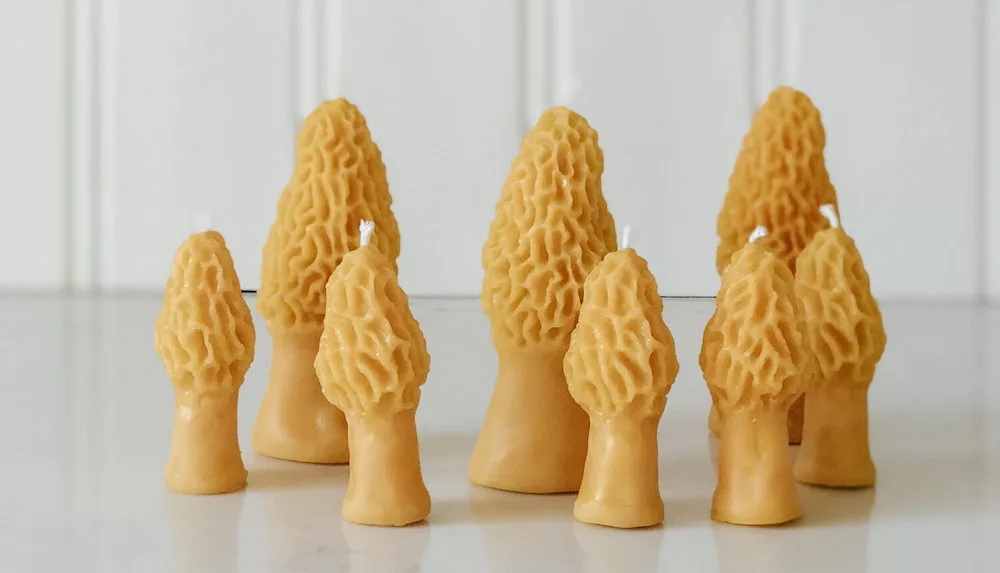 I first discovered these incredible beeswax candles from Honey Hollow Apiary based in Indianola at Des Moines Mercantile. Since then they've been one of my favorite small gifts to pick up and keep on hand for host gifts, special occasions and more. Plus, the fun Morel mushroom shape is distinctly Midwest and makes for a great conversation starter.
Perfect for: Morel mushroom fans
Share Your Thoughts
I would love to hear from you! Where do you find gifts from Midwest makers? Who are your favorite Midwest artists to support when giving gifts?