There's nothing quite like Christmas in Pella, Iowa! With a town square that's straight out of a Hallmark movie and quaint, Dutch touches abound, this southern Iowa community is probably most well-known for its Tulip Time celebration. But it's also a great place to get into the holiday spirit.
As you wander around town, you'll be surrounded by lights twinkling across Pella's Central Park, the sweet smell of the hot cocoa bar wafting through the air and sleigh bells jingling as horse drawn carriages roll past. Pella's downtown is full of small boutiques where you're sure to find the perfect gift and delicious eateries to keep you fueled for all of the holiday fun. In addition to its festive backdrop, Pella also plays host to a number of seasonal events that draw crowds of locals and visitors alike. From the Kerstmarkt Dutch Christmas market and Tour of Homes to Sinterklaas arriving on the square, there's plenty going on here to get your season off to a jolly start.
If you're looking for a small town that really excels at spreading holiday cheer, this is the place. Keep reading to discover eight festive things to do in Pella, Iowa at Christmas time.
Disclosure: This post is sponsored by Visit Pella. However, all opinions are my own.
This post may contain affiliate links, which means I may receive a small commission at no additional cost to you.
Things to Do in Pella, Iowa During the Holidays
Visit the Kerstmarkt
What better way to get into the holiday spirit than with a Dutch Christmas market? Pella's Kerstmarkt is one of the community's newer traditions, and is a ton of fun for both locals and visitors alike.
Held the first weekend in December, the Kerstmarkt is inspired by the traditional outdoor Christmas markets you might find in the Netherlands. With delicious Dutch foods like Gouda cheese curds, poffertjes and stroopwafels, you won't go hungry at this holiday event. There's also steaming mulled wine to sip on to keep warm during this festive outdoor event.
After you've eaten your fill, wander up and down the charmingly decorated stalls of vendors selling handmade, artisan wares. From handmade evergreen arrangements and pieces by local artists to Dutch-inspired home decor and more, this market is a lovely addition to the other shopping options you'll find around Pella.
The Kerstmarkt is held in downtown Pella along the Molengracht plaza, which is the perfect backdrop for a seasonal celebration. Listen to live music and sing along with a carol or two while strolling this wonderful weekend-long event.
Molengracht Plaza, 700 Main Street in Pella, Iowa
Explore the Tour of Homes
Need a little bit of holiday inspiration? Pella also hosts an annual Tour of Homes that gives attendees a peek inside some of the area's most festively decorated homes. This will be the 60th year the community has put together the Tour of Homes. And the houses on the list did not disappoint. From vintage Christmas decor to jaw-dropping floral arrangements, there was no shortage of cheer in these beautifully decorated homes.
We had an absolute blast visiting the different houses on this year's list and taking inspiration from their holiday decor. This fun and festive event is held the same weekend as the Kerstmarkt, Pella's Dutch Christmas market, so you can make the most of the community's seasonal celebrations.
Sinterklaas is coming to town! As part of this seasonal celebration, the Dutch version of Santa Claus arrives in downtown Pella by majestic wooden boat. As part of this festive procession, there's also a short parade complete with a marching band and town crier. We happened to stumble upon this holiday tradition by accident, but it's definitely worth bundling up to see.
The parade begins at the Scholte Church in Pella's Historical Village and Vermeer Mill. Then heads toward Central Park where you can meet Sinterklaas.
Scholte Church, Pella Historical Village and Museum, 507 Franklin Street in Pella, Iowa
One of my favorite things about visiting Pella, no matter the season, is its vibrant downtown area. Around the square and down its surrounding streets you'll find dozens of shops with unique gifts, locally made items and so much more. There's lots to see, but a few of my favorite places to shop at Christmas in Pella, Iowa include:
The Curiosity Shop (622 Franklin Street in Pella): I love an indie bookstore and was so delighted to learn that one had opened in Pella. The Curiosity Shop is full of books, stationary and games for all ages.
Pella Paperie (836 Main Street in Pella​​): I'm a sucker for a stationary shop and Pella Paperie is a seriously cute one. If you're someone who geeks out over finding the perfect notebook, this is the spot for you. Pella Paperie also has a great selection of greeting cards, pens and more.
Simple Treasures (713 Franklin Street in Pella): If you love vintage-inspired home decor, you'll be delighted by Simple Treasures. When we visited, this cozy shop was fully decked out for the holidays and had so many fun and festive pieces I wished we could take home with us. From ornaments and decor to drinkware and more, this shop was full of charming items to choose from.
Indulge in Delicious Dining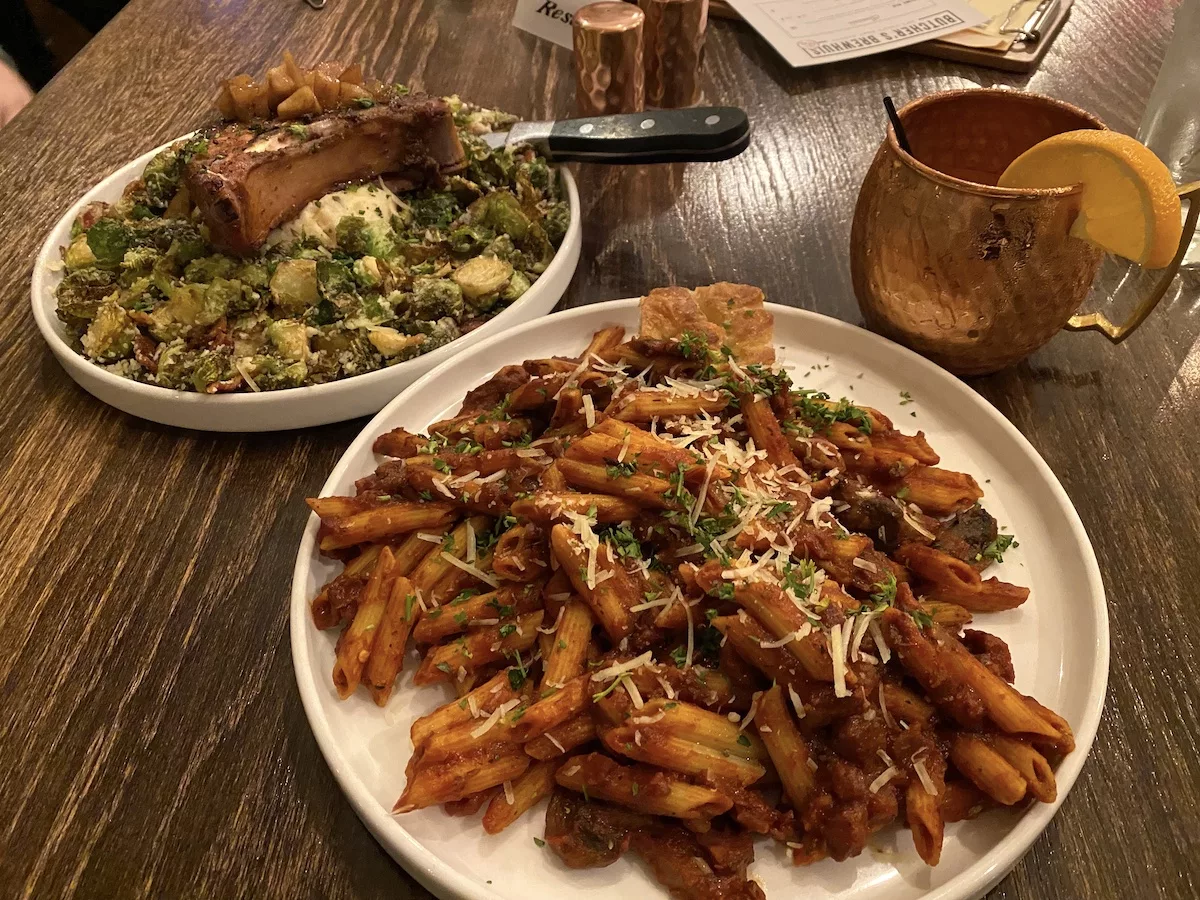 After a chilly December day of exploring, we were ready for something hearty for dinner and Butcher's Brewhuis perfectly hit the mark. This inviting local eatery specializes in upscale Midwestern fare with many dishes featuring fresh cuts of meat from the conjoining In't Veld's Meat Market.
We had a beautiful view of the square from our table on the second floor, and loved looking at the restaurant's unique, historical decor. For dinner, I opted for the Butcher's Pasta with smoked brisket, dried beef and bacon. My husband, Josh, ordered the Apple Pecan Smoked Pork Chop. Both were absolutely delicious and the Brussels sprouts were some of the best either of us have ever had.
If you're looking for a cozy spot to grab a drink or two and enjoy a hearty meal, Butcher's Brewhuis is definitely the place. We can't wait to return in warmer weather to enjoy their rooftop patio.
Butcher's Brewhuis, 822 Main Street in Pella, Iowa
No visit to Pella is complete without a stop at Jaarsma Bakery. This Dutch bakery is a local institution that's been family owned and operated since 1898. You'll find all sorts of authentic Dutch pastries — made from scratch daily — here as well as a great assortment of other Dutch gifts and products. A Dutch Letter is a classic pick here. But I also love the Almond Crispies and Raspberry Strudels.
Jaarsma Bakery, 727 Franklin Street in Pella, Iowa
Admire the Holiday Lights
The square in downtown Pella is a great spot to explore no matter the season. But during the holidays, Central Park is adorned with a little extra sparkle. Experience all sorts of festive, lighted installations put on by the local nonprofit, Spirit of Pella. Plus, these fun photo ops make for the perfect backdrop for holiday cards!
Central Park, 720 Franklin Street in Pella, Iowa
Listen to the Klokkenspel
As you explore Pella, listen for the chiming bells of the Klokkenspel. This musical clock in the heart of downtown was a dream of a local businessman. Today, it fills the streets with a charmingly melodic tune throughout the day.
During the holidays, the Klokkenspel even plays some familiar Christmas carols. Listen for the Klokkenspel's chimes daily 11 am, 1 pm, 3 pm, 5 pm and 9 pm.
Klokkenspel, 625 Franklin Street in Pella, Iowa
Where to Stay in Pella, Iowa During the Holidays
Stay at The Amsterdam Hotel
You'll need a cozy place to stay during your holiday adventure in Pella, and The Amsterdam Hotel is the perfect option. Located just steps from the Molengracht plaza, the Amsterdam Hotel has a convenient location for wandering around town without worrying too much about the chilly weather.
This boutique hotel has all of the Dutch charm you could ask for paired with spacious rooms, plush places to unwind and underground on-site parking. Plus, if you're hungry, you don't even have to leave the building. The hotel's on-site restaurant, Liberty Street Kitchen, serves contemporary comfort food for lunch and dinner. At this Dutch-inspired hotel, you can kick back, relax and recharge after a day of adventures in Pella.
The Amsterdam Hotel, 705 E. 1st Street in Pella, Iowa
Where to Stay in Pella, Iowa During the Holidays
In addition to traditional hotels, this community also has a number of vacation rentals and short-term accommodations that would be great places to stay during Christmastime in Pella, Iowa.
Mark Your Calendar for Christmas Events in Pella, Iowa
Want to be sure you make plans to celebrate Christmas in Pella, Iowa? Be sure to mark your calendar for these 2023 seasonal celebrations and events:
Kerstmarkt, Pella's Dutch Christmas Market: November 30 – December 2, 2023
60th Tour of Homes: November 30 – December 2, 2023
Typically both the Kerstmarkt and Tour of Homes are held the first weekend in December.
Let's Be Social
Want even more offbeat adventures, roadside attractions and world's largest things? Follow Olio in Iowa on your favorite social media platforms, and tag #OlioOnTheRoad when you have quirky adventures of your own.
Share Your Thoughts
I would love to hear from you! Have you visited Pella, Iowa during the holiday season? What are your favorite things to do?