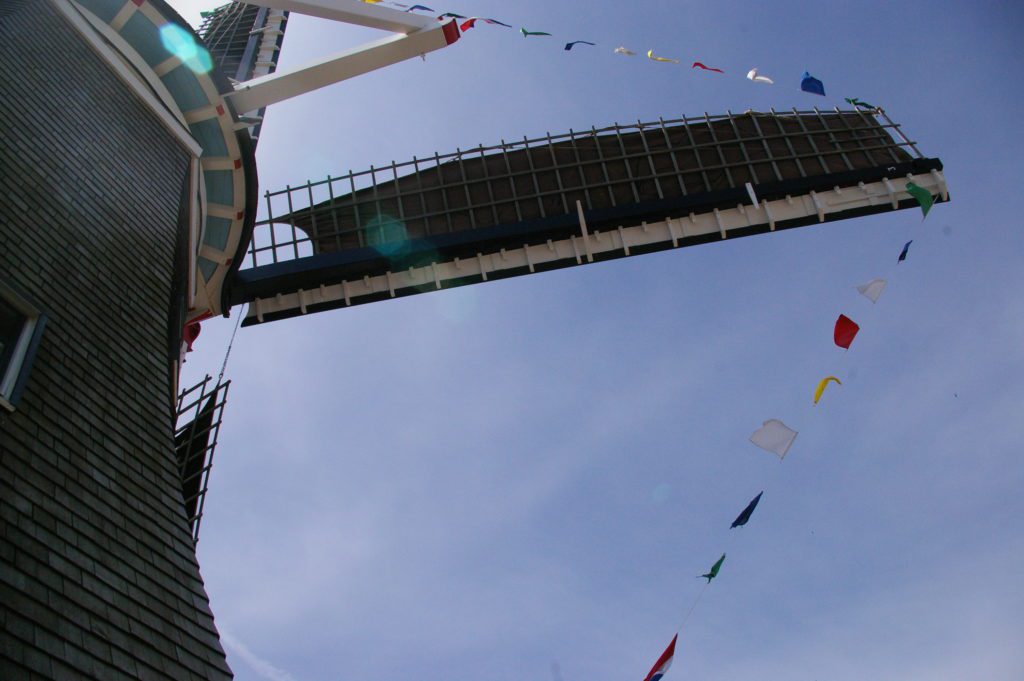 Earlier this summer I ventured south to Pella, Iowa for the city's annual Tulip Time celebration. While we were there, we decided to take a tour of the Vermeer Mill, the tallest working windmill in the U.S.
Completed in 2002, Lucas Verbij built the Vermeer Mill in the Netherlands. The pieces were then shipped to Pella and assembled by two Dutch craftsmen in Iowa.The mill is operated by 100% wind power and grinds wheat into flour. At the beginning of the tour, visitors wind through the base of the windmill to learn how the mill works. On the second floor, visitors explore a miniature Dutch village to learn about daily life in the Netherlands.
We had a great time exploring the inside of the mill, and were surprised to learn we would be allowed to step out onto its balcony.  Even though it was mildly terrifying, we stood next to the spinning blades of the windmill and snapped a few photos.
If you visit the Vermeer Mill
Even if it isn't Tulip Time, the Vermeer Mill is well worth a visit. History and architecture buffs will especially enjoy this unique tour that gives a unique look at Pella's history.
Cost: $10 adults, $6 students (with ID), $2 children (age 5 – 11)
Vermeer Mill, 507 Franklin Street in Pella, Iowa
Share Your Thoughts
I would love to hear from you! Have you visited Pella, Iowa before?