Whether you're visiting Pella, Iowa to celebrate Tulip Time or not, the iconic Vermeer Mill is an essential piece of local history. Not only is this local attraction a symbol of Pella's Dutch history, but it is also the tallest working Dutch windmill in North America.
Learn a bit about this Iowa community's history and get an excellent view of downtown by visiting the Vermeer Mill the next time you're in Pella.
The History of Pella's Vermeer Mill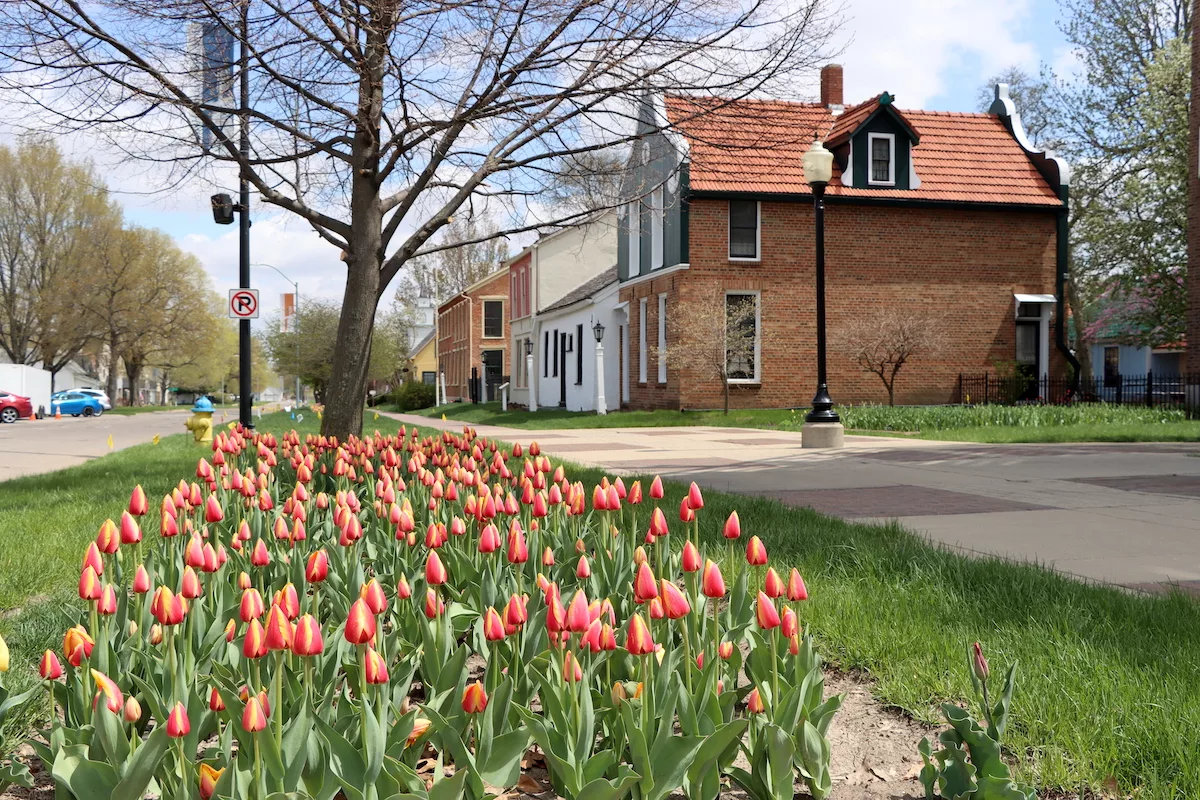 So, how did a Dutch windmill come to be in downtown Pella? Lucas Verbij originally designed and built the windmill in the Netherlands. In 2002, the pieces were then shipped to Iowa and assembled in Pella by two Dutch craftsmen.
The iconic mill is named for Harry and Bernice Vermeer, who dreamed of having a Dutch mill in Pella. The mill was designed to resemble a traditional 1850s-style "koren mill" (or grain mill). Today, the mill operates completely by wind power and grinds wheat into flour as a nod to the area's agricultural heritage.
Plan Your Visit to the Vermeer Mill
Even if it isn't Tulip Time, the Vermeer Mill is well worth a visit. History and architecture buffs will especially enjoy this tour that gives a unique look at Pella's history. At the beginning of the tour, visitors wind through the base of the windmill to learn how the mill works. On the second floor, visitors explore a miniature Dutch village to learn about daily life in the Netherlands.
We had a great time exploring the inside of the mill, and were surprised to learn we were allowed to step out onto its balcony.  Even though it was a little unsettling to be so close to the spinning blades, it was a cool opportunity with a great view of downtown Pella.
The Vermeer Mill is a part of the larger Pella Historical Village. Admission costs vary depending on which parts of the historic village you want to visit. Windmill tours are offered from mid-March through December. So, even if you visit Pella at Christmastime you can still enjoy this local attraction.
Vermeer Mill, 507 Franklin Street in Pella, Iowa
Let's Be Social
Want even more offbeat adventures, roadside attractions and world's largest things? Follow Olio in Iowa on your favorite social media platforms, and tag #OlioOnTheRoad when you have quirky adventures of your own.
Share Your Thoughts
I would love to hear from you! Have you visited Pella, Iowa before? Where else have you seen Dutch windmills in the United States?