Despite spending most of my adult life in Iowa, my farming knowledge and experience is fairly minimal. So when I learned about the unique accommodations at the New Day Dairy Guest Barn in Clarksville, Iowa, I knew I had to check it out.
The owners of this Iowa gem invite visitors to their working dairy farm to sleep with the cows — literally! The guest barn where visitors stay is attached to the dairy's cow barn. And a viewing loft allows you to keep an eye on the cows 24/7. So why is a working farm the perfect Iowa getaway? From cozy accommodations and endless amenities to the unique opportunity to learn about a huge piece of the Midwest's farming industry, there's lots of reasons to plan a visit.
Continue reading to learn more about the accommodations, what you can expect from a stay and some of my favorite experiences during our trip. If you're looking for a unique Iowa staycation — where I guarantee you'll learn something new — this is the place for you.
Why You Should Stay at the New Day Dairy Guest Barn
Experience a Working Dairy Farm
New Day Dairy is a working farm, which means just that. The farm's cows are actively producing milk to be sold to producers and consumers. In fact, the milk from New Day Dairy is used to make Prairie Farms' cream cheese. But being a working farm also means that you'll get an inside look into what it's like for owners Dan and Lynn Bolin to run and work in a dairy.
During your stay you'll have the opportunity to tour the dairy barn and see how things run day to day. One of my favorite parts of our stay was learning about how technology has transformed the family's dairy operations.
In 2015, they installed Rita the Robot and ever since she's helped automatically milk the cows. Each cow has an RFID bracelet that tracks their movement. It also tracks the last time they visited the milking station and how much they produced. When the cow enters the milking station, their RFID chip lets the automated system know whether or not it's time for them to milked and Rita takes care of the rest.
It was so much fun to get a peek behind the scenes at a working dairy farm and learn what goes into caring for the cows every day.
The Bolins are full of so much knowledge. We loved learning tidbits like each of the cow "families" have names that start with the same letter. We also enjoyed meeting the farm's very friendly barn cats who you'll see scampering in and out of the barn.
Cozy Accommodations & Endless Amenities
In addition to being an educational getaway, the New Day Dairy Guest Barn is also a beautiful place to stay. The three-bedroom, three-bathroom guest barn is wonderfully outfitted with a full kitchen, a wide selection of toys and games, and plenty of room to spread out.
During your stay you'll also be able to watch over (literally) the farm's 160 cows from the guest barn's loft. The loft's picture windows look out over the barn and have ample seating for perfect view of the cows. This fun feature was easily one of our favorite parts of our stay at the guest barn.
In the mornings we enjoyed drinking our coffee watching the cows. Throughout the day found ourselves popping upstairs to see what they are doing. Especially if you have kids, I know this will be a favorite part of your visit.
The guest barn also has a great outdoor space that would be the perfect place to relax during the warmer months.
When I initially posted about our visit on social media I received lots of questions from friends and followers about what our visit was like. But one question in particular was asked more than any other. It made me chuckle: "Does it smell — you know — like…cows?"
In all honesty, it doesn't. If it weren't for the viewing loft in the guest barn, you wouldn't know that you were on a working dairy farm at all. But that's also not the point of the guest barn! When you're outside (and obviously when you're in the barn), you will be able to hear and smell the cows.
Be a Dairy Farmer for a Day
As part of your stay at the New Day Dairy Guest Barn, you'll receive an introduction tour as well as a farewell tour that gives you a look behind-the-scenes at the farm's operations. But you can also dig a little bit deeper. The Bolins also offer visitors the opportunity to take the Be a Dairy Farmer for a Day Challenge.
This farm experience lets you step into the shoes of a dairyman for the morning and get a hands-on look at what it's like to work on a dairy farm. From scraping manure in the barn and trying your hand (literally) at milking a cow to bottle feeding a calf and riding in the tractor, this experience is not to be missed.
I might not be cut out to be a dairy farmer. But it was a lot of fun to learn what a day in Dan's life looks like. We were also able to ask lots of questions about the cows.
One of my favorite parts of the challenge was getting to bottle feed one of the farm's calves. They were so sweet and eager for their dinner and it was such a fun part of our overall experience.
One of my favorite parts of staying at the guest barn was noticing all the cow-themed touches throughout the space. From cow-themed decor and artwork inspired by the farm's dairy cows to smaller touches like coffee mugs and cow's milk soap in the bathrooms, the family's love for their cows is everywhere.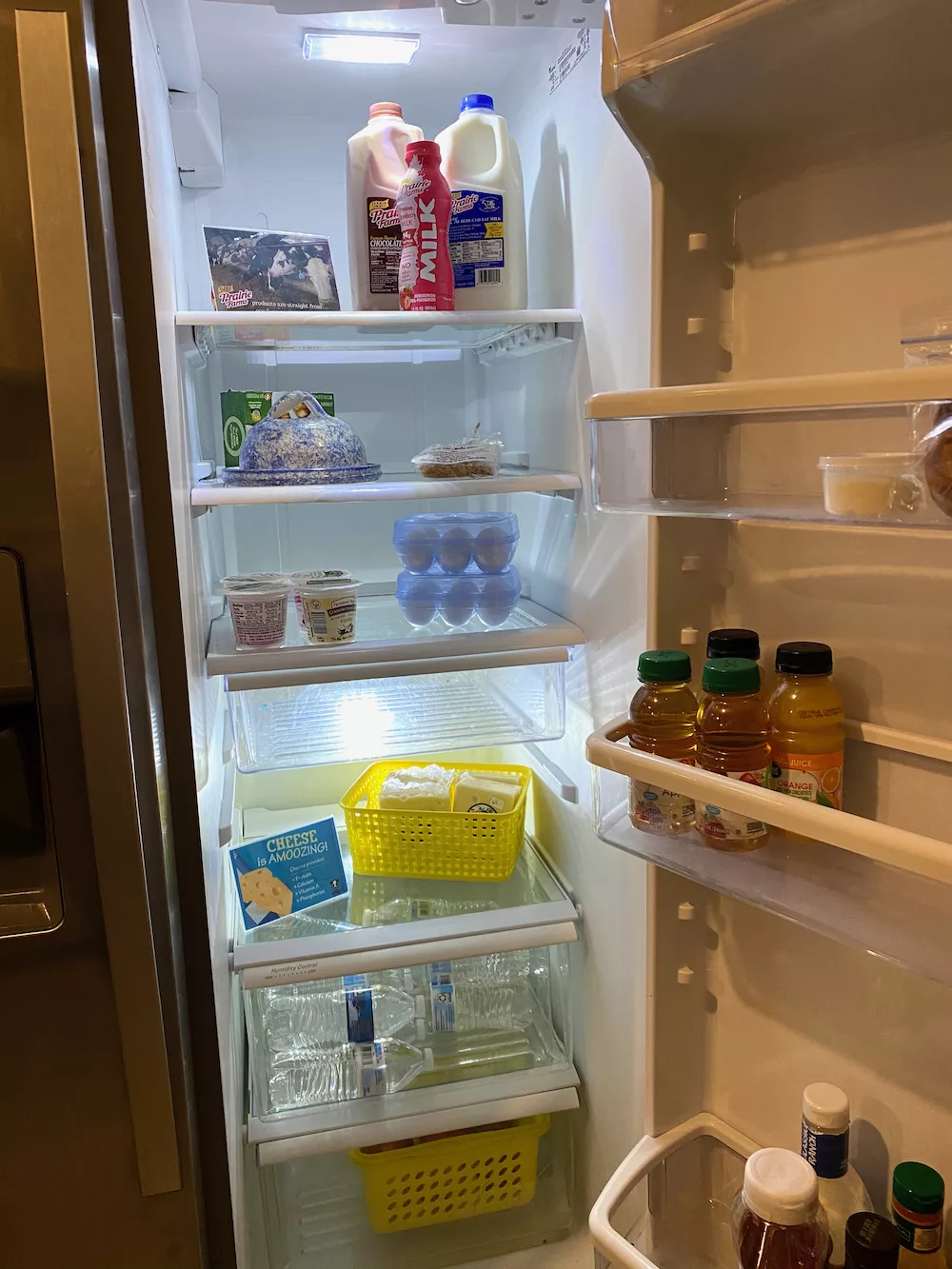 A DIY continental breakfast is also included in your stay at the guest barn, complete with lots of dairy-focused goodies including cream cheese made with milk from the farm's cows. Not only was this a fun and thoughtful touch, but it was also a great way to connect the food we eat back to everything we'd experienced.
During our stay we also learned that if a new calf is born during your stay, you'll have the opportunity to help name it. None of the pregnant cows gave birth during our visit. But I thought this was an incredible testament to the connection the Bolins have with their guests.
Plan Your Stay at the New Day Dairy Guest Barn
Whether you're planning a weekend with friends or looking for a fun family getaway, the New Day Dairy Guest Barn is the perfect place to stay.
What to Expect
The guest barn has everything you'll need for the perfect getaway! Since you have access to a full kitchen, feel free to bring groceries to cook meals. We also enjoyed grabbing takeout from local restaurants.
Remember that you will be on a working farm. The Bolins ask that you don't venture into the barn or fields without a member of their team—for both your safety and the cows. During your visit, they do a great job of providing booties to protect your shoes when in the barn. But be ready to get a little bit dirty. Especially if you visit during the spring or are doing the Be a Dairy Farmer for a Day Challenge.
Rates & Add-ons
If you're interested in booking a stay at the guest barn, you can check availability and book your stay on their website. Rates vary depending on the number of rooms you plan to reserve
In addition to the Be a Dairy Farmer for a Day Challenge, your stay at the guest barn can include a number of additional add-on experiences. These options include some tasty dine-in offerings like a DIY pizza night or make your own ice cream package. You can also sign up to have story time with the cows or make your own hot chocolate bombs. If any of those things sound fun, you can find more info here.
Location
About half an hour northwest of Cedar Falls and Waterloo, the New Day Dairy Guest Barn is located in rural Clarksville, Iowa. The farm is fairly easy to get to with pretty minimal driving on gravel roads.
New Day Dairy Guest Barn, 31000 175th St. in Clarksville, Iowa
Let's Be Social
Want even more offbeat adventures, roadside attractions and world's largest things? Follow Olio in Iowa on your favorite social media platforms, and tag #OlioOnTheRoad when you have quirky adventures of your own.
Share Your Thoughts
I would love to hear from you! Have you ever visited a dairy farm? Would you plan a visit to the New Day Dairy Guest Barn?