Summer is the perfect time for a weekend getaway. And if you're looking for an Iowa adventure, look no further than the Cedar Valley. You'll find plenty of things to do in Cedar Falls, Iowa during the summer, from a bustling downtown district to plentiful patios and everything in between.
Previously, we'd explored all of the unique things to do in Cedar Falls during the winter. But the warmer weather means there's lots of new things to see, places to explore and local favorites to discover.
Above all else, one of my favorite things about visiting Cedar Falls is exploring its thriving downtown district. Not only is downtown Cedar Falls full of incredible small businesses, adorable local shops and epic eateries, but it's also supremely walkable. During our weekend adventure, we parked our car at The Black Hawk Hotel and didn't need to move it until we were ready to head home.
Wondering what there is to do in downtown Cedar Falls? Continue reading to discover nine ways you can make the most of the warm weather and explore Cedar Falls this summer.
Disclosure: This post is sponsored by Cedar Falls Tourism. However, all opinions are my own.
This post may contain affiliate links, which means I may receive a small commission at no additional cost to you.
Things to Do in Cedar Falls, Iowa
Cedar Falls' downtown district is full of unique local retailers that sell everything from clothing and home decor to stationary and antiques. Whether you're shopping for a gift or treating yourself, you're sure to find something worth taking home at these incredible small businesses. That's why shopping along Main Street is one of my favorite things to do in Cedar Falls, Iowa.
The next time you're in the area, plan to spend some time browsing these charming local shops. For a full list of downtown businesses, visit the Cedar Falls Tourism website.
Not only does this shop have some gorgeous housewares, but Driftless Style is also focused on ethical and sustainable items that support the shop's artisan partners. From plants to kitchen utensils to vintage rugs, this boutique is full of responsibly-sourced gems. If you're looking for a thoughtful host gift or looking to invest in little at-home luxuries, this is the shop for you.
Driftless Style, 106 Main Street in Cedar Falls, Iowa
If you're looking for beautiful Iowa-made items or unique craft projects, look no further than Hatchlings & Hens. This colorful Main Street shop carries everything from furniture and decor to clothing for women and kids. Don't miss the "make and take" craft area in the back of the shop where you can create a piece of your own.
Hatchlings & Hens, 109 Main Street in Cedar Falls, Iowa
Part stationary store and part charming vintage shop, Miss Wonderful Vintage is one of my favorite shops to visit in Cedar Falls. This storefront showcases gorgeous cards, notebooks and more from many well-known brands as well as smaller makers. Plus, you can shop their adorable, curated collection of vintage furniture, home decor and more.
Miss Wonderful Vintage, 216 Main Street in Cedar Falls, Iowa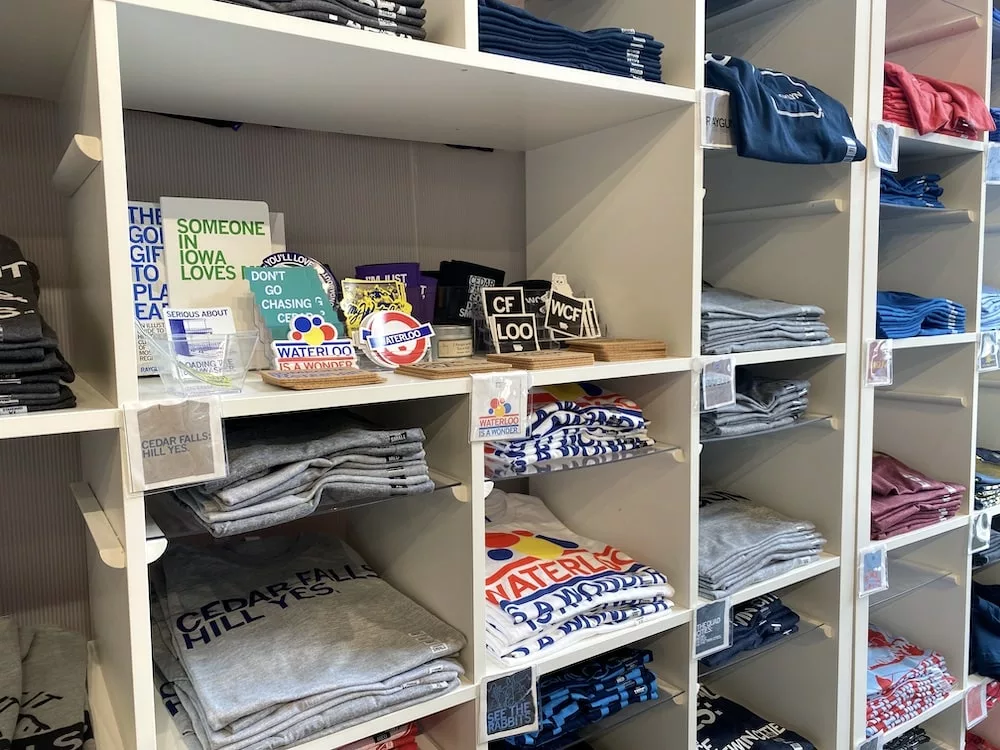 RAYGUN is an Iowa staple that got its start in Des Moines. Thankfully, you can now find their signature snarky T-shirts, apparel and more at a variety of stores around the Midwest (and online). If you're looking for a Cedar Falls-themed souvenir or a Midwest-inspired gift, this is the shop for you.
RAYGUN, 205 Main Street in Cedar Falls, Iowa
If you're looking for eclectic home decor or the perfect host gift, head to Vintage Iron Co. This shop is jam packed with all sorts of items from pots and planters to unique garden decor and even jewelry and apparel. Every time we visit Cedar Falls we pop into this charming shop and are constantly surprised by the variety of gifts we discover.
Vintage Iron Co., 104 Main Street in Cedar Falls, Iowa
Explore the Cedar Falls Farmers' Market
It's no secret that I love visiting a local farmers' market, and I was truly delighted by the Cedar Falls Farmers' Market. With a wide array of vendors selling both both prepared food and local produce, you're sure to stumble upon something delicious here. It was still early in the season when we visited, but root vegetables like carrots and radishes as well as small plant starts were plentiful.
After grabbing coffee at the Sidecar Coffee Truck, we wandered up and down the block checking out the vendors wares. Even though we had to drive back to Des Moines, we couldn't resist picking up a fresh bunch of wild asparagus. Josh opted for a breakfast sandwich to start his day while I devoured an incredible jianbing (a savory crepe) from The Bing Ladies.
The Cedar Falls Farmers' Market is held on Saturday mornings from 8:30 a.m. until noon from May through October.
Cedar Falls Farmers' Market, Overman Park, 316 W. 3rd Street in Cedar Falls, Iowa
If craft breweries are your jam, you're in luck. Downtown Cedar Falls is home to two great local breweries located within about a block of each other.
SingleSpeed Brewing Co. has been a fixture of Cedar Falls' Main Street for years and it's easy to see why their brand has had such staying power. With a wide range of brews and a pulse on the area's passionate cycling community, SingleSpeed is a favorite among locals and visitors alike.
Up the street you'll find Second State Brewing Co. This a great place to grab an afternoon craft beer flight. Plus, it's located just across the street from the popular River Place Plaza. Both breweries also have small patios that are the perfect places to post up on a sunny afternoon.
Second State Brewing Co., 203 State Street in Cedar Falls, Iowa
SingleSpeed Brewing Co., 128 Main Street in Cedar Falls, Iowa
There are few better ways to enjoy an Iowa summer than with an outdoor concert. While you're exploring Cedar Falls, make time to take in the beautiful riverfront and enjoy a bit of live music.
During the summer, local organizations host a free summer concert series called Live to 9, which is hosted at River Place Plaza in the heart of downtown. Select Friday evenings through August a rotating slate of musicians take the outdoor stage and draw hundreds of music lovers to this outdoor pavilion.
Pro Tip: Bring a picnic blanket or lawn chair to set up around the park or in the closed street. This event is popular and gets busy quickly so plan ahead if you want a spot close to the front.
River Place Plaza, 100 E. 2nd Street in Cedar Falls, Iowa
Be Inspired by the Public Art
Whenever I visit a new community, I love to keep an eye out for public art. Downtown Cedar Falls have some colorful murals that make for the perfect backdrop for a photo op or two. But you'll also find more than 20 unique sculptures dotting downtown.
For a full list of public art installations around town, visit the Cedar Falls website.
If you're exploring Cedar Falls on a Friday night, you now have even more time to support the area's small businesses. This summer, the downtown district launched First Fridays where participating businesses stay open until 7 p.m. the first Friday of each month to allow for even more browsing time.
At George's Local you'll find quality comfort food with a delicious modern twist. Located in a historic automobile service station, this downtown Cedar Falls spot is as charming as its food is delicious.
You'll find a sprawling menu here filled with a variety of sandwiches, flatbreads, salads and even a taco or two. Josh ordered the signature George's Burger while I opted for the East Fried Chicken Sandwich, which included an Asian barbecue sauce and a crispy, shaved veggie slaw.
With a spacious patio, this is also an awesome spot to dine in the summer, whether you're grabbing a quick lunch or enjoying a leisurely weekend brunch. We can't wait to visit again to try their sweet and savory brunch options and tempting cocktail menu.
George's Local, 108 E. 4th Street in Cedar Falls, Iowa
If you're in the mood for pizzas, head to Urban Pie. Their wood-fired pies are some of the best around and feature all sorts of unique flavor combinations. With a standard size of 10″ these pies are the perfect size to enjoy solo or order a few to split amongst a group. We opted for the Smoked Hawaiian Brisket and the Fig 'N' Pig, and thoroughly enjoyed both.
Urban Pie also serves a variety of beers on draft as well as cocktails, including a margarita flight. If you're a fan of flavored margaritas, you won't want to miss this! Plus, Urban Pie has an awesome outdoor space that's perfect for enjoying the sunshine or listening to live music at River Place Plaza.
Pro Tip: Head to Urban Pie on the early side Friday evenings in the summer. Grab a bite to eat and enjoy the start of the city's free summer concert series, Live to 9.
Urban Pie, 200 State Street #101 in Cedar Falls, Iowa
Experience the Ice House Museum
The last time we visited Cedar Falls, we were able to participate in one of the more unique things to do in Cedar Falls during the winter: the annual Ice Harvest Festival organized by the Cedar Falls Historical Society. While is held each February, the Ice House Museum is actually closed during the winter. Why? Because it was built to store ice and therefore has no heat.
So, the summer is the perfect time to think of cooler temperatures and visit this historic structure. Originally, this round structure was built to hold 16 million pounds of ice. Today, the 1921 building is one of the last remaining ice houses in the country. Stop in on Saturday or Sunday during the summer to learn about this unique industry and how it helped the early city of Cedar Falls grow.
Ice House Museum, 121 Center Street in Cedar Falls, Iowa
Find More Secret Iowa Places
Summer is the perfect time to treat yourself. So why not end your time in Cedar Falls on a sweet note by supporting the city's local shops?
If you're a fan of cinnamon rolls or scotcharoos, you'll want to head to Bambinos. This local bakery serves up some seriously sweet desserts from beautifully decorated cookies to generously-sized bars and more.
Or, if gelato is more your vibe, stop by Chocolaterie Stam. This local favorite offers an impressive array of handmade chocolates as well as mouth-watering Italian gelato.
For a healthier option that's no less indulgent, head to Big Acai Cedar Falls for a fruit-filled bowl or smoothie. Choose from a variety of bowl bases including acai, coconut, matcha and more then top with your favorite fruits and extras.
Bambinos, 401 Main Street in Cedar Falls, Iowa
Big Acai Cedar Falls, 100 E. 2nd Street, Suite 106, in Cedar Falls, Iowa
Chocolaterie Stam, 122 Main Street in Cedar Falls, Iowa
Best Hotels in Cedar Falls, Iowa
If you're looking for a convenient place to stay in the heart of downtown Cedar Falls, look no further than The Black Hawk Hotel. With 28 unique rooms, this historic boutique hotel is an experience onto itself.
This Cedar Falls hotel is the second longest continuously operating hotel in the country, and traces its history back to the early 1850s. Everywhere you look inside the hotel you'll find traces of local history.
From history-inspired prints in the guest rooms to antiques in the hotel's hallways, the hotel's storied past is all around. We've stayed at The Black Hawk Hotel a few times now and have enjoyed seeing different rooms throughout the property. During this stay, our room included a number of band-themed antiques including an impressively painted drum.
Whether you're staying at The Black Hawk Hotel or not, you'll want to make time for a visit to Bar Winslow, the on-site cocktail lounge. With dark wood, velvet couches and dim lighting, this intimate locale is the perfect place to hunker down after a day of exploring. Plus, if you're staying at the hotel, one complimentary drink is included with your stay.
The Black Hawk Hotel, 115 Main Street in Cedar Falls, Iowa
Other Cedar Falls Accommodations
In addition to traditional hotels, this community also has a number of vacation rentals and short-term accommodations that would be great places to stay during a summer adventure in Cedar Falls.
Frequently Asked Questions About Cedar Falls, Iowa
What is Cedar Falls, Iowa known for?
Cedar Falls is most well known as the home of the University of Northern Iowa, one of Iowa's three state universities. However, there are many other prominent institutions including the Hearst Art Center, Black Hawk Hotel and Ice House Museum.
Why is Cedar Falls named Cedar Falls?
The town of Cedar Falls gets its name from the Cedar River, which flows through the community. Originally, the city was called "Sturgis Falls" for the area's early settler, William Sturgis. However, when it was merged with another settlement called Cedar City, the community was renamed.
Let's Be Social
Want even more offbeat adventures, roadside attractions and world's largest things? Follow Olio in Iowa on your favorite social media platforms, and tag #OlioOnTheRoad when you have quirky adventures of your own.
Share Your Thoughts
I would love to hear from you! What are you favorite things to do in Cedar Falls, Iowa?