Joy to the world! This week I'll be sharing Olio in Iowa's 2018 Holiday Gift Guide for every type of traveler on your holiday list. From the lover of all things local to the intrepid roadtripper, I've compiled some of my favorite items so you can give a little bit of adventure to everyone on your list this holiday season.
Disclosure: This post contains affiliate links, which means I receive a small commission (thank you!) when you shop at no added cost to you.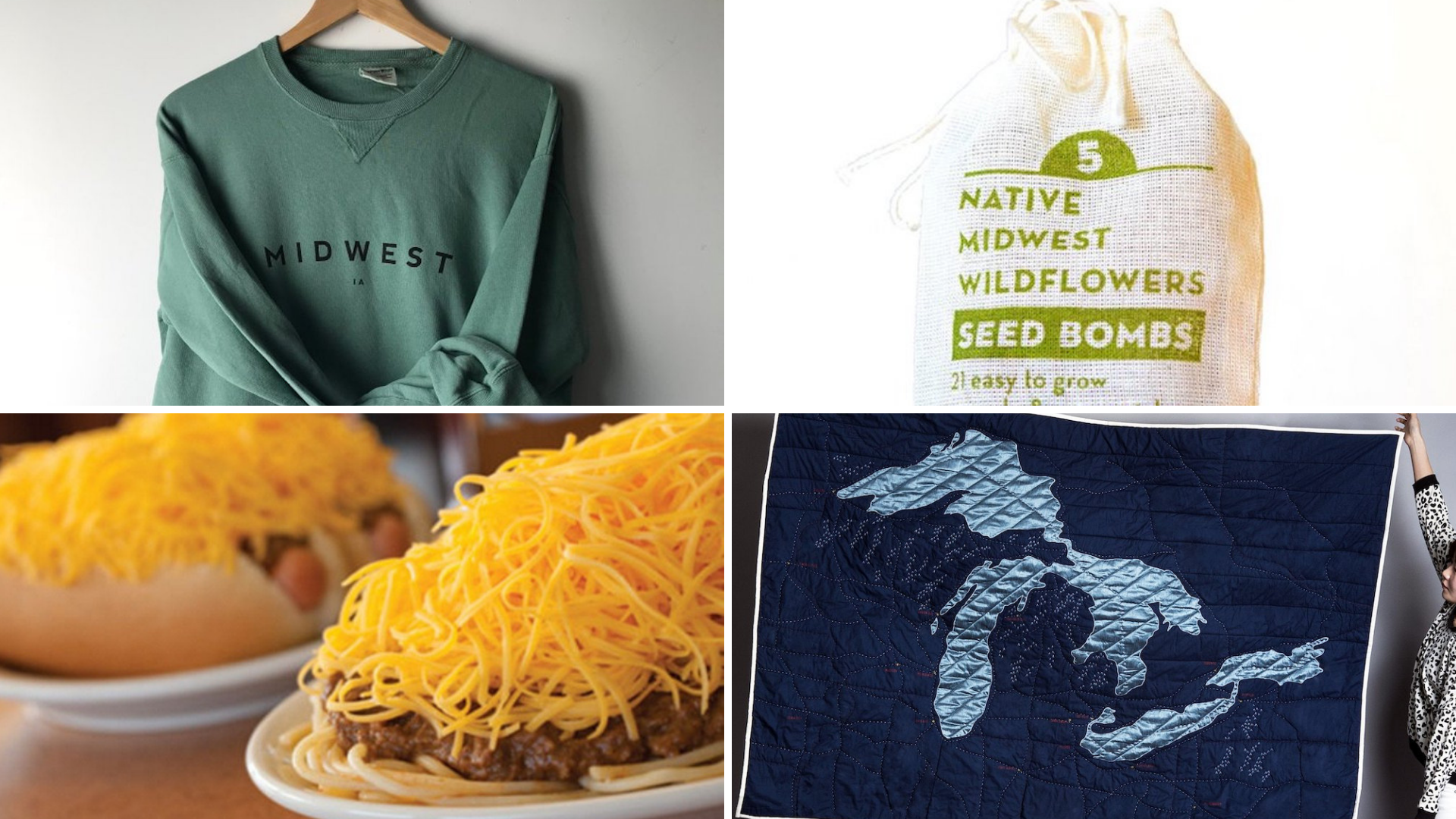 For the Midwesterner on your holiday list, there's no better gift than something that reminds them of home. One of the things I love most about calling the Midwest home is the sense of community that exists across the region. Not only does being from the Midwest make you resilient (I mean, have you visited during winter?), but I've found it also makes you compassionate for your community. There's something about the Midwest that bonds people together.
From thoughtful gestures to apparel to help share their Midwest pride, there are lots of ways to show you care. These gifts for the Midwesterner in your life will help them remember their roots, no matter how far they roam.
I've been following Camp Climb for awhile now, and love their mission of empowering female business owners to follow their passions. Help your favorite Midwesterner rep their home state (and keep them warm this winter) with an item of Camp Climb's cozy apparel. I know one thing for sure—I will definitely be putting this cozy pullover on my holiday wish list.
Midwest Modern Crew, $44
The Midwest may not have a coastline, but, in my opinion, the Great Lakes are the next best thing. Now with this beautiful quilt from Haptic Lab your favorite Midwesterner will never feel far from home. I'm seriously in awe over these beautiful handmade quilted map and how cozy they must be.
Great Lakes Quilt, $219
Whoever said the Midwest is flat and full of cornfields hasn't done much exploring. Give your favorite Midwesterner the gift of the great outdoors with this incredible guide to the region's National Parks from National Geographic. Encourage them to opt outside in the new year and get to know some of the nation's most beautiful outdoor spaces.
National Geographic Guide to the National Parks: East and Midwest, $22
The Midwest is full of incredible craft breweries. Gift a six pack and these slate coasters from CheersInk to someone who appreciates a good ale this holiday. Choose their home state design or gift an assortment of Midwest states that are important to them.
Local Craft Beer Gift Set, $42
Midwest winters are no joke! Keep your favorite Midwesterner warm with this cozy stocking hat from The Midwest Girl based in Dubuque, Iowa. Not only are these hats seriously cute, but they'll also share the wearer's Midwest pride wherever they go. In addition to cozy outwear, you can also gift one of The Midwest Girl's darling tees, tanks, or sweatshirts.
The Midwest Girl Stocking Hat, $30
Everyone knows that you can't visit Des Moines without stopping in to RAYGUN. This cheeky shop is known for its snarky T-shirts. But they've also published a number of books, including The Midwest: God's Gift to Planet Earth. This illustrated guide shares the Midwest's history and unique cultural oddities in a joking but loving format. Gift this gem to a recent Midwest transplant or lifelong resident to share with their out-of-town guests.
The Midwest: God's Gift To Planet Earth Book, $17.50
Midwesterners are serious about their regional delicacies. Now thanks to Goldbelly moving out of state doesn't have to mean that they can't enjoy their favorite food. From Danish kringle from Wisconsin to Skyline Chili from Cincinnati, Goldbelly allows you to order and ship dozens of Midwest foods anywhere in the country. Save Santa the trip and have their favorite food delivered just in time for the holidays.
Midwest Food Order, Cost varies
One of my favorite things about trekking across the Midwest is seeing its wildflowers in bloom. Now you can give the gif of that beauty to someone on your holiday list thanks to the Department of Everyday. Their native wildflower seed bombs are sure to brighten any backyard. Plus, they're insanely easy to plant and take care of.
Wildflower Seed Bombs Native Midwest Gardening Gift, $9
Keep the Spirit of Giving Alive with More Gifts for the Midwesterner
Shop the rest of the 2018 Holiday Gift Guide, or check out how you can support central Iowa business owners.
Share Your Thoughts
I would love to hear from you! What are your favorite gifts for the Midwesterner in your life?