There's plenty to discover in rural Iowa! In the western part of the state, you'll find all sorts of things to do in Manning, Iowa, from places full of local history to delicious dining options and everything in between.
Whether you're looking to learn more about this community's origins or interested in supporting a small business or two, this western Iowa community has a lot to offer. Here you can indulge in some Midwestern comfort food (and don't forget dessert). You can also enjoy ample public art and explore a traditional German "Hausbarn." Plus, Manning is only a short drive from Templeton, Iowa, home of the famous Templeton Distillery, and a 25-minute trip from all of the unique things to do in Audubon, Iowa.
So, the next time you're exploring the western part of the state, check out these eight unique things to do in Manning, Iowa.
This post may contain affiliate links, which means I may receive a small commission at no additional cost to you.
Register Now: Evolution of the Heartland
Looking for a unique way to experience how Manning is growing? Register today for the 2023 Evolution of the Heartland event on August 3 & 4! This tour is designed to showcase what's happening in rural Iowa today and highlight how agriculture has been a catalyst for entrepreneurs who believe in growing their dreams and contributing to the greater common good.
Things to Do in Manning, Iowa
Explore the Manning Hausbarn Heritage Park
It's no secret that this area has a rich agricultural history. But at the Manning Hausbarn Heritage Park, visitors can step back in time to the late 1800s and get a glimpse of the area's German heritage.
Start your exploration at the German Hausbarn. This common 1660s dwelling was originally constructed in the village of Klein-Offenseth in Schleswig-Holstein, Germany. This 350-year-old barn was given to the Manning Heritage Foundation in 1991 and dismantled to be shipped to Iowa in 1996. By August 2000, the Hausbarn had been completed reconstructed in Manning.
Today, the traditional home that was once shared by families and their livestock is open to visitors to explore.
Then, continue on to the Leet/Hassler Farmstead. There you can explore a beautiful, bungalow-style home that was build by William Leet in 1915. For the time period, this home was the pinnacle of elegance and had both running water and electricity.
Finally, peek inside the Trinity Church. This historic chapel was built in 1916 and moved to this site in 2006 after the congregation disbanded. The church was moved the 11 miles from its original site in one piece, though it took 64 wheels rolling underneath the building to get it to the heritage park safely.
Manning Hausbarn Heritage Park, 12196 311th Street in Manning, Iowa
Grab Some Grub at the Level B Grill
After a day of exploring, you'll probably have worked up quite an appetite. Thankfully at Level B Grill you'll find hearty portions of some of Iowa's most iconic dishes. Named for the rural routes you'll find throughout the surrounding area, this Manning eatery is a popular spot for visitors and locals alike.
There were lots of tempting menu items at Level B Grill to choose from. Ultimately, I opted for the Philly steak sandwich, which comes covered in a delicious, homemade cheese sauce.
Level B Grill, 805 6th Street in Manning, Iowa
Supporting local small businesses is one of my favorite ways to get to know a new community. In Manning, avid shoppers are in luck because there are lots of local spots to patronize. During my visit to Manning, a few of my favorite stores included:
The Market Place (321 Main Street in Manning): If you only have time to visit one shop in Manning, make it The Market Place. This 6,000-square-foot retail location is stuffed with adorable home decor, must-have kitchen items, locally made goods and so much more. Plus, if you need a pick-me-up, The Market Place also has a wonderful coffee bar.
Kristina's Flowers (306 Main Street in Manning): Even if you're not in the market for a bouquet, this local flower shop sells an array of beautiful house plants, yard decor and more.
Holistic Health (320 Main Street in Manning): In addition to offering a wide variety of spa and wellness services, Holistic Health has a relaxing retail space that offers beauty products, self-care essentials and more.
Stop by the Carroll County Freedom Rock
Artist Ray "Bubba" Sorensen II first began the tradition of Iowa's Freedom Rock in 1999. Each year on Memorial Day, Sorensen would repaint a more than 60 ton boulder to thank veterans.
Over time, the popularity of Sorensen's public art projects grew and the Freedom Rock Tour was born. Today, you can find a Freedom Rock in all 99 of Iowa's counties with the 100th at Adventure Resort in Altoona, Iowa.
While you're in Manning, be sure to stop by the Carroll County Freedom Rock to marvel at Sorensen's piece of public art. During my recent visit, the Freedom Rock was receiving a fresh coat of paint. The update really helped its depictions of local landmarks pop!
Carroll County Freedom Rock, 517 East Street in Manning, Iowa
Pose for a Photo with the Iowa Sign
Plan for the perfect photo op with a visit to Manning's Trestle Park. Here you'll find a 10-foot-tall cast concrete sculpture that spells out "IOWA." Hop in the "O" or pose in front of the sculpture for the perfect photo to commemorate your western Iowa adventure.
Milwaukee Trestle Park, Front Street in Manning, Iowa
Enjoy a Cone from Sweet Treats Ice Cream Shoppe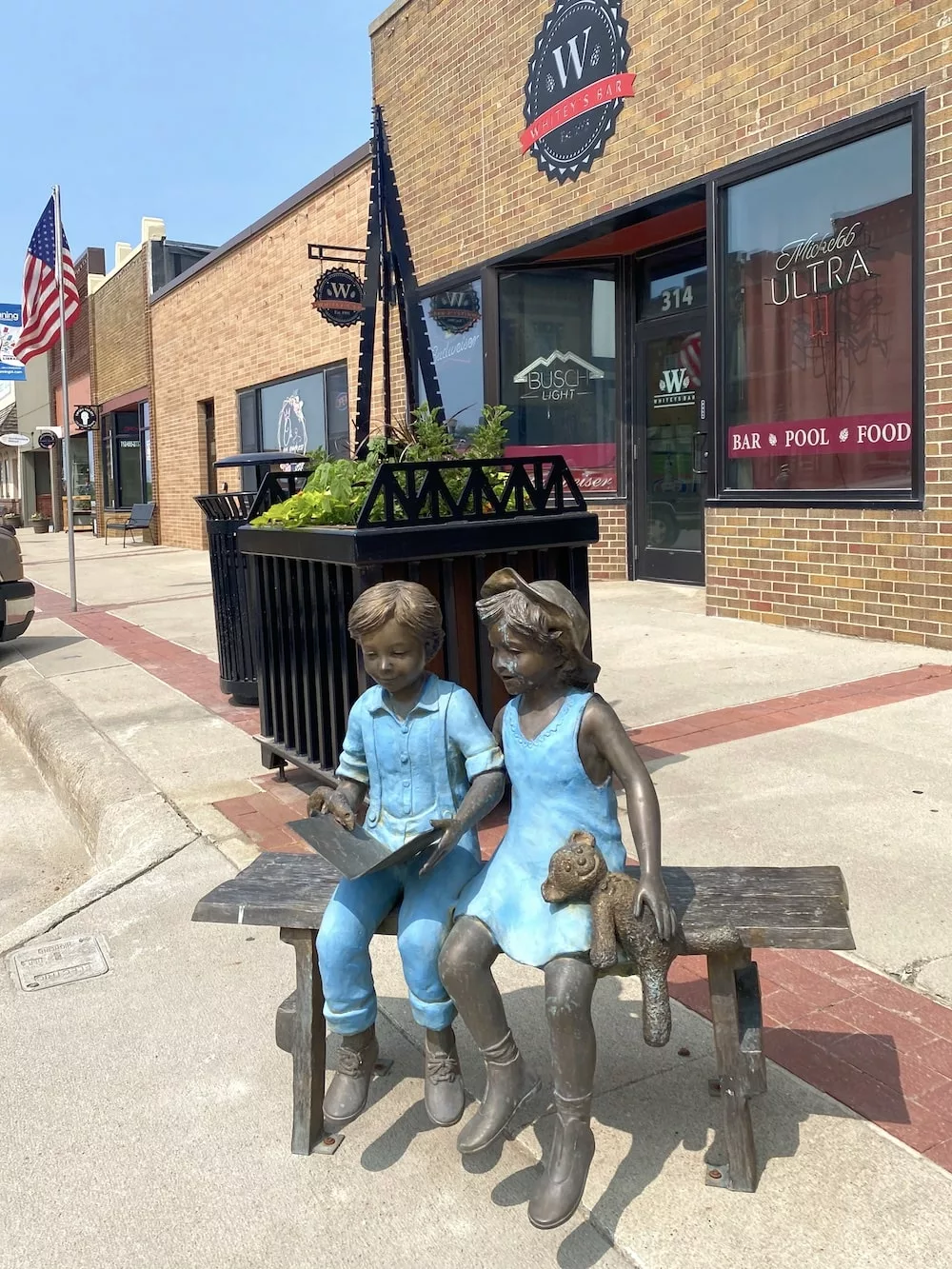 Opt to indulge during your time in Manning with a visit to Sweet Treats Ice Cream Shoppe. This local ice cream shop serves a variety of homemade flavors alongside cakes, cookies, bars and more. I'm always a sucker for ice cream. So, I opted for a cone of the cherry chocolate chip, which definitely didn't disappoint.
Sweet Treats Ice Cream Shoppe, 308 Main Street in Manning, Iowa
Embrace Play at Trestle Park
Get your steps in and embrace your inner kid with a stop at Manning's Trestle Park. Located at the base of the historic railroad trestle at the north end of Main Street, this city park is a fun place to unwind and stretch your legs, especially after time spent in the car.
With ample public art and places to enjoy a picnic, Trestle Park is a great place to relax and enjoy the Iowa landscape. Or, if you're looking for a more active outing, this park also offers paved walking trails and a river canoe access point.
Milwaukee Trestle Park, Front Street in Manning, Iowa
Tour the Templeton Distillery
Just 10 minutes from Manning you'll find the famed Templeton Distillery. Known for its Templeton Rye whiskey, this Iowa distillery has established a legacy that extends far beyond its hometown. Learn about the brand's early history in Templeton and discover how Prohibition impacted liquor manufacturers (and consumers) across Iowa and beyond.
For any whiskey-lover a tour of the distillery is an absolute must. Tours of Templeton Distillery are offered Wednesday through Saturday, and are limited to 10 people per tour group.
Pro Tip: Especially if you're visiting on a weekend, be sure to book your tour ahead of time as spots tend to sell out.
Templeton Distillery, 209 Rye Avenue in Templeton, Iowa
Best Places to Stay in Manning, Iowa
Best In-Town Option: Cobblestone Inn & Suites – Manning offers an affordable and convenient option for anyone spending time in Manning. Plus, this property is located directly next to the Manning Hausbarn Heritage Park.
Let's Be Social
Want even more offbeat adventures, roadside attractions and world's largest things? Follow Olio in Iowa on your favorite social media platforms, and tag #OlioOnTheRoad when you have quirky adventures of your own.
Frequently Asked Questions About Manning, Iowa
What county is Manning, Iowa in?
Manning, Iowa is located in Carroll County.
How old is Manning, Iowa?
The community of Manning, Iowa was established in 1881 after becoming the site of a depot along the Iowa Southwestern railroad.
Share Your Thoughts
I would love to hear from you! Have you visited this area? What are some of your favorite things to do in Manning, Iowa?