I'm a sucker for scenic drives and vintage highways. So I'm surprised it took me this long to discover the White Pole Road. Part of historic U.S. Route 6, today the White Pole Road is a 26-mile roadway across west-central Iowa that passes through five small towns.
What was once the "most populous route in Iowa" has become a much less traveled scenic byway. But that doesn't mean you should rule it out as a way to spend an adventurous autumn afternoon!
A bit of History about the White Pole Road
The original White Pole Road opened in 1910 and followed the Pacific Railroad from Des Moines to Council Bluffs. Since this was prior to the U.S. highway system we know today, the White Pole Road was not funded by the state, which meant that it was up to residents of each town along the route to attract travelers and help maintain road conditions. In 1912, the road extended east past Des Moines to Davenport to cover the entire state of Iowa.
The Iowa State Highway Commission was created in 1913 and (after paying a $5 application fee) the White Pole Road became Iowa's first certified State Route. While the route has merged with other highways and changed names over the years, the scenic roadway has remained. Though it wasn't  until 2002 that the White Pole Road Development Corporation was formed to help boost tourism around the byway and maintain this unique aspect of Iowa's history.
What to see on your drive
The official White Pole Road website has a great resource for what to see in each town along your drive, and while it's pretty expansive, there are some definite highlights. So to make your travels a bit easier, I created a guide of my own to share some of my favorite stops along the way.
Dexter
Founded in 1868 and named for a famous New York racehorse, Dexter was dubbed the original "one horse town" by The New York Times.
Dexter also happens to mark the eastern gateway of the White Pole Road. Take Exit 100 from I-80 and follow State Street to the right until you see the curve left for the White Pole Road.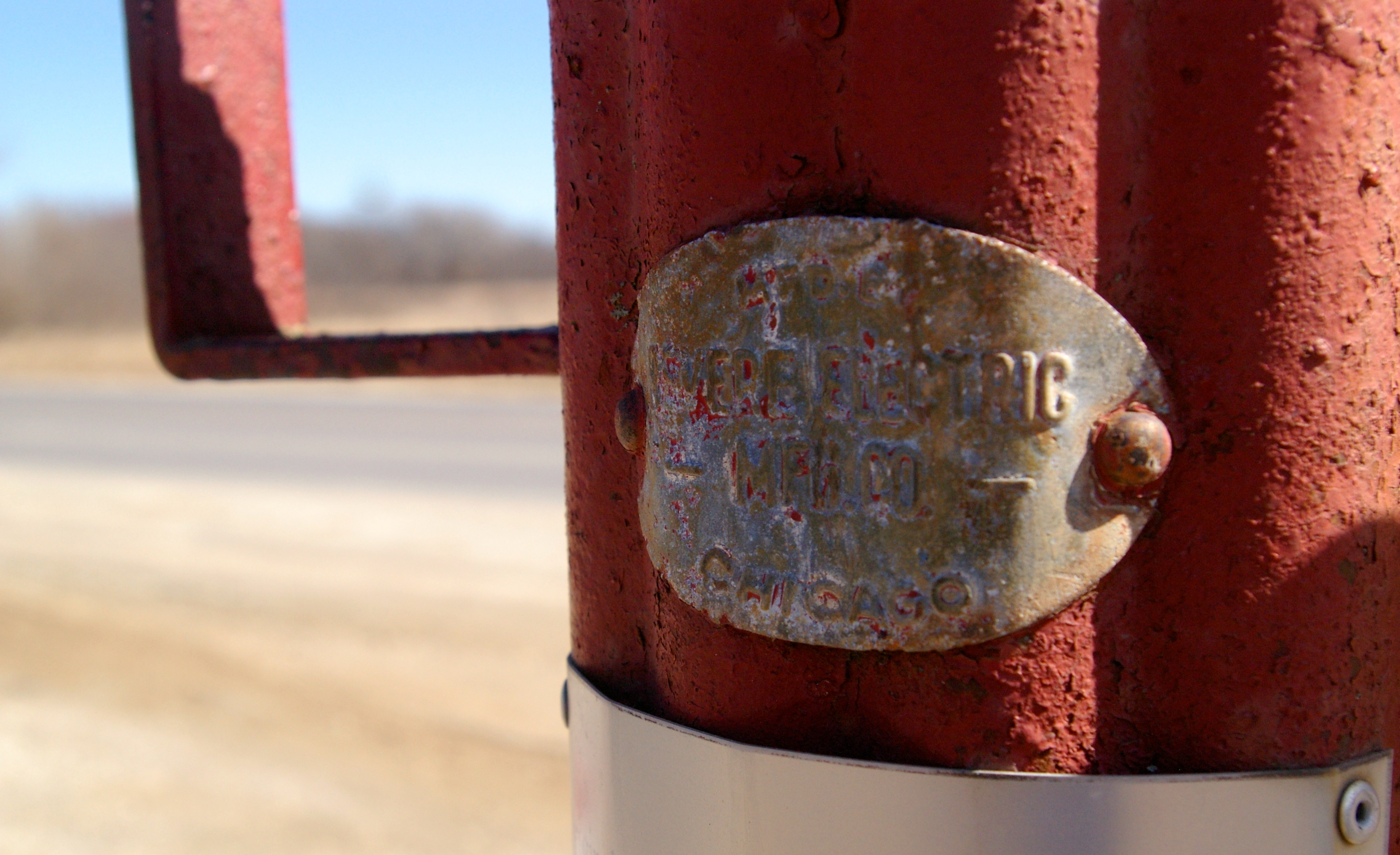 Bonnie & Clyde Shootout Site: Head north of the White Pole Road to scope out the site of an infamous Bonnie and Clyde shootout. In 1933, the Bloody Barrow Gang exchanged fire with local authorities in what was at the time known as Dexfield Park.
Downtown Dexter: Every time I pass through Dexter I'm charmed by its "downtown" area. And while the Dexter Museum has never been open when I've visited, I can only imagine the great, historic glimpse into small town life it offers.
Stuart
Founded in 1870 by Civil War veteran Captain Charles A. Stuart, Stuart is the next town you'll pass through along the White Pole Road.
Former Rock Island Railroad Depot: Listed on the National Register of Historic Places, the old Depot is currently undergoing restoration. While it's not open yet, I can't wait to get a peek inside the place where Jack Kerouac and a friend were stranded in his book "On the Road."
Hotel Stuart: It was love at first sight when it came to the Hotel Stuart. When I spotted it's newly renovated exterior and glistening neon sign I pulled a potentially hazardous left turn and hopped out of my car to investigate. While it's not currently open to the public, the restored hotel is beautiful and going to be an events venue.
Because I was more than a little obsessed I tracked down the architect in charge of the project and asked him a few questions about its history. More to come on that soon!
Bonnie & Clyde Bank Robbery Site: About a year after their shootout near Dexter, Bonnie and Clyde returned to rob the First National Bank in Stuart. Just a month before they would both die, the pair took about $2,000 from the bank.
Menlo
Founded in 1869 by Iowa's first millionaire, Menlo is the third town connected by the White Pole Road. In the same year, Menlo founder Benjamin Franklin Allen completed Terrace Hill, where he and his family lived until it became the official governor's home. Menlo also was the hometown of George Wilson who served as governor from 1939 to 1943 and as a U.S. Senator from 1943 to 1949.
Friendly Gas Station Man: Commissioned by the Kalbach Oil Company in 1943, the Nebraska Neon Sign Company created this friendly neon gas station attendant to welcome visitors as they entered town.
Freedom Rock: I've written about Ray "Bubba" Sorensen's ongoing public art project to patriotically adorn a western Iowa boulder before, but I never realized it was so close to the White Pole Road. Sorensen creates and paints a new design each May so the Freedom Rock is a constantly changing attraction.
Casey
Founded in 1868, Casey's claim to fame is as the hometown of author Thomas W. Duncan, who wrote "Gus the Great." The city was named for the Irish foreman Patrick Casey who was in charge of the railroad workers as they constructed the new Chicago, Rock Island and Pacific Railroad.
Slayton Rock: Weighing in at 500,000 pounds and standing more than 16 feet high, it took Don and Betty Slayton 3,000 horsepower in the fall of 1999 to move the gigantic boulder from their nearby field. Now it's a great place to stretch your legs and pose for a photo opp.
Adair
Known by I-80 travelers for it's smiley face water town, Adair was founded in 1872 and named for the eighth governor of Kentucky General John Adair. The city is also the highest point on the railroad line.
Jesse James Historic Marker: What was once the site of the first robbery of a moving train is now simply commemorated by a metal wheel. On July 21, 1873, the infamous Jesse James Gang pulled off the heist, and while they were after $75,000 dollars in gold they believed to be on board, they only made off with about $3,000.
Resources
If you want to know more about the history of the White Pole Road, its official website is a fantastic resource.
Download the White Pole Road map for easy navigation before hitting the road.
Need a kick? Listen to the theme song of the White Pole Road "Five Small Towns" online.
Traveling with kids? Download both of these roadside bingo cards to keep younger roadtrippers entertained.
I've also created an interactive Google Map below to help you easily navigate to some of the more scenic locations:
[googlemaps https://www.google.com/maps/d/u/0/embed?mid=zXOd2QmFctQU.kGeC-YyH-Rek&w=640&h=480]
Are you a White Pole Road veteran? I'd love to hear your favorite stops, tips and stories in the comments below!