Summer is the perfect time to explore the outdoors and this year is no exception! With many of our usual summer activities cancelled and trips put on hold, exploring Iowa State Parks has been one of the easiest (and most budget-friendly) ways to add a little adventure to our days.
This year Travel Iowa and the Iowa Department of Natural Resources are celebrating the 100th anniversary of our state parks with the Iowa State Park Passport. Not only is this new digital resource a great way to discover outdoor spaces near you, but you can also be entered to win the Grand Prize when you virtually stamp your passport across the state. As someone who's dipping a toe a bit deeper into the realm of outdoor adventures, it's the perfect way to explore our state's natural areas without feeling overwhelmed.
I'm thrilled to partner with Travel Iowa to share how more information about how you can use the Iowa State Park Passport to plan your own adventures and share a few favorite outdoor places of my own.
About the Iowa State Parks Passport
The Iowa State Park Passport program is free to join, and you can sign up via the link below or by texting PARKS to 515-531-5995. The passport is virtual and can easily be added to your smart phone for easy access while you explore.
In addition to being a great resource to learn more about our state's outdoor spaces, you can also be entered to win the Grand Prize, a two-night stay at Honey Creek with golf, indoor waterpark access, and more by stamping your virtual passport at different parks. The more parks you visit, the more chances you have to win. All check-ins must be completed by October 31, 2020 to qualify.
To learn more about the program and its prizes, visit the Travel Iowa website.
My Favorite Central Iowa State Parks
Iowa is full of amazing outdoor spaces. From the sandstone bluffs along the Mississippi River to the amazing formations of the Maquoketa Caves, the state's natural landscape is breathtaking and often unexpected.
Since we're staying a bit closer to the Des Moines metro this summer, I decided to share four of my favorite central Iowa State Parks to explore when you need to take in a little nature.
Badger Creek State ReCreation Area
While it's a popular destination for fishing, Badger Creek State Recreation Area is the perfect hidden gem to relax and embrace the prairie.
During mid- to late-July, the recreation area is home to fields of blooming sunflowers that are planted as a food source for the area's wildlife. If you do decide to visit to see the bright blooms, make sure you're respectful of the nearby foliage and leave the fields as you found them.

Perfect For
Fishing and paddling
Enjoying a picnic or sipping coffee while watching the sun rise
Spotting birds and prairie pollinators
Nearby Stops
Especially if you're visiting Badger Creek early in the day, plan to make a stop at Waveland West in Booneville. The Waveland Cafe is one of my favorite Des Moines greasy spoons and their hash browns are out of this world.
Getting There
Badger Creek State Recreation Area is located about half an hour southwest of Des Moines in Van Meter. The park is easily accessible from the metro via I-80 or I-35.
Badger Creek State Recreation Area, 120th Street, Van Meter, Iowa
Located on Lake Red Rock—Iowa's largest body of water—Elk Rock State Park is one of my favorite hidden gems for hiking. The North Loop Trail is an easy 1.8 mile loop that goes up into the bluffs overlooking Lake Red Rock. If you're looking for more options, the park has a variety of other trails, including some that allow for horseback riding.

Perfect For
Easy hiking
Boating
Camping
Horseback riding
Nearby Stops
If you're already exploring Elk Rock State Park, the Cordova Park Observation Tower is an easy detour across Lake Red Rock. This former water tower turned observation deck is worth the many flights of stairs for the view of the lake and state park below. Just don't forget to bring your quarters! The observation tower's turnstile charges 50 cents per person.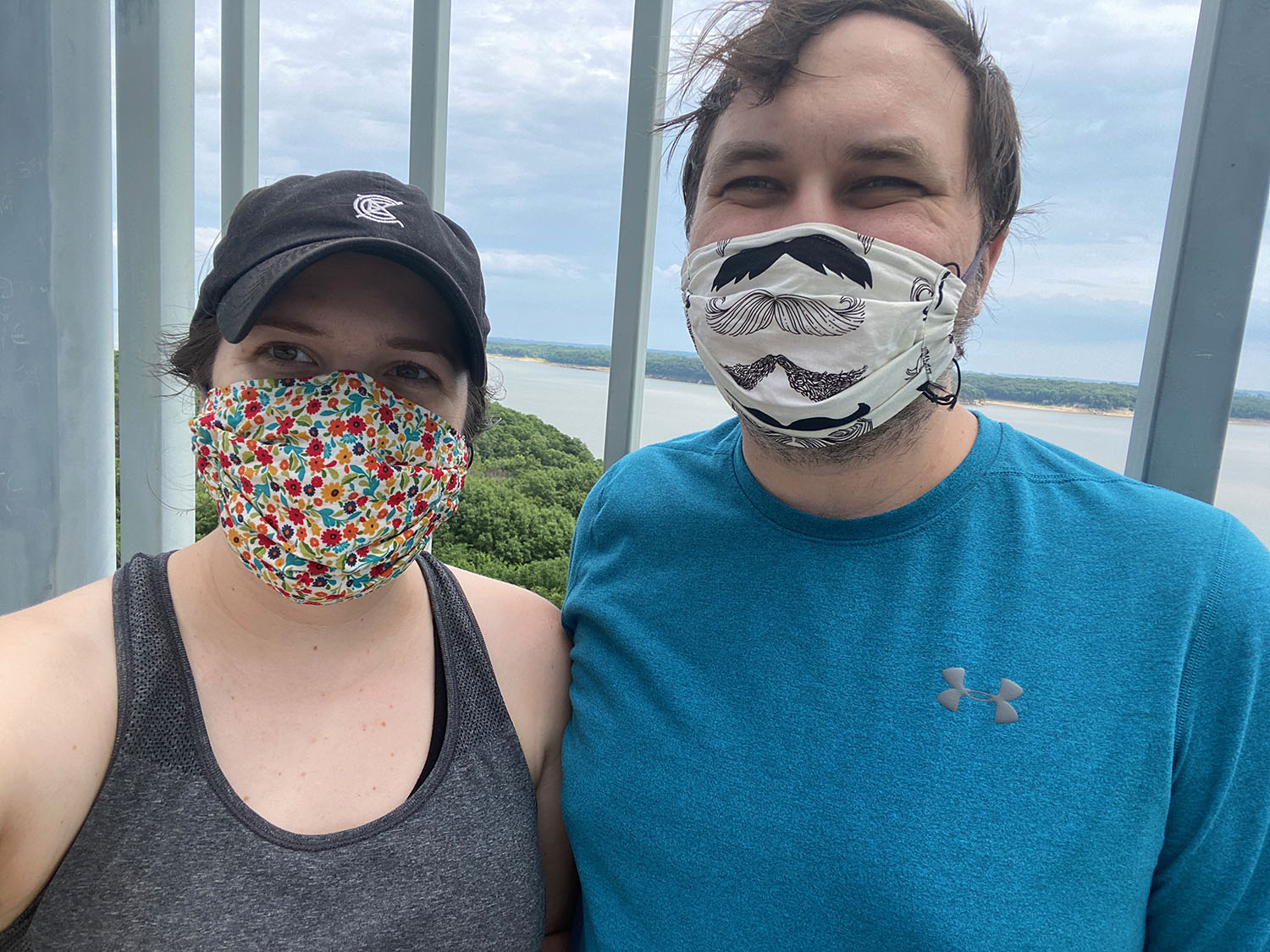 Additionally, the original Peace Tree Brewing Company is located about 15 minutes south in Knoxville if you need a grab a growler to go or a post-hike beer.
Getting There
Elk Rock State Park is located about 50 minutes southeast of Des Moines in Knoxville. The easiest way to get to the park from the Des Moines metro is via IA-163 E and IA-14 S.
Elk Rock State Park, 811 146th Avenue, Knoxville, Iowa
Lake Ahquabi State Park
Located just outside of Indianola, Lake Ahquabi State Park is like a small oasis. With a small strip of beach and plenty of space to launch kayaks and canoes, this 115-acre lake is a great place for summer recreation. On our most recent visit, we enjoyed the park from the shore by way of the 6.5-mile trail that winds its way around the lake.

Perfect For
Nearby Stops
This picturesque state park is located less than 10 minutes away from Indianola. After a long day outdoors, West Hill Brewing Company is the perfect place to grab a well-deserved pint. We especially love their spacious patio. Or if you're visiting in the morning, we love grabbing breakfast at Mishmash.
Getting There
Lake Ahquabi State Park is located half an hour south of Des Moines near Indianola. The park is easily accessible via US-69 S.
Lake Ahquabi State Park, 16510 118th Avenue, Indianola, Iowa
Ledges State Park
For central Iowans, Ledges State Park is easily one of the more popular outdoor spaces in the area. Named for the area's towering sandstone ledges, this land became one of Iowa's earliest state parks in 1924.
No matter the season, I enjoy visiting Ledges State Park to hike and check out the amazing views of the Pea's Creek canyon. Summer is a great time to visit but early fall, when the leaves begin to change, is beautiful as well.
During the warmer months, the creek area is an especially popular place for families. If you're planning to visit, make sure you stay safe and allow for enough distance between other visitors.

Perfect For
Hiking
Exploring with kids
Camping
Nearby Stops
Since Ledges State Park is so close to Ames, we typically visit a few of our local favorites after an outdoor adventure. Fuel up with a pie from Great Plains Pizza—I recommend the Prairie Special on Denver-style crust—or grab a cold beer to enjoy on the patio at Alluvial Brewing Company.
Getting There
Ledges State Park is located about 50 minutes northwest of Des Moines and 25 minutes west of Ames. The park is easily accessible via US-17 from Des Moines and US-30 from Ames.
Ledges State Park, 1515 P Avenue, Madrid, Iowa
Share Your Thoughts
I would love to hear from you! What are your favorite Iowa State Parks? Where have you been exploring Iowa's outdoors this summer?