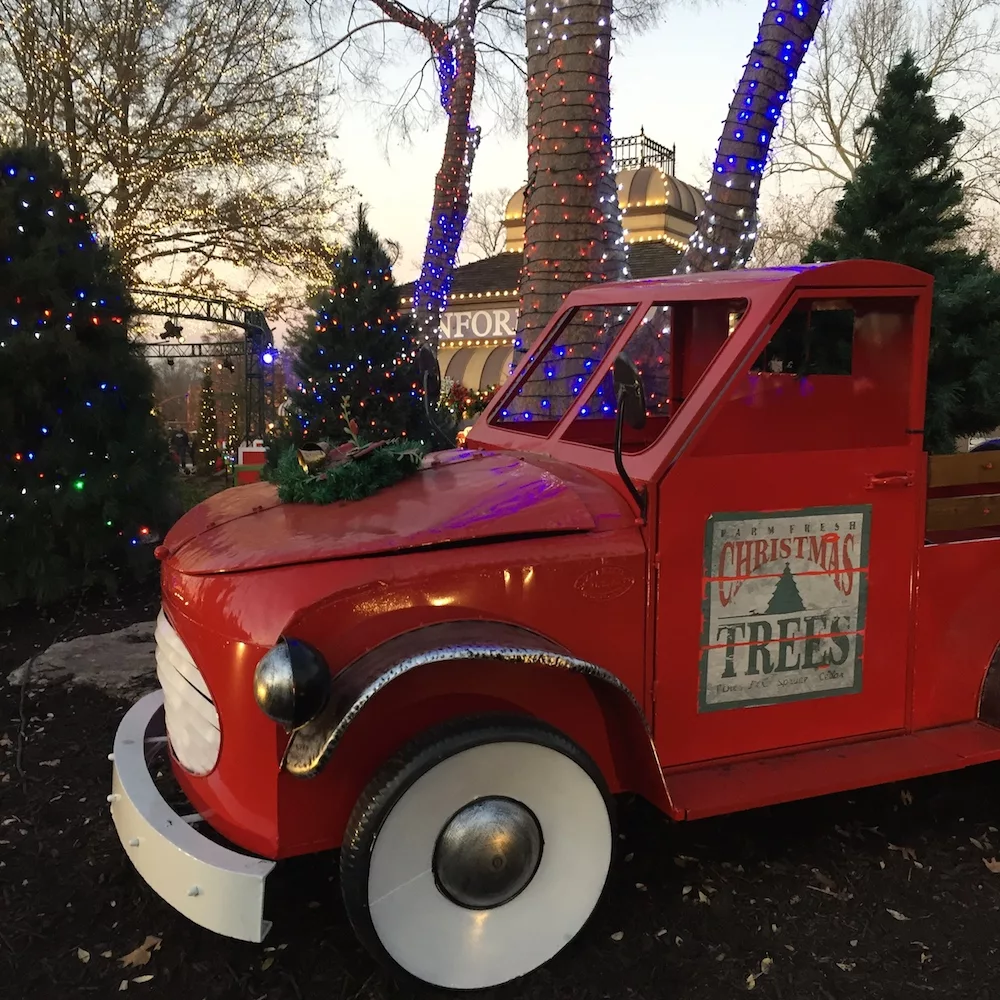 I don't know about you, but it can be hard for me to get in the holiday spirit when the weather is still climbing into the 60s in December. The past few weeks I've been feeling like I need an extra dose of holiday cheer. So when I learned about an opportunity for us to experience Worlds of Fun's WinterFest, I jumped at the chance for a weekend getaway to Kansas City.
I'm not typically a huge fan of amusement parks — I recently learned that the spinning, swooping rides I loved as a kid are no longer my friend. But yet, I was intrigued. The amusement park has hosted this seasonal celebration since 2017 and the potential for holiday merriment seemed high.
It didn't take long for me to start feeling like less of a Grinch. Worlds of Fun's WinterFest event is a great way to celebrate the holiday season, even if you aren't a roller coaster fanatic or avid amusement park goer. After spending the evening exploring the park, I've compiled my top five ways to celebrate the holidays during this unique event.
How to Get the Most Out of WinterFest
Take Time to Slow Down
We discovered some of our favorite parts of Worlds of Fun's WinterFest by taking time to just wander. The thoughtful little details and small changes that transformed the park from a summer destination to a twinkling winter wonderland were seriously impressive.
If you're visiting with smaller children, this might not be as effective a strategy. But taking the time to enjoy the little moments, even amongst the crowds, really made the evening memorable for us.
Admire the Variety of Decorations
One of the things that truly surprised me about WinterFest was the variety of decorations throughout the park. From classic white lights to vibrantly colored displays timed to music, each area of the park is themed perfectly with the existing rides and attractions.
Of all the areas, I enjoyed the oversized, colorful bulbs in Planet Snoopy the most. These cartoon-like lights were the perfect compliment to the Peanuts illustration style and added to the whimsy of the evening. I also couldn't help stopping to admire the glowing Chinese lanterns near the Spinning Dragon roller coaster each time we passed by them.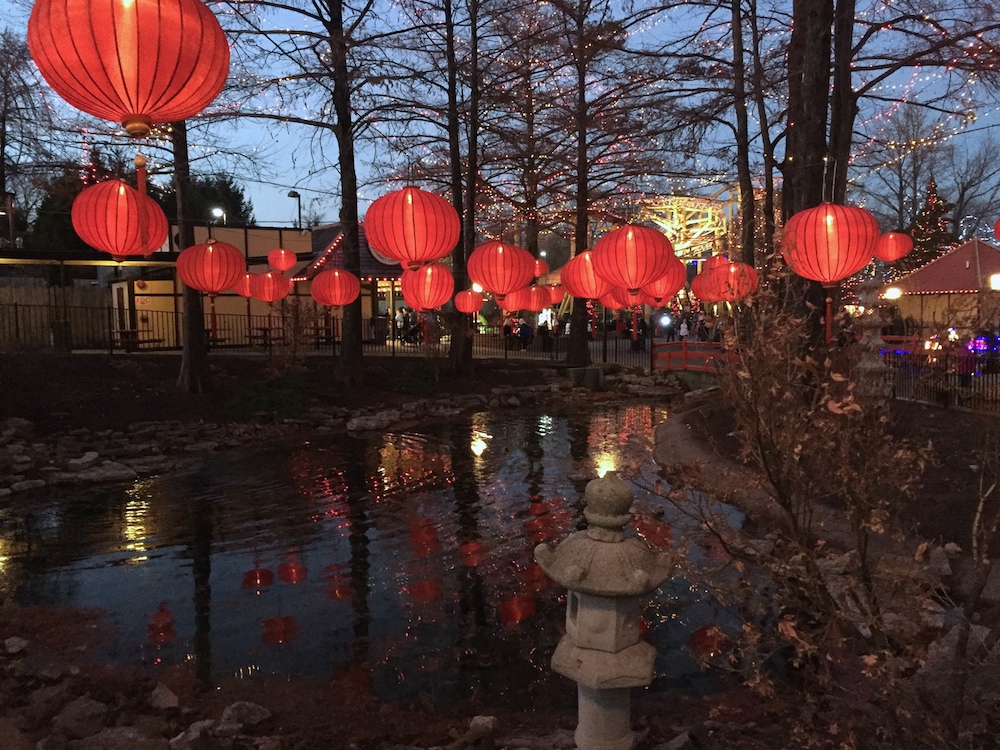 Find a New Perspective
When I first started planning our trip, I was surprised to discover that quite a few of the park's rides are open during WinterFest. While it's a fun novelty to be able to ride a roller coaster in December, this is also an incredible opportunity to see Worlds of Fun in a new way.
We decided to stick with the lower impact rides, and were delighted to discover some seasonal touches around the park. Rides like the Worlds of Fun Railroad and LeTaxiTour were transformed into the Polar Express and the 12 Days of Christmas to get riders in the holiday spirit. These slower rides were the perfect way to experience the park in a new light.
Expect the Unexpected
If you're expecting WinterFest to simply be Worlds of Fun decorated for the holidays, you are mistaken. Not only is the park full of twinkling holiday displays, but there's also unexpected touches at nearly every turn. From a petting zoo near the Sounds of the Nativity pavilion to dozens of talented musical performers throughout the park, we were delighted to discover all sorts of characters, performers, and unique activities. We particularly enjoyed stumbling upon the musical stylings of the Jingle Jazz ensemble and the 1950s era trio The Mistletones.
When you're in the mood for a sweet treat, stay warm with steaming souvenir mug of hot chocolate. For $10.99 you can refill your mug as many times as you'd like throughout the evening. Pair your cocoa with cookie decorating in Mrs. Claus' Kitchen. For $14, visitors can decorate four jumbo sugar cookies with all sorts of frosting and sprinkles. These sweet treats make the perfect edible souvenir from your visit to Worlds of Fun.
Remember to Believe in Magic
As a kid, it always seemed like the holidays were this incredibly magical time. Now as an adult, it can be easy to forget that feeling with all of the hustle and bustle that seems to accompany the holiday season.
It was unseasonably warm on the night we visited WinterFest so we were expecting to have to imagine our "winter wonderland." But as soon as the official tree lighting ceremony came to a close, we were delighted to discover that big, fluffy snowflakes had begun to flutter down from above. Thanks to a little Worlds of Fun magic it snows in performance areas around the park every 10 minutes or so.
If you Visit Worlds of Fun's WinterFest
Plan your trip to get in the holiday spirit at Worlds of Fun's WinterFest through December 31.
The park is open select dates from 5 to 10 pm, but the parking lots open at 3:30 pm if you're looking to avoid a long line. If you plan to arrive early, you can explore the International Plaza and Das Eishaus Ice Skating Rink beginning at 4 pm before the rest of the park officially opens.
Based on the size of the park and the amount of things to see and do at WinterFest, I recommend planning ahead and deciding which rides and experiences you want to visit before you arrive. We made a point of seeking out any rides or activities we wanted to do early in the evening before lines got longer (and it got colder out). Also, don't forget about the official Tree Lighting Ceremony, held nightly at 5:30 pm under the park's 70-foot-tall Christmas tree.
Admission: Ticket prices start at $26 (plus taxes and fees) per person if you purchase tickets online in advance.
Worlds of Fun, 4545 Worlds of Fun Avenue in Kansas City, Missouri
Share Your Thoughts
I would love to hear from you! Have you been to Worlds of Fun? What's your favorite way to celebrate the holiday season?