Even when I visit a larger metropolitan area, I prefer to head off the beaten path. From obscure local history to hole-in-the-wall eateries, I love exploring like a local when I visit somewhere new. Luckily for us all, you'll find plenty of things to do in Kansas City, Kansas that showcase the community's local culture.
One of my favorite things about this Kansas locale is the way it has embraced its Latinx community through celebrations like Día de los Muertos and the KCK Taco Trail. You'll also find a rich appreciation for local history here. Whether you're exploring the city on foot during an urban hike or taking a self-guided wander with the KCK Legacy Trail, Kansas City's stories are at the forefront of the experience.
Whether you're planning a weekend getaway or crossing over from Missouri for the afternoon, there are plenty of reasons to delve into this community's hidden gems. From epic eateries and culinary trails to vibrant local history and celebrations, discover seven things to do in Kansas City, KS to celebrate the community's unique culture.
This post may contain affiliate links, which means I may receive a small commission at no additional cost to you.
Things to Do in Kansas City, Kansas
Eat Your Way Through the Taco Trail
While barbecue is a popular Kansas City staple, there's another food reigns supreme here: the taco. In fact, there are so many places to get great Mexican food in KCK that the KCK Taco Trail was created.
This digital passport features more than 50 local taquerias, tamale makers and more. Sign up for your own free passport, find a taqueria to visit and dig in.
During my visit to KCK, we checked off quite a few stops along the trail including Jarocho, which ended up being one of my favorites. This colorful eatery serves all sorts of authentic Mexican seafood dishes alongside cocktails like margaritas and micheladas.
We visited Jarocho during lunchtime and were absolutely dazzled by the array of options on the menu. The grilled baby octopus and ceviche Jarocho were delicious starters for our group to share. Then, we enjoyed entrees like the seared jumbo scallops, daily whole fish special and shrimp chipotle.
Jarocho, 719 Kansas Avenue in Kansas City, KS
We also grabbed some late-night snacks at El Torito Grill, where I devoured a delicious chile relleno burrito. This popular spot has hefty portions so you could definitely share amongst a group to try more menu options. Their birria tacos are also a popular choice for diners.
El Torito Grill, 1304 Central Avenue in Kansas City, Kansas
My favorite way to experience a new city is on foot. Thanks to Urban Hikes KC, you'll not only get to see a part of the city in a new way but you'll also get some extra steps in.
On this particular trip, we took part in Urban Hikes KC's Strawberry Hill & Downtown KCK Hike. This hike treks five miles around downtown Kansas City, Kansas over the course of 3.5 hours. On the morning of our tour, we met our group at Splitlog Coffee Co. From there, we explored the Strawberry Hill and Russian Hill neighborhoods and learned about the area's history.
I've also done the group's Urban Coffee Hike and really enjoyed discovering some new-to-me coffee shops while traversing the city.
Tips for Enjoying Your Urban Hike
Before you head out on your urban hike, make sure you're prepared! While these tours are held in an urban setting, you'll still be covering a lot of ground and should be ready to walk. These are my top tips to help you prepare for your urban hike:
Bring a water bottle along with you for the trek. Staying hydrated is key, especially during the warmer summer months, and you won't want to be without a water supply.
Make sure you're wearing comfortable shoes! Many of Urban Hikes KC's hikes more than 3.5 miles of walking. These comfortable sneakers from Allbirds are some of my favorite travel shoes because they're lightweight but still offer great support.
Get a Taste of Kansas City Barbecue
One of the city's biggest claims to fame is Kansas City barbecue, and you'll find no shortage of delicious things to eat on this adventure. On the Kansas side of the community, one of the most popular choices is Slap's BBQ.
There's almost always a line here and for good reason. Founded in 2014, this Kansas City barbecue joint quickly gained a cult following for its award-winning smoked meats. Slap's — which is an abbreviation for "Squeal Like a Pig" — has won a number of barbecue awards and even competed on Destination America's BBQ Pitmasters TV show.
While there was predictably a wait during our visit, the line moved quickly. Plus, we got to enjoy the deliciously wafting smell of smoking meats while we waited. After we ordered, our food came out quickly and it wasn't difficult to find seating between the restaurant's two spacious patios.
It was hard to choose what to order from Slap's mouthwatering menu. But ultimately, I opted for the burnt end combo with jalapeño cheddar sausage and sides of baked potato casserole and mac and cheese.
Slap's BBQ, 553 Central Avenue in Kansas City, KS
Learn About Local History with the Legacy Trail
Similar to the Taco Trail, the KCK Legacy Trail was designed to share the unique stories of the diverse groups of people who make up this community. The self-guided audio tour is includes a number of different journeys that showcase Kansas City's cultural groups, including Latino, Eastern European, Black Heritage, Indigenous Peoples and Modern Immigrant trails.
We got a sneak peek of the Latino Heritage Trail during our visit to KCK, and it was really interesting to hear about the community's history, oftentimes in their own words. One of my favorite stops was the Anthology of Argentine Mural, which spans 220 yards and captures centuries of community history.
Get a New Perspective with Voler Aerial Academy
Traveling is a great opportunity to learn something new. At Voler Aerial Academy you can test your nerves (and your flexibility) with an aerial acrobatics class for beginners.
Take an hour or two to learn from the school's skilled instructors to learn some basic moves on the aerial silks. After our aerial class, I have a whole new appreciation for how effortless these performers make their art form look. While I don't think I'll be quitting my job to go into circus arts any time soon, it was a fun experience and a really great workout.
Voler Aerial Academy, 556 Lowell Avenue in Kansas City, KS
Sample the Local Coffee Scene
You'll need plenty of fuel for your adventure in Kansas City. Thankfully, the city is full of great local coffee shops where you can get your caffeine fix.
In the Strawberry Hill neighborhood, Splitlog Coffee Co. is a charming shop with plenty of seating in this airy cafe. For an amazing view of the Kansas City, Missouri skyline, head to the shop's rooftop patio.
Splitlog Coffee Co., 548 Central Avenue in Kansas City, Kansas
One of my favorite Kansas City gems is Three Bees Pottery & Coffee Shop. This cozy shop combines delicious coffee, handmade tamales and gorgeous pottery pieces. I started my morning with a delectable pork tamale alongside an espresso Champurrado, which is a Mexican chocolate Atole.
Three Bees Pottery & Coffee Shop, 925 Southwest Boulevard in Kansas City, Kansas
Celebrate Día de los Muertos
Kansas City has a rich Latinx heritage that is celebrated year round, but becomes especially prevalent leading up to the community's annual Día de los Muertos (or Day of the Dead) celebration.
This popular community event includes all sorts of live music, delicious food from street vendors, and unique cultural arts culminating in a nighttime parade. One of the event's most popular draws are the wandering Catrinas, elegantly dressed woman with skeleton makeup and floral headpieces who are the holiday's most well-known symbols.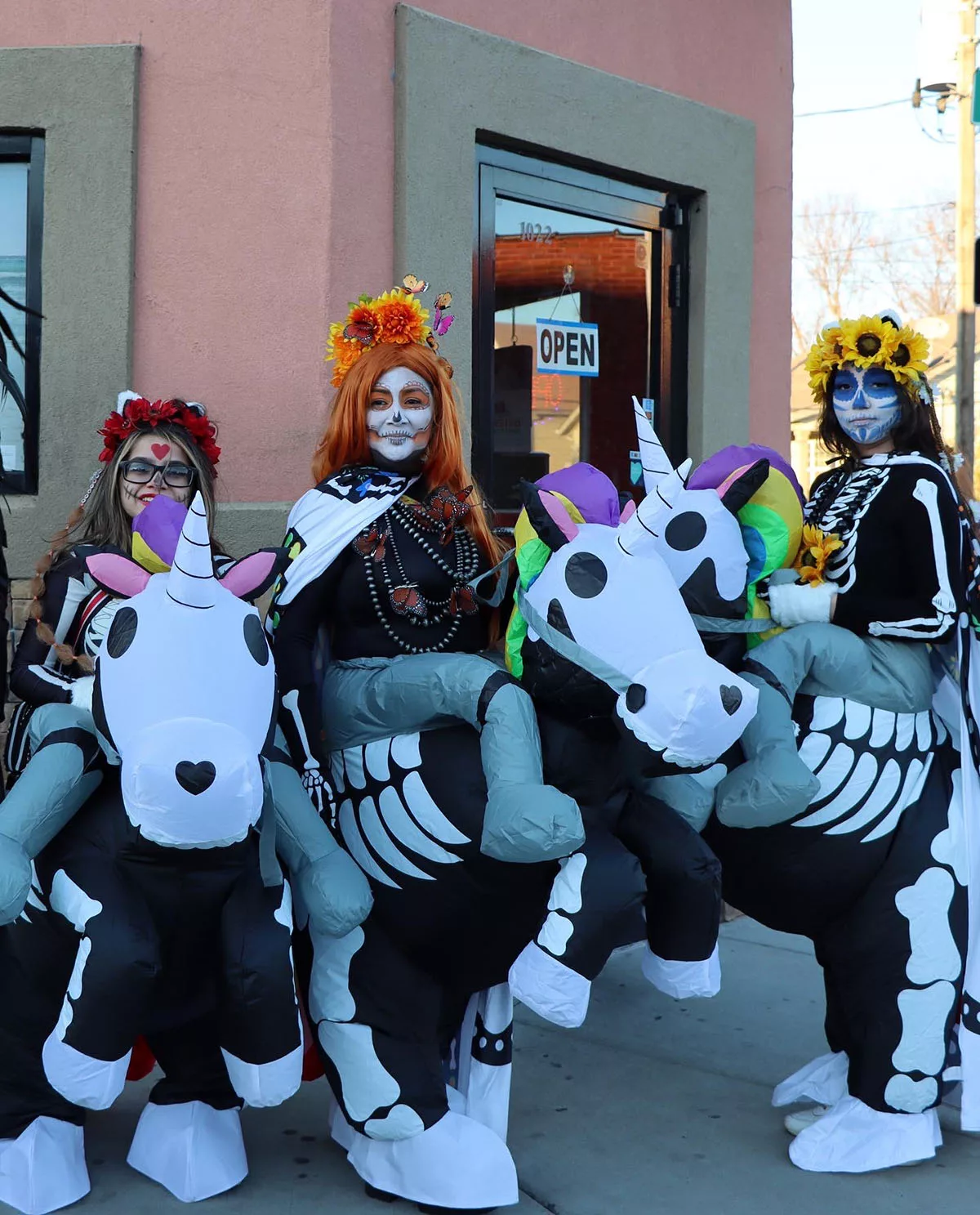 The festivities are organized by CABA (the Central Avenue Betterment Association) each year on the Saturday following Día de los Muertos (observed on November 1 and 2). If you're considering a fall visit to Kansas City, I definitely recommend planning your trip around this incredible community event.
Save the Date: Kansas City, Kansas' Día de los Muertos celebration will be held on November 4, 2023.
Let's Be Social
Want even more offbeat adventures, roadside attractions and world's largest things? Follow Olio in Iowa on your favorite social media platforms, and tag #OlioOnTheRoad when you have quirky adventures of your own.
Share Your Thoughts
I would love to hear from you! Have you explored this part of the Midwest? What are your favorite things to do in Kansas City, Kansas?