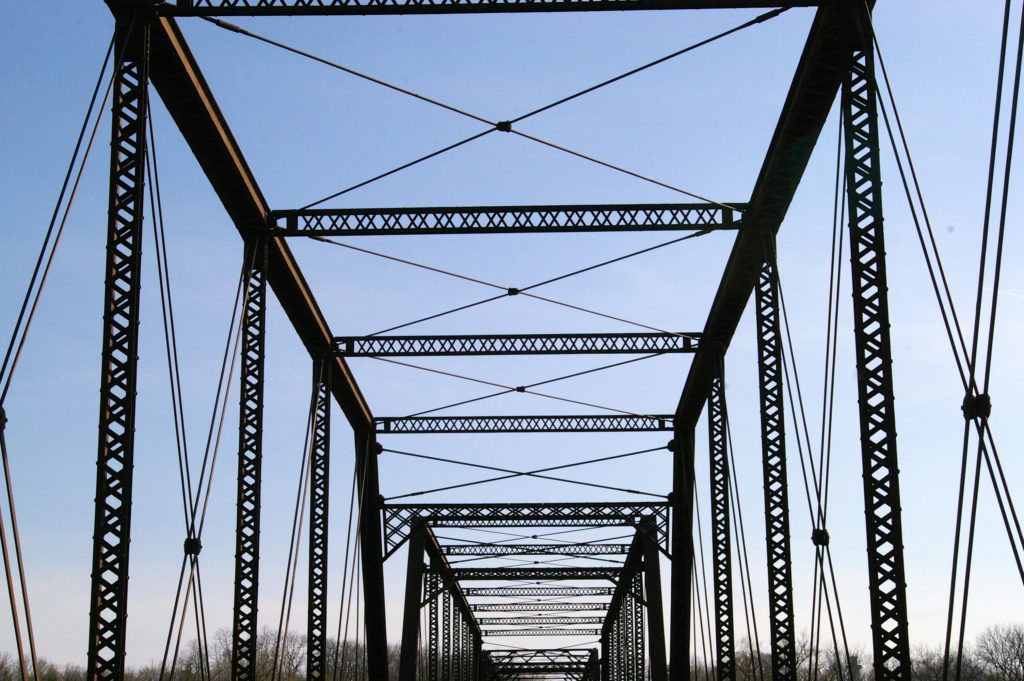 One of the best things about Bentonsport, Iowa—aside from the Village B&B—is it's size. The unincorporated community has a population of about 40 and even if you're moving pretty leisurely, you can make a lap around the whole village in less than half an hour.
While there's a pretty small chance of you missing something on your exploration of Bentonsport, I wanted to put together a small walking tour of some of my favorite places. We visited just too early in the season so all of the town's shops were still closed, but I'd love to make a trip back soon to check out some of the seasonal attractions I missed out on.
A brief history of Bentonsport, Iowa
Bentonsport might not be a bustling metropolis, but more than anything, the village has an incredible rich history. I mean, it was founded in 1839 before Iowa was even officially a state.
The riverfront community was the site of three lock-and-dam complexes created as part of the Des Moines River Improvement Project, which began in the early 1800s. Like up-river Bonaparte, Bentonsport was home to many mills, including the first paper mill in the state of Iowa. It's estimated that at its peak, more than 1,000 people once inhabited the riverfront village. You can learn more about Bentonsport's history and see some pretty amazing historic photos here and here.
If you find yourself in Bentonsport, here's a scenic walking tour of some of my favorite buildings, landmarks and pieces of local history. (There's also a Google map embedded below to help you find your way).
Typically with a community that's established in the early 1800s, you're going to find some pretty old headstones in the local cemetery and Bentonsport's is no different.
Read more about my exploration…
2. Historic Presbyterian Church
The Historic Presbyterian Church was built in 1855 and was one of at least four churches to serve the community throughout its history. The church still operates and is open to the public during its weekly Sunday morning service (held at 9 am).
If you're looking for a place to stay in the Villages of Van Buren, look no further than this local B&B. It's historic, welcoming, and has a breakfast that will leave you dreaming of it for weeks to come.
4. Historic Bentonsport Shops
Like I mentioned, we visited a little bit too early in the season to explore the historic shops of Bentonsport. But that didn't stop us for peaking in a few windows to admire the wares—especially at Iron & Lace, which specializes in Queen Anne's Lace Pottery and ironwork from the Bentonsport Blacksmiths.
You can read more about Bentonsport's shops on the village's website.
5. Bentonsport Bridge
The Bentonsport Bridge across the Des Moines River first opened in 1883 and replaced the need for ferries between Bentonsport and Vernon. While the bridge was originally intended for horse and buggy traffic, today it is restricted to pedestrians and bikers only.
The bridge was restored by the Bentonsport Improvement Association in 1994, and today is the longest and oldest standing truss bridge across the Des Moines River.
6. Vernon School
If you wander across the Bentonsport Bridge and continue just up the hill, you'll happen upon the Vernon School. The beautiful Federal-style school was built in 1851 by Riley Cass and operated until 1960.
While it looks like the space isn't being used right now (if it is, I'd love to know what for!), a local told us that for many years it served as an art gallery.
7. Mason House
Built in 1846 and originally called the Ashland House, the home was purchased in Lewis Mason in 1857 and renamed The Mason House Inn. According to the village of Bentonsport's website, "steamboat hotel in continuous use along the Des Moines River."
A quick Google search will also tell you that The Mason House Inn is considered one of the most haunted hotels in America. While I was too much of a chicken to book a room there, I'm working on a post about the Inn's history and haunting. Stay tuned!
8. Indian Artifacts Museum
While the Museum wasn't opened during our visit (I promise, I'll be back soon), I read a lot of really interesting things about this tiny, privately-owned collection. Tony Sanders owns and operates the Museum, which includes more than 4,000 Native American artifacts including arrowheads and tools that he's found in surrounding counties.
You can read more about the Indian Artifact's Museum on the village's website. 
Resources
Google Maps: Save my custom walking tour of Historic Bentonsport for your next visit to the Villages of Van Buren

Historic Bentonsport Walking Tour (& Map): This is a great tour of (literally) every building in Historic Bentonsport. I recommend printing it out ahead of time so you don't have to shuffle back and forth between the numbered descriptions and your map, but overall I found it incredibly helpful.
Know of something I missed while visiting? I'd love to hear your favorites so I can plan my next trip!