It's that time of year again! This week I'll be sharing Olio in Iowa's 2016 Holiday Gift Guide for every type of traveler in your life. From family friends to outdoor enthusiasts, I've compiled some of my favorite items so you can give a little bit of adventure to everyone on your list this holiday season.
---
For the aspirational traveler in your life who may not get out of town as much as they would like, but still longs for the thrill of a new adventure. These travel-inspired gifts are sure to have anyone with wanderlust planning their next trip.
Atlas Obscura has long been a travel resource for all things offbeat. Now with its newly published book, Atlas Obscura offers an in-depth look at some of the world's most interesting and unusual destinations.
Atlas Obscura Book, $35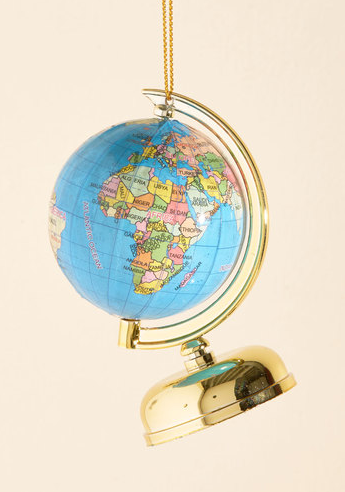 Give them the world—literally. This tiny gilded ornament is the perfect addition to any tree and is sure to remind its new owners of all the places yet to be explored.
Globe Ornament, $10
Make sure your favorite traveler takes home a piece of their favorite city. These beautiful embroidered pillows capture the essence of cities across the country and are sure to be great conversation starters.
CatStudio Chicago Pillow, $168
Who doesn't need a reminder to embrace new adventures? Not only are these sweaters adorable, they're also sure to become a cozy wardrobe staple in no time.
Say Yes to Adventure Sweatshirt, $55
Turn some of their favorite vacation photos into sensational stationary! Artifact Uprising allows you to quickly and easily create a pack of 20 different, high-quality postcards with any image you choose.
Artifact Uprising Postcard Pack, $30
Even if they're far away, help them keep home close to their heart with one of Aminimal's Urban Gridded necklaces. With dozens of different cities available, you're sure to find an intricate pendant that strikes their fancy.
Aminimal Urban Gridded Necklace, $40
Keep on Gifting!
Shop the rest of the Olio in Iowa 2016 Holiday Gift Guide, or check out picks from 2015 and 2014.