Disclosure: My trip was hosted by Visit Wichita. However, all opinions are my own.
When it comes to exploring a new city, finding local coffee shops to help me stay caffeinated is a must! That's why when I visited recently I knew that I had to try as many coffee shops in Wichita, Kansas as I could.
Whether you're looking for a place to cozy up and get some work done, a spot with equally incredible food, or somewhere in between, I've got you covered. Plus, you'll even find some places where you can pick up beans to grind and brew yourself at home.
Fear not, under-caffeinated travelers! You'll never have to drive subpar java again. My guide to some of the incredible coffee shops in Wichita, Kansas is here to save you.
Coffee Shops in Wichita, Kansas
Cocoa Dolce isn't just a regular coffee shop. It's a self-proclaimed "Sweet Lounge" that is sure to satisfy even the strongest sweet tooth. While you're find all of your favorite caffeinated beverages here, what really makes the trip worthwhile is the desserts. Cocoa Dolce's handmade (and hand-painted) chocolates are almost too beautiful to eat. But when you do, you'll discover they're just as decadent as they are gorgeous. To top it off, Cocoa Dolce also serves a variety of baked goods as well as gelato.
This local favorite has three shops located across Wichita so no matter what part of the city you're in, you can find something sweet.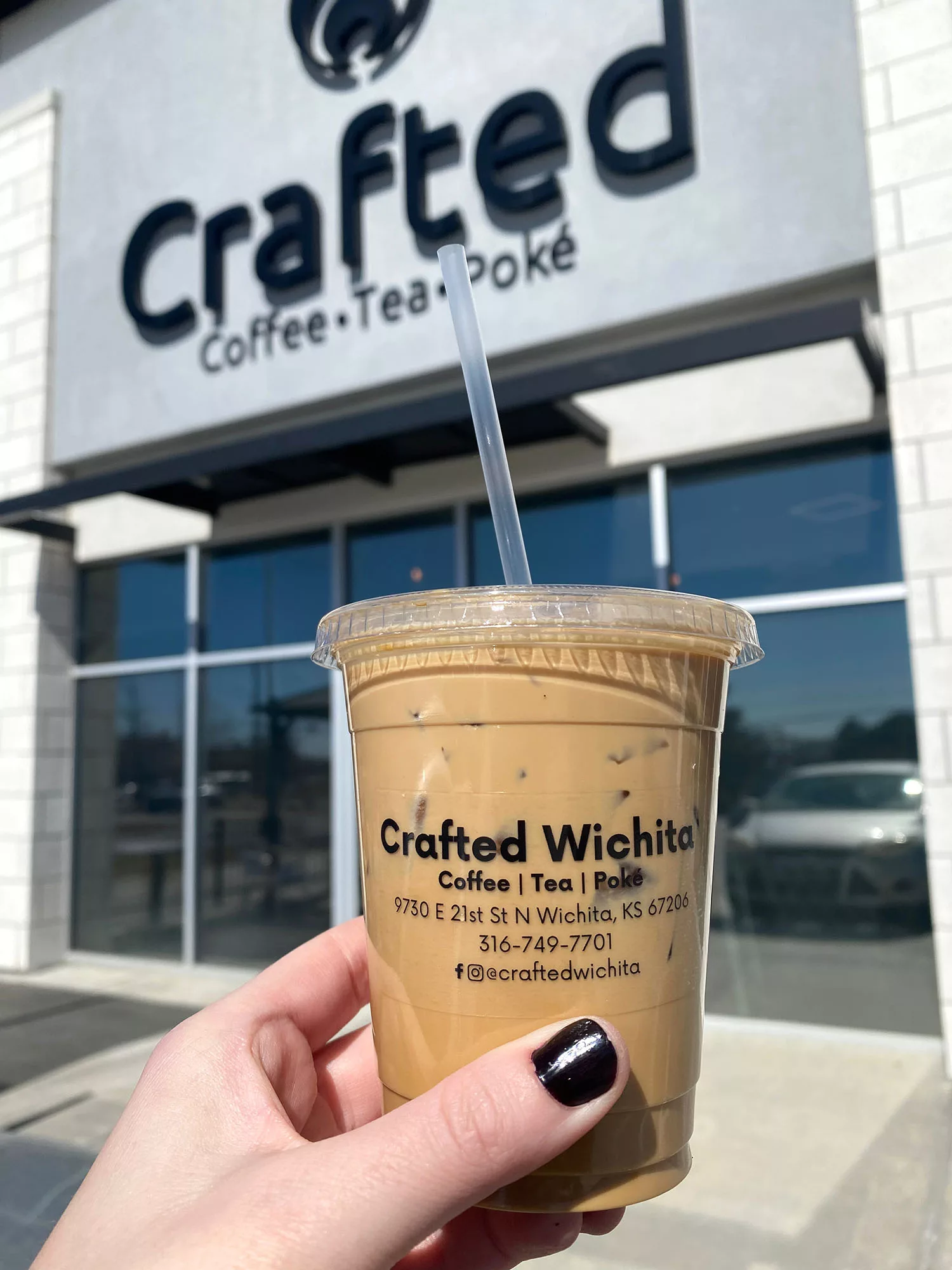 Crafted is easily one of Wichita's most unique coffee shops! This northeast side spot not only serves coffee and tea but also specializes is truly delicious poke bowls. Whether you're already a fan or looking to try something new, Crafted has something for everyone.
During our visit, we opted for the Aloha and Sunset Bowls along with a Thai iced coffee. Not only were the bowls filling and well-priced but they were also super fresh. If you're in the area, Crafted is a great option to grab lunch or an afternoon pick me up.
Crafted, 9730 E. 21st Street N. in Wichita, Kansas
Sometimes you need a little more than caffeine to get your morning started. At The Donut Whole, you'll find all your favorite beverages plus a wide variety of incredible cake donuts. There's a reason this spot is a Wichita institution.
The Donut Whole, 1720 E. Douglas Avenue in Wichita, Kansas
If you find yourself near Wichita State University in need of a coffee, look no further than Fairmount Coffee Company. This homey coffee shop has enough space for students to plug in while still catering to non-students as well.
With a wide variety of coffee beverages, pastries and sandwiches, Fairmount Coffee Company is the perfect place to fuel up for the day. They also have a great outdoor seating area to enjoy your beverage or get some work done when the weather is warm.
Fairmount Coffee Company, 3815 E. 17th St N in Wichita, Kansas
Stepping into Leslie Coffee Co. is like stepping into a plant-filled coffee oasis. Located in the historic Delano District, Leslie Coffee Co. quickly became one of my favorite spots in the city during a recent visit to Wichita.
This cozy, plant-filled coffee shop is the perfect oasis on a busy day. The staff is friendly, there's ample seating, and even a menu of delicious toasts to tide you over so you don't over caffeinate. Can't decide what to get? They even have a drink option gum ball machine to help you choose.
But you don't have to take my word for it. Leslie Coffee Co. was recently named the "Best Coffee Shop in Kansas" by Food & Wine Magazine.
Leslie Coffee Co., 930 W. Douglas Avenue, Suite A in Wichita, Kansas
Located on the ground floor of a downtown apartment building, Placeholder Coffee is the perfect mod cafe to grab a latte during the week. While the footprint of this shop is small, it makes up for it with striking design and strong coffee offerings. You can also find a cooler of locally made beverages like Apollo Fermentations kombucha here. If you're in downtown Wichita during the week, you won't want to pass up a visit to this stylish spot.
Placeholder Coffee, 120 E. 1st St N in Wichita, Kansas
Located in the Douglas Design District, Reverie Coffee Roasters is a bakery and coffeeshop that will immediately make you feel at home. This bustling coffee shop is a Wichita staple and a must-visit stop if you're in the area.
Reverie Coffee Roasters, 2202 E. Douglas Avenue in Wichita, Kansas
The last time that I visited Wichita, Sunflower Espresso was just a mobile coffee truck that you could find at the farmers' market and other local events. So I was so delighted to discover they now have a brick and mortar location. This cozy coffee shop is located in a downtown office building and has a perfectly sunny exterior. Grab a drink or a sweet treat inside or sidle up to the outdoor coffee window to get your caffeine fix.
Sunflower Espresso, 500 Topeka St., Suite 300, in Wichita, Kansas
Where to Find Coffee to Brew at Home in Wichita, Kansas
So, you're in Wichita but just looking for a great place to grab coffee beans or grounds to enjoy at home? No worries! The city has some great options for that too.
I spotted Local Roasters at a few places around Wichita during my most recent visit, and knew I needed to stop by their storefront. Not only does this coffee roaster have a wide variety of options for every caffeine lover. But their staff is also super helpful and gives great recommendations. Whether you just need some beans to enjoy at home or are looking for an edible gift or souvenir, Local Roasters is a great place to visit.
And don't forget to check out the unique balloon wall by local artist Engy AlGarf on the east side of their building.
Local Roasters, 2828 E. Douglas Avenue in Wichita, Kansas
Even if you're not in search of coffee, The Spice Merchant is an essential stop when you're visiting Wichita. Located in a gorgeous 1908 building that was once the home of the Mentholatum Company, The Spice Merchant is a destination onto itself. But coffee and tea enthusiasts won't be disappointed. The Spice Merchant is one of the city's original coffee roasters and now carries more than 80 coffee varieties and more than 200 teas.
THE SPICE MERCHANT, 1300 E. DOUGLAS AVENUE IN WICHITA, Kansas
Share Your Thoughts
I would love to hear from you! What are your favorite coffee shops in Wichita, Kansas? Do you seek out local coffee shops when you travel?