Disclosure: Visit Wichita hosted my trip to Wichita, Kansas. However, all opinions are my own.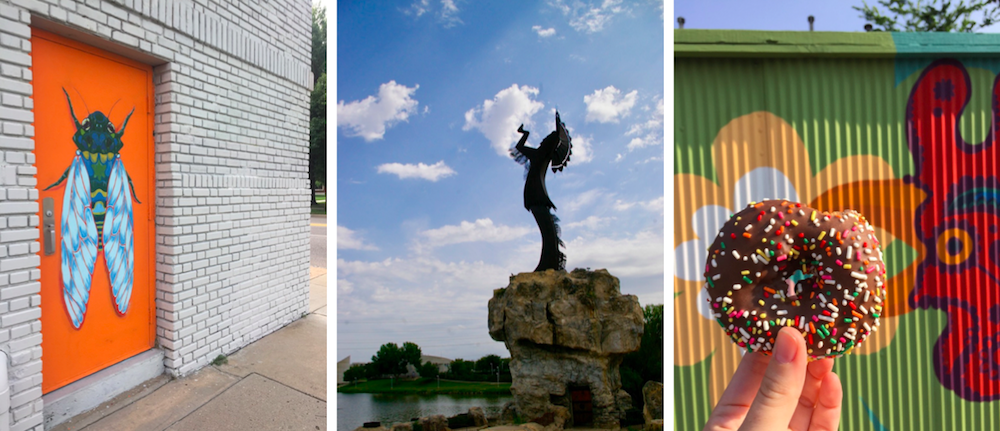 There are a lot things that unexpectedly delighted me about Wichita, Kansas. But the city's blossoming arts scene is easily one of my favorite surprises. No matter what part of the city you're in, everywhere you look, there is incredible public art in Wichita. From bronze sculptures to large-scale murals, there are all sorts of ways to appreciate art around the city.
Every time I find myself in Wichita, I devote time to tracking down some of the city's coolest murals and basking in these little bursts of inspiration around every turn. In the same way that I love roadside attractions for their unexpected nature, public art has a distinct power to surprise and delight. In a city passionate about public art, you never know what will be around the next corner or down the next alley.
The next time you need a dose of inspiration, explore one of these unique places to discover public art in Wichita, Kansas.
Where to Find Public Art in Wichita, Kansas
Douglas Design District
Located on the east side of downtown, the Douglas Design District is a quirky and creative Wichita neighborhood with unique boutiques, plentiful craft breweries, and, of course, public art. From walls big and small to dumpsters and even the middle of the road, street art is absolutely everywhere in this urban neighborhood.
I don't like to play favorites. But if I were to choose a favorite Wichita neighborhood, it would be the Douglas Design District. This area of downtown has so much personality and pairs it perfectly with public art that reflects the area's past and present.
One thing that I learned early in my first visit to Wichita is that its residents are immensely proud of their city's flag. Everywhere you go, you'll find the Wichita flag—on T-shirts, street signs, small businesses, and everything in between. So it's easy to see why so many of the city's murals incorporate the flag in some way.
While some of the district's murals have been commissioned by its local businesses, many are a result of the community's annual Avenue Art Days. Down every alley, around every corner, and even on the underside of awnings, these unique murals are everywhere.
Want to be a more dedicated mural hunter? The Douglas Design District has an awesome app that will help you locate specific works of art throughout the community.
As you explore downtown Wichita, keep an eye out for colorful murals, lifelike sculptures, and homages to the city's history.
There's no disputing that the Keeper of the Plains is a Wichita icon. But now you can see smaller versions of the beloved sculpture in other places around the city. The Keepers on Parade were created a few years ago as part of a public art project led by the organization Together Wichita. As you explore downtown, keep an eye out for these 10-foot-tall fiberglass sculptures. Each was commissioned by a local artist and can be found around downtown and within local businesses.
In addition to its many murals and colorful Keepers on Parade, downtown Wichita is also home to 31 bronze sculptures. These life-like statues blend perfectly into the streetscape of the city. Created by Washington artist Georgia Gerber, these sculptures capture the history and every day life of the community.
More than once, I did a double take. Sculpture that looked like a small child was playing on the sidewalk or a man was sitting on a nearby bench caught my eye. If you're anything like me, these life-like sculptures will give you pause. Keep an eye out for these unique pieces of art as you explore downtown! Some of the sculptures are more discrete than others. Keep an eye out for a lounging cat or a small bird perched atop a light pole.
Possibly Wichita's most iconic piece of public art, the Keeper of the Plains is a 44-foot-tall steel sculpture that overlooks the confluence of the Arkansas and Little Arkansas Rivers. Named one of the Eight Wonders of Kansas, the Keeper of the Plains is truly a sight to behold.
The five-ton sculpture was first installed in 1974. Today it sits atop a 30-foot pedestal overlooking the river and can be accessed via two footbridges. The iconic statue was created by local artist Blackbear Bosin, who helped establish the adjacent Mid-America All-Indian Center. The Center is dedicated to the preservation and celebration of indigenous culture and art. During your visit to the Keeper of the Plains, pop in to the center to learn more about the area's history or take time to explore the interpretive displays at the Keeper's plaza.
Each night a Ring of Fire transforms the Keeper of the Plains. The sculpture is illuminated by fire for 15 minutes each day, weather and river levels permitting. During Daylight Savings Time (spring and summer), the lighting begins at 9 pm. During the fall and winter, the lighting begins at 7 pm. When I stopped by for the nightly lighting, I was shocked to find that there were easily one hundred people gathered to witness the beautiful sight. Experience the lighting close-up at the base of the keeper or enjoy a stunning view from either of the river's banks.
Not only is the Keeper of the Plains an iconic piece of the community, but it is also proof of Wichita's strong connection to its history. Much like the Wichita flag, the Keeper of the Plains is everywhere you look in Wichita. You won't want to miss out on this necessary part of any Wichita experience.
Keeper of the Plains, 650 N. Seneca Street in Wichita, Kansas
If you're looking for a different type of art experience, consider stopping by the Ulrich Museum of Art on the Wichita State University campus. This free gallery space features a permanent collection as well as traveling exhibitions.
Even if you don't go inside, it's a lot of fun to explore the works of art around the Wichita State campus. In fact, the museum's Martin H. Bush Outdoor Sculpture Collection has been rated one of the top collections of its kind by Public Art Review. I loved the way these outdoor sculptures were perfectly positioned within the campus' landscaping, making it feel like each new piece was a hidden gem waiting to be uncovered.
Don't miss a photo op with Millie the Millipede, a cast bronze sculpture with some seriously fancy footwear. If you're visiting the Ulrich Museum of Art, you can find Millie directly across the street surrounded by blooming flowers and exotic foliage.
Ulrich Museum of Art, Wichita State University, 1845 Fairmount Street in Wichita, Kansas
The Wichita Art Museum has an impressive collection, both within its walls and on its grounds. The museum is part of Wichita's collection of museums along the river. The Wichita Art Museum sits on a sprawling campus that's fantastic to explore regardless of the time of year. Plus, let's be honest—I'm an art geek who can never pass up a visit to a new museum.
One of my visits was during the museum's monthly Night at the Museum. This after-hours event includes live music, food trucks, and other fun extras in addition to extended gallery hours. I had a blast experiencing the collection inside the museum. I also enjoyed exploring the unique sculptures around the museum on the warm summer night.
Bonus art points if you head inside the museum to experience its collections during your visit. Along with an impressive permanent collection, the Wichita Art Museum is also home to a colorful glass chandelier and floating multi-floor installation made by the artist Dale Chihuly.
Wichita Art Museum, 1400 Museum Boulevard in Wichita, Kansas
Wichita is full of incredible public art, and one of its most unique spots to find some creative inspiration is Gallery Alley. Located in downtown Wichita, this outdoor art space features five sculptures created by local artists. Explore the alley and experience interactive pieces for all ages that truly engage the senses.
GALLERY ALLEY, 616 E. DOUGLAS AVE. IN WICHITA, Kansas
Beachner Grain Elevator Mural
This beautiful installation combines two of my favorites — public art and "world's largest" things. Not only does this mural turn a forgotten grain elevator into a work of art, but it is also the world's largest mural painted by a single artist. In fact, it's so large that it's even been certified by the Guinness Book of World Records.
This piece of public art was created Colombian muralist GLeo as part of the Horizontes Project, an artist-driven effort to connect two of Wichita's underrepresented neighborhoods. In addition to this piece, the project has commissioned at least 20 additional murals in the surrounding neighborhoods.
Beachner Grain Elevator Mural, 519 E 20th St N. in Wichita, Kansas
Share Your Thoughts
I would love to hear from you! Do you seek out public art when you travel? Where is your favorite place to find public art in Wichita, Kansas?