No matter where I go, I'm always on the lookout for unusual things to do and see. Luckily for me, there is no shortage of offbeat attractions in Wichita, Kansas.
From public art with a rich (and wacky) history to local artists making steampunk pieces from junk, Wichita has it all. Whether you have time for a quick photo op or an afternoon to fill exploring, these unusual spots across the city are sure to add a bit of kitsch and whimsy to your visit.
The next time you're in Wichita, be sure to check out these seven unusual attractions and experience what makes this Kansas community wacky for yourself.
Disclosure: My trip was hosted by Visit Wichita. However, all opinions are my own.
This post may contain affiliate links, which means I may receive a small commission at no additional cost to you.
Best Places to Stay in Wichita
Best Luxe Downtown Stay: The Ambassador Hotel Wichita, Autograph Collection is an excellent option if you're looking to stay in style in the heart of the city. Plus, Wichita's popular speakeasy, Dockum, is located in the hotel's basement.
Best for Arena Events: Hilton Garden Inn Wichita Downtown is a convenient option for anyone attending an event at INTRUST Bank Arena. In fact, this stylish property is only a seven-minute walk away.
Best Suburban Workcation: Home2 Suites by Hilton Wichita Northeast is the perfect choice if you're looking for room to spread out and work while on the road. Plus, it's close to Bradley Fair and the area's other amenities.
Offbeat & Unusual Things to Do in Wichita, Kansas
See the Carry Nation Statue
Known as a "Prohibitionist Saloon Smasher," Carry A. Nation gained local and national notoriety as a member of the temperance movement in the early 20th century. On December 27, 1900, Carry Nation walked into the Carey House Bar and proceeded to smash almost everything inside — from liquor bottles to the building fixtures and furniture — with rocks. She was a tall woman standing at six feet and was only made more imposing when she later began using a hatchet for her saloon-smashing outings. She called these demonstrations "hatchetations" and during them she and her followers would enter drinking establishments singing hymns and carrying Bibles before smashing furniture and bottles with hatchets in protest.
Today, this unique resident is remembered with a life-size statue in downtown Wichita, which was installed in 2018. The bronze sculpture was created by local artist Babs Mellor and stands at the exact spot where Nation entered the Carey House Bar.
Carry Nation Statue, 517 E. Douglas Avenue in Wichita, Kansas
Wichita is full of incredible public art, and one of its most unique spots to find some creative inspiration is Gallery Alley. Located in downtown Wichita, this outdoor art space features five sculptures created by local artists. Explore the alley and experience interactive pieces for all ages that truly engage the senses.
Gallery Alley, 616 E. Douglas Avenue in Wichita, Kansas
Experience Gary Pendergrass' Steampunk Art
In an unassuming residential neighborhood on the west side of Wichita, you'll discover a true hidden gem. Gary Pendergrass' Steampunk Art is truly something you need to see to fully appreciate.
As you pull up, you'll notice all sorts of metal sculptures peeking over the wooden fence. A large sign hanging under a wizard with glowing yellow eyes reads, "The Village: A Sanctuary City." Once inside the gates, a smaller sign reads, "The sole purpose of The Village is to excite imagination and creativity that resides in some form within us all." And does it ever!
During my visit, I was lucky enough to meet Gary and get to chat with him a bit about his art. After being inspired by other steampunk-style art, he began creating these pieces in 2013. Gary told me that when he retired he needed something to do to keep himself busy. The types of sculptures and creations were new, but he had always been handy. Previously, Gary had worked remodeling homes. Now, his creations are a little more whimsical.
Today, they're towering on top of each other and spilling over the fence. Gary says he's just about run out of room. But he's still collecting salvage materials for future pieces. Gary lives across the street, and, conveniently, his neighbor is a junk hauler so he's never short on materials to turn into his steampunk art.
The art installation is open during daylight hours and is free to visit. Trust me, Gary's art is one of the offbeat attractions in Wichita, Kansas that you don't want to miss! And if you ever find yourself in Lucas, Kansas, you can check out more of Gary's work at the Grassroots Art Center.
Gary Pendergrass Steampunk Art, 3831 West 17th St. North in Wichita, Kansas
It's always a good road trip day when I come across a Muffler Man. So when I learned that there is one in Wichita, I knew we'd have to check him out.
Located outside of Brown's Tire and Custom Wheel Center on the south side of Wichita, this classic Muffler Man holds a tiny tire in one of his hands. While many of these roadside giants were originally designed to hold mufflers and axes, some of them have been modified over the years (like the Paul Bunyon Hot Dog Muffler Man in Atlanta, Illinois).
Brown's Tire and Custom Wheel Center, 4203 S. Broadway Street in Wichita, Kansas
Visit the Pizza Hut Museum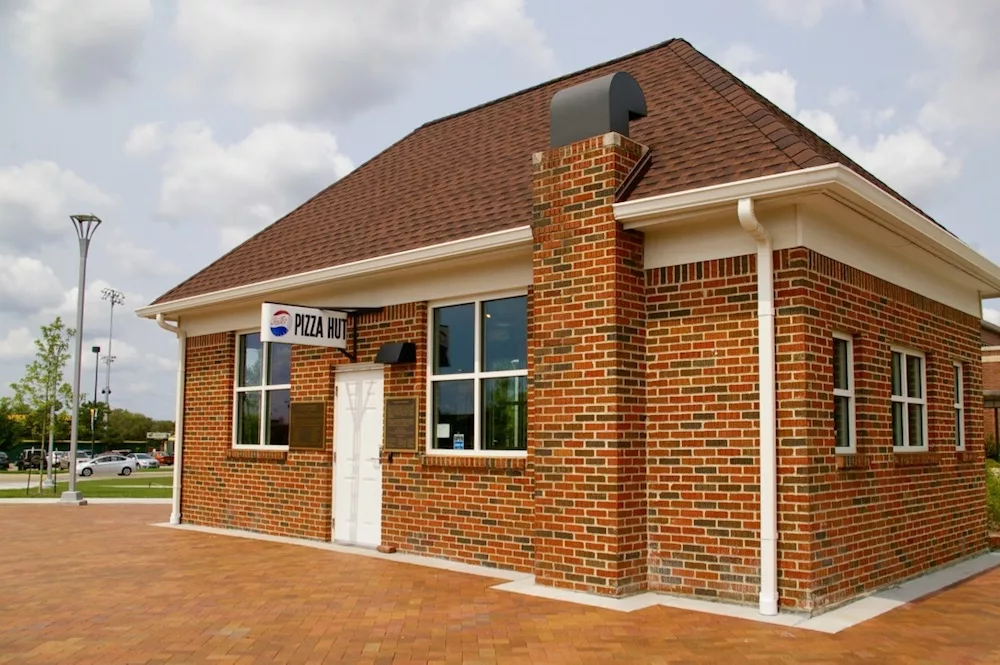 Did you know that Pizza Hut got its start in Wichita? Now thanks to the Pizza Hut Museum, you can learn all about the Kansas-born franchise in a unique, non-cheesy way. Whether you're a Pizza Hut devotee or just someone who enjoys a good pie, you'll definitely want to take a bite out of this unique piece of Wichita history.
PIZZA HUT MUSEUM, WICHITA STATE INNOVATION CAMPUS, 1845 FAIRMOUNT IN WICHITA, KANSAS
Spend Some Time at Revolutsia
If you're in search of a unique place to eat, shop, and spend some time, look no further than Revolutsia. This shipping container park includes local shops, eateries, and ample outdoor gathering space.
Pop into shops like Loud Cicada and Ze German Markt to support local before grabbing a drink and relaxing in this gorgeous outdoor courtyard. If you're leaning toward German fare, we loved our dinner at Prost.
Revolutsia, 2721 E. Central Avenue in Wichita, Kansas
Oftentimes my favorite types of attractions are ones that you just stumble upon. And the Wichita Troll is no exception. To spot this stealthy statue, you'll need to keep an eye out for an unmarked sewer grate just east of the Keeper of the Plains on the north side of the river.
With long, spindly arms and a scrunched up scowl, the Wichita Troll is slightly sinister, but worth the stop nonetheless. Installed in 2007 by local artist Connie Ernatt, the troll was placed in his current home as part of an effort to revitalize the city's riverfront. You'll find a number of Ernatt's works around Wichita, but this is definitely the most unusual.
WICHITA TROLL, 777 W. CENTRAL AVENUE IN WICHITA, KANSAS
Let's Be Social
Want even more offbeat adventures, roadside attractions and world's largest things? Follow Olio in Iowa on your favorite social media platforms, and tag #OlioOnTheRoad when you have quirky adventures of your own.
Share Your Thoughts
I would love to hear from you! What are your favorite offbeat attractions in Wichita, Kansas?