Disclosure: Visit Wichita hosted my trip to Wichita, Kansas. However, all opinions are my own.
When it comes to visiting a new place, I can be a bit of a history nerd. I love learning about how communities came to be and discovering their quirkier details. Like so many other cities across the Midwest, the history of Wichita, Kansas does not disappoint.
Every time I visit Wichita, both the quality and variety of the city's museums impress me. From institutions recognizing the contributions of African American and Native American communities to a museum dedicated to two men's passion for pizza to endless aviation history, Wichita truly has something for everyone.
Everywhere I went, locals were gracious with their time and excited to share their stories. Really, I shouldn't have been surprised after experiencing the city's public art scene or phenomenal culinary creations.
Maybe historic sites and museums aren't usually your cup of tea. But when it comes to Wichita, I can't encourage you to step outside your comfort zone enough. The next time you visit, don't miss these eight ways to experience the unique history of Wichita, Kansas.
Places to Experience Wichita History
B-29 Doc Hangar, Education & Visitors Center
Whether you're an aircraft enthusiast or not, a visit to see the B-29 Doc Hangar, Education & Visitors Center should be on your Wichita bucket list. This B-29 Superfortress is one of 1,644 manufactured in Wichita during World War II. Today, it's one of only two remaining air-worthy planes of its kind in the world.
In 1987, Tony Mazzolini found this B-29 rotting in California's Mojave Desert. After 12 years of negotiations with the U.S. government, Mazzolini and a team of volunteers took possession of the aircraft and brought it back to Wichita. It had long been Mazzolini's dream to restore the historic warbird so it could fly again and help future generations experience a piece of history.
In May of 2000, the B-29 finally arrived in Wichita. But it wasn't until summer of 2016 that Doc was fully restored. With the plane's first return to the skies in July 2016.
Today, Doc tours the country so thousands more people can look inside or even have the opportunity to fly in this historic plane. And when it's not traveling, this iconic plane still calls Wichita home. Not only does the 42,000-square-foot facility serve as the hangar for Doc, but it also offers a unique, interactive way for visitors of all ages to learn about Wichita's aviation history.
You'll learn a ton by wandering the visitors center, interacting with exhibits, and talking to the organization's many volunteers. In fact, almost all of the people you'll encounter staffing the hangar or working on Doc, do so on a volunteer basis. Today visitors can also take a peek inside the cockpit to see what it was like for service members to fly these aircrafts.
If you want to see this B-29 for yourself, be sure to check the B-29 Doc website to make sure the hangar will be open (and that Doc will be there) when you plan to visit.
B-29 Doc Hangar, Education & Visitors Center, 1788 S. Airport Road in Wichita, Kansas
Frank Lloyd Wright's Allen House
During your exploration of the city, you won't want to miss the chance to experience an iconic piece of the architectural history of Wichita, Kansas. Built in 1918, Frank Lloyd Wright's Allen House is the last of the architect's famous prairie-style homes. Characterized by their emphasis on horizontal lines, earth tones and focus on bringing the outside indoors, you'll find these homes scattered across the Midwest.
This Wichita home was commissioned by newspaper publisher Henry Allen and his wife, Elsie. Allen would later go on to become the governor of Kansas and a U.S. senator. But for nearly 30 years, the family occupied this historic home.
Located in Wichita's College Hill neighborhood, the house features spacious living spaces and ample space to display the couple's art collection. It also included more than 30 pieces of original furniture designed by Wright for the space.
For the time period it was built, the home has a variety of state-of-the-art features like an attached garage. Wright also added elevated touches throughout the home — like gilding the grout between the bricks — to make the prairie style feel more high end. The home's grounds also include Japanese style gardens with a pool and a detached garden house.
Today, visitors can tour the home through a docent-led tour or during special events.
Frank Lloyd Wright's Allen House, 255 N. Roosevelt Street in Wichita, Kansas
Kansas African American Museum
The Kansas African American Museum holds an important part of the city and state's history. Housed in the historic Calvary Baptist Church, its four walls hold as many stories as the museum itself.
Following the Civil War, a large number of African American families moved north to relocate to Wichita and its surrounding counties. Even though Kansas had been a free state, there were still some who viewed the growing population as unwelcome. In fact, the Calvary Baptist Church got its start because African Americans members of the congregation were not allowed to join the clergy at their new Kansas church. So in 1917, the parishioners built a new church themselves.
By the 1950s many of the church's parishioners were being displaced to other areas of Wichita through urban renewal efforts. Still, the church remained a cornerstone of the community. But when it relocated in the 1970s, Sedgwick County acquired the building. Ever passionate about the community space they'd created, the congregation was committed to saving this piece of history. They formed the First National Black Historical Society there in 1973. In 1998, it officially became the home of the Kansas African American Museum.
When I visited the museum's temporary exhibit showcased the state's blues history. As I explored the church's sanctuary, full of its own history, it was eye opening to learn how these stories often differ from what is taught in school history books. By taking the time to step outside of my own experience, listen and look a little deeper, I developed a greater understanding of Wichita, its people and the African American men and women who helped make the city what it is today.
Plan Your Visit to the Kansas African American Museum
While it may not be the largest museum in Wichita, the Kansas African American Museum is well worth a stop. It was a powerful experience to connect with the history the Calvary Baptist Church holds and discover an important part of the fabric of this community.
Visit the museum during its regular hours or check their website for an upcoming event. You can also extend your exploration to the rest of the state. In 2018, the museum became a part of the Kansas African American History Trail, which marks important landmarks across the state.
Kansas African American Museum, 
601 N. Water Street in Wichita, Kansas
Located in the former Wichita Municipal Airport terminal, the Kansas Aviation Museum is a unique piece of the city's history that you won't want to miss. The beautifully restored Art Deco building has a storied history that continues on through the museum.
From 1935 to 1954 this site served as the main airport terminal for the city of Wichita. During its busiest period, the airport was a major point for cross-country airline stopovers. In fact, during the 1940s, it was one of the country's busiest airports with planes taking off or landing about every 90 seconds.
But by the mid-50s and the dawn of World War II, the airport had a new purpose. A new commercial airport was being constructed to meet demand, and the original site was needed for military purposes like pilot training on B-47s.
For years after, the USAF and the Kansas Air National Guard used the terminal for their administrative offices. But by the mid-1980s, the building was no longer in use. It's thanks to the city and the Wichita Aeronautical Historical Association that six years (and a lot of hard work later), the space became the museum it is today.
Now visitors can walk on the same terrazzo floors aviation greats like Charles Lindbergh and Amelia Earhart once strode, all while learning about the city's rich aviation past. And don't forget to look up! Volunteers spent hours spent hours lovingly restoring the intricate stenciled ceiling in the main terminal to its original glory.
Kansas Aviation Museum, 3350 George Washington Blvd in Wichita, Kansas
Mid-American All-Indian Museum
Located at the confluence of the Arkansas and Little Arkansas rivers, the Mid-American All-Indian Museum offers a way for visitors and locals alike to connect with the area's indigenous history. Many museums and cultural centers focus on just one native tribe. But the Mid-American All-Indian Museum offers a place for the histories of all indigenous peoples to be preserved.
The center offers permanent exhibitions in its museum as well as a variety of community events throughout the year. The museum is also home to the largest public collection of work by local artist Blackbear Bosin, who designed the Keeper of the Plains and helped establish the center.
Plan Your Visit to the Mid-American All-Indian Center
The Mid-American All-Indian Museum offers a unique look into an important part of the history of Wichita, Kansas. While there is an admission fee for the interior part of the museum, the area near the riverfront and the center's grounds are free and open to the public.
No visit to the Mid-American All-Indian Museum is complete without also experiencing the Keeper of the Plains. The five-ton sculpture was first installed in 1974. Today it sits atop a 30-foot pedestal overlooking the river and can be accessed via two footbridges. If you have time, it's definitely worth returning to the river to see the nightly firepot lighting.
Mid-American All-Indian Museum, 650 N. Seneca Street in Wichita, Kansas
If you're someone who prefers to experience history instead of just reading about it, you'll definitely want to visit the Old Cowtown Museum while in Wichita. Exploring this sprawling outdoor museum is truly like stepping back in time.
This interactive museum allows you to get a feel for what Wichita would have been like in its early cowtown days. From rustic homesteads to fully functioning shops along its historic main street, Old Cowtown brings history to life.
When opening a door into one of the property's many outbuildings, you never know what you may find. Maybe you'll be stepping into the sitting room of the local schoolteacher. Or maybe you'll discover the print master at work in his shop and be able to offer him a hand.
Along with reenactors who work in the various shops and homesteads of Old Cowtown, the living museum is also home to a variety of farm animals.
After browsing the many buildings, trying my hand at printmaking, and befriending some farm animals, I took my tour guide's advice and stopped in the saloon for a cold Sarsaparilla. While I sipped my sparkling soda, I reflected on all the unique bits of history I soaked up during my time in Old Cowtown.
Stepping out of the saloon I wondered why so many people had gathered around. That's when I heard the gunshots. In addition to its real-life blacksmiths and homesteaders, Old Cowtown is also home to a ruffian or two.
After all, this is the early days of the Old West. You never know when you might end up in the middle of an old-fashioned shoot out.
Plan Your Visit to the Old Cowtown Museum
If you're planning a visit to the Old Cowtown Museum, be sure you have at least three or four hours to explore. It may sound excessive. But there's so much to see at this outdoor museum that you won't want to rush. Trust me.
Kids especially will love this interactive look at Wichita's early history.  Wear your walking shoes and be ready for surprises. You never know what you'll discover around the next corner or inside the next shop.
The Old Cowtown Museum is open year-round, but has more limited hours during its winter season.
Old Cowtown Museum, 1865 Museum Boulevard in Wichita, Kansas
If I'm being honest, it wouldn't take much urging to get me to visit a museum dedicated to pizza. Located on the Wichita State University campus, the Pizza Hut Museum is one of the city's true hidden gems.
While you've probably eaten at (or at least heard of) Pizza Hut, you may not know that the now ubiquitous franchise was started by brothers Frank and Dan Carney when they were students at Wichita State.
What the Pizza Hut Museum lacks in size it makes up for in personality. The charming museum opened in April of 2018 and delightfully showcases the company's history.
Did you know that there was once a Pizza Hut perfume? Or maybe you're like me and remember playing with your Pizza Hut Barbie as a kid. From vintage promotional items to visitor memories recorded on pizza napkins, the Pizza Hut Museum has it all. You can even watch old commercials from the franchise through the years. I know that I definitely remembered a few of them from my childhood.
Plan Your Visit to the Pizza Hut Museum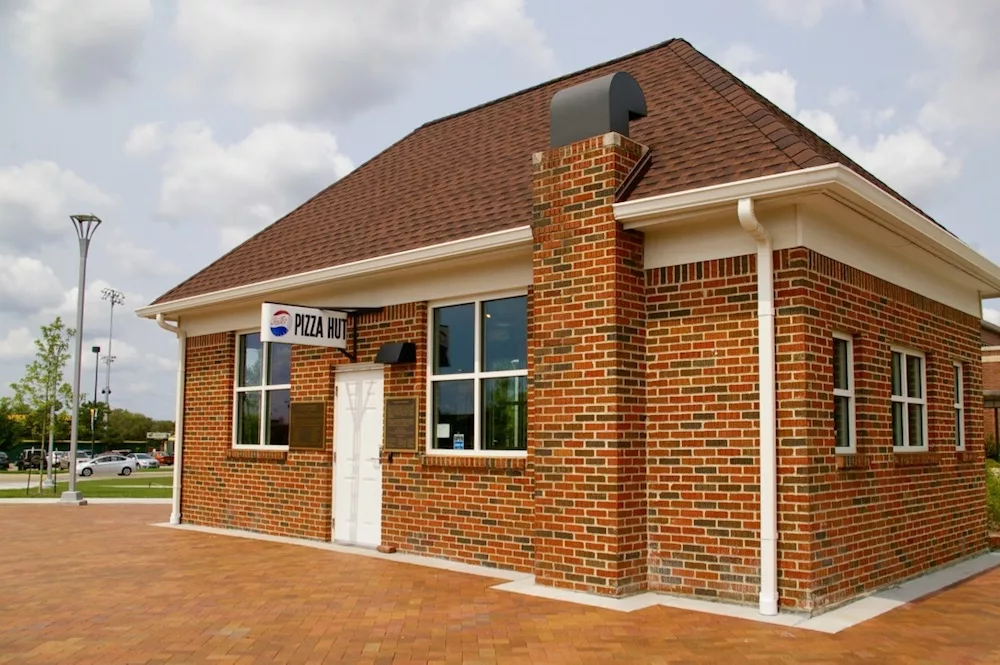 Whether you're a Pizza Hut devotee or just someone who enjoys a good pie, you'll definitely want to take a bite out of this unique piece of the history of Wichita, Kansas. The Pizza Hut Museum is located on Wichita State University's Innovation Campus behind the Marcus Welcome Center.
The museum is free and open to the public. Plus, a number of Wichita State students serve as docents during the museum's open hours.
Pizza Hut Museum, Wichita State Innovation Campus, 1845 Fairmount in Wichita, Kansas
Wichita-Sedgwick County Historical Museum
There's no better way to learn about the city than with a visit to the Wichita-Sedgwick County Historical Museum. Located in the original city hall building, the museum covers every aspect of the history of Wichita, Kansas and its surrounding area. The city renovated the building in the 1980s. But many of its charming historic qualities, including its original bell tower, still remain.
Much of the museum is dedicated to the history of the city, including its iconic flag. During my time in Wichita I noticed the flag everywhere. So it was exciting to learn more about how it came to be.
The museum also has an extensive exhibit on Wichita's aviation history. Did you know that at one point 75 percent of all aviation production in the world happened in Wichita? Today Wichita companies produce approximately two thirds of the planes in the U.S. It's no wonder that air travel has shaped such a large part of this community's history.
As I wandered the museum's exhibits, I began to realize just how many iconic events and inventions were actually part of Wichita's history. Curious what I mean? In Wichita in 1932, musician Gage Brewer was the first person ever to perform using an electric guitar.
Plan Your Visit to the Wichita-Sedgwick County Historical Museum
If you're looking for a way to learn a lot about the history of Wichita, Kansas in a short amount of time, you won't want to miss a visit to the Wichita-Sedgwick County Historical Museum. The museum has some fantastic permanent exhibits as well as temporary exhibits that change throughout the year.
In addition to regular visiting hours, the museum also offers a variety of special, seasonal programming. When I visited the museum was preparing for their torchlight tour series, which allowed visitors to explore the museum in the dark. Check the museum's website for unique opportunities like this one when you visit!
Wichita-Sedgwick County Historical Museum, 204 S. Main Street in Wichita, Kansas
Share Your Thoughts
I would love to hear from you! Have you visited Wichita? What's your favorite way to experience local history?